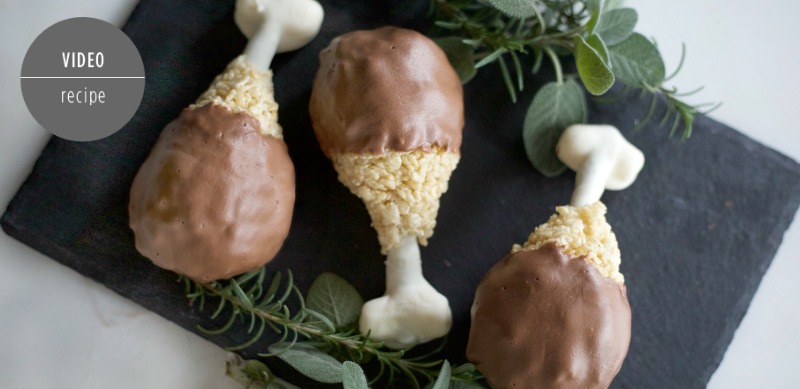 18 Nov

Turkey Leg Treat Recipe

Hey party people!

Have you ever seen something in a store and thought, "That is such a great idea! I have to try it!"? Well that happened to me a couple weekends ago when I was visiting one of my best friends, Jenny, in Michigan. We were walking around Plymouth with our other college besties (Kauri & Rachael) and we wandered into UP Pasties. I know what you're thinking, at least if you're southern…"A whole store for pasties? Like to cover your you-know-what?!" Oh…you didn't think that? You knew what it meant? Fine. I can hang out here on this ditzy ledge by myself. 🙂

Pasties are actually baked pastries with meat and vegetables inside. But you probably already knew that. Anyways…the point of that story was to say that UP Pasties also had a vendor who was selling these adorable Turkey Leg Treats. I don't remember the vendor's name, though. If anyone from around that area knows, please let me know.

I decided to try and make them and it worked, so I thought I'd share the Turkey Leg Treat Recipe with you.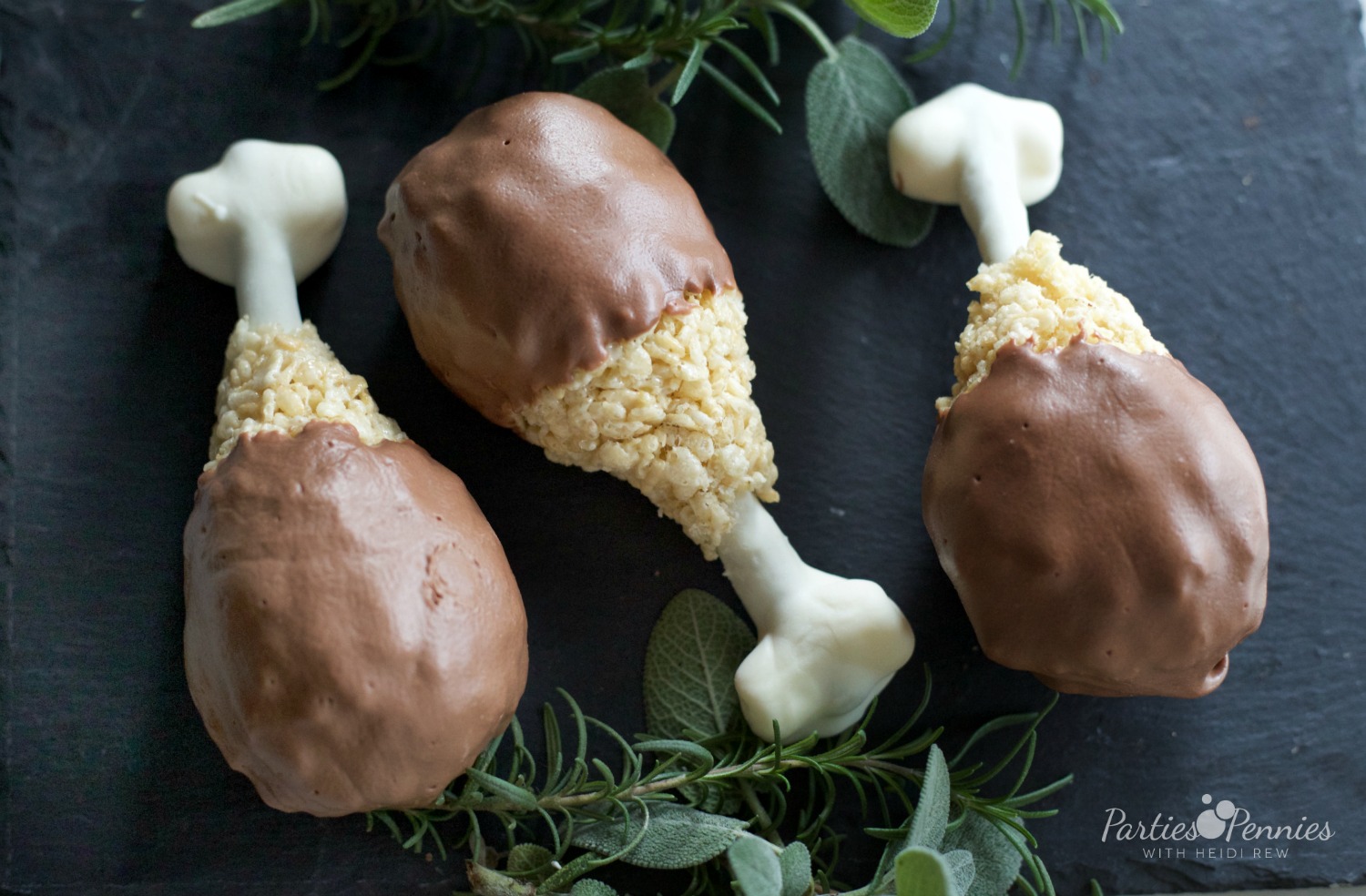 These would make really fun classroom treats for your child's school, a fun addition to a kid's Thanksgiving table (you can even add a little tag to the leg with the child's name on it), or just a Thanksgiving dessert in general.
Check out this quick video tutorial showing you how to do it…
Ingredients: (To Make 2 Dozen Legs)
1 package white almond bark
1 package chocolate almond bark*
24 dipping pretzel sticks (not the super thin ones)
2 bags of marshmallows
2 boxes of Rice Krispy Cereal
6 tablespoons Butter
Step 1: Melt 1 square of the white almond bark by putting it in the microwave for 30 seconds at a time, stirring after each. Usually by the 3rd time it's completely melted.
Step 2: Dip the bottom of one marshmallow in the chocolate and stick to one end of the pretzel stick. Dip another marshmallow and add it to the other side (where you just put the first one). Place on wax or parchment paper and allow to harden (20-30 minutes).
**I apologize for the inappropriate picture this step may create. My husband wouldn't stop harrassing me that they looked like pe**s'. But…if you're planning a Bachelorette party…may be good inspiration?! ;p.**
Step 3: Melt several squares of white almond bark in a glass measuring cup that's deep enough to dunk the pretzel sticks. Take your inappropriate pretzel and marshmallow sticks and dip them in the melted chocolate. Allow to harden (don't go there) on wax or parchment paper.
Step 4: Once that hardens, start making your Rice Krispy treats. For 2 dozen Turkey Leg Treats, you'll need to make 2 batches of treats. Just make up one at a time. Melt 3 tablespoons of butter in a saucepan. Pour 5 1/2 cups of marshmallows into the pan and stir until melted. Add 6 cups Rice Krispy cereal and mix. Do this again for the 2nd batch.
Step 5: I sprayed a bowl with coconut oil cooking spray then added my Rice Krispies to it. I also rubbed a little coconut oil on my hands. It helps things not stick. Coconut oil is good for your skin too.
Step 6: Melt at least 1-2 squares of white almond bark.
Step 7: Take a handful of Rice Krispies and form a teardrop shape. Dip the un-chocolate end of the pretzel stick into the white chocolate and then into the teardrop Rice Krispy. Turn it upside down and form the treat around your stick. Allow to harden.
Step 8: Melt your chocolate almond bark in a glass measuring cup. Dip each turkey leg partially into the melted chocolate and allow to harden.
Enjoy!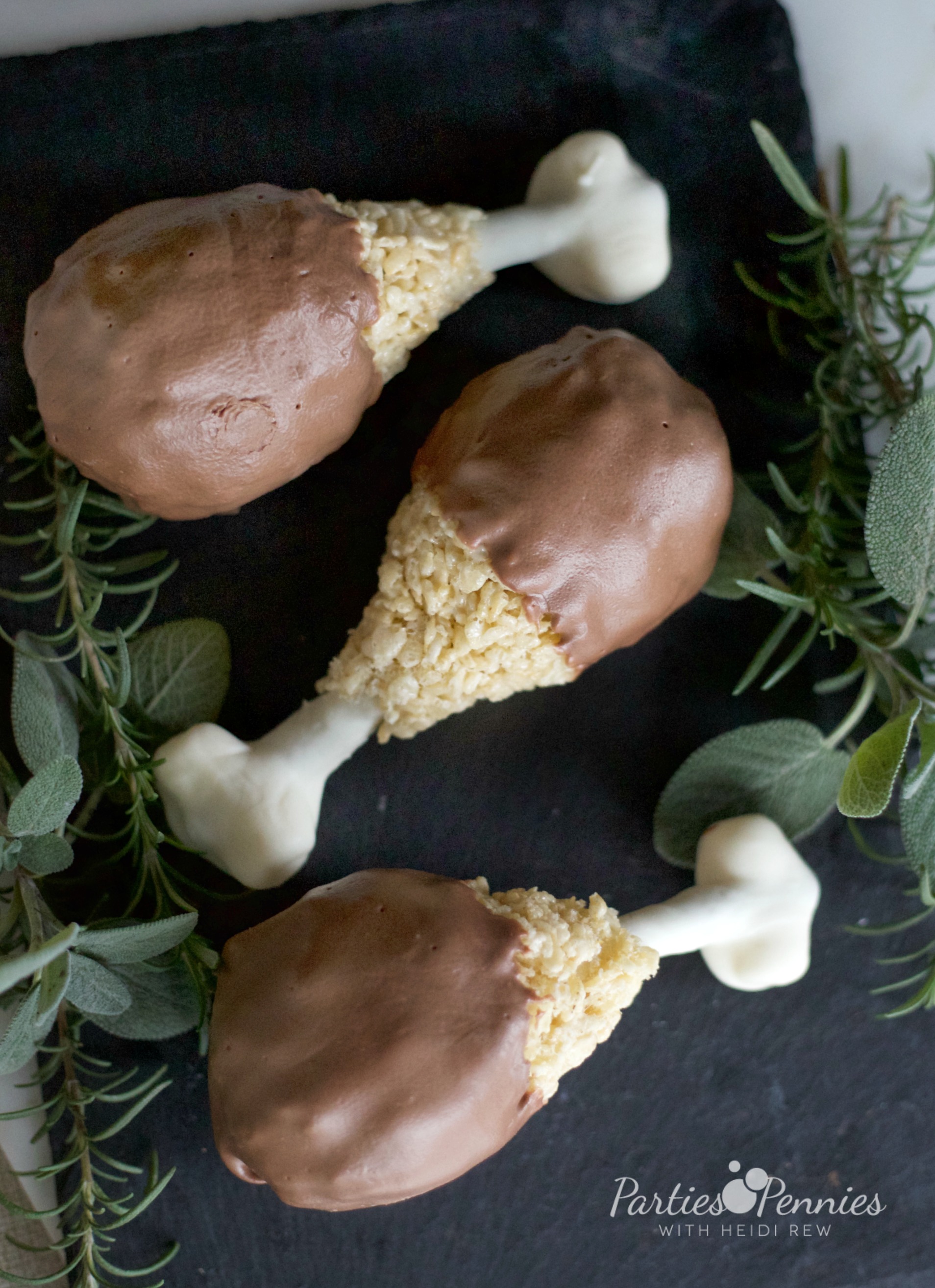 If you want to give these as individual gifts, wrap them in a clear treat bag and tie some twine around them.
Hope you have an awesome Thanksgiving! I'll be back next week with my favorite Last-Minute Budget-Friendly Thanksgiving Tips, but here are some of my favorite Thanksgiving posts from years past…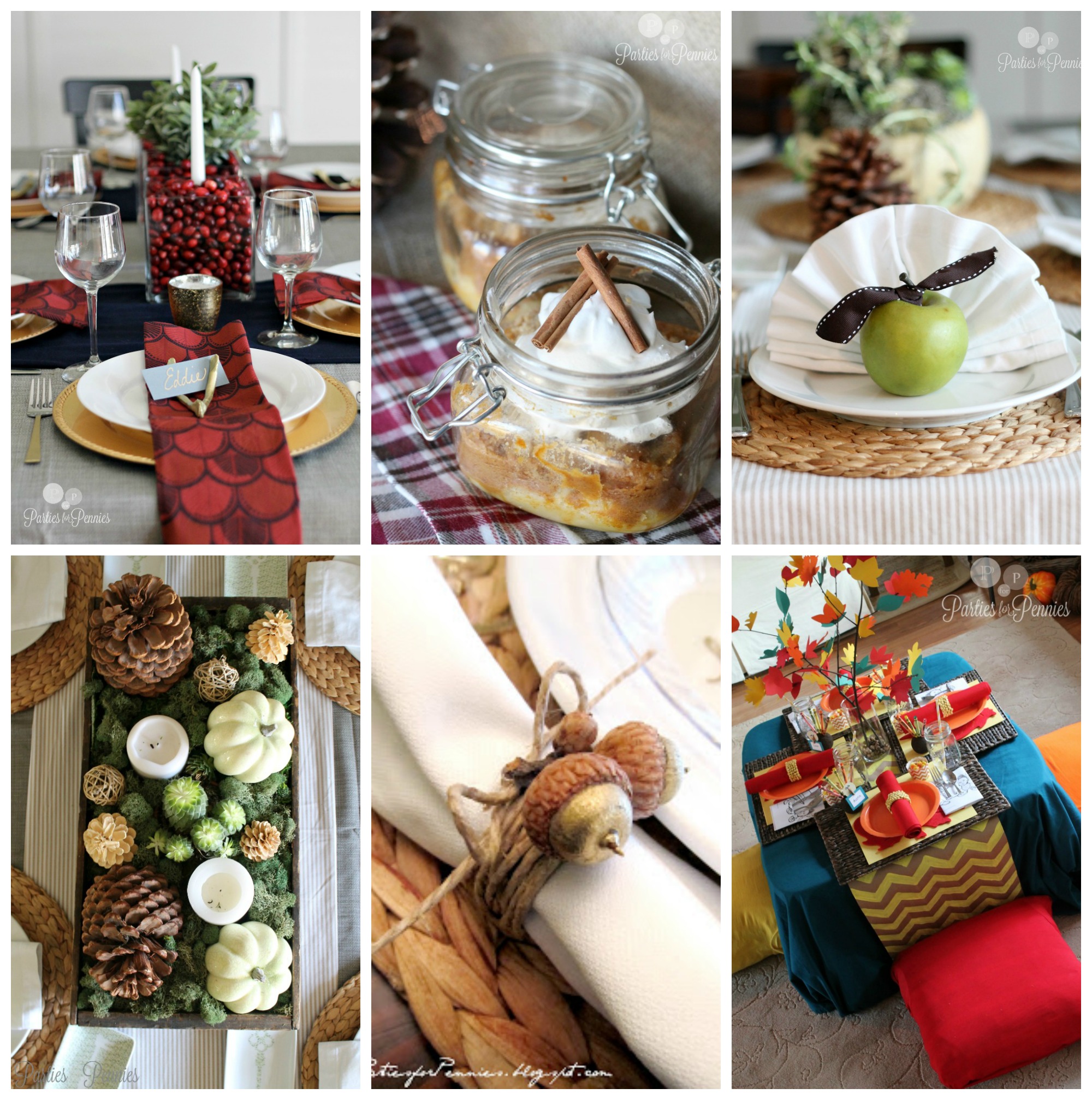 1| Cranberry & Navy Tablescape w/ DIY Wishbone Name Card Holders 2| Pumpkin Dessert 3| Apple Turkey
4| Moss and Pumpkin Centerpiece 5| Acorn Napkin Ring 6| Kid's Thanksgiving Table
Happy Thanksgiving & Party On!