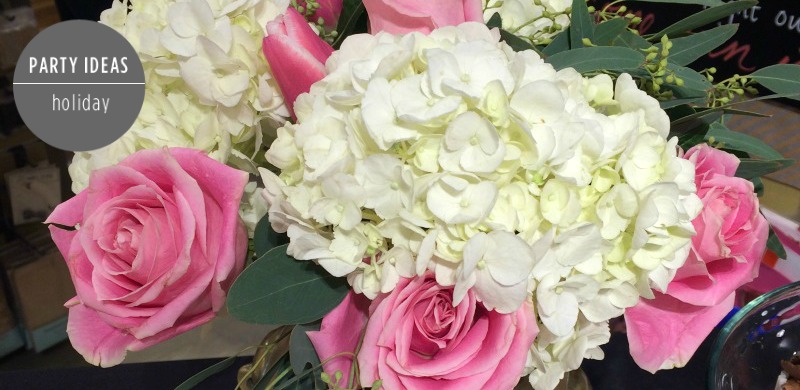 09 Feb

Valentines Day Card Making Event + Gluten Free Doughnut Recipe

Hey party people!

Huge confetti-throwing-party-popper-popping THANK YOU to everyone that came out to our Valentines Day Card Making Event last week! It was a barrel of creative fun (wow…that made me sound old ;p). It really was so fun. Thank you to the Shops Around Lenox for making it happen and to Paper Source for teaching us so many cool techniques!

Here are some of the pictures from the event! PLUS…if you scroll down to the bottom, I added a recipe for Gluten Free Doughnuts that I made for the event.
Tori, from Paper Source, showing everyone how to emboss.
Champagne, cheese, and cupcakes! All the essentials.
Menu: Brie, Gouda, and Colby Jack Cheese with Crackers; Hummus & Veggies; Mini Cupcakes topped with Valentine's Day candy (grocery store bakery); Gluten Free Doughnuts; Healthy Dark Chocolate Bark
Valentine's Day Party Tip: Grocery Store Mini Cupcakes + Valentine's Day Candy = Budget-friendly Treat
They look so pretty, but are stress-free and affordable. My original plan was to use strawberry marshmallow hearts to top the cupcakes, but I ended up forgetting them at home, so Meghan from the Shops Around Lenox grabbed some Valentine's Day candies Paper Source had and they turned out so cute.
Decorations: It's hard to see, but I made an "XOXO" table runner from white wrapping paper and black paint. I used my DIY Marble Serving Tray (find the video tutorial HOW-TO here) and a few other serving dishes. I started to use a gold paint pen to add "XOXO" to the plain plastic cups, but I ran out of time to do them all.
The flower arrangement was done for under $15 with flowers from Trader Joes.
Malanie (I think I spelled that right), from Paper Source, teaching Stephanie & her friend how to create marblized paper.
Watercolor, Embossing, DIY Envelope Liners, Marbling, and 3D cards were some of the fun techniques Paper Source showed us.
Kate, Parties for Pennies social media queen, made a really fun rainbow card for her daughter that's a HUGE My Little Pony fan.
I loved seeing all the amazing creativity!
Everyone's cards turned out so beautifully!
Me with the Craft Box Girls. Have you heard of the CraftBox Girls? If you haven't…you gotta check them out! They help you get creative in every area of your life. They're all super talented & so fun!
Me and Kate, P4P Social Media Manager…and we're sporting fun new Parties for Pennies tees! Keep an ear/eye out because we'll start selling these in the next couple weeks!!
Okay! Here is that recipe I promised you. I'm posting it because these doughnuts were eaten up fast…even by "gluten lovers." Several people asked for the recipe, so here it is.
Gluten Free Doughnut Recipe
Doughnut Ingredients:
1 1/2 cup Trader Joe's Gluten Free Buttermilk Pancake & Waffle Mix (click on the link to get it delivered to you)
2 Eggs
1/2 cup, plus 4 tbs. water
4 tbs. coconut oil, melted
Coconut Oil Cooking Spray
Vanilla Glaze:
4 tbs. or 1/2 stick unsalted butter (make sure it's unsalted)
1 1/2 cups powdered sugar
2 tsp. vanilla extract (clear)
3 tbs. half & half (or coconut milk if you want it to be dairy free)
Chocolate Glaze:
4 ounces semi-sweet chocolate
2 tbs. unsalted butter
1 cup powdered sugar
1 tsp. vanilla extract
4 tbs. half & half (or coconut milk if you want it to be dairy free)
Doughnut Instructions:
Mix together all ingredients (except for the cooking spray). Pour into warmed mini doughnut maker (click on link to see the one I used).
Tip: It's really hard to get pretty looking doughnuts using a spoon to add the batter. I added the batter to a plastic bag and snipped one corner, so it resembled an icing bag. That worked SOO much better!
Vanilla Glaze:
Melt the butter in a saucepan on medium-low heat. Add the powdered sugar and rest of the ingredients. Stir until it's a glaze consistency. If you need to thin it a bit, add more half & half or coconut milk.
Turn to low heat and fully dip the doughnuts into the glaze. Place on parchment paper and allow to cool.
Chocolate Glaze:
Once the vanilla glaze has completely dried, mix the chocolate glaze by melting the butter in a saucepan (medium-low heat). Add the semi-sweet chocolate and the rest of the ingredients. Stir until fully melted and smooth. Leave on low heat and dip one side of the doughnuts into the chocolate glaze. I ended up just drizzling the chocolate over mine due to time. You can do whichever you'd like.
Enjoy! Makes 2 Dozen Mini Doughnuts
Thanks again for everyone that came to the event! If you'd like to see Parties for Pennies do more of these events around Atlanta, leave a comment below! And remember…Party On!