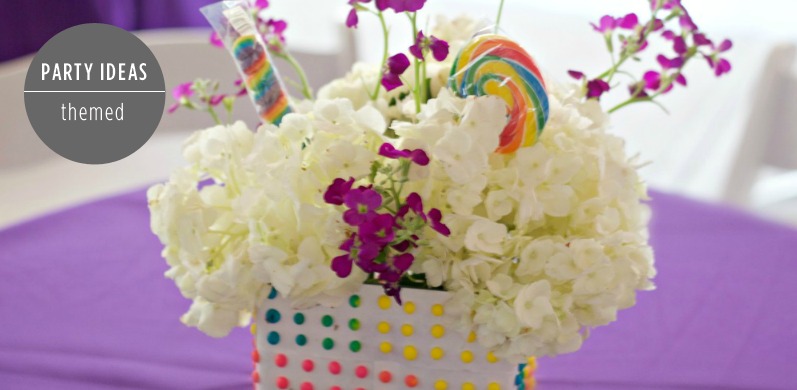 02 Nov

Willy Wonka Halloween Party

Hey party people! Welcome to our Willy Wonka Halloween Party!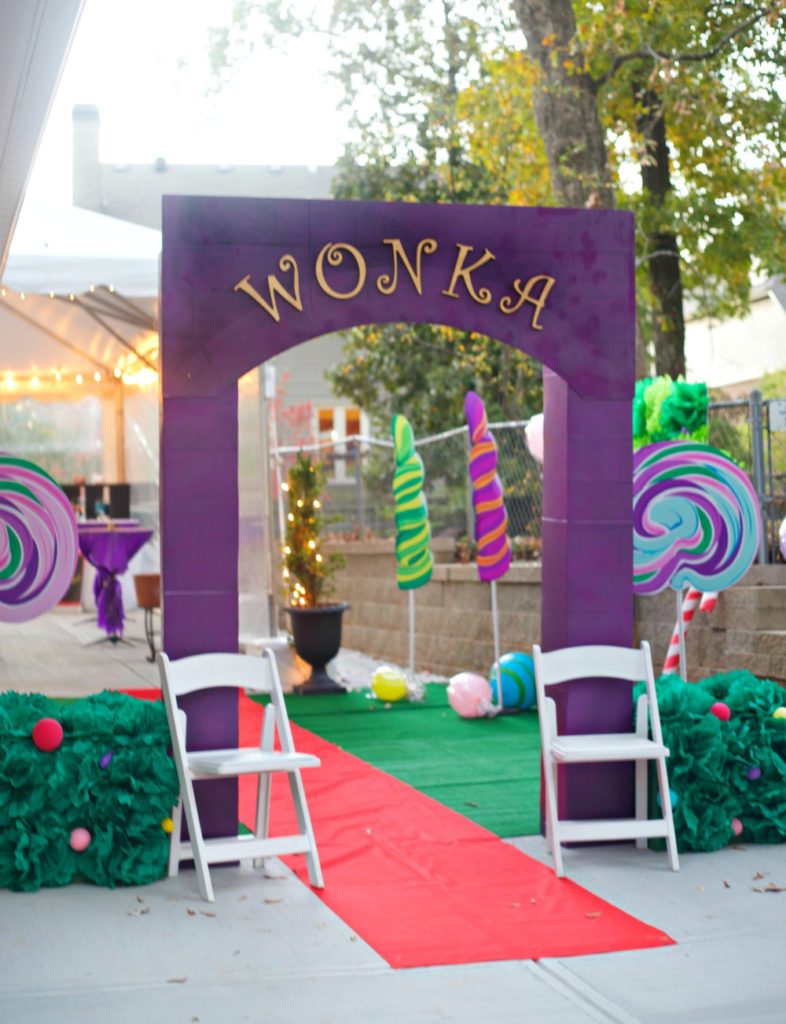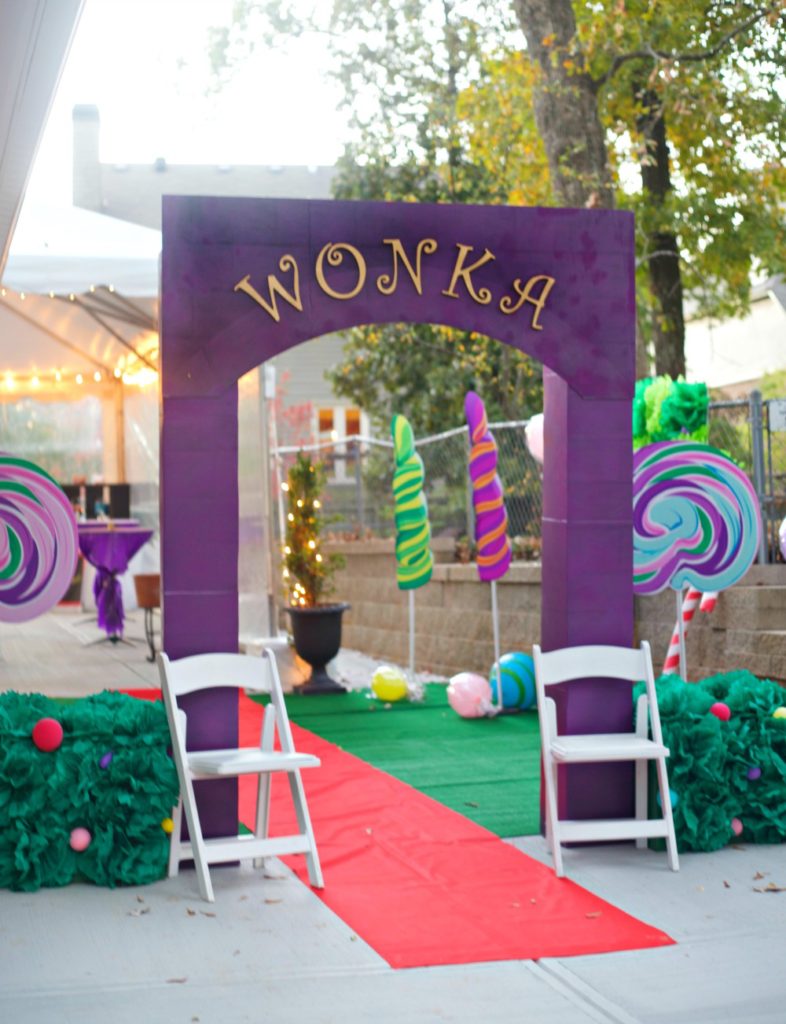 This past weekend, we hosted over 70 people at our home for a magical Willy Wonka Halloween Party! It was colorful, whimsical, and so fun. Here are some of the fun details from the event, including DIY projects, entertainment ideas, resources, and menu options.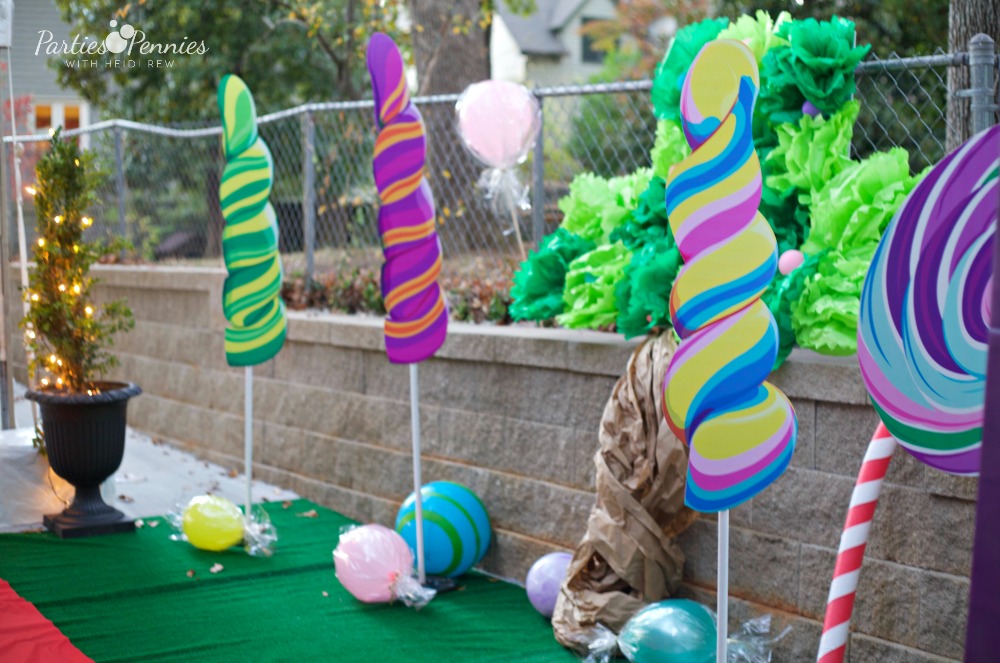 The Willy Wonka candy red carpet entrance was due, in huge part, to Shindigz! Have you ever shopped at Shindigz? They're an online party supply company that has everything you could need (and more). These larger than life candy pieces were perfect. I also stressed about the Wonka gate, until I saw THIS from Shindigz! Easy to put together, so simple, and all I had to do was add purple spray paint and gold wonka letters.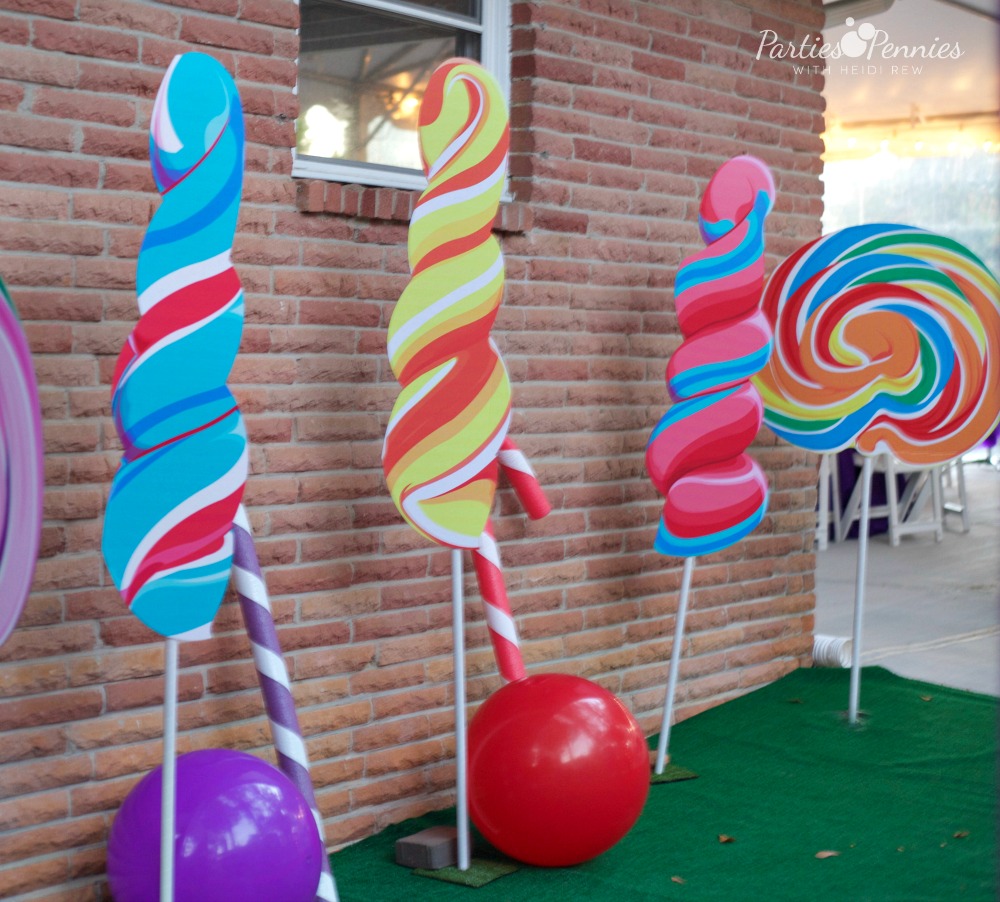 These gorgeous candies couldn't be more simpler to put together. You just attach the white poles to the back to the candy with these heavy duty foam stickers (included). Put together the base by screwing in a couple pieces, then slide the pole over the base. Done! That simple! Yes, please.
Here's a link to tons more candy decorations from Shindigz.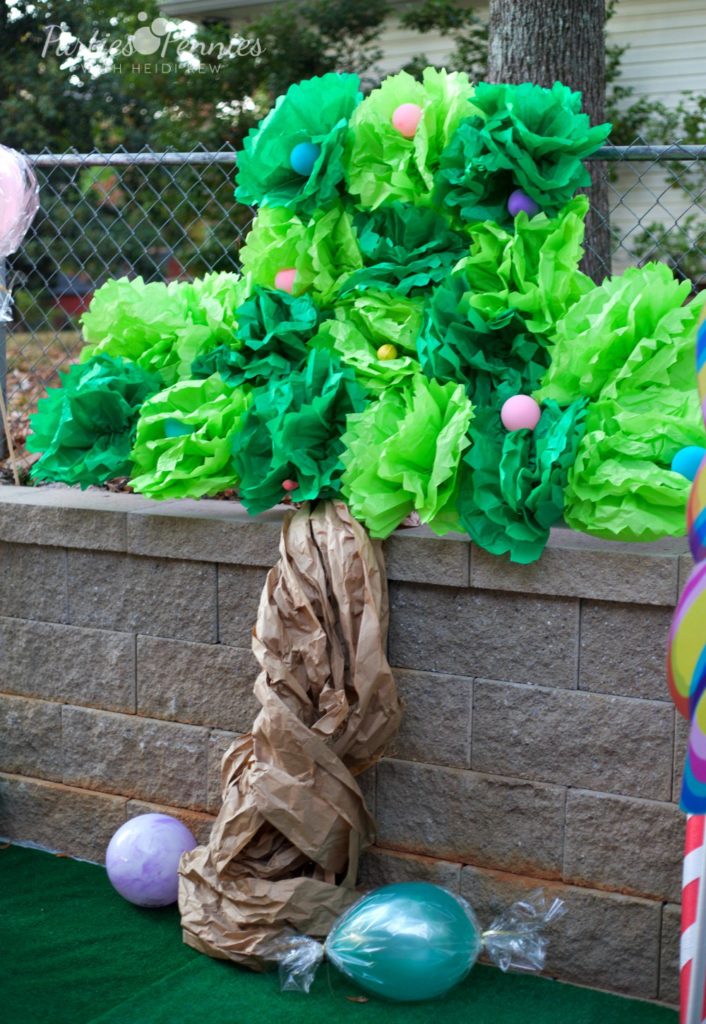 This was one of my DIY projects. I wanted a huge tree, so I attached 3 pieces of foam board together with tape in a pyramid shape. I threaded a few cable ties through the posterboard, then added tissue paper puffs with hot glue. The cable ties helped me secure the "tree" to the fence. I added a few small balloons to give the illusion of candy and created a trunk out of packing from a package.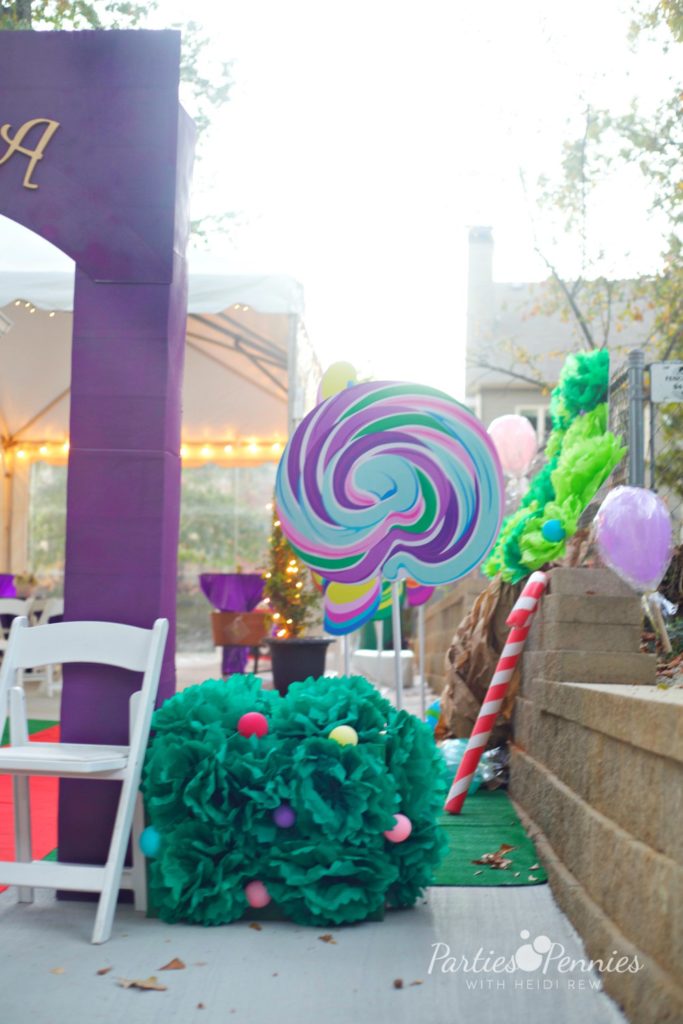 Some additional DIY projects were – 1| Balloons covered with cellophane to look like candies, 2| Candy Canes made from pool noodles, white duct tape, and a wire, and 3| This "shrub" above made from a box spray painted green, tissue paper pom poms, and small balloons.
I also found some large bouncy balls for a great price that I added to all the above.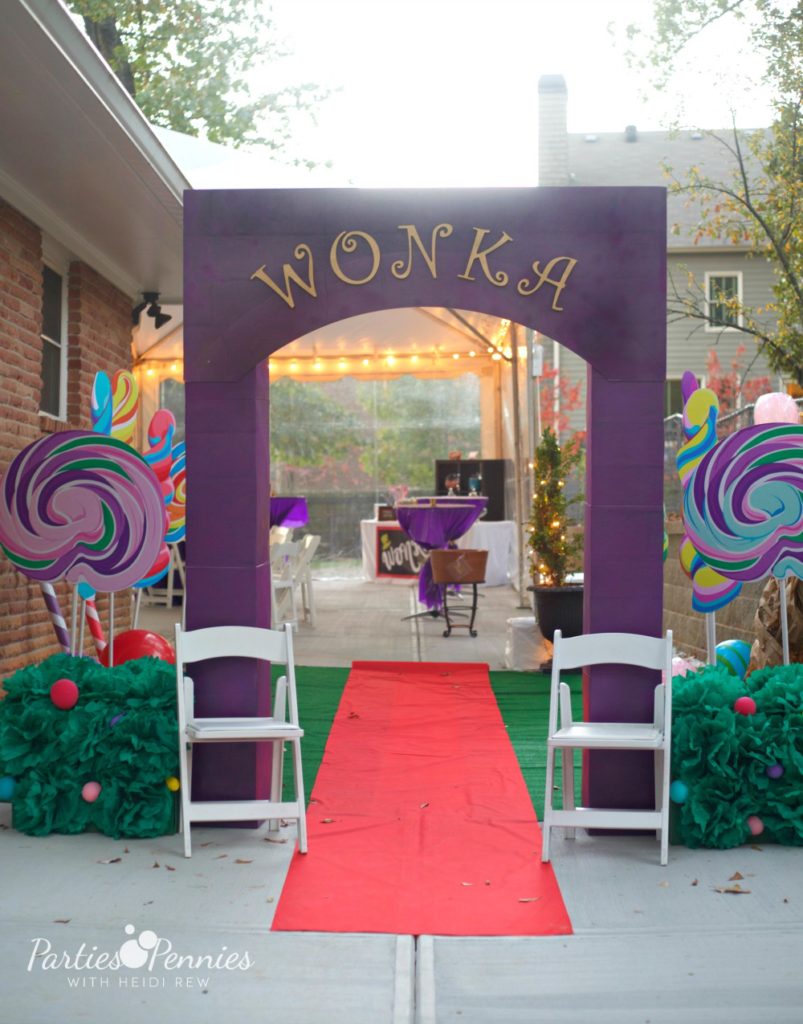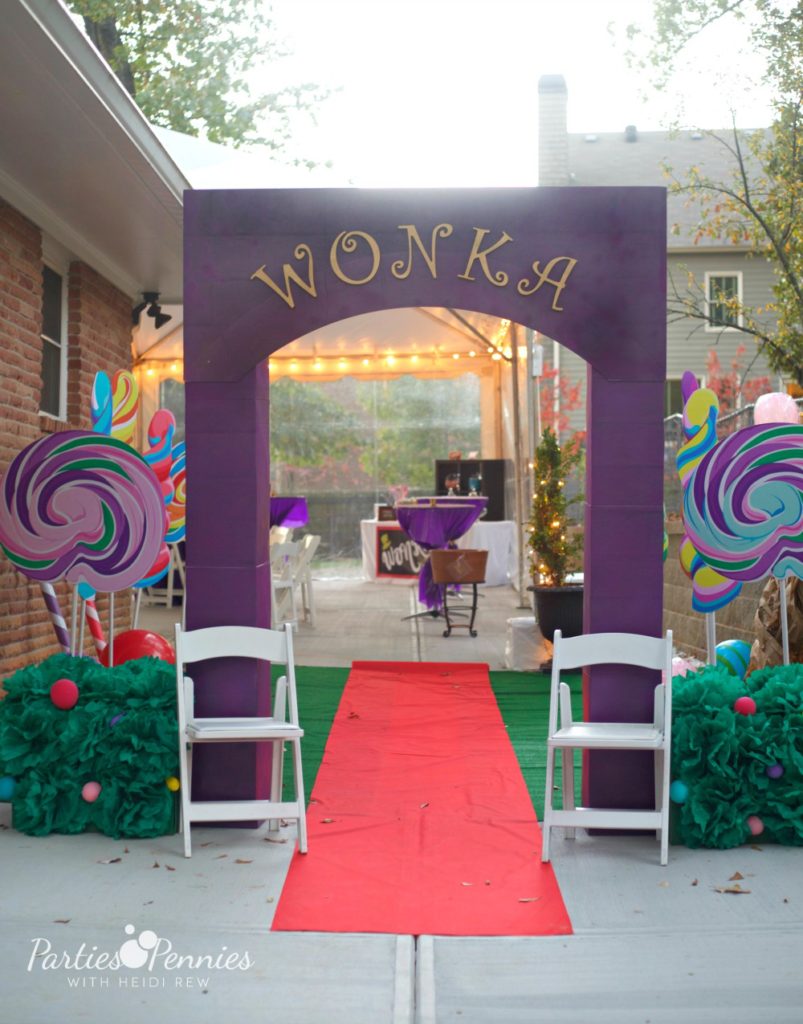 This entrance ended up to be a perfect place to snap photos during the party (see below). We added some spotlights to it, so it was great even in the dark.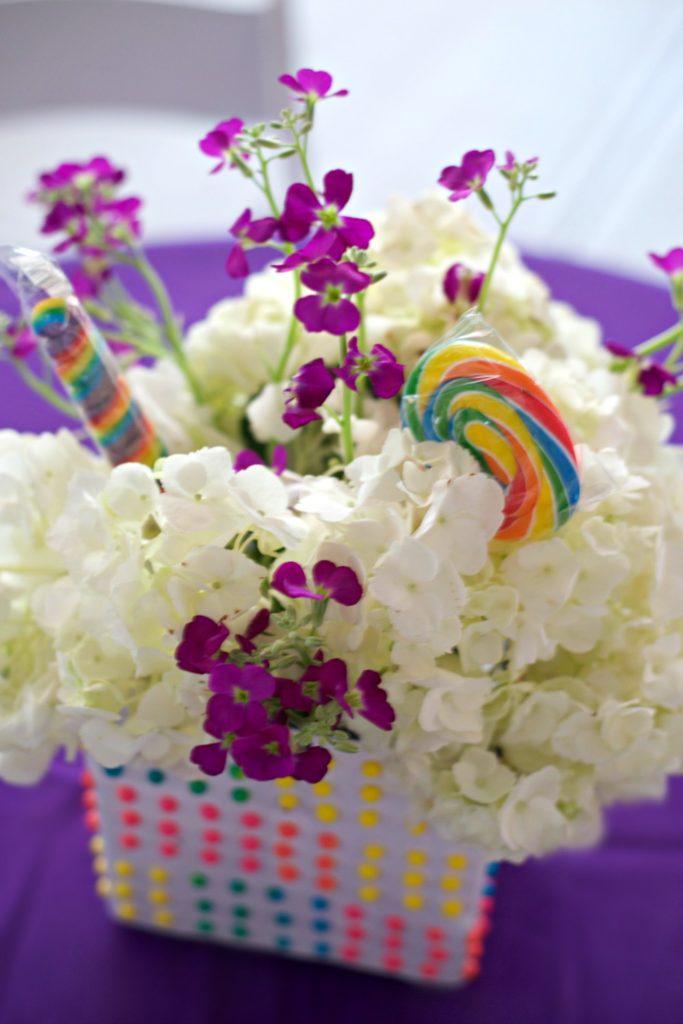 These centerpieces were made by wrapping candy dots around a glass vase and securing it with double-sided tape. I added some fresh hydrangeas, purple stems, and some swirly candy.
Shindigz has a great selection of candy, so I used their swirly pops in the centerpieces and on the candy bar. Check out what they have to make your own candy button centerpiece –
Twist Lollipops | Rainbow Swirl Lollipop | Candy Buttons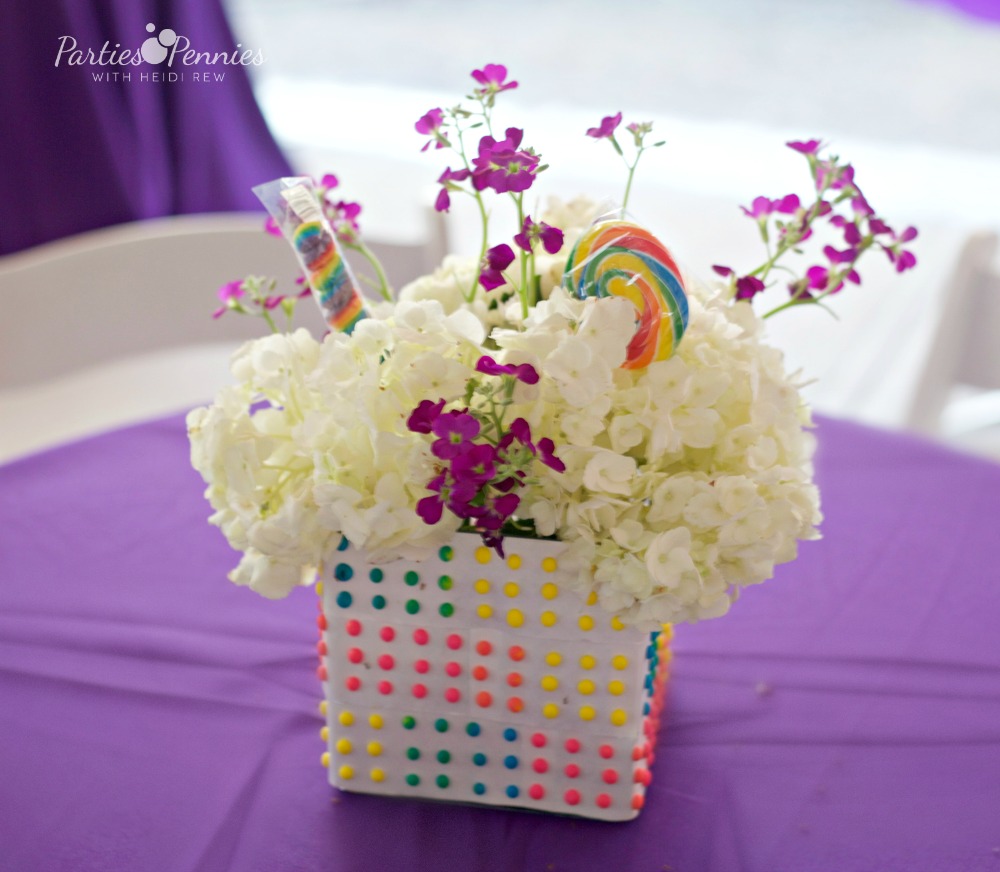 This year, we decided to rent a tent. You never know what Atlanta weather will be like, so we didn't want to take chances. We also knew that the amount of people that were coming would probably not fit in our home.
I've rented from a bunch of different rental companies around Atlanta, but my favorite is Peachtree Tents and Events . They're wonderful to work with, always prompt and professional.
We rented our tent from them, as well as some of the tables, and the chairs. Even though the weather turned out to be wonderful, the tent was still a great decision. It was like we had an event center in our backyard, without the cost of renting a space, and it was so easy to hang lights around it.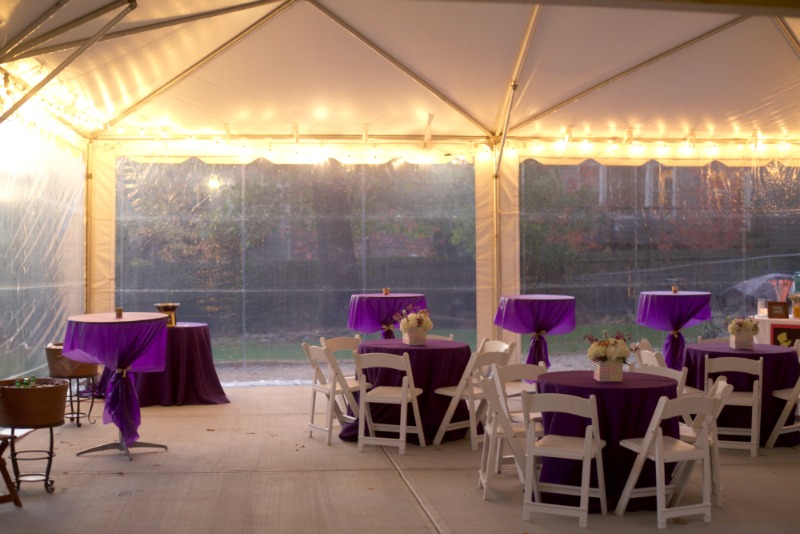 If you're interested in seeing the process of Peachtree Tents setting up the tent, check out this short video…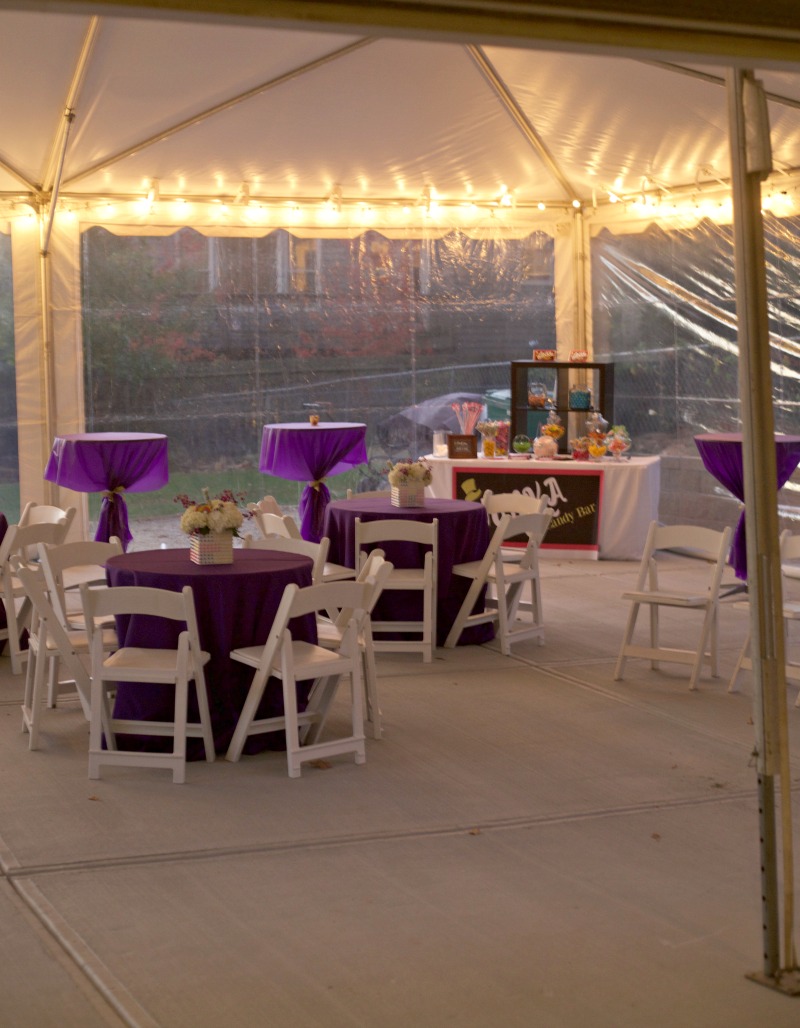 It created the perfect space, so we could spread things out, like the Wonka Candy Bar.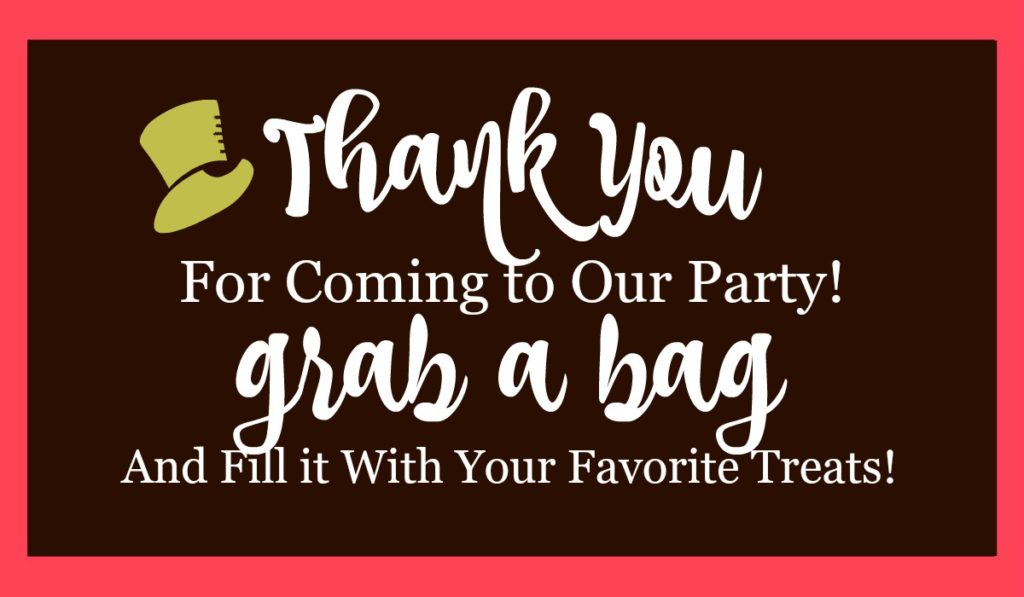 This was the party favor. Guests could take a bag and fill it with their favorite candies.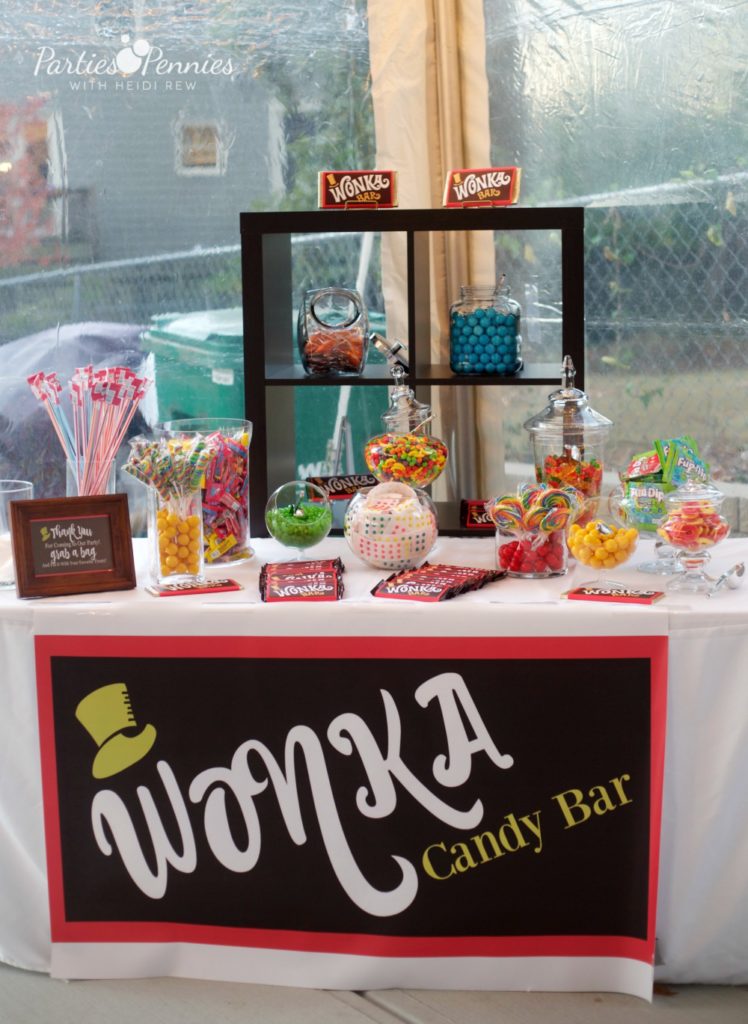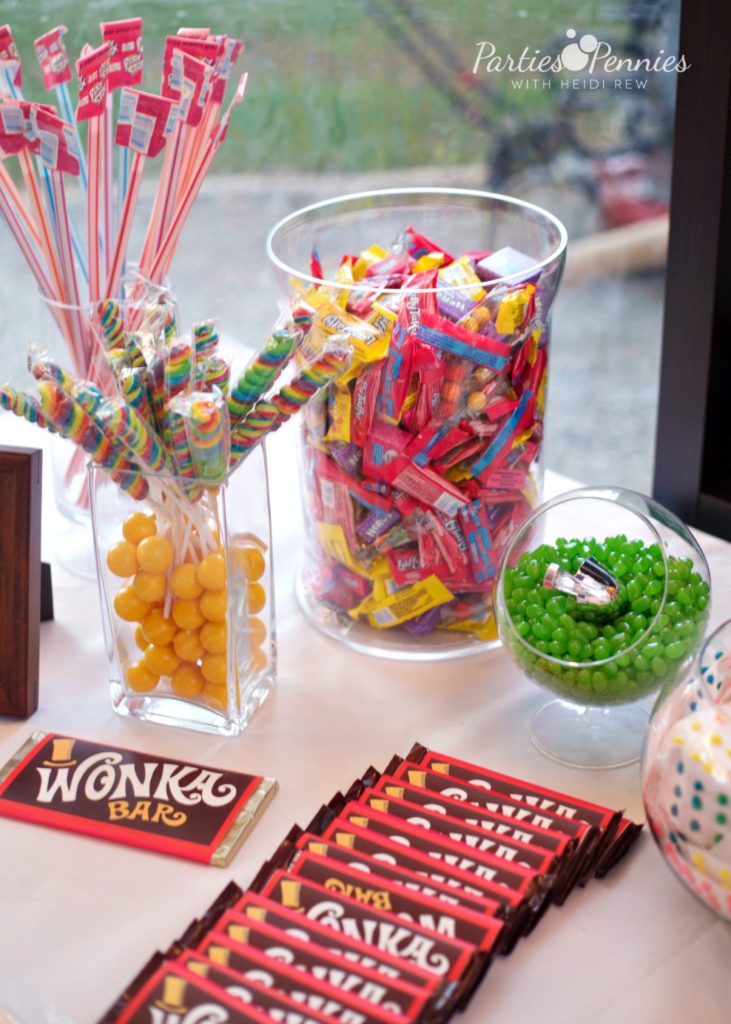 Yes…that is Fun Dip you see! That was one of my favorite candies growing up. I had a package for the first time since elementary school after the party. I ordered those from Shindigz, as well as the pixie sticks (which were a huge hit).
And a Willy Wonka Party wouldn't be the same without a Wonka Bar! Find a printable here. Our friend Jeff found these printables for us! Thanks Jeff!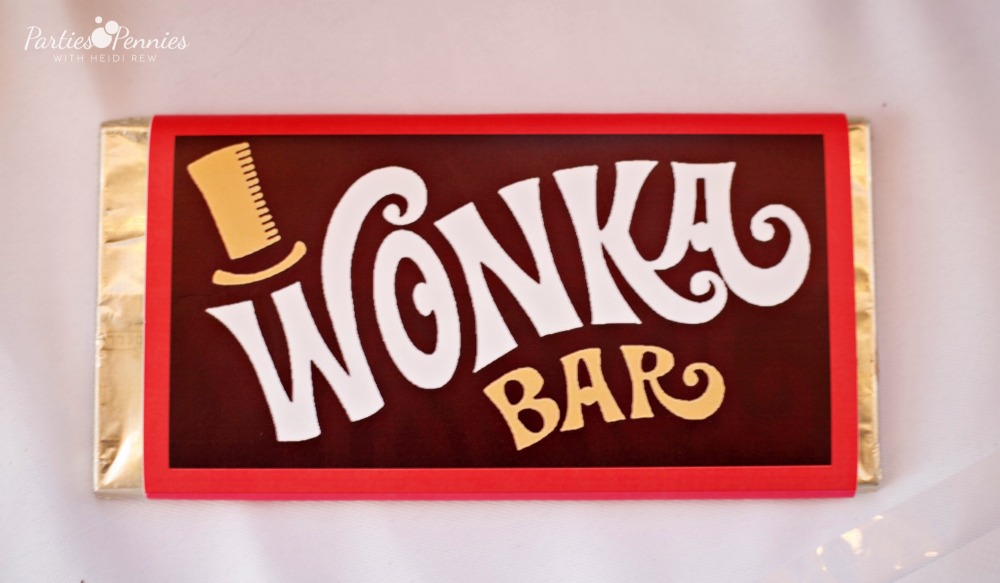 Another thing we couldn't be without?? A chocolate fountain…or, eh…a chocolate river.
Side note: I created all the signs on my own. Just email me if you'd like a copy of them – heidi@partiesforpennies.com.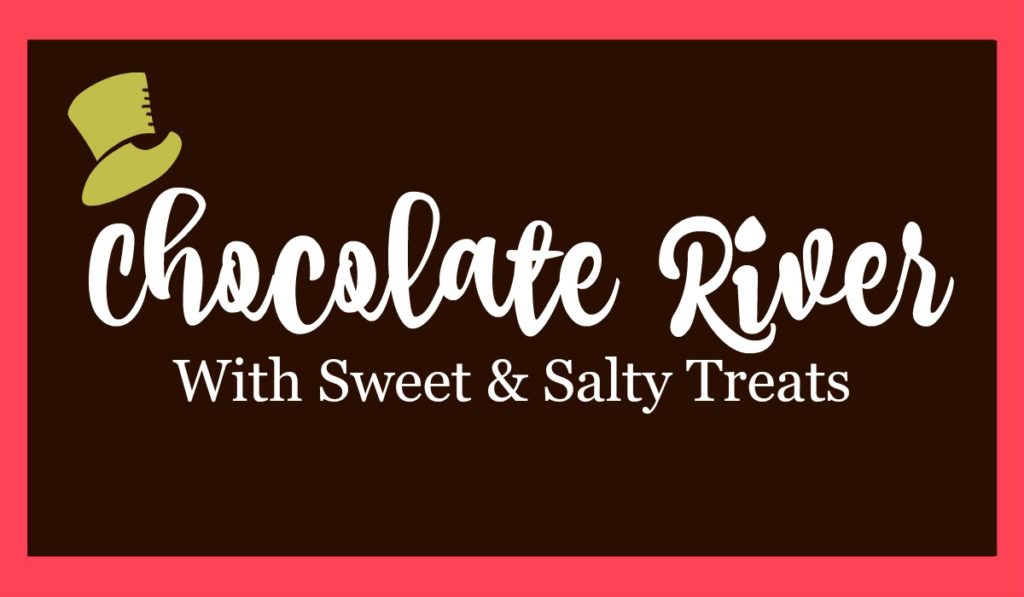 In most stores, this chocolate fountain is $129! I found it on amazon for $59! I looked into renting one, but it's outrageous to rent one (like $250+), so I figured how much it'd be for a dessert that fed over 70 people and decided buying this wouldn't really set me back that much. The chocolate is the expensive part. I bought mine on amazon, but later saw some in the store for less. You have to buy the specific chocolate for this fountain for it to work. To be honest, with the chocolate and dippers, it was probably $115 for a dessert table that fed over 70. It's less than $2/person, but I typically like to stay around $1/person, if I can. I reasoned it was worth it to provide something perfect to the theme.
TIP: I used 2 bags of Wilton's Chocolate Fondue Melting Chocolate. This comes to 4 lbs. and is the recommended amount for use. I bought one extra bag and ended up filling the fountain toward the end, but people had already had their fill of the fountain so I didn't really need that. Just wanted to let you know that if you expect 70 people or less, you probably won't need more than the 4lbs.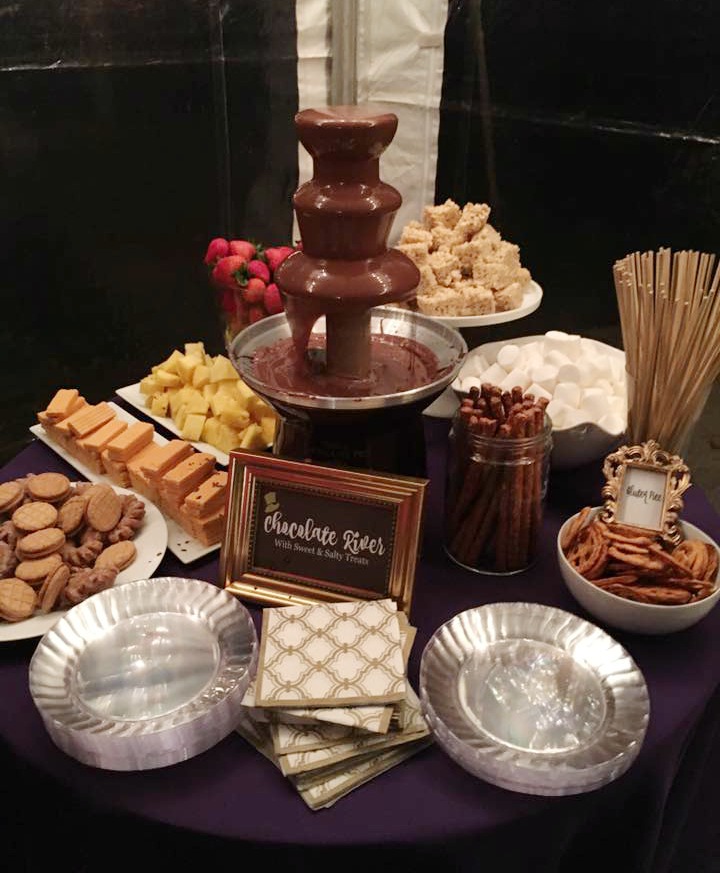 Here are the dippers I had: Strawberries, Marshmallows, Rice Krispy Treats (those were the first to go), pineapple, pretzel sticks, gluten free pretzels, vanilla wafers (not the brand, the kind), nutter butters (also a hit), and pumpin spice doughnuts (I was hoping to find plain cake doughnuts, but they only had these).
We had a costume and lip sync contest, so ballots were a must.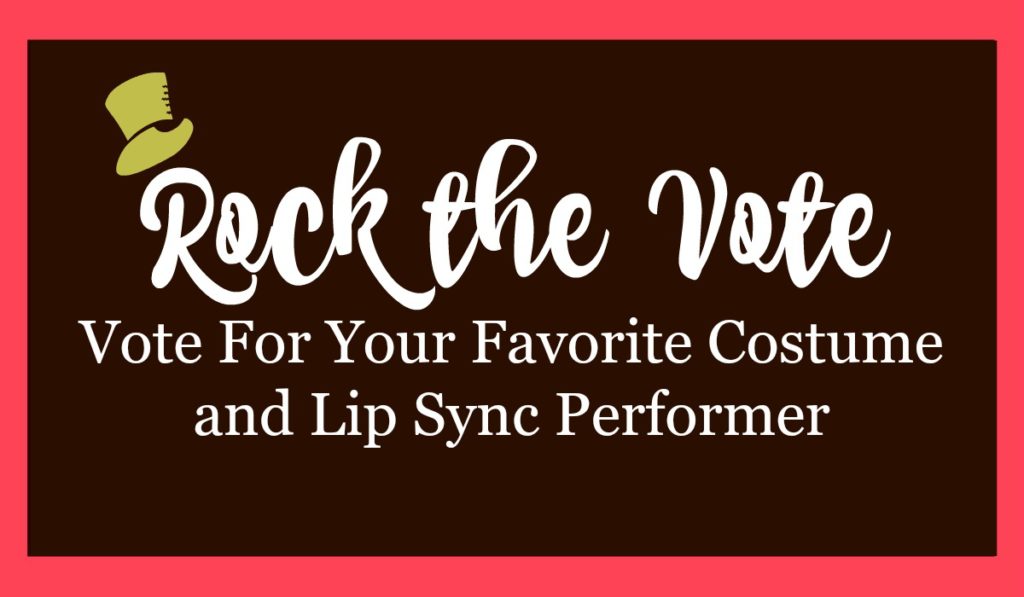 I DIYed a golden egg meter for everyone to drop their ballot. This is just an old amazon box, white wrapping paper, some letter stickers, and gold washi tape. It's not perfect at all, but worked!
We gave out prizes for: BEST LOL, MOST EPIC COUPLE, BEST CELEBRITY LOOK-A-LIKE, MOST CREATIVE, and BEST HOMEMADE costumes.
A budget-friendly tip for prizes – there's been several years we've gotten Groupon certificates for cool things as prizes. Costco also usually has gift cards for sale for less than their actual value. For instance, we got AMC movie tickets there for $12 for 2 passes.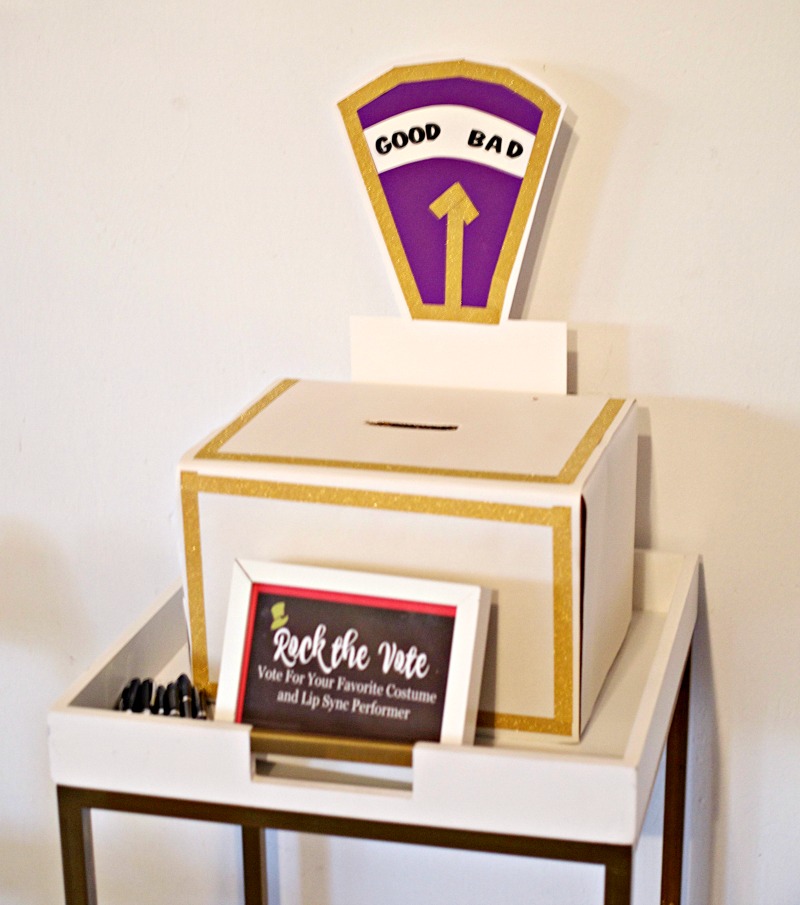 Wanna peek behind the curtain? ;p Since we housed the food and drinks in our garage, we tried to hide things or use them as best as we could. The Fizzy Lifting Drink backdrop was draped over Mike's squat rack. Not exactly ideal, but it worked (kinda…you can see it coming a little loose on the left side).
I used my Cricut to cut out vinyl letters for the "Fizzy Lifting Drink" and they pulled off really easily afterwards. The backdrop is actually a photo backdrop.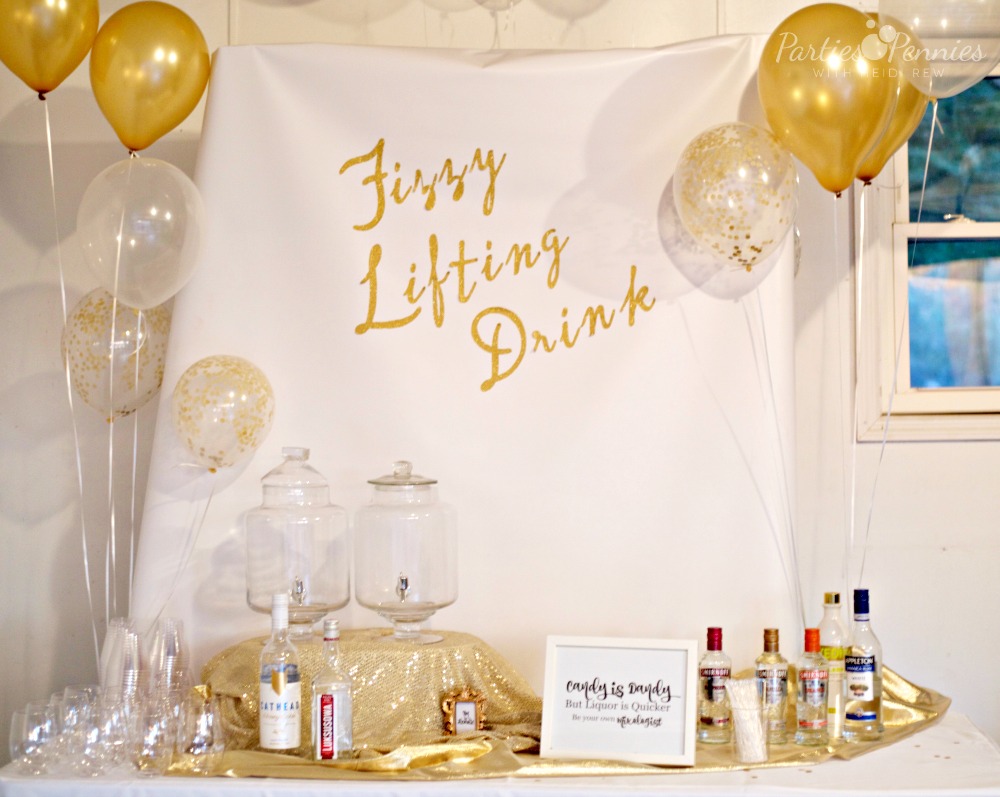 The Fizzy Lifting Drink Recipe is:
Bottle of Sprite
Bottle of White Grape Juice
Vodka (omit the vodka for a non-alcoholic version, I offered both at the party)
I also set out other juices and liquor for guests to mix their own.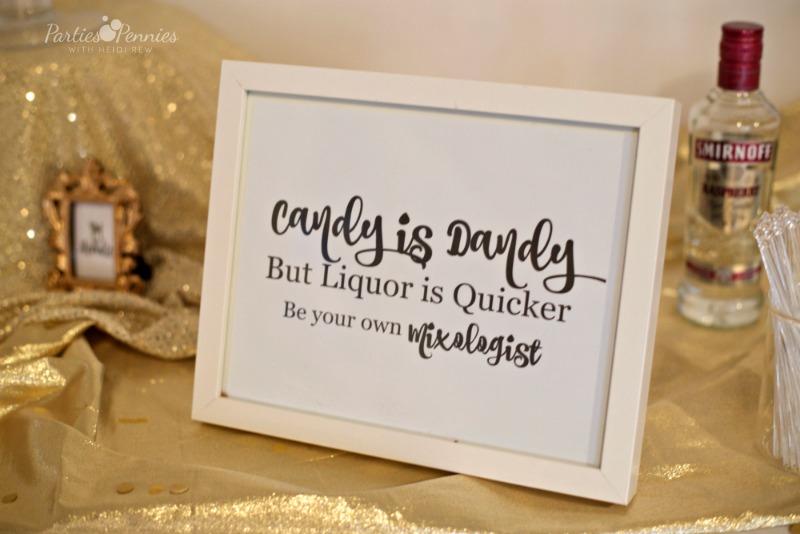 This was one of my favorites of the party. I wanted to replicate (in my own way) the light up Wonka sign outside the factory. I ordered the Heidi Swapp marquee letters from amazon, spray painted them gold, covered boxes in purple wrapping paper (I also added a 5 lb weight to each box before I wrapped them, so they wouldn't easily fall over), then added picture frame hooks to hold them in place.
This was set up in the corner of the food table.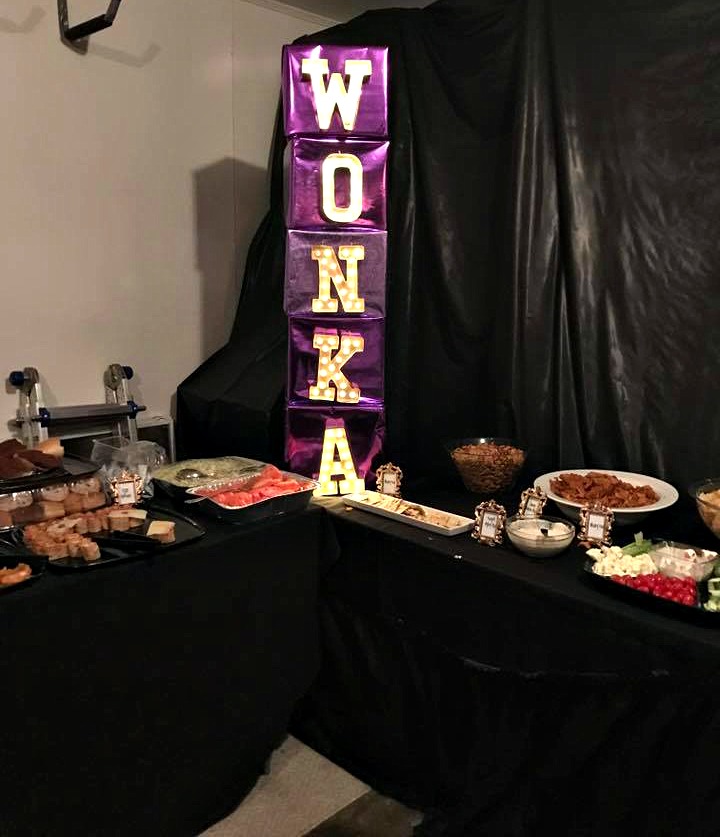 I weighed a bunch of different options for food. I didn't want to be in the kitchen during or right before the party, so we decided to order platters from our local grocery store. We got subs, chicken fingers, a combination platter, a vegetable platter, and some chips. Thankfully, we had enough food!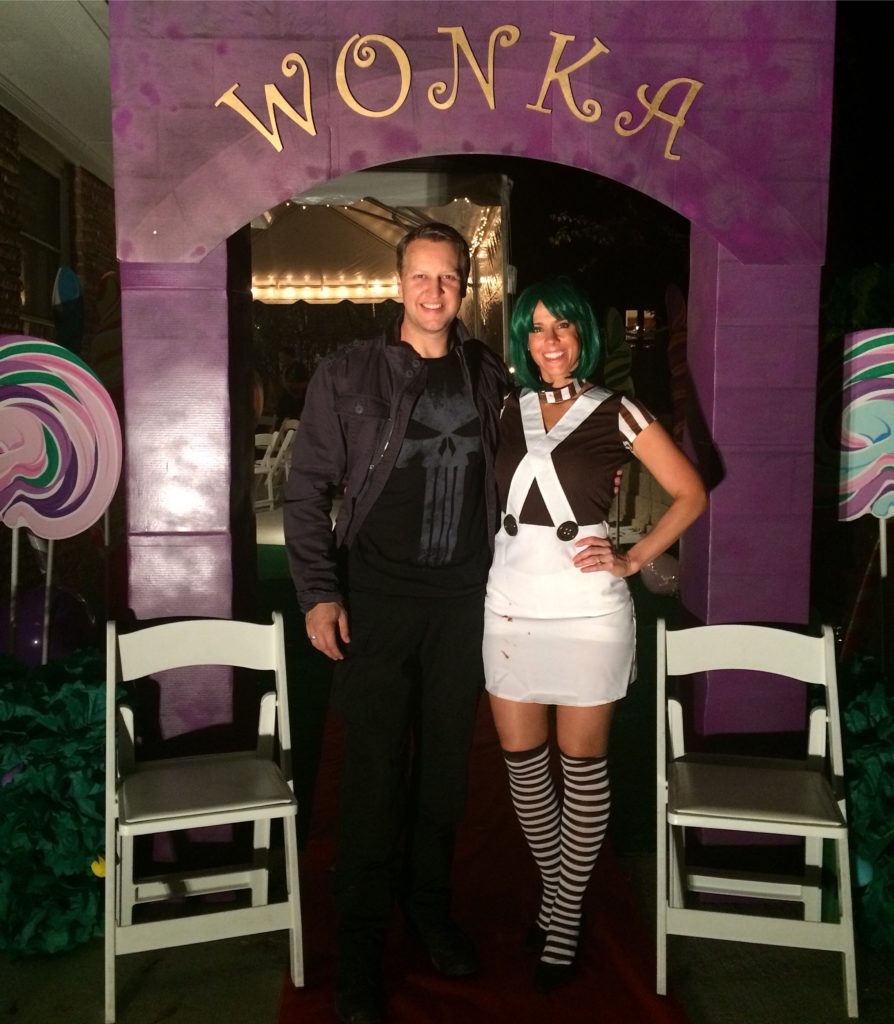 This is my husband Mike (aka the Punisher) and I'm an oompa loompa. I got my oompa loompa costume from amazon as well (click on the photos below). The green wig was awesome and much cheaper than other wigs I've seen.

There were so many great costumes. You can see some of them below (I hate that I didn't get a pic of everyone).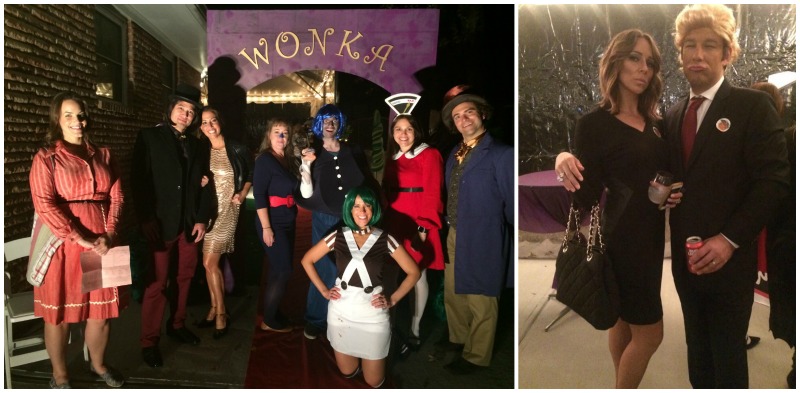 This is a cute photo my friend Carolann shared. The left photo is from last year's Beetlejuice party and the right is this year. What a change, huh? 🙂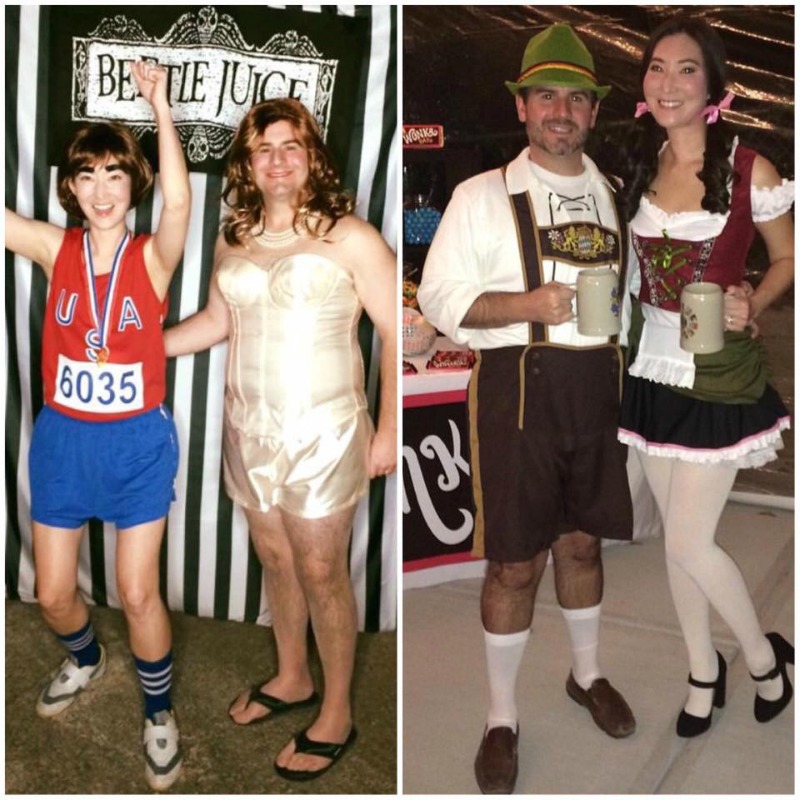 Of course, the talent in the lip sync contest did not disappoint. If you want a good laugh, check out this highlight reel video from the lip sync.
One of the things I DIDN'T get a picture of, which I HATE, are the lights hanging up on our patio. You can see them in the lip sync video. This is the brilliant idea of our friend, Jeff Carter. He is a light expert (seriously…he speaks at Christmas light conferences). Here's his Christmas Craftsman YOUTUBE channel with great ideas for Christmas, the Christmas Craftsman Website, and Flickr page.
So Jeff had the brilliant idea of getting these colorful plastic jack-o-lanterns ($1/ea from Walmart) and putting them over our string lights. Genius, right??! It looked amazing & totally made the party! Thank you Jeff!
Who would you have picked to win? There were so many great performances!
It was a wonderful party and I'm so grateful to Peachtree Tents & Events for the tent and other rental pieces, Shindigz for making the entrance magical, my awesome husband for being the best man in the world and going along with all my crazy ideas (Oh..and missing the FL/GA game that day to help me), our friend Jeff for his genius lighting idea, my friend Allison for letting me borrow the red carpet, my sister for saving me right before the party with all her help, our wonderful friends Bobby & Amy for also coming to the rescue as the party began, Taylor & Cami who were so awesome at snapping pics during the party, and of course EVERYONE who attended the party! I love creating these events for YOU. My hope is everyone had a magical, entertaining evening!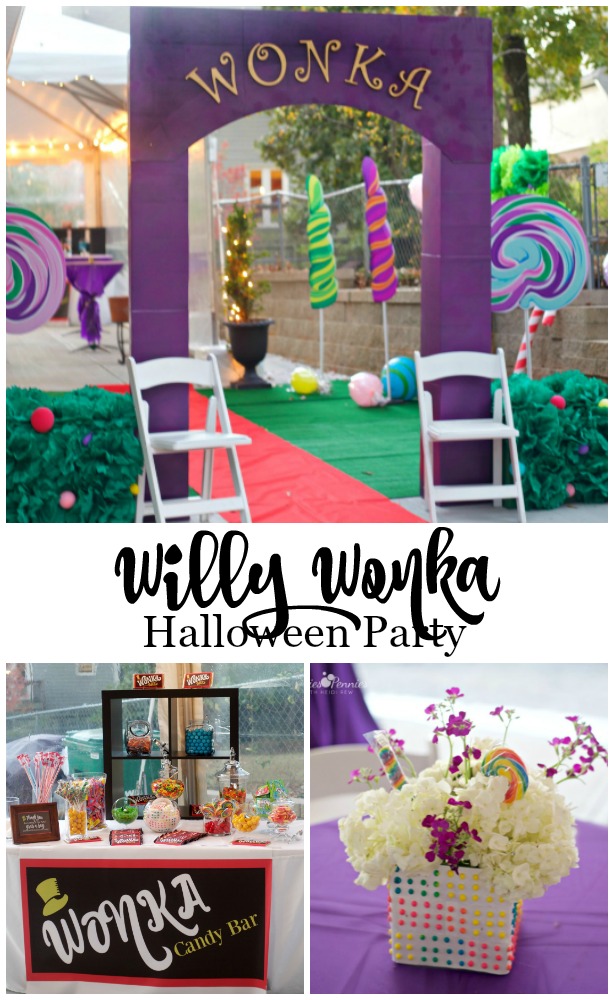 Here are some additional items from the party, if you want to order them:
I ordered the tablecloth at the end in purple, the ivory was just the one that happened to pull up.
Now to come up with next year's theme. 🙂
Check out my past Halloween parties here: BEETLEJUICE, 80s PARTY, HAUNTED BASEMENT (this was one of the ones that started it all…it was before I was married to Mike)
Hope you had a great Halloween! Party on!