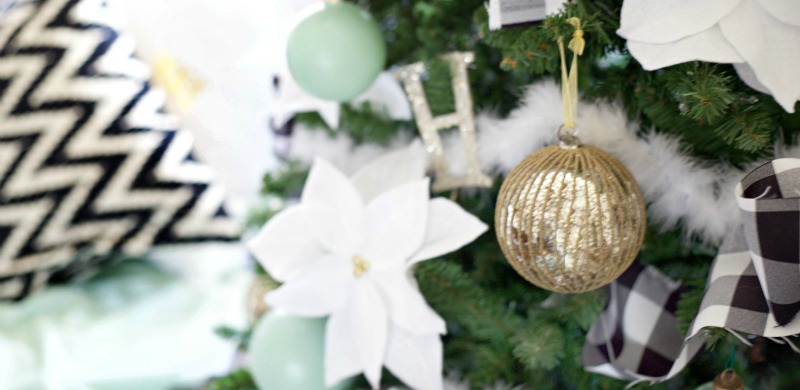 02 Dec

Easy Christmas Decorating Ideas

Hey party people!

*Don't be a party pooper & leave too early. There's a giveaway at the bottom of this post!**

I'm giddier than a little girl who just got to meet Elsa from Frozen. Why? Because I am sitting in our living room looking at our beautifully lit new Christmas tree. I adore this time of year. Let me take you on a little tour of our house with some Budget-Friendly and Easy Christmas Decorating Ideas along the way…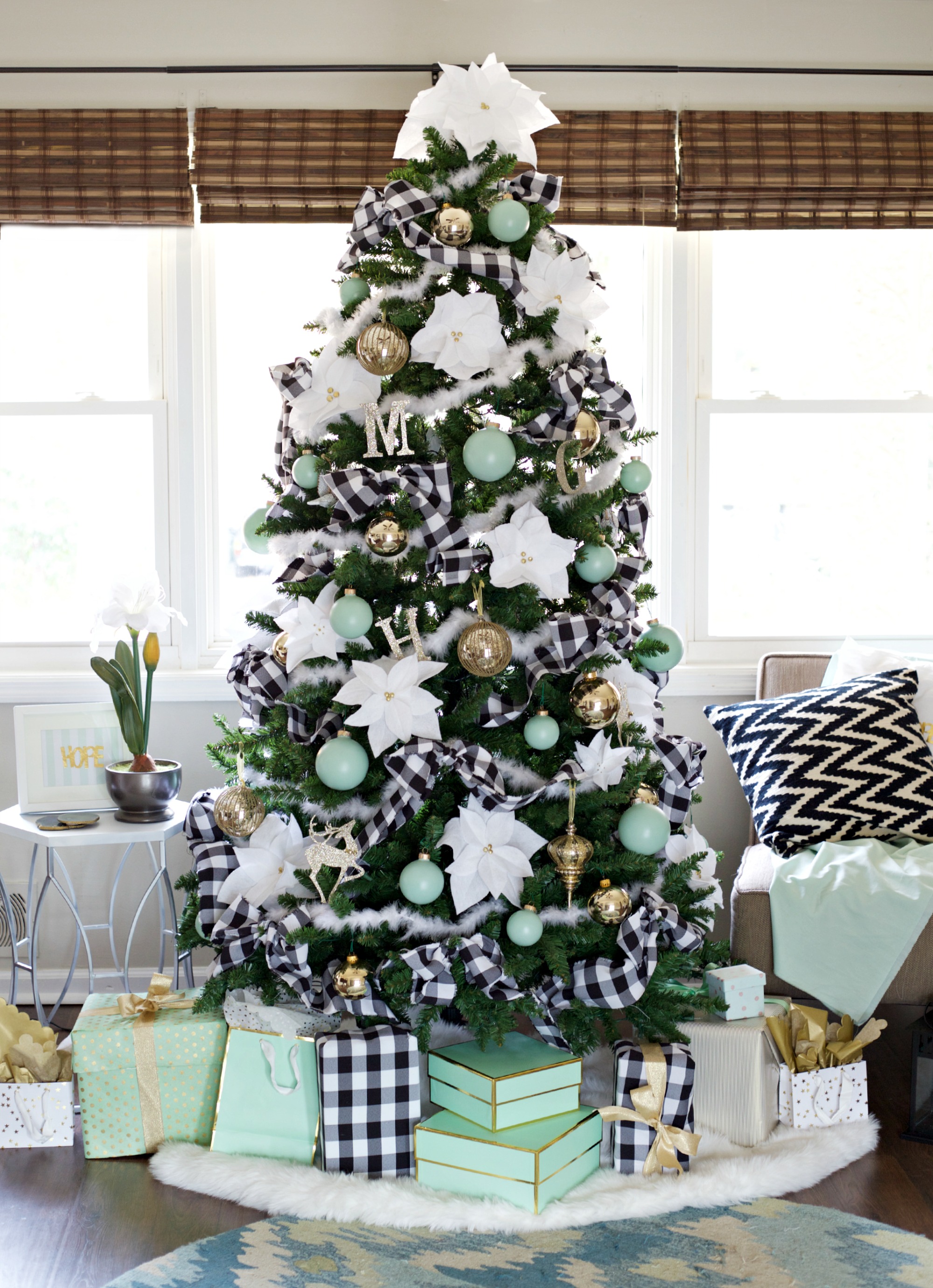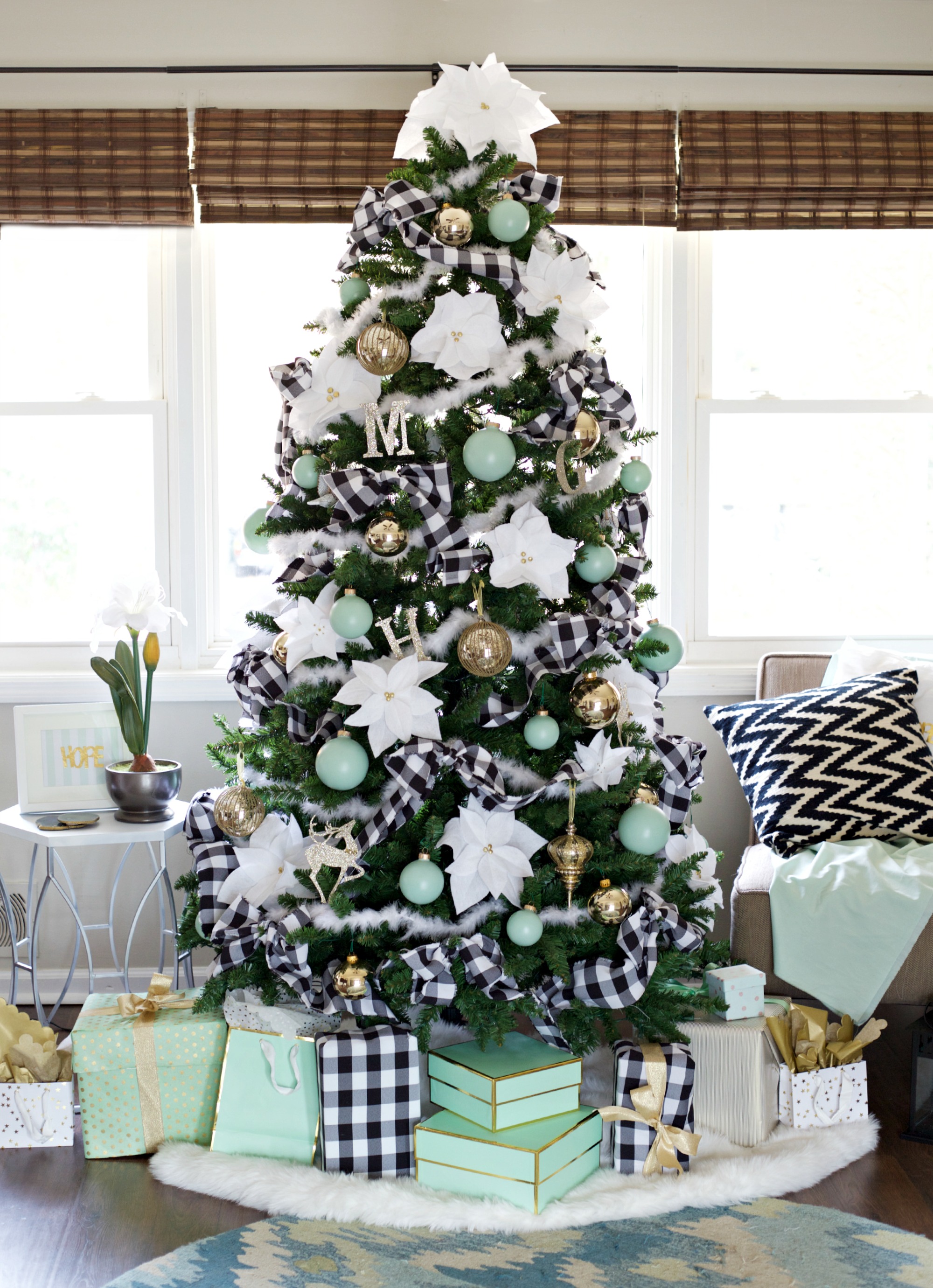 I wasn't so sure about this gorgeous tree, to be honest. I've ALWAYS had a real tree. Always. Like since I was straight out of my mother's womb. BUT…I decided to give it a try this year with this St. Charles Spruce from Tree Classics and I've seen the LIGHT! The light of a Christmas tree that already HAS the lights on them AND that doesn't shed AND that I don't have to water AND that takes just a few minutes to set up AND I can do it all by myself. I'm never going back to a real one again. Seriously. I'm a b-tree-ver.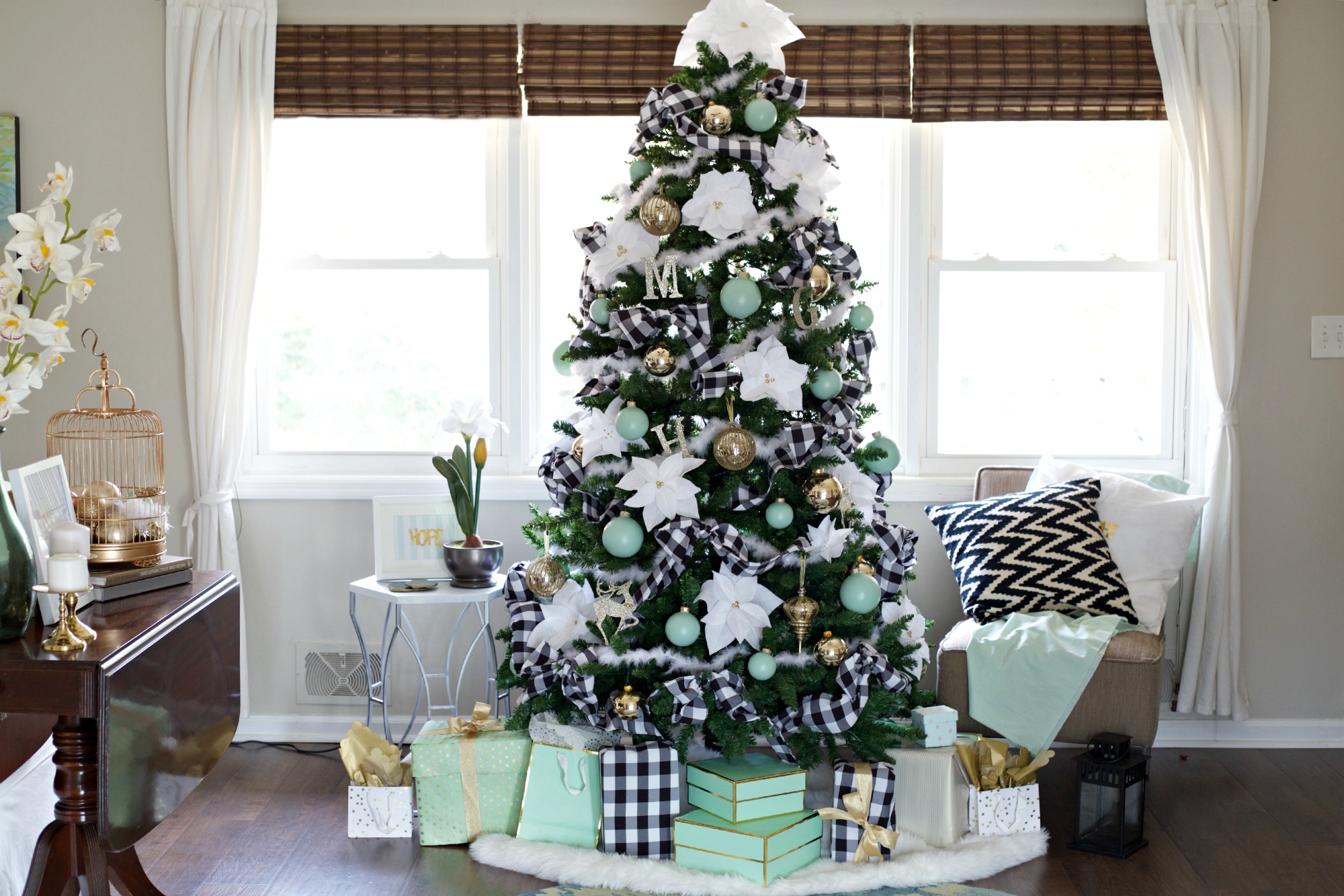 Last year, I got totally done putting all the lights on the tree, then I realized I plugged them in all wrong. I had to unwrap them and start all over again. My inner Clark Griswold came out of me. Not fun.
This year, no worries. I just attached the 3 main sections of my Tree Classics Spruce, plugged it in & boom. Done. It even has this cool little step button that you just press to turn the lights on.
Now on to some of the Budget Friendly & Easy Christmas Decorating Ideas…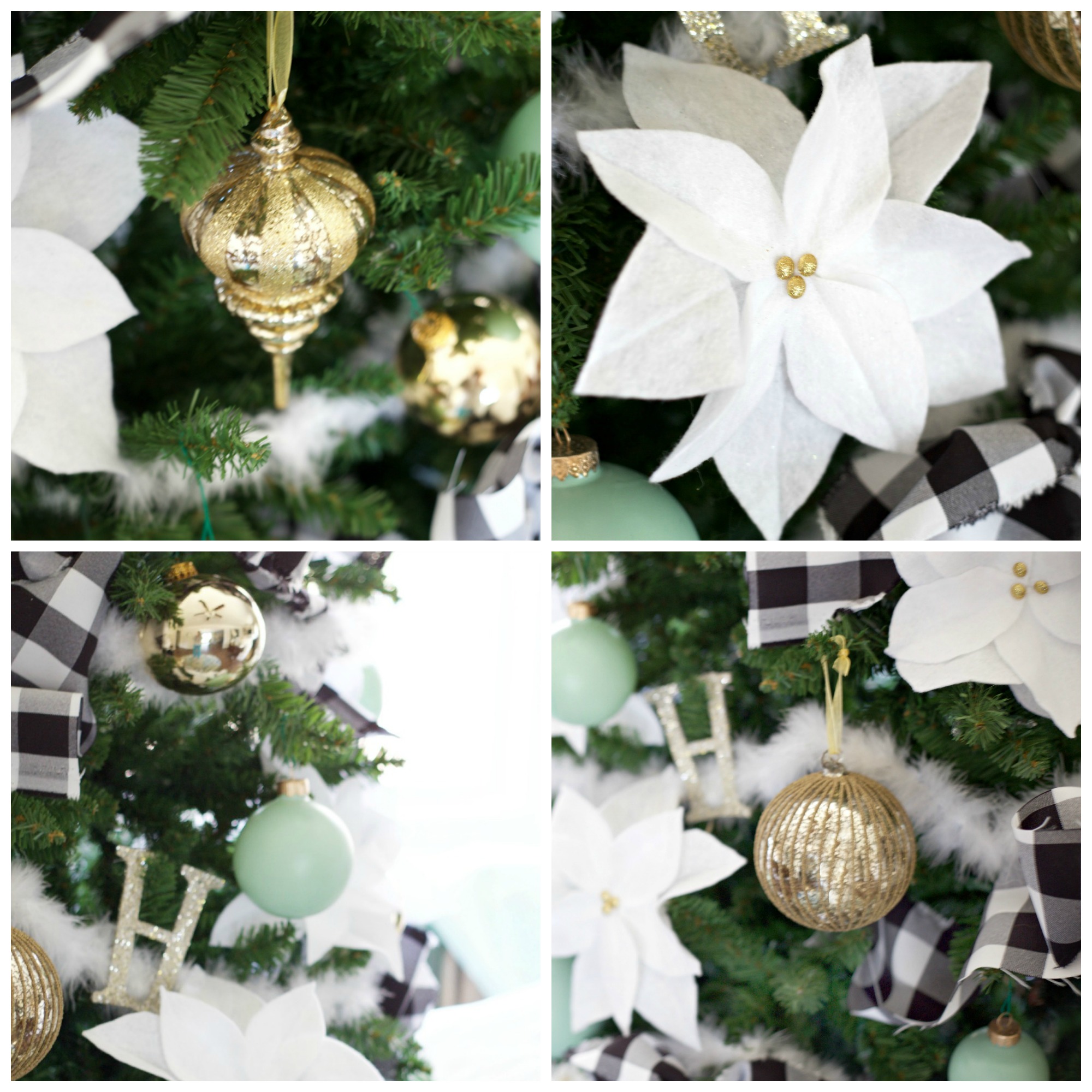 I typically choose a color scheme that isn't that popular, so I can never find what I'm looking for. This year was no exception…except that, thanks to SugarPaper, I got my mint green gift boxes.
I wanted to do a mint & gold color scheme. I ordered these gorgeous gold ornaments from Tree Classics and then I made the rest.

This saves some money, and the two ornaments I DIYed are SUPER easy. For the mint ornaments, I just gave plain ornaments a few quick coats of spray paint. I also made these felt poinsettias that I've used for several past Christmas trees. Create your own felt or paper poinsettias with this easy to follow video tutorial – DIY Paper Poinsettia. Just think different shapes and textures when decorating your tree.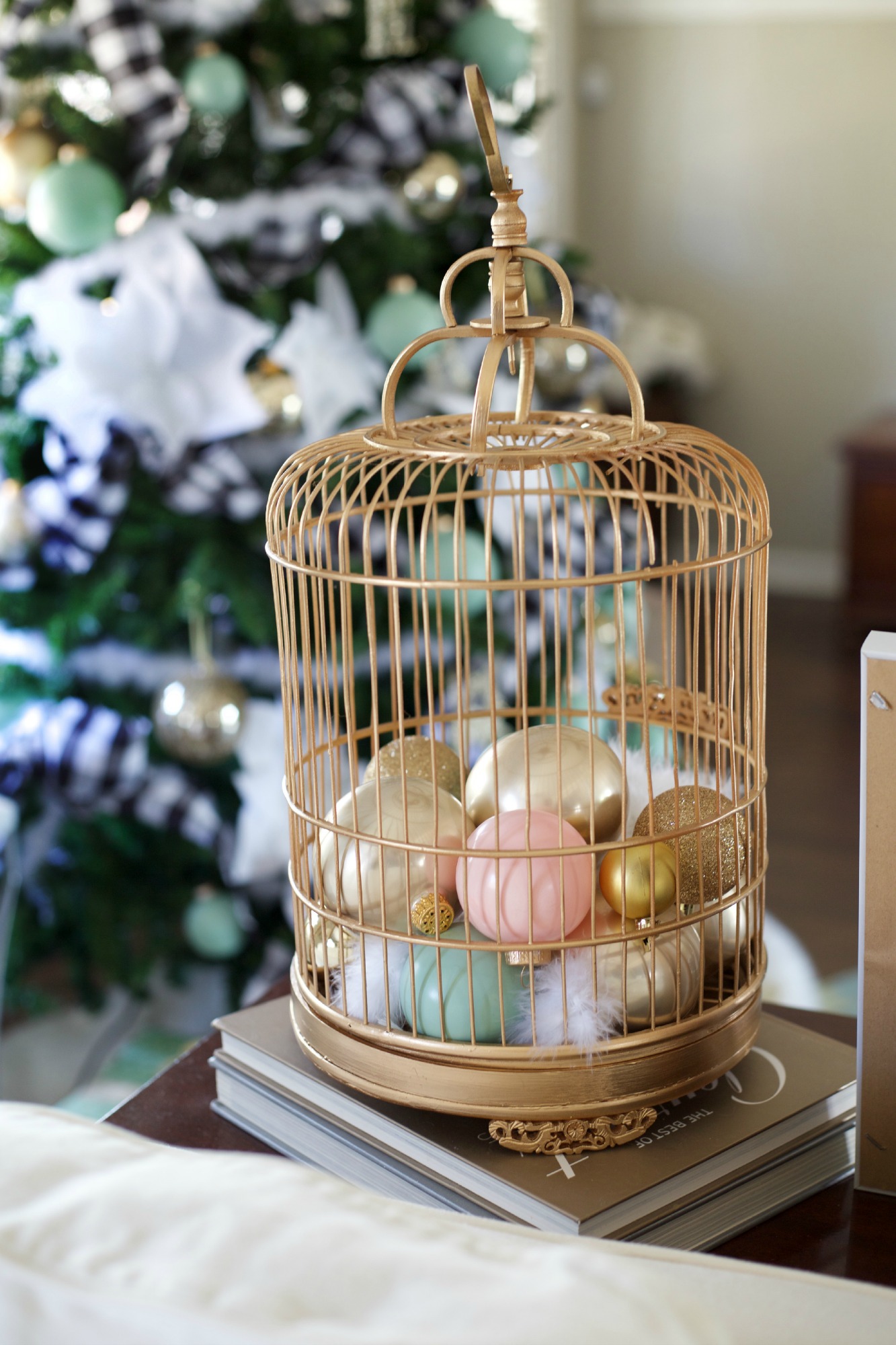 Chances are you have some really fun accessories or vases you already own that can double as Christmas decorations. Take this bird cage, for instance, I just filled it with a white feather boa and ornaments and it became part of my Christmas decor.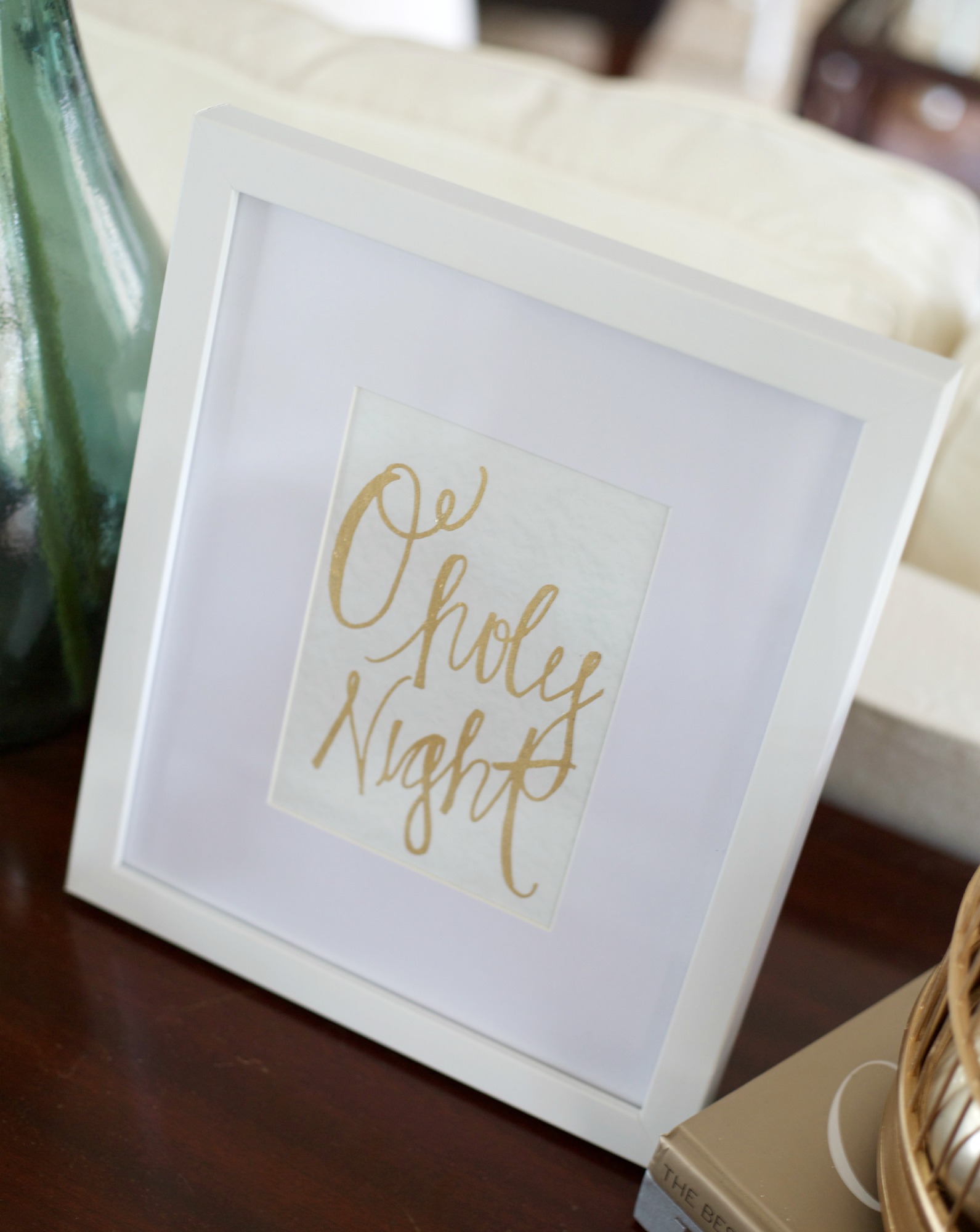 Sometimes I get pretty caught up in the whole decorating thing that I forget to remember what the season is all about. I wanted to set this out to remind myself.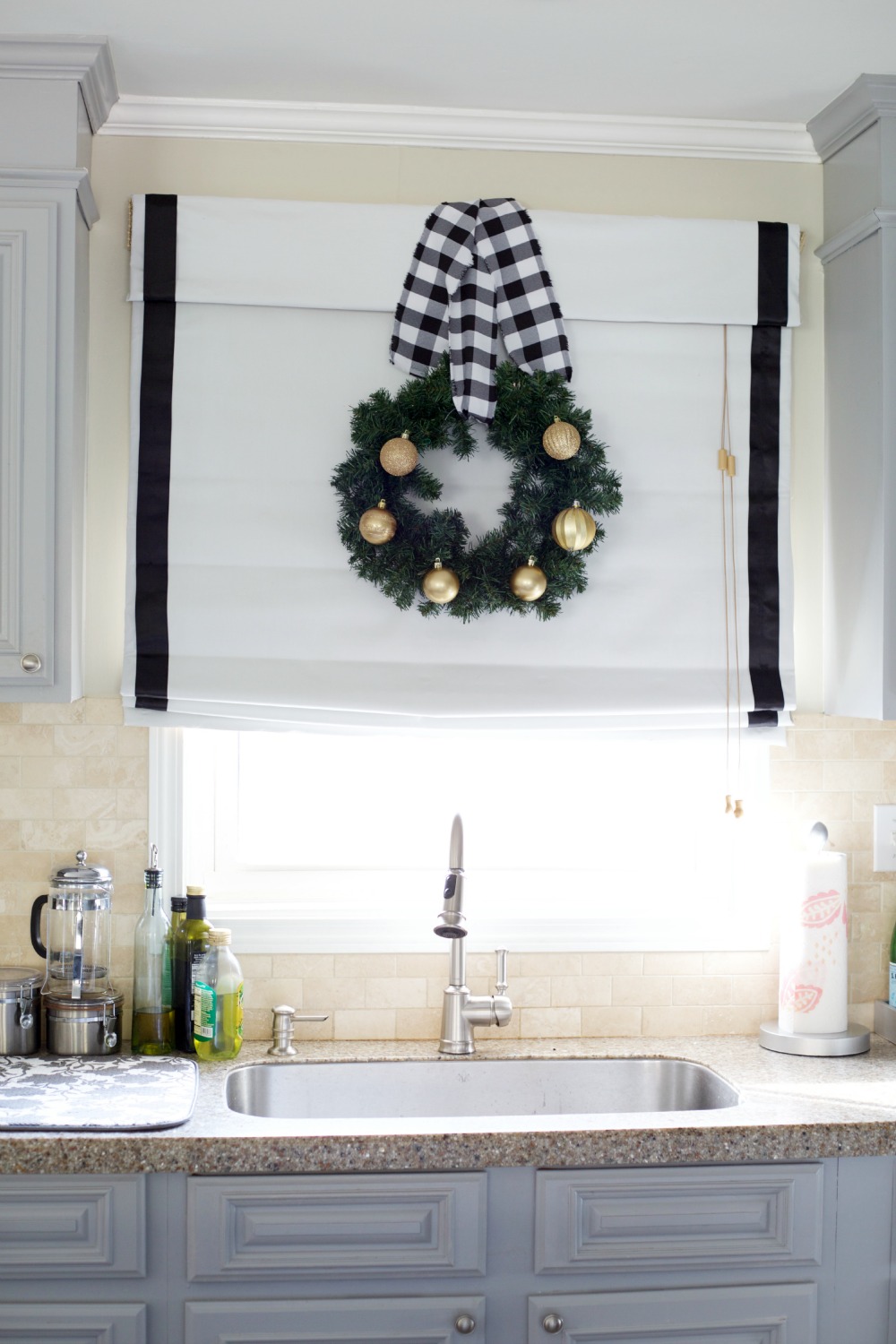 I have a love affair with ribbon. Is there a ribbon clearance bin outside of the craft store? Come to momma. BUT…Ribbon can be stinking expensive. So, when I realized I had a bunch of fabric leftover from my Beetlejuice Halloween Party, I decided to save some cash and use what I had.
I think my husband was shocked I didn't put a black & white ribbon on him. I went a little crazy.
Based on the average price per yard of fabric, I saved 75% of what I would've spent on ribbon. And I love how it looks.
All you need to do is cut a small slit the width you want your ribbon, rip it, and you've got your ribbon.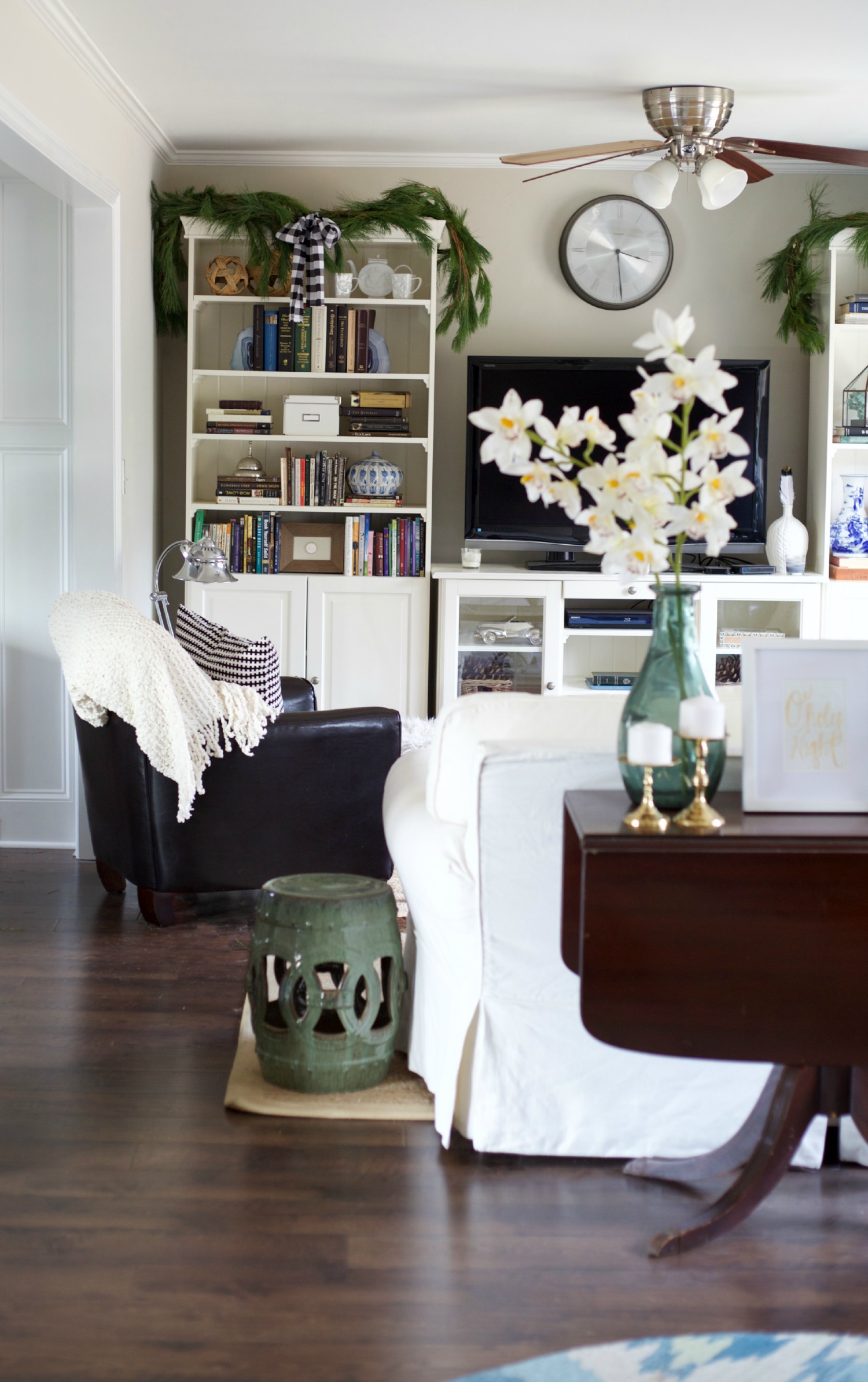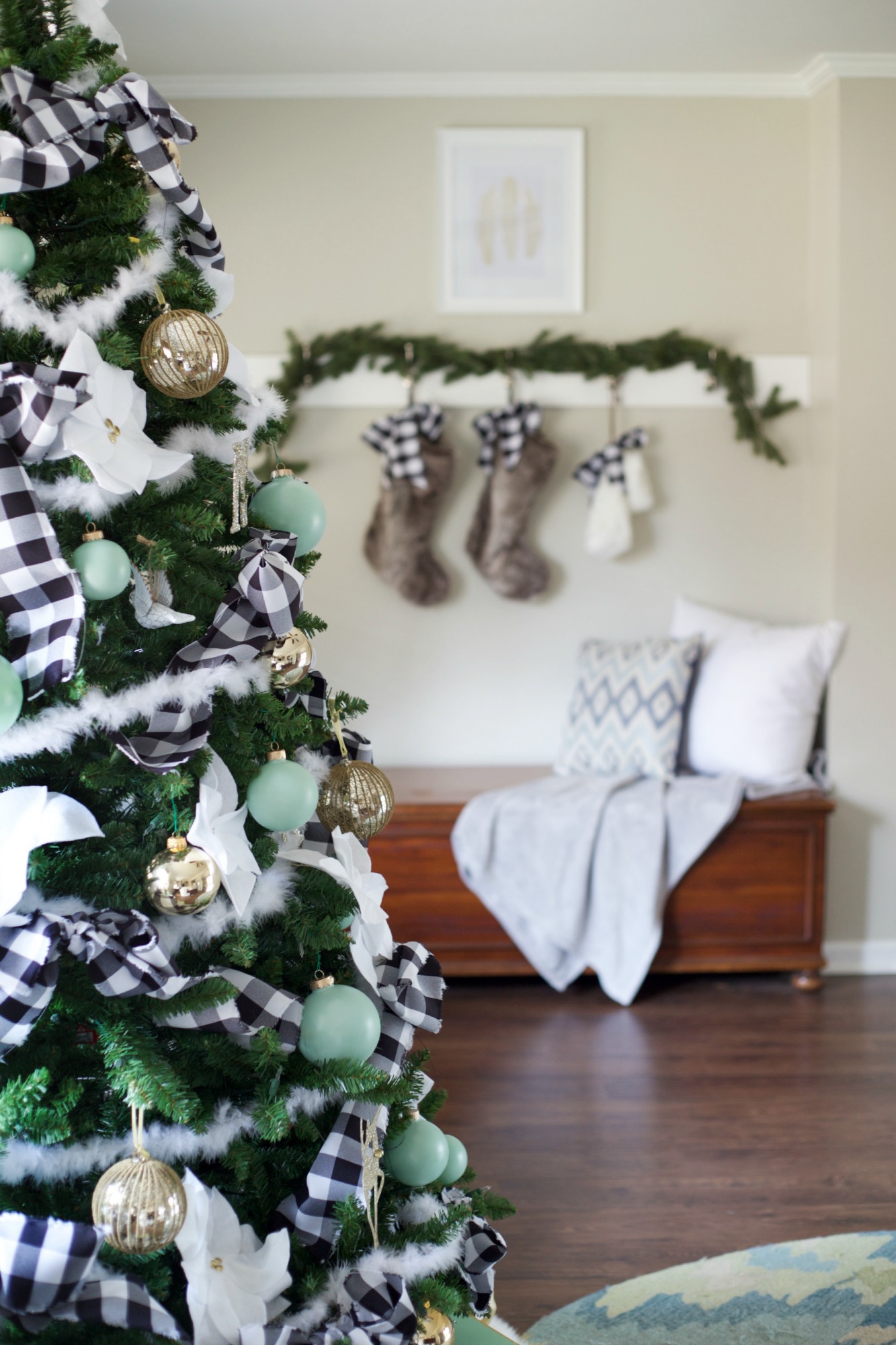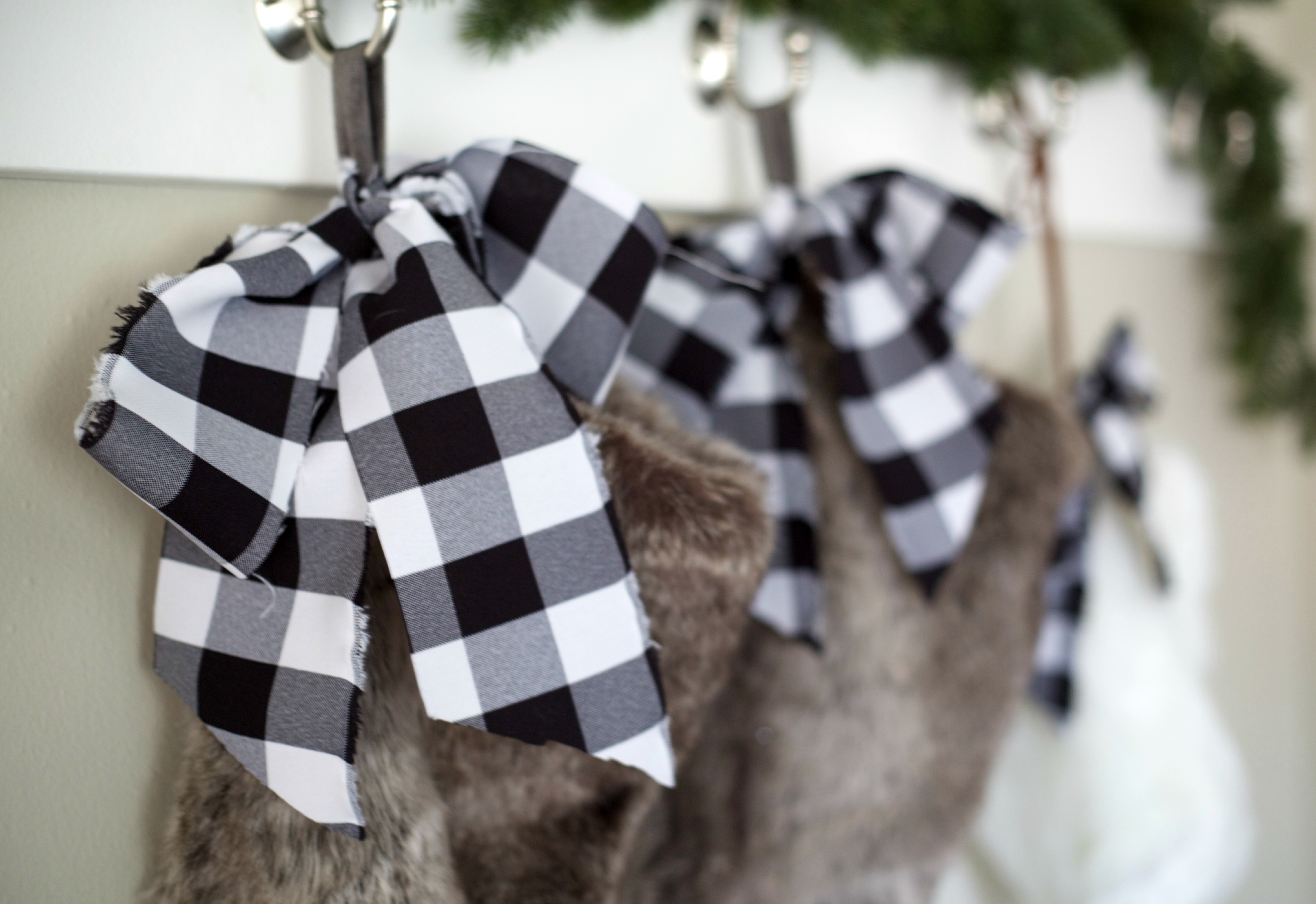 See…told you…a little out of control with the ribbon.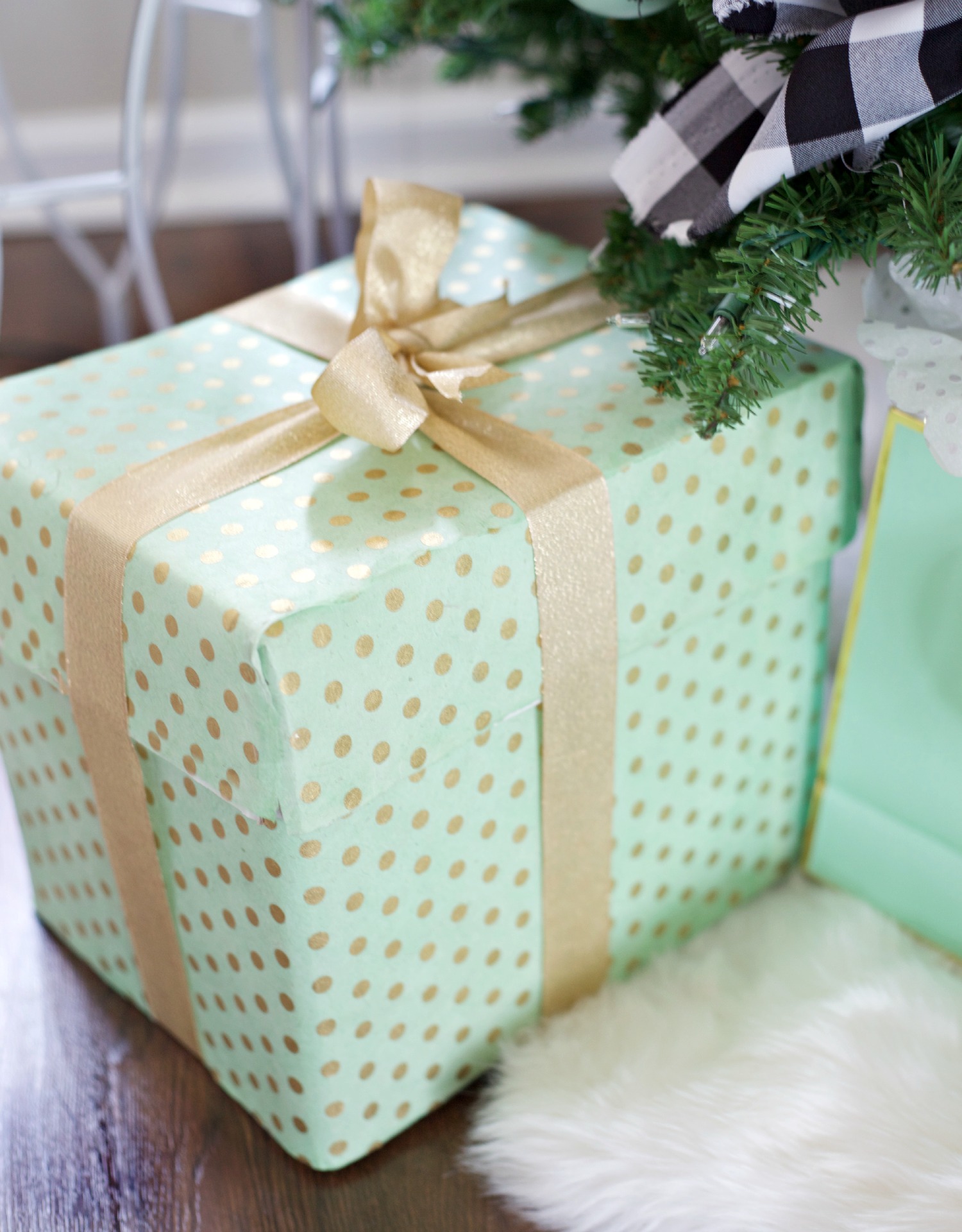 Um…no, I do not have all my Christmas shopping done and presents wrapped when it's only the 2nd of December. I fake it and you should too. Don't take that out of context. The mint and gold dotted present above is an empty printer paper box and the boxes below are empty shipping boxes. I love to make presents gorgeous and all matching, but I'm also busy and sometimes don't have time to wrap a bunch of presents that look pinterest-worthy. So, I wrap a few fake ones for "looks," then I can wrap the rest how and when I want.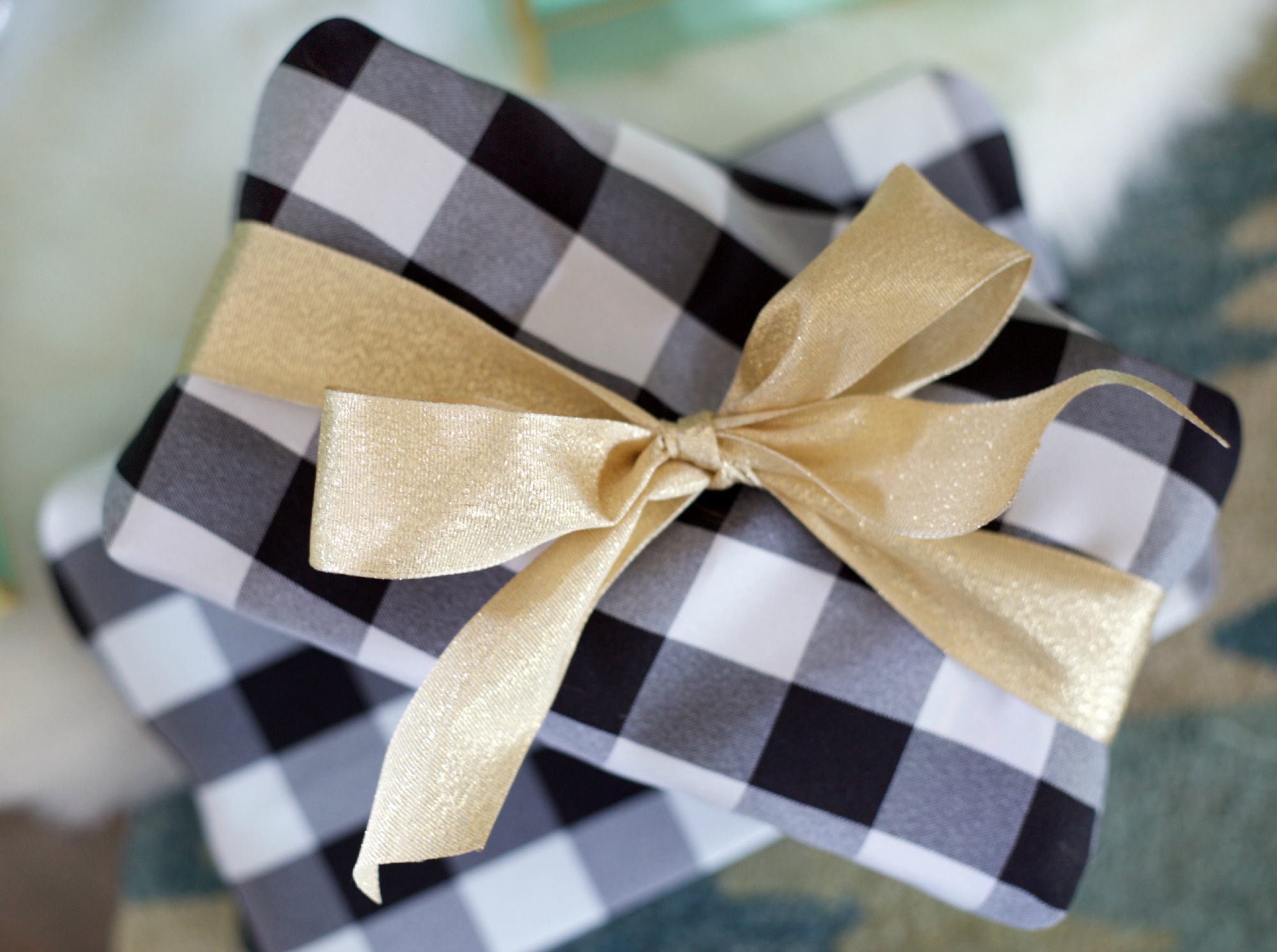 By the way…fabric can also double as wrapping paper.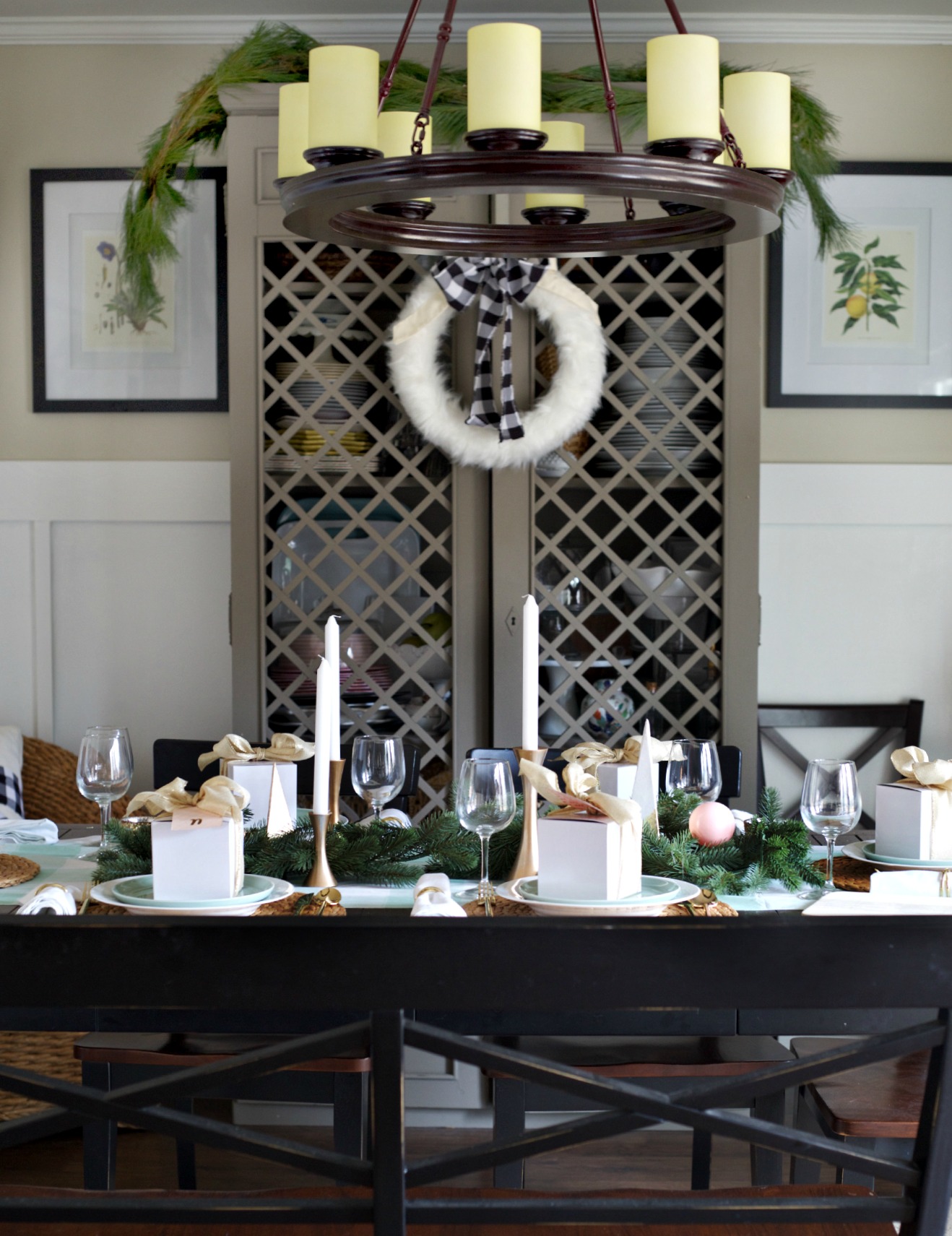 I've done this for years and it's one of my faves. Create instant Christmas pillows by wrapping them with ribbon or fabric like the pillow below. Easier than Whip n' Nae Nae.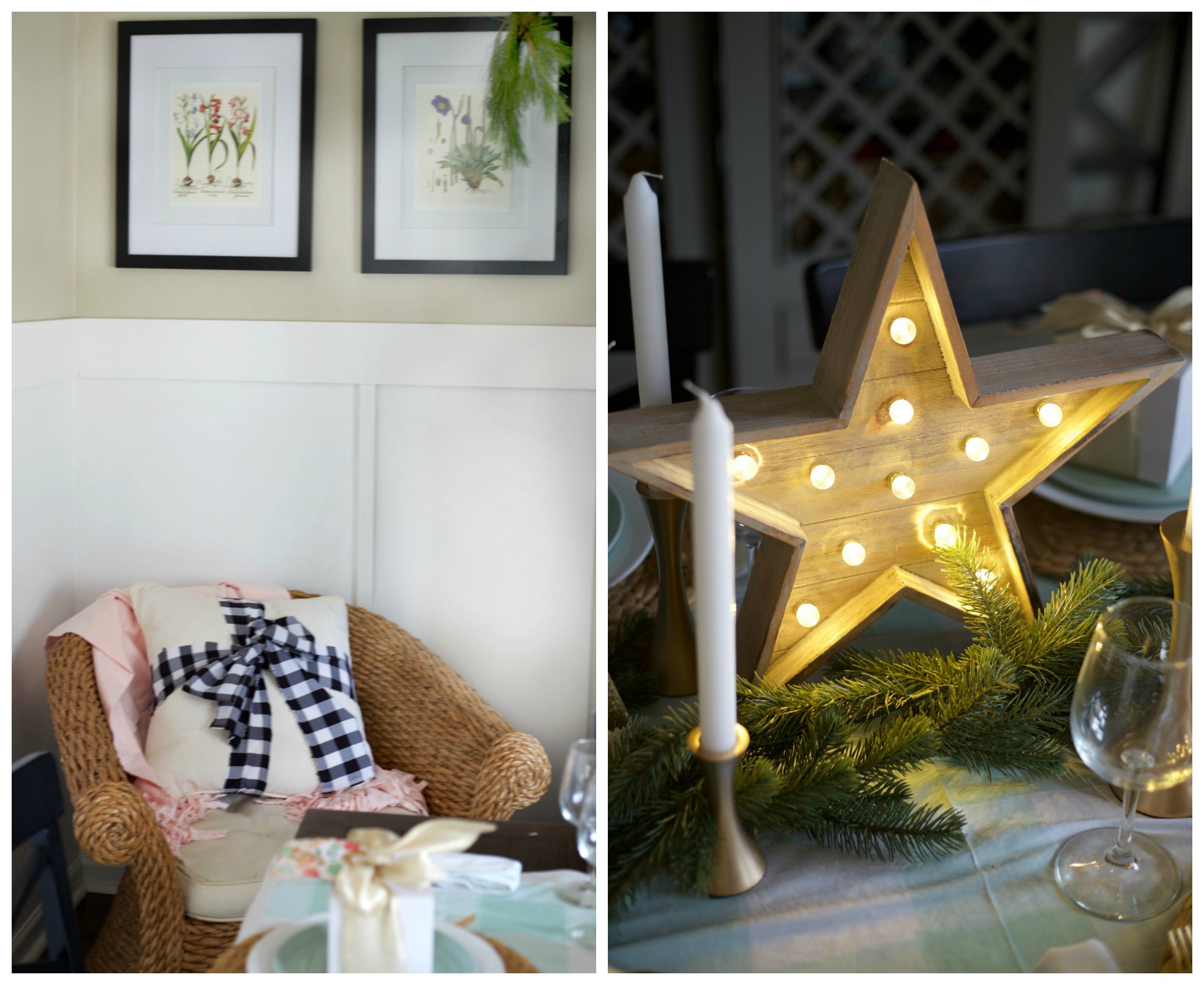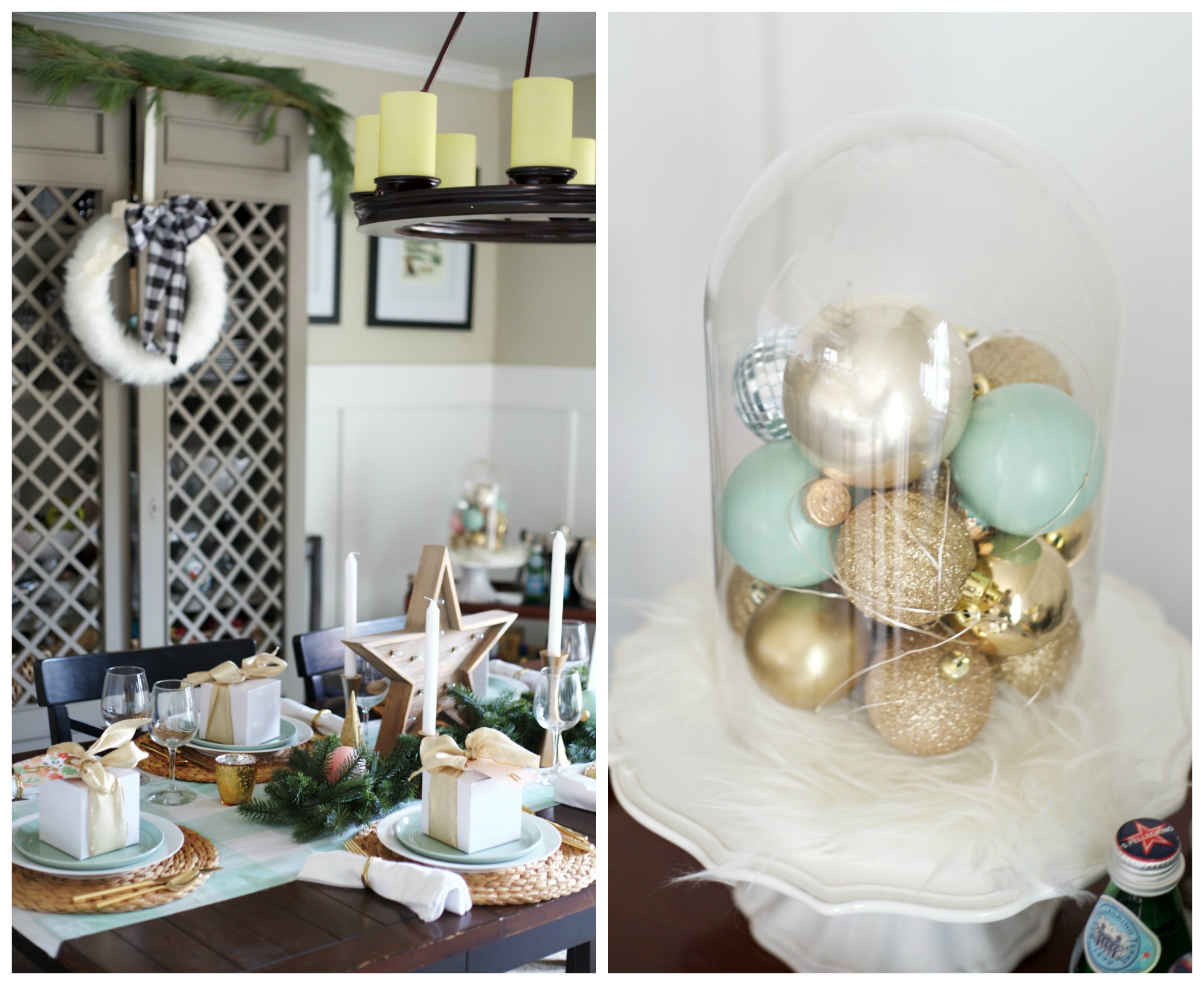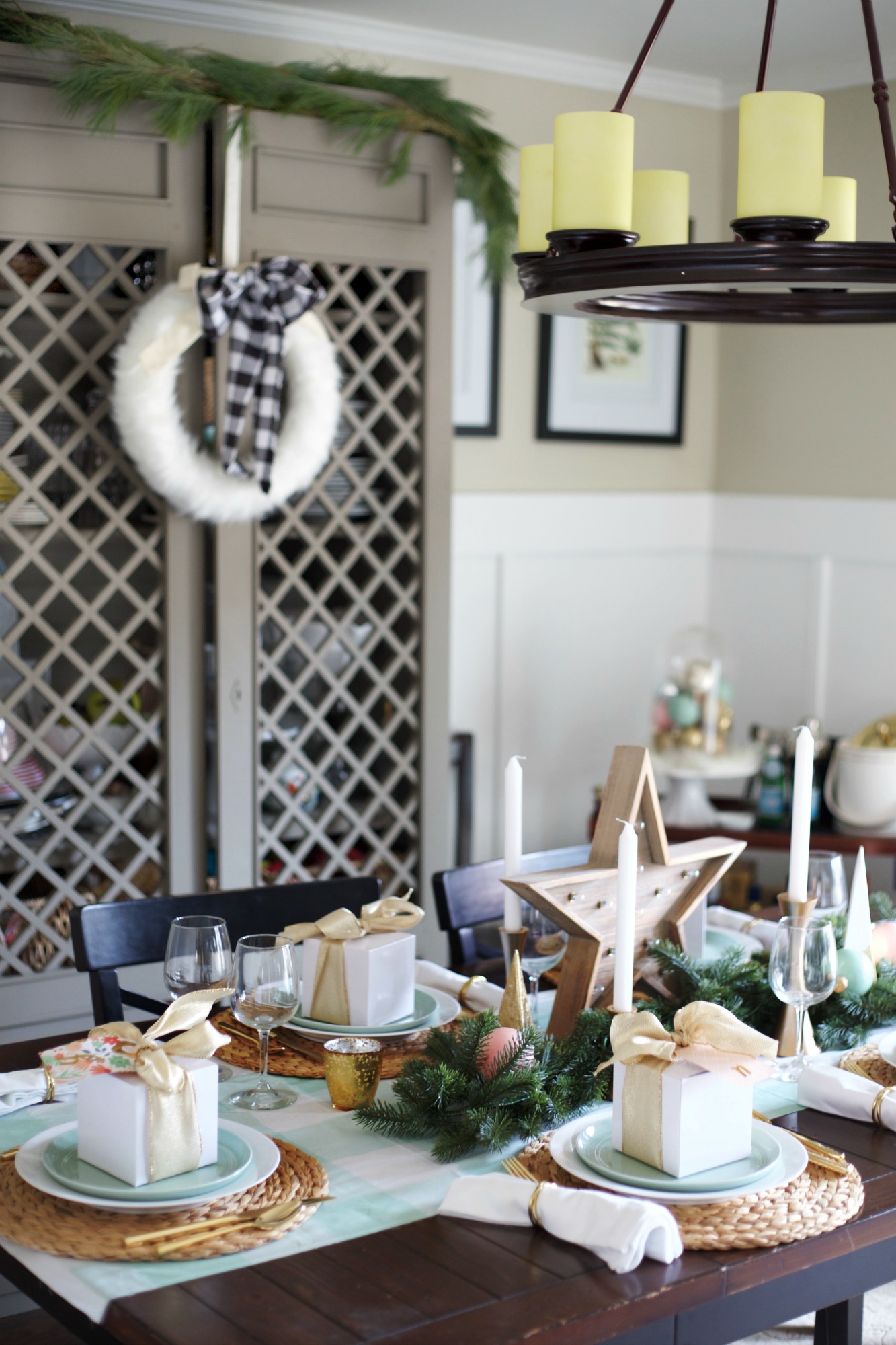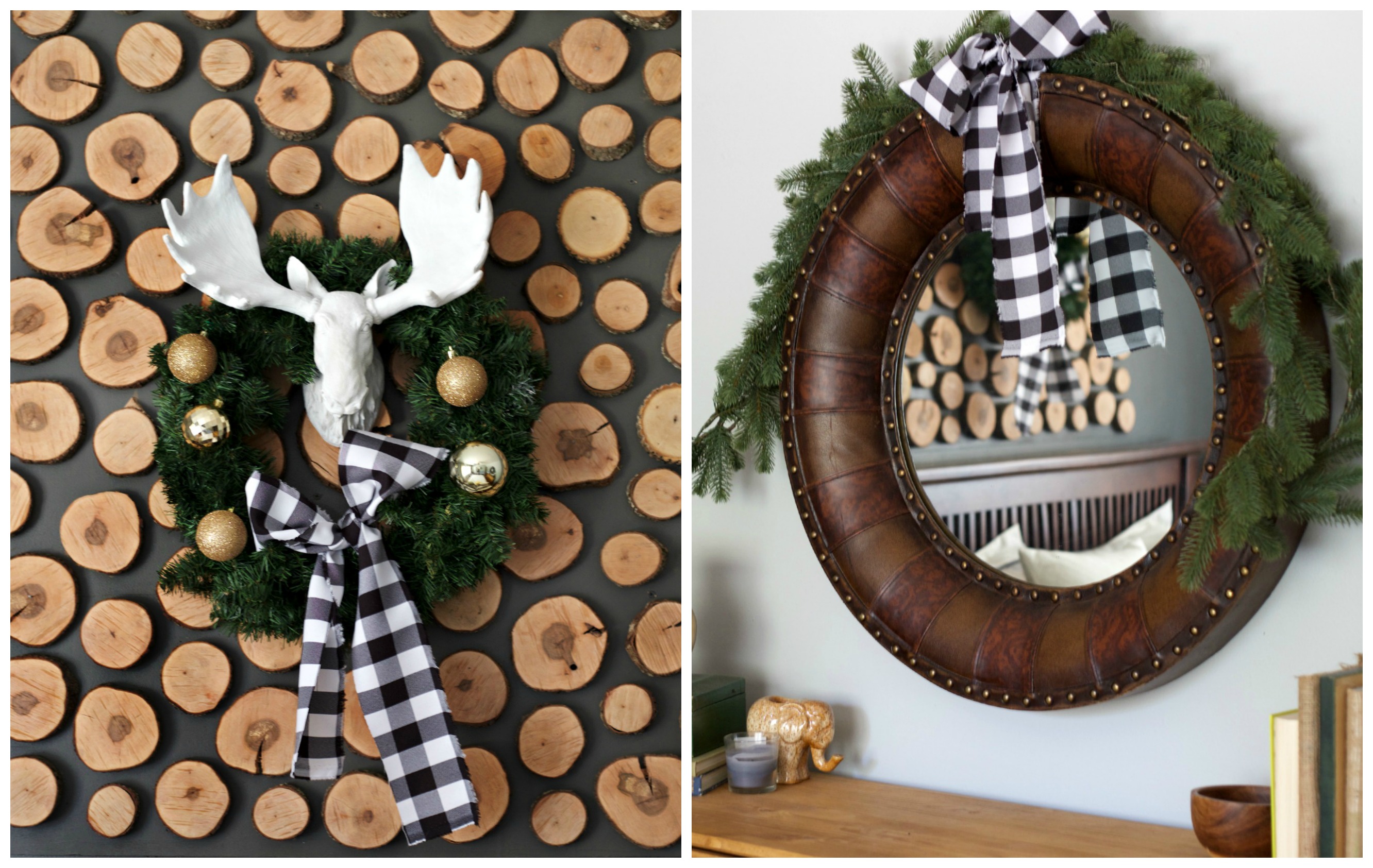 We're having out of town guests stay with us over the holidays, so I wanted to spruce up our guest rooms. We've got one guest room that's more rustic/masculine and one that's more feminine.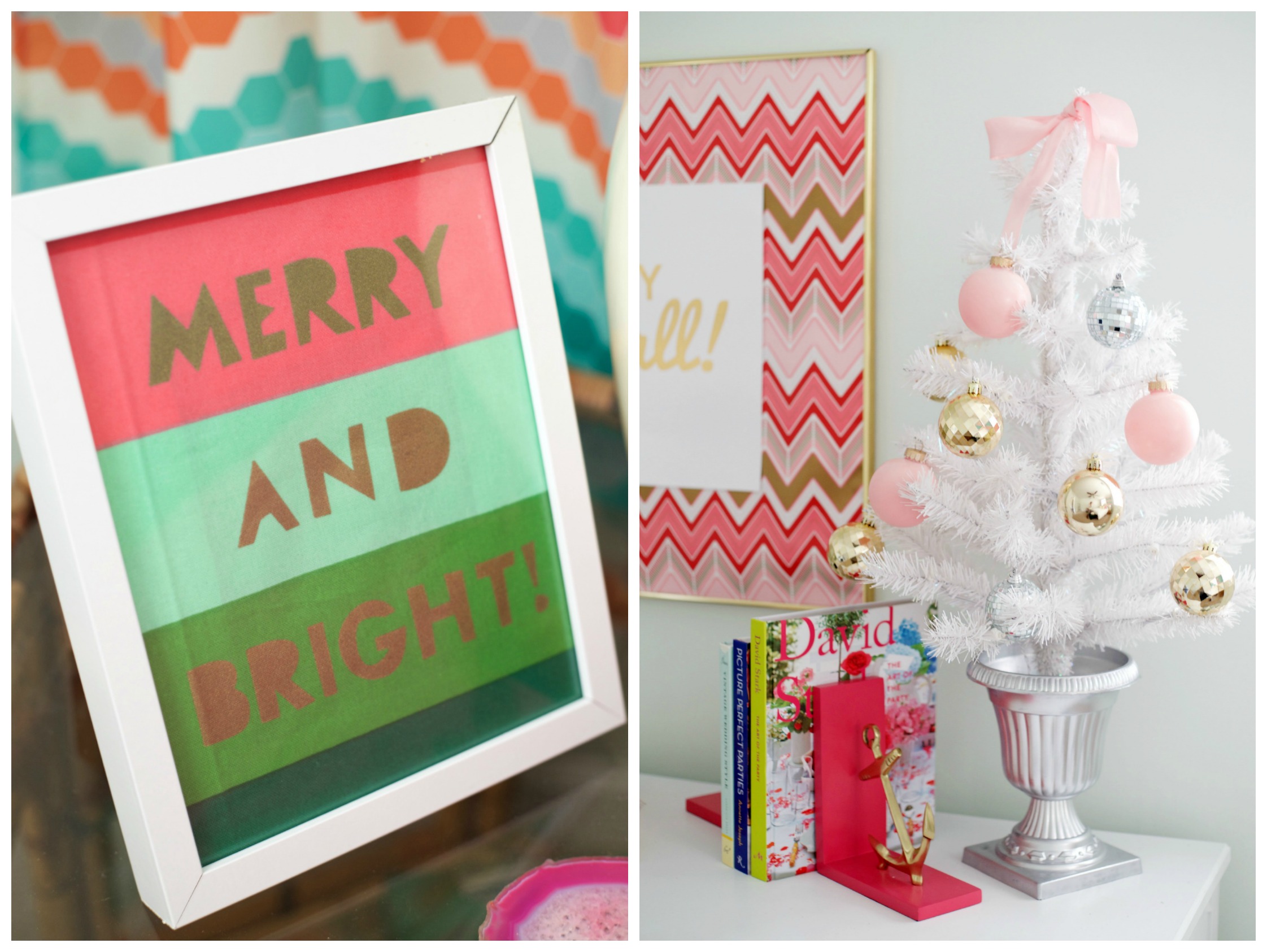 I needed something bright and fun for the feminine guest room, so I used a cute tea towel to create some art above. I just slipped it in an Ikea frame and I was done. I may keep that up until July. Kinda love it.
My husband loves the traditional Christmas and is a little over my mint color scheme. So, I decided to spruce (I think we can start a drinking game with as many times as I've mentioned "spruce") up his Man Cave.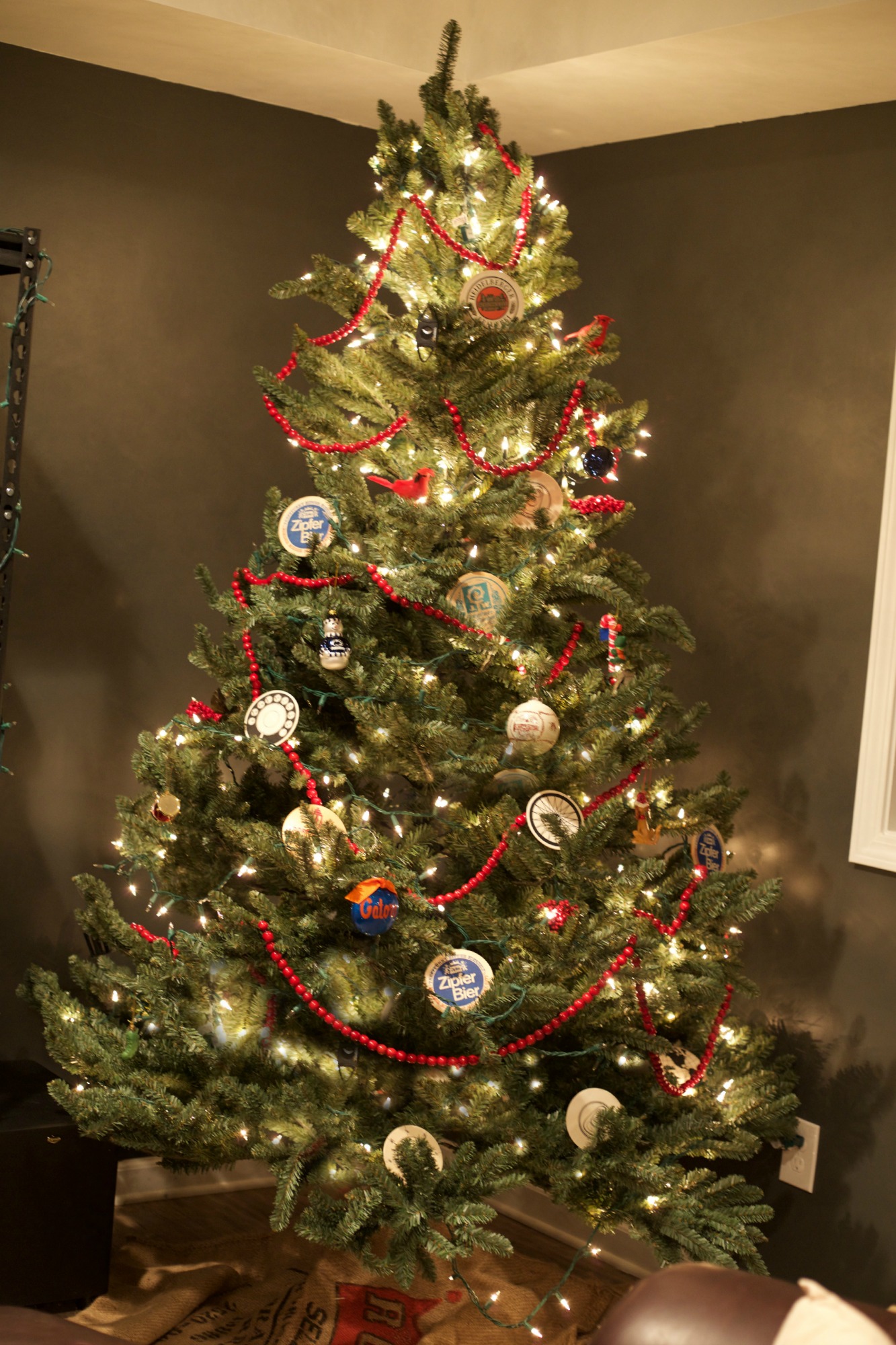 Burlap bags became my tree skirt and I got a little creative on the ornaments…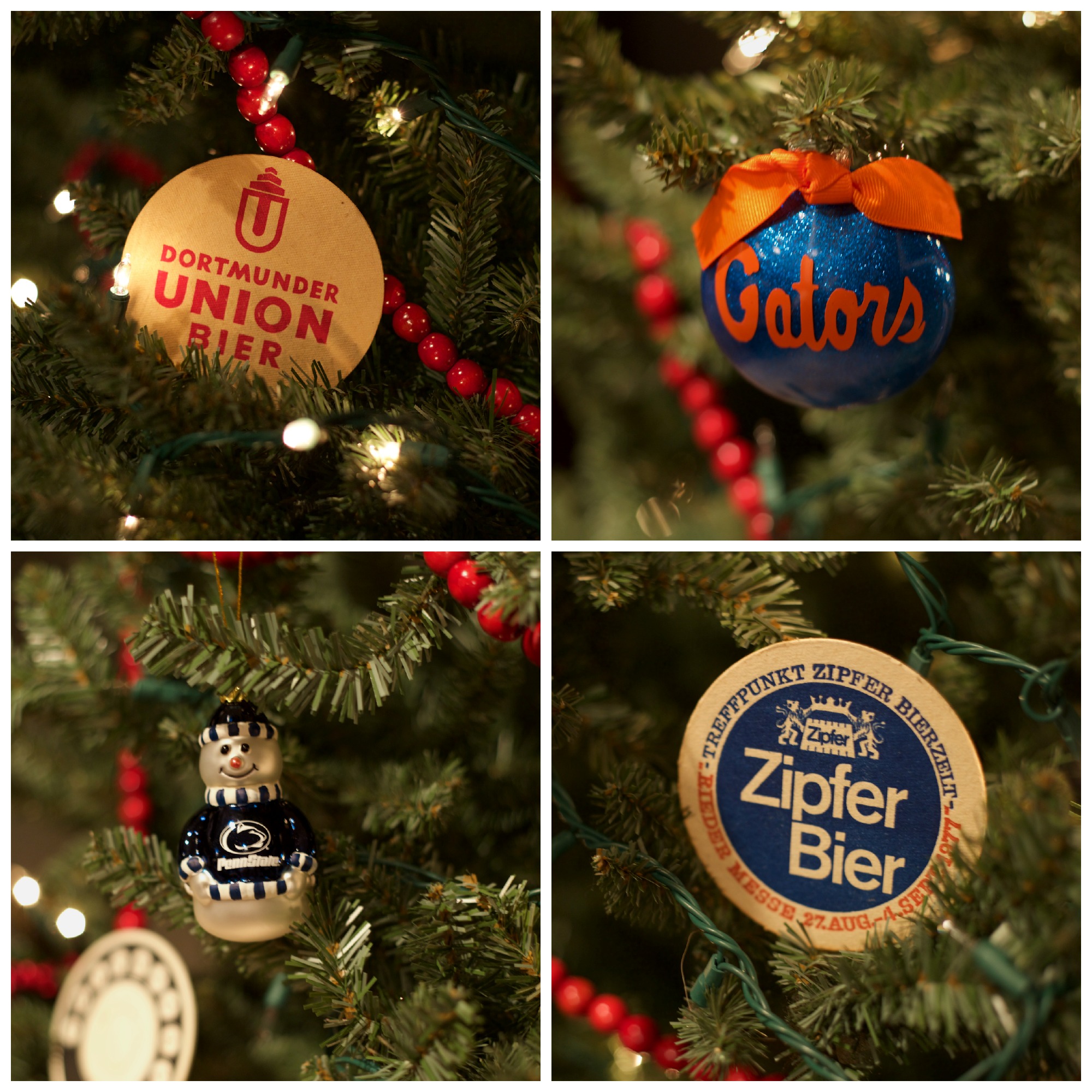 He had some ornaments people had given him – he's a Florida Gator and loves Penn State. But the tree was looking a little bare, so I saw these fun coasters we had around the man cave and decided those would be the perfect addition.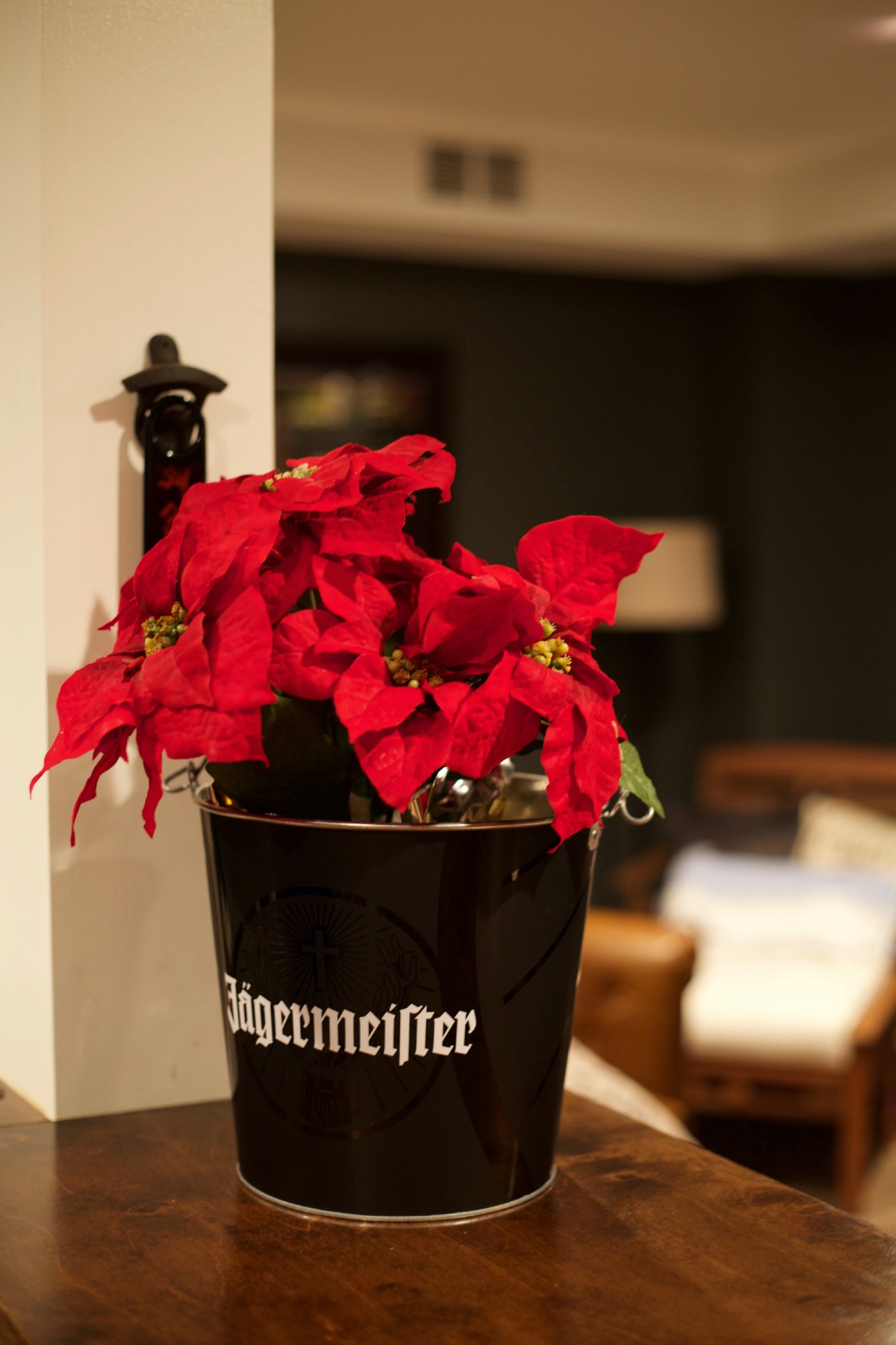 Because a Red Poinsettia just fits with a Jaegermeister bucket…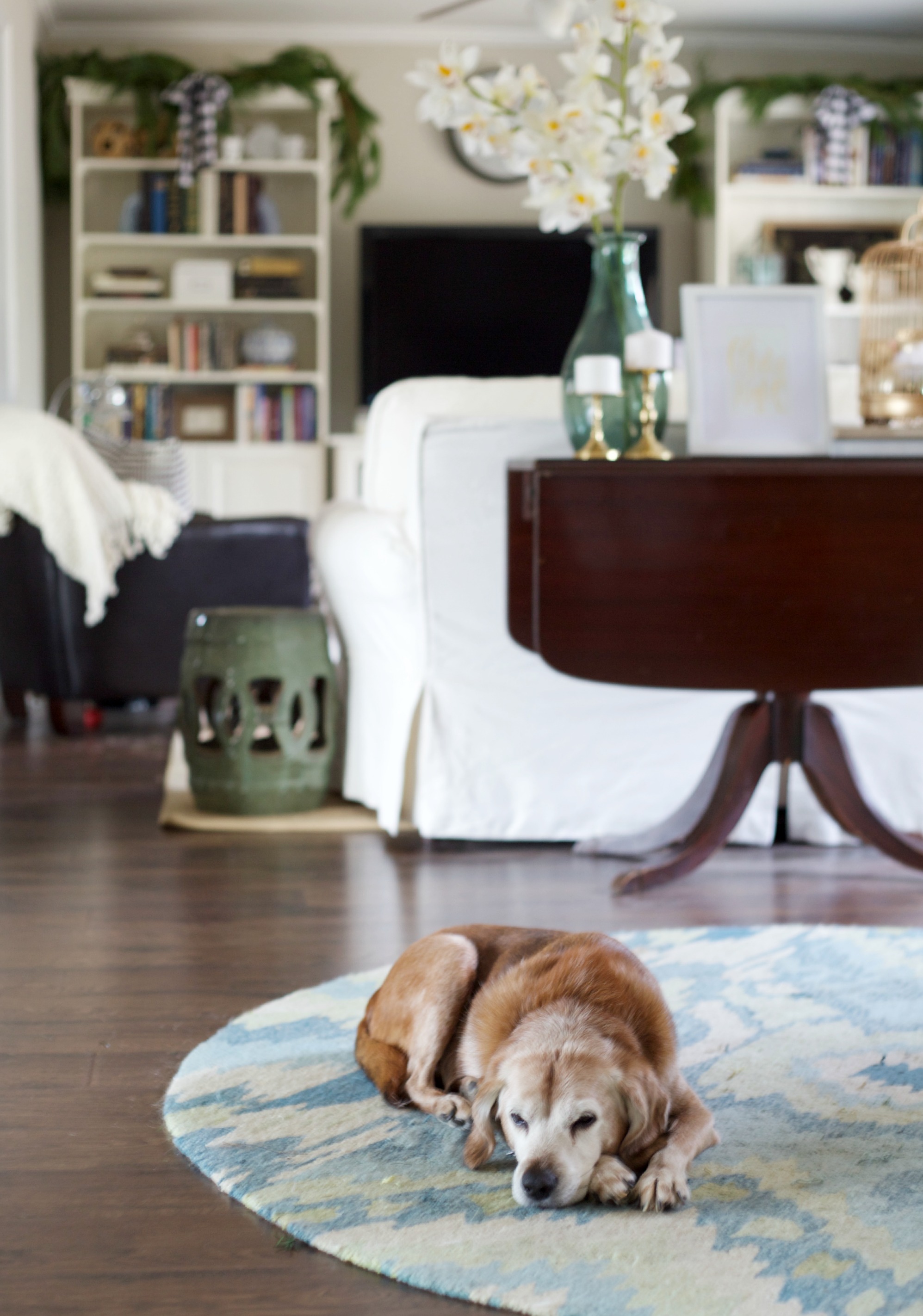 After all the decorating, Guinness was pretty pooped. Supervising is hard work. And I decided to sit and enjoy my beautiful Tree Classics Spruce with a glass of champagne.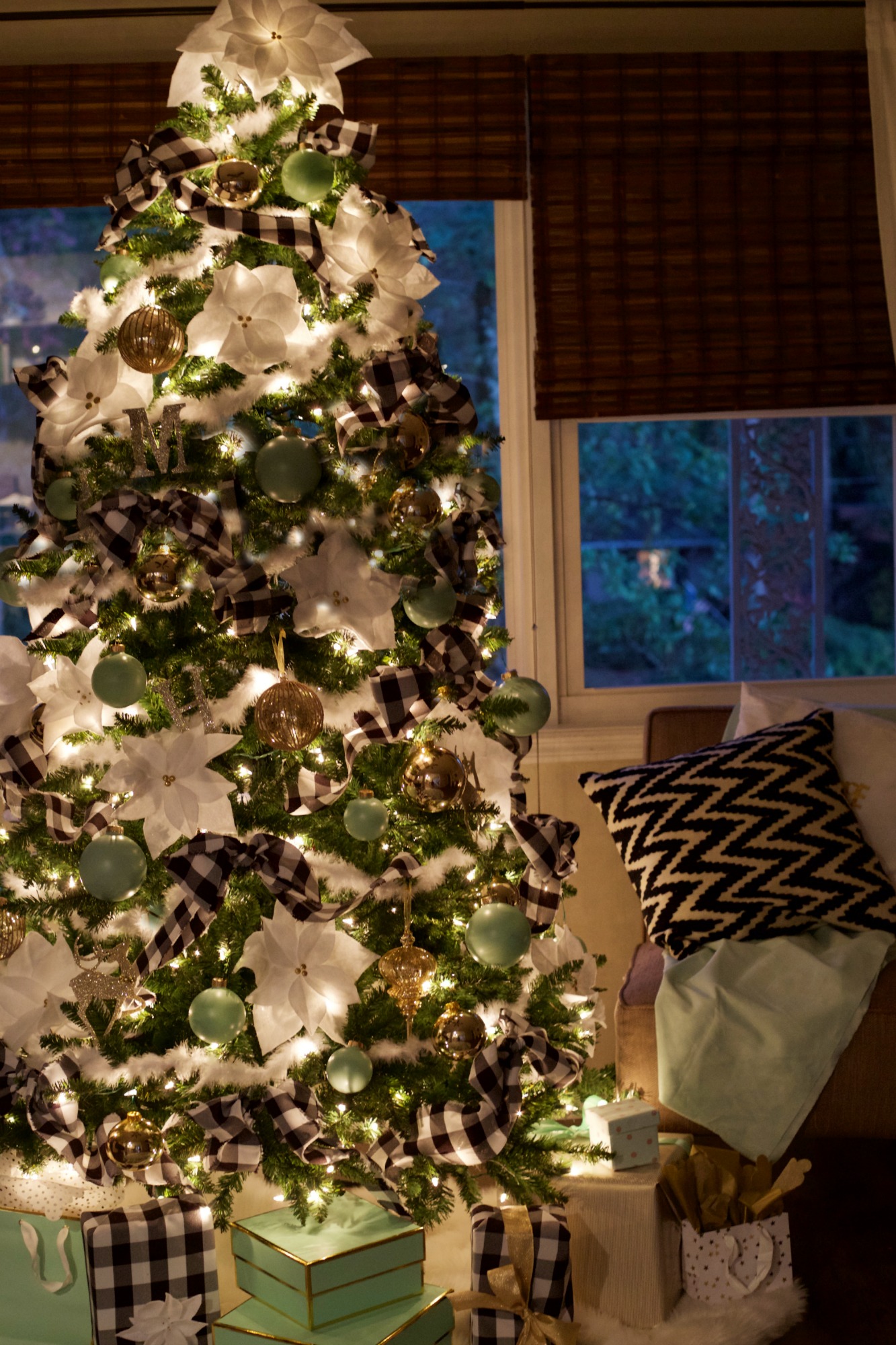 You can enjoy a glass of champagne next to your own Tree Classics 7.5′ Classic Noble Fir Snap Tree! All you have to do is ENTER to win HERE. This almost a $700 value!

AND…check out the other amazing bloggers sharing their Tree Classics tree and decorations.
December 1: Rhoda from Southern Hospitality
Jenna from Rain on a Tin Roof
Bethany from Southern Couture
Justin & Cassity from Remodelaholic
December 2: Sheila from Plum Doodles
Kellie from Nest of Posies
December 3: Erin from DIY on the Cheap
Sarah from Homeology Modern Vintage
Heather from Southern State of Mind
December 4: Laura from Duke Manor Farm
Vicki & Jennifer from 2 Bees in a Pod
Julie from Julie Montgomery Interiors

* Disclosure: I was provided product in exchange for mentioning Tree Classics, but all opinions and ideas are my own.*