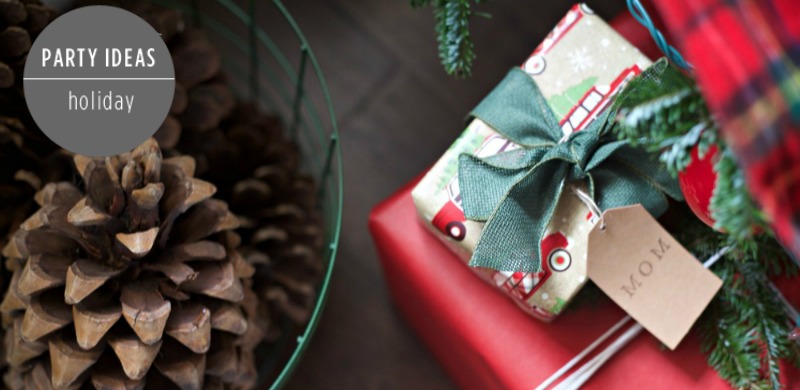 30 Nov

Christmas Home Tour 2016

Hey party people!

This season makes me so giddy! I adore decorating the house for Christmas & am always sad when I have to take it down. Every year, I like to do different decorations or themes. This year, Mike asked me if we could do traditional Christmas colors, so that's what I did. Welcome to our Christmas Home Tour of 2016!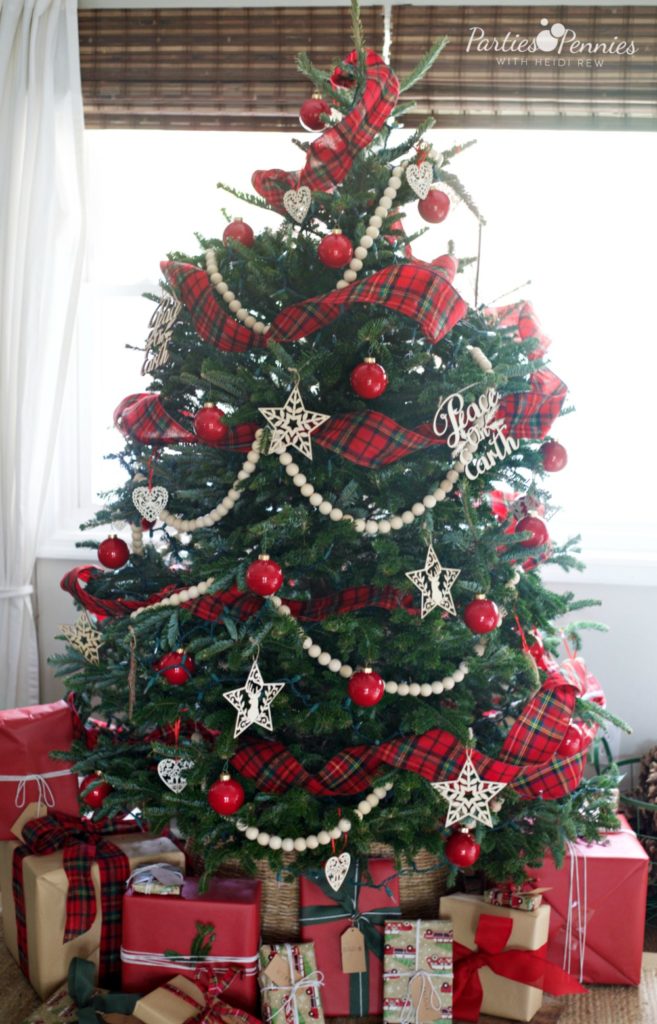 My Christmas tree is pretty simple. In fact, looking at these pictures make me wonder if I should've added more wooden & red ornaments. Hmmm. ;p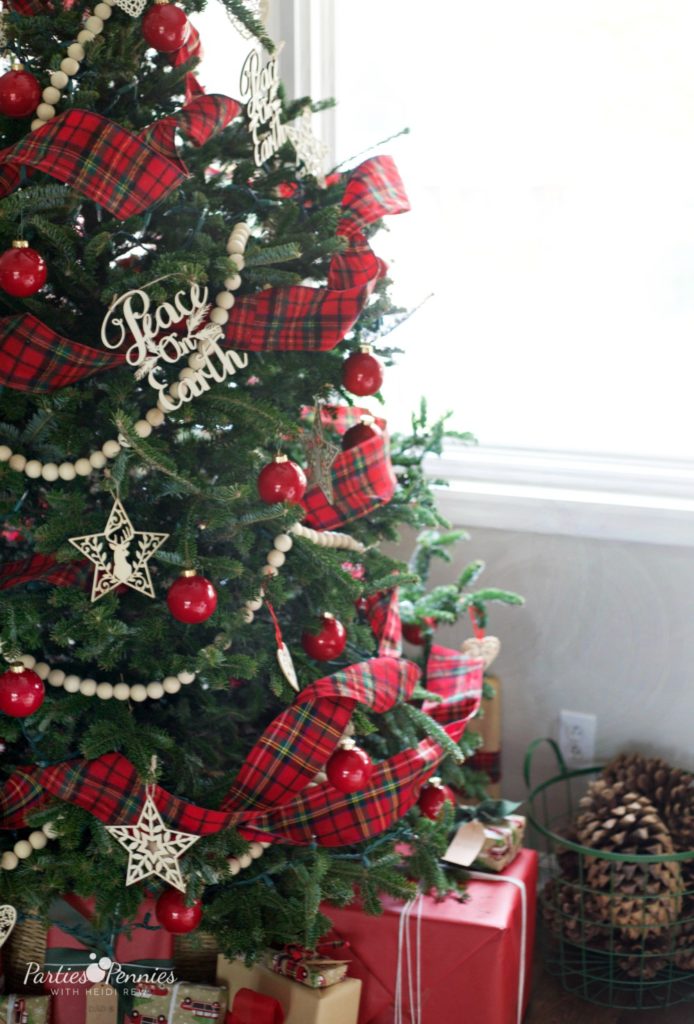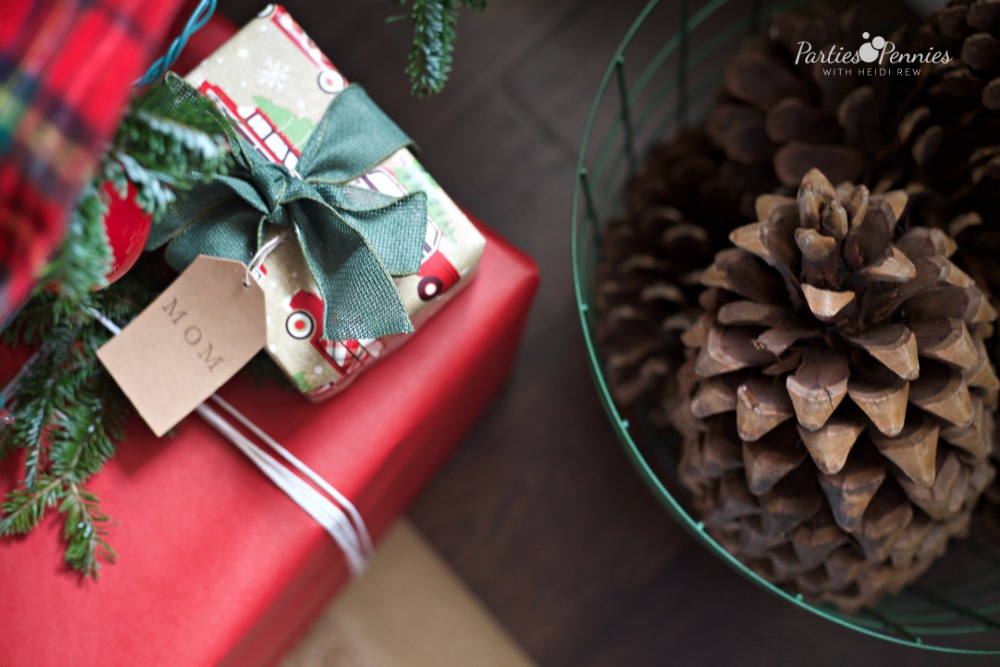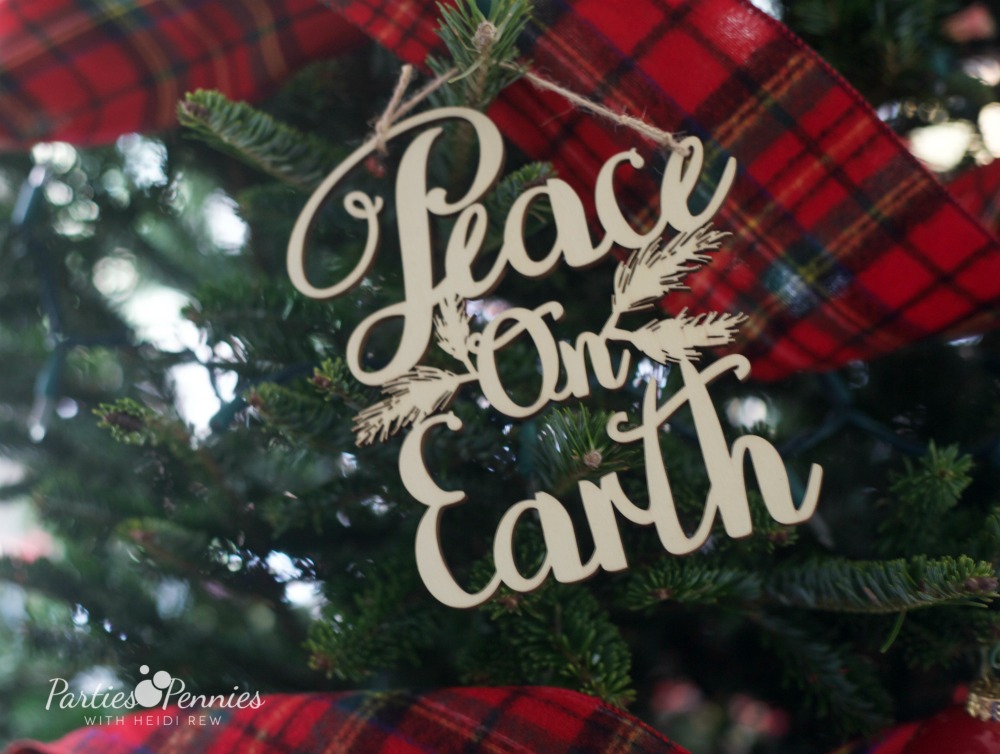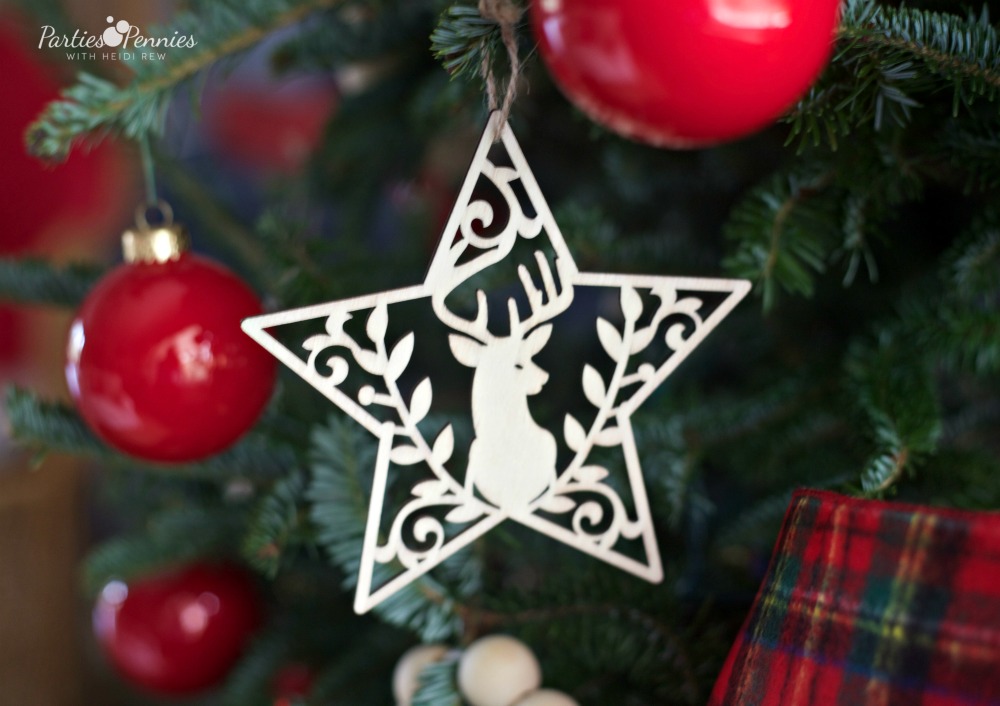 When I found the plaid ribbon a couple weeks ago, I knew I wanted a wooden bead garland with it. I looked and looked and couldn't find one (at least that wasn't a million bucks), so I MADE one!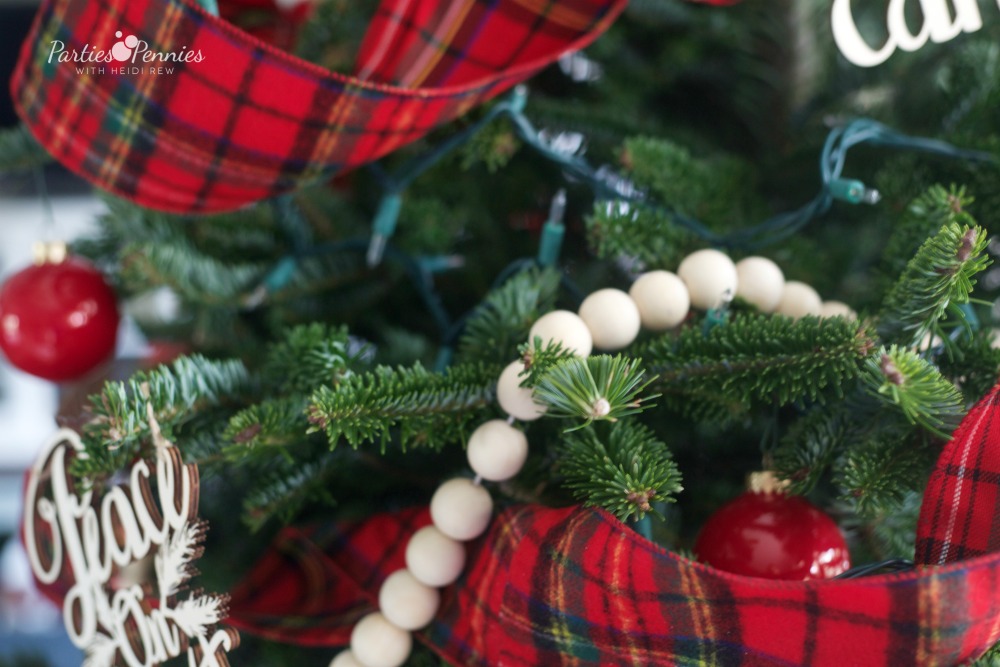 It still cost more than I thought it would – about $44 per garland and I made 2. They each measured about 16.5 feet long, but it took 2 of them to cover the whole tree. I just used some simple craft twine and a large needle to string them together. Total it cost about $88, but I think the wooden bead garland really made the tree.
Here is the link for the Wooden Beads – http://amzn.to/2g8IpTg I think they may be out right now (I probably bought them out). I ended up ordering 8 bags of 50 1 inch beads.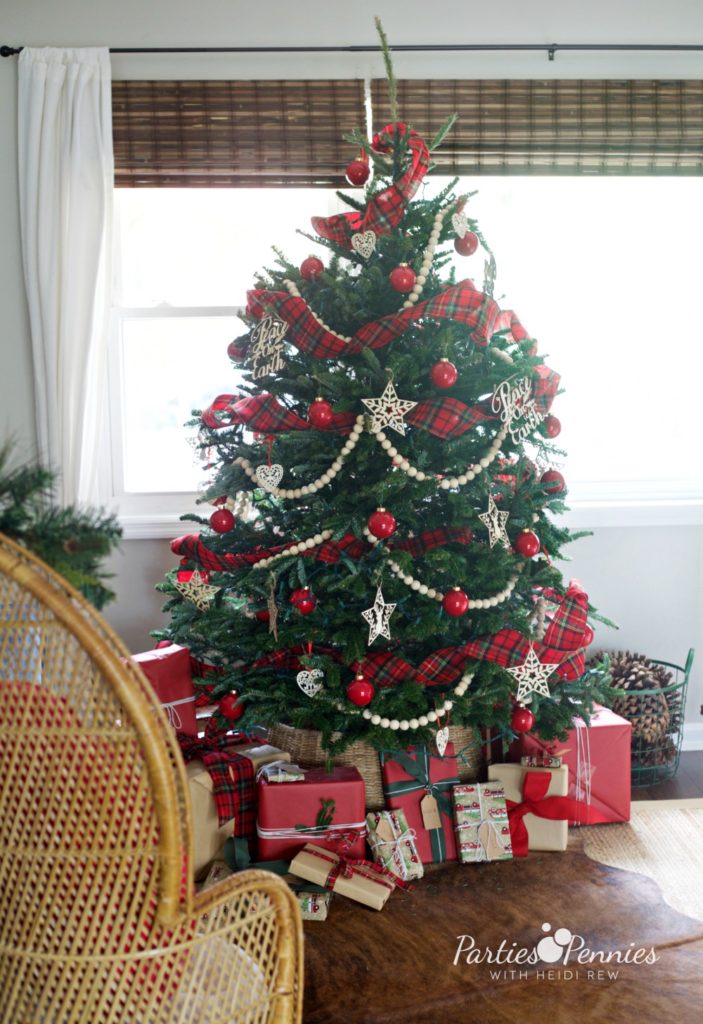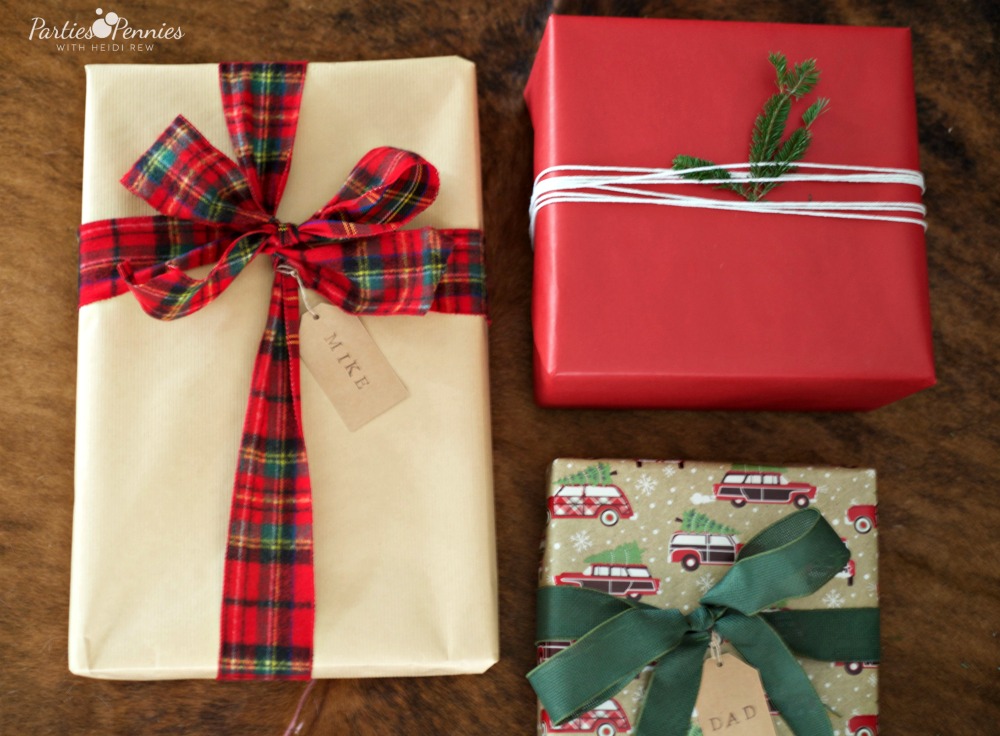 I kept the wrapping pretty simple too! I usually try to stick to 3 different wrapping papers – a design and two solid colors.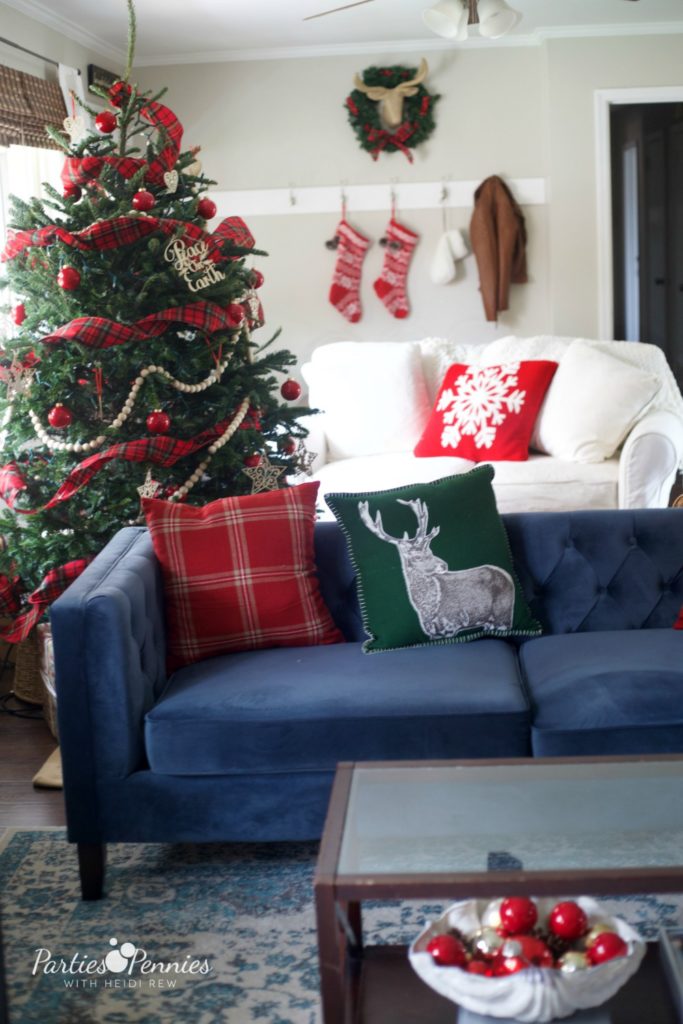 Ah! I want all the Christmas pillows! You should've seen Mike's face each time I brought home a pillow. I know he's like, "Seriously??! Another pillow??!"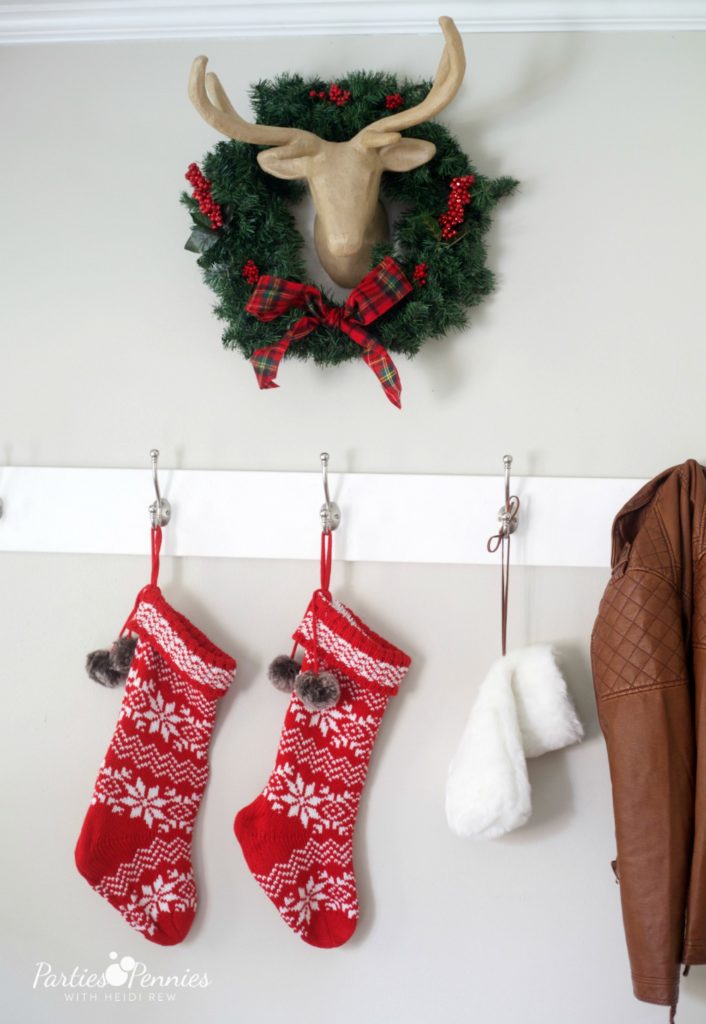 So…I totally forgot that I had bought two stockings during the after Christmas sales last year. Oops. Do you ever do that? Yay for fun surprises.
And several years back, I bought a bunch of these wreaths and they have so come in handy. You'll see more pop up here.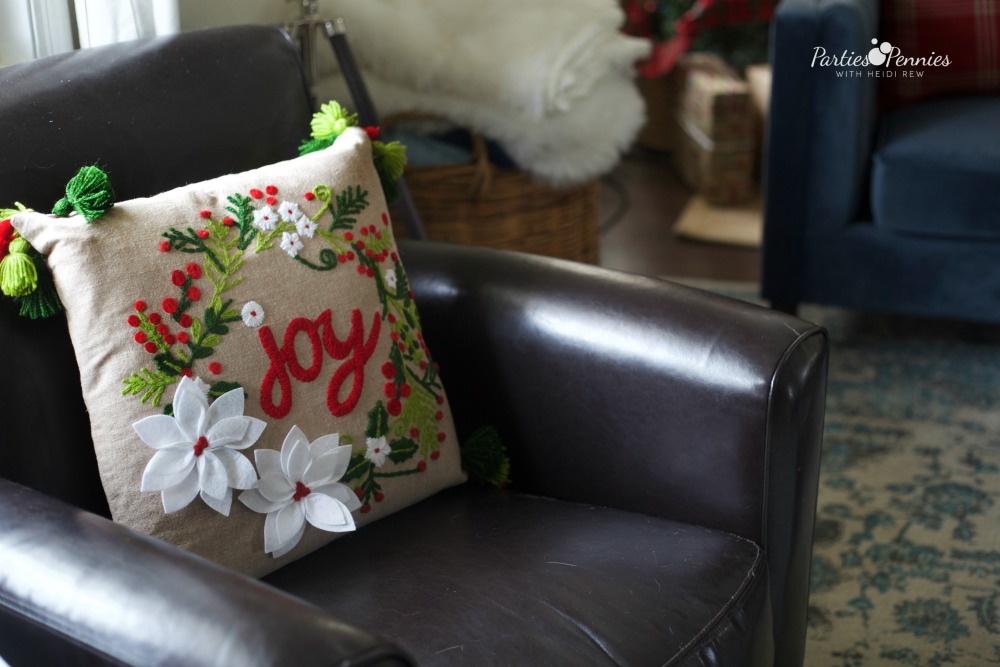 This was one of those pillows that I saw and I just had to have it. Doesn't it give you joy just looking at it??! ;p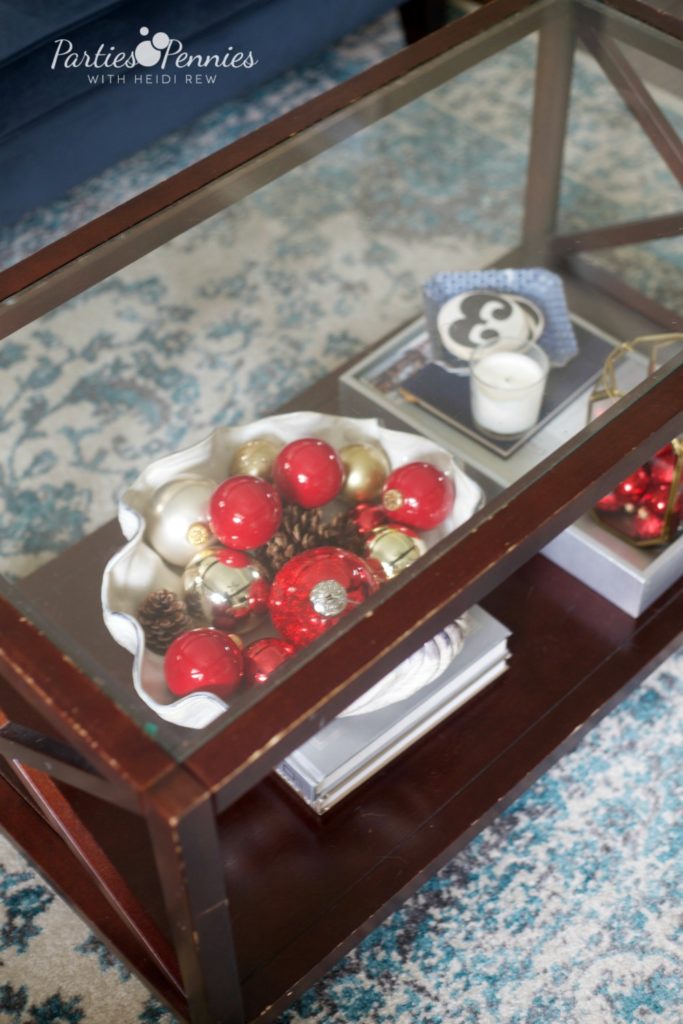 Extra ornaments are one of my favorite ways to decorate. Throw them in a ceramic shell (like above) or a vase or a dish. They just give an extra pop of color for not a lot of money.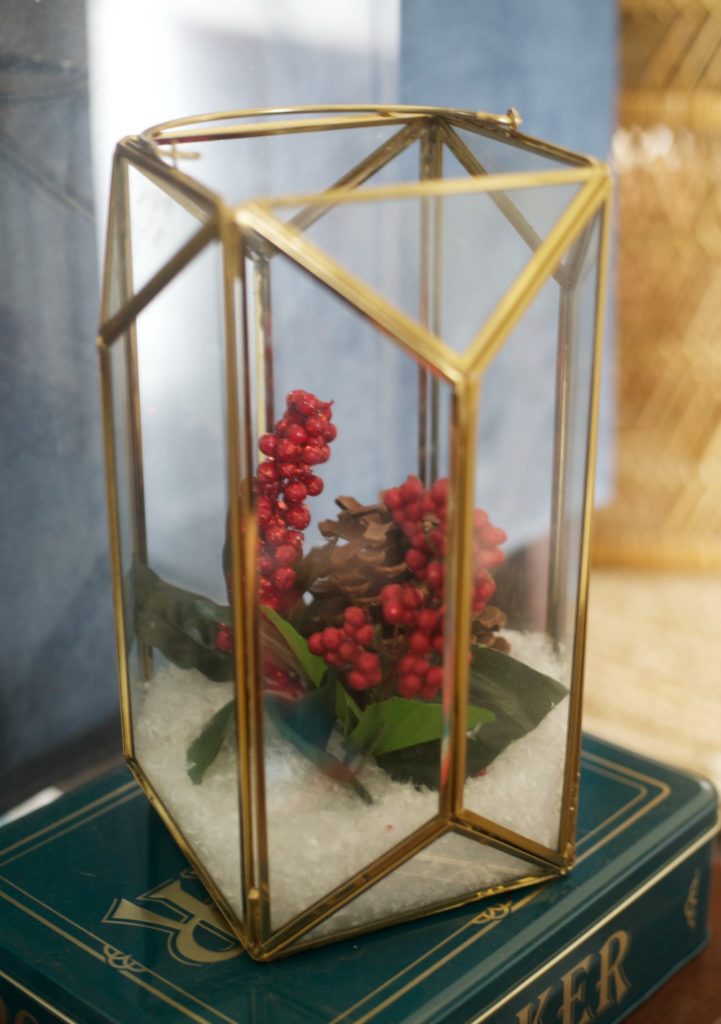 I had so much fun with fake snow this year! I added it anywhere I could. If I had a whole team of people that would clean it up after, I'd create a whole life-size winter wonderland in our home. With his response to the pillows, you can imagine Mike wouldn't be too excited about that.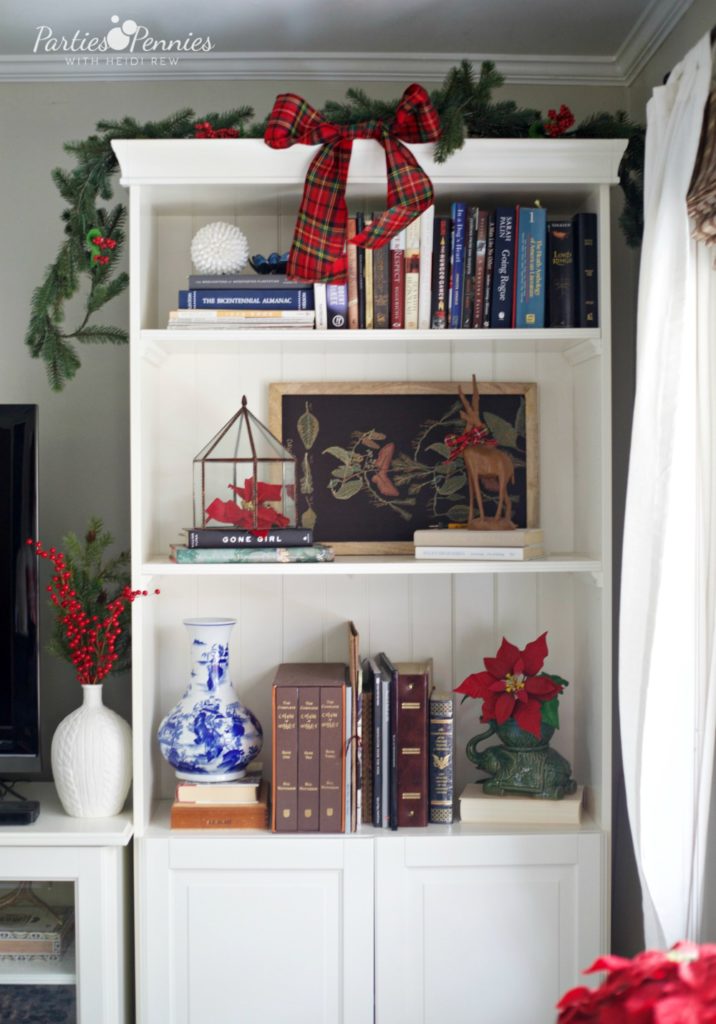 I love using decor I already have and just Christmasfying them. Like the antelope guy on my shelf there…I just added a plaid ribbon to him and BOOM…Christmasfied.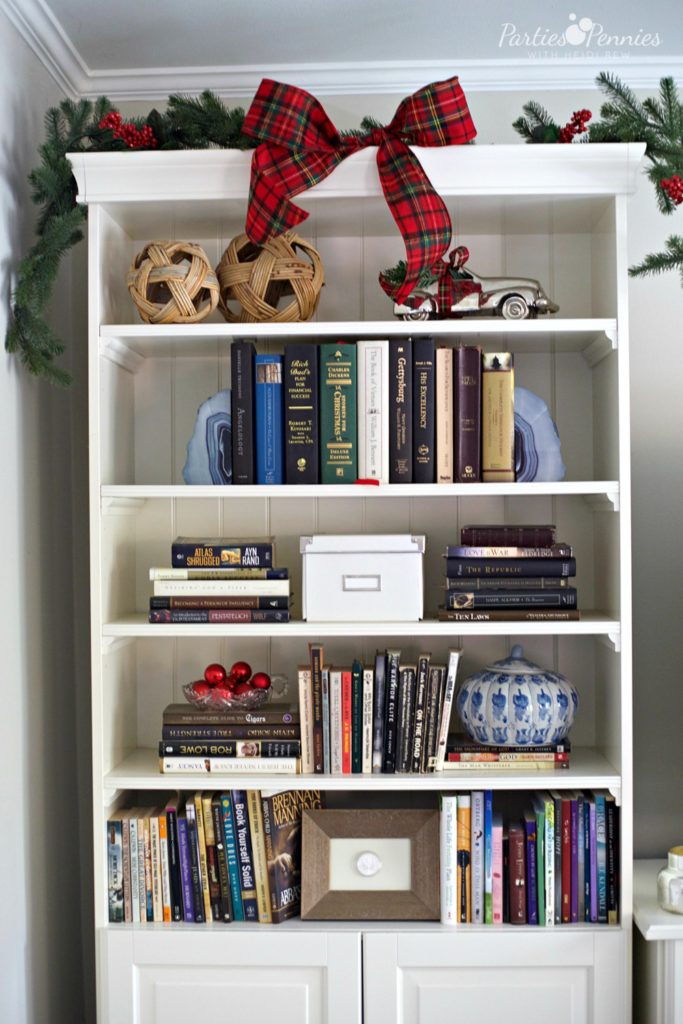 Not sure if you can see this really well, but that silver car on the top shelf is normally on our shelves. I just added some greenery to it and tied a plaid ribbon around it so it looked like those vintage cars carrying a tree!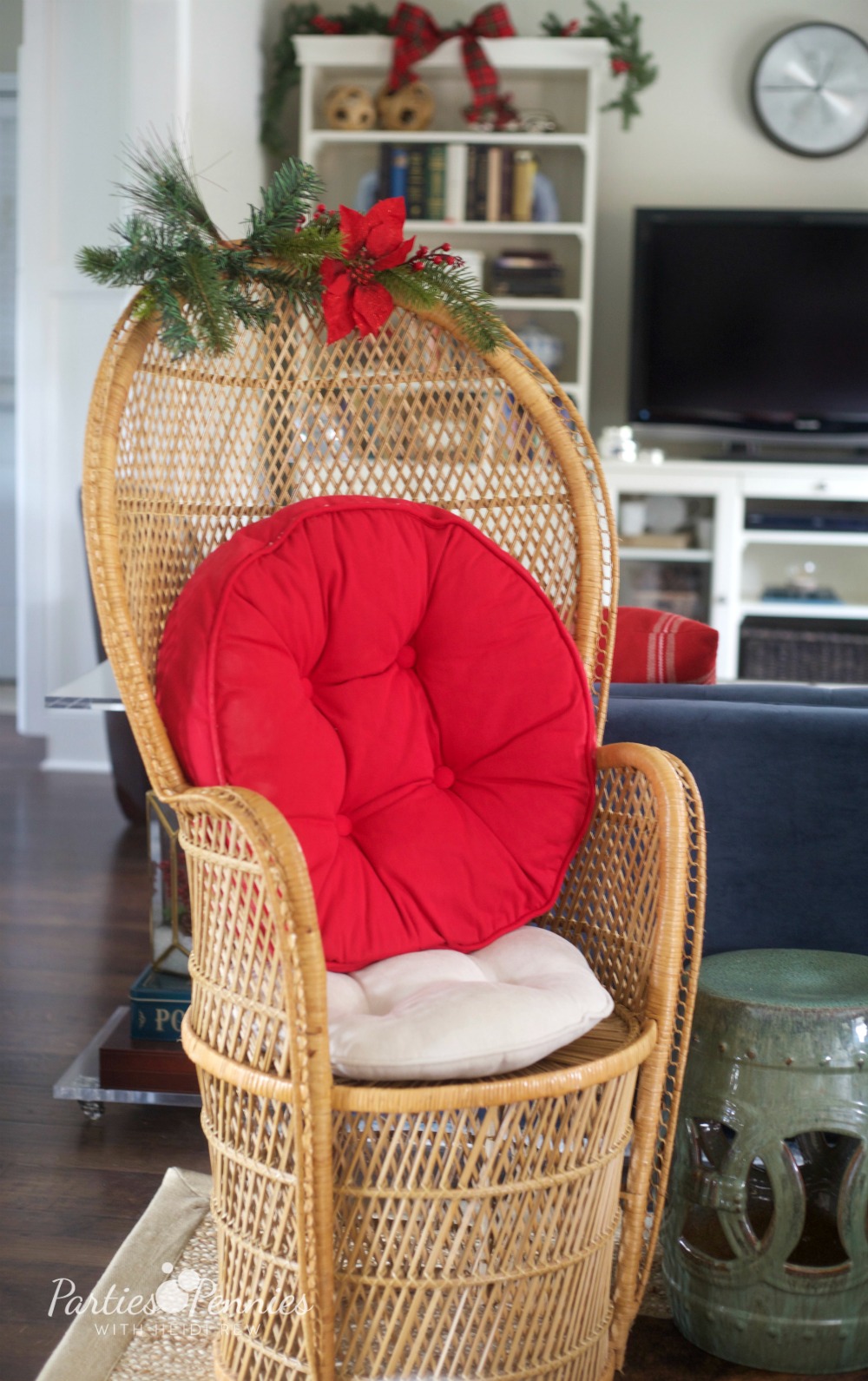 Oh hello beautiful vintage rattan peacock chair that I got at Habitat Restore for $10! 🙂 I've had it downstairs in this little landing but decided to bring it up for Christmas.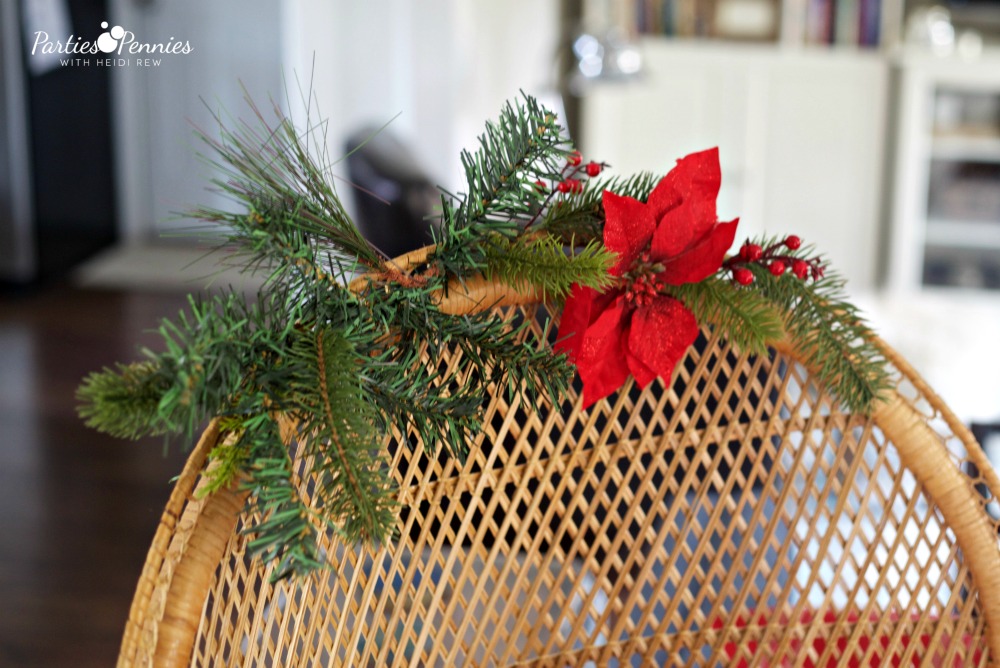 It looked beautiful by itself, but I thought I'd try adding a little greenery and I'm obsessed. Obsessed.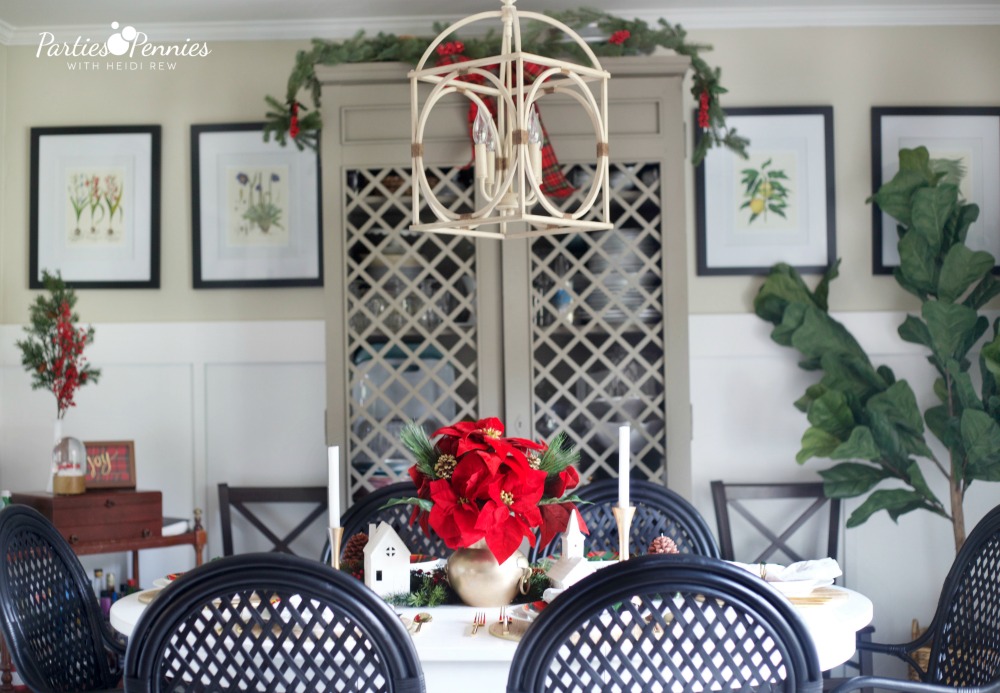 Our dining room. I'd done some re-decorating so it looks quite different than last year.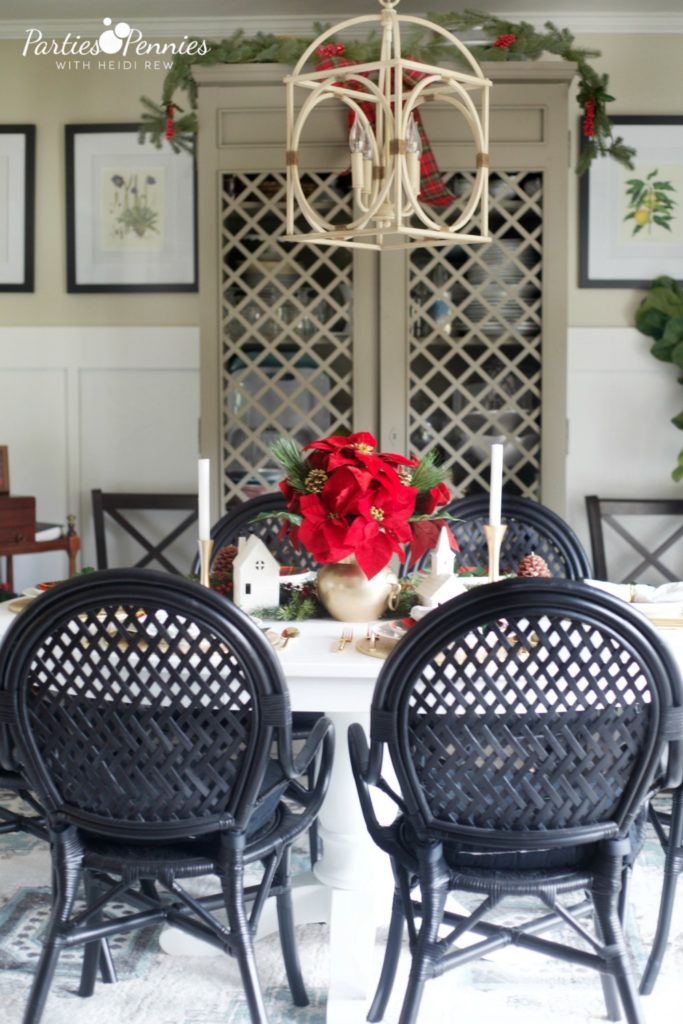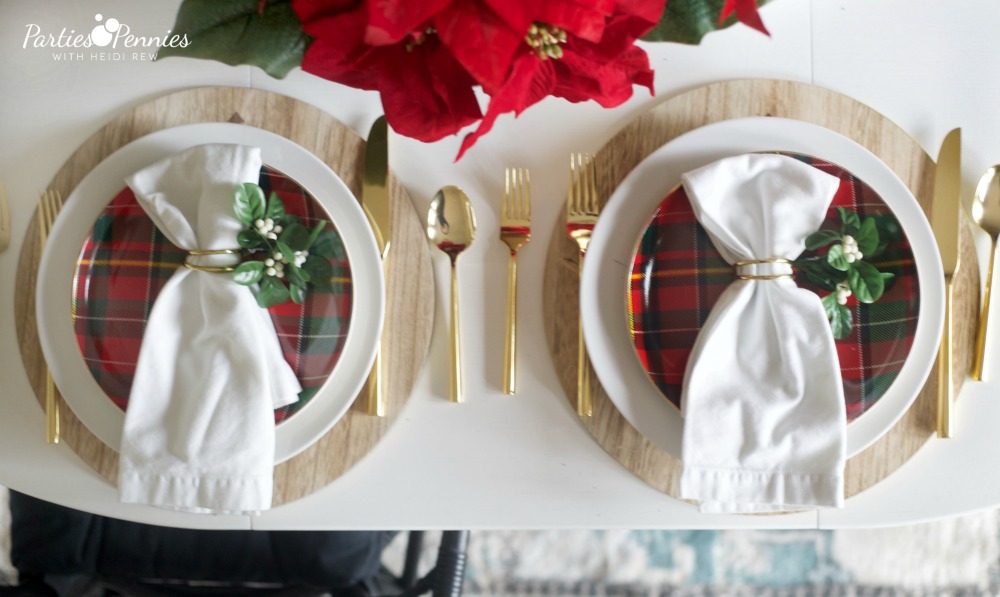 The chargers are from the Target dollar spot ($3/ea) and the plaid plates are from Hobby Lobby. I wanted to add a little mistetop to bring in some greenery too.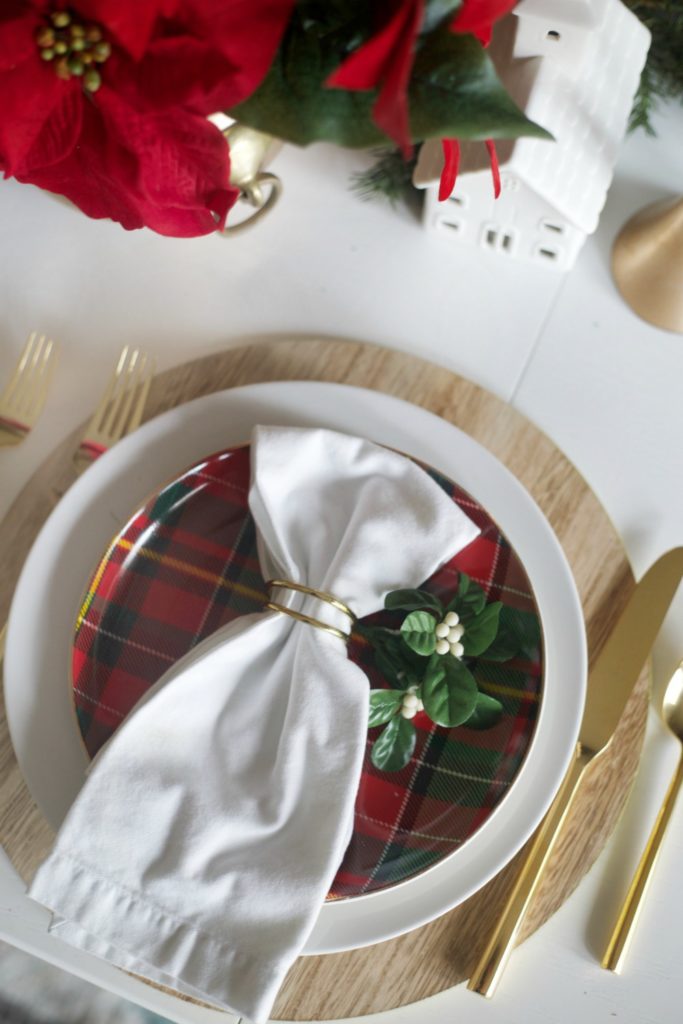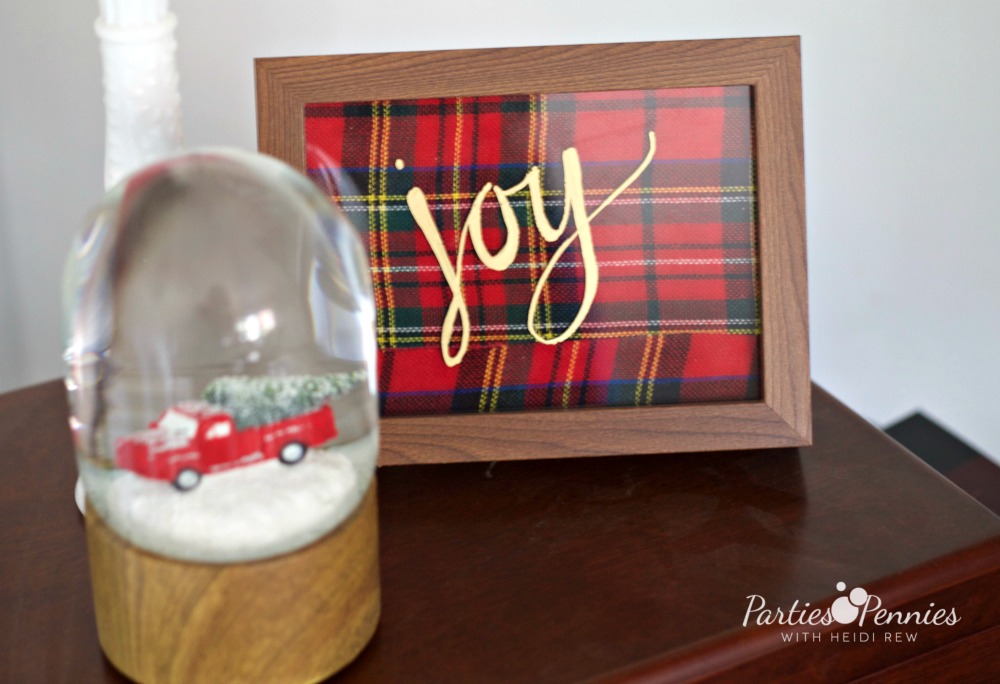 This frame I already had and I just added some plaid ribbon to it and wrote "joy" on the glass.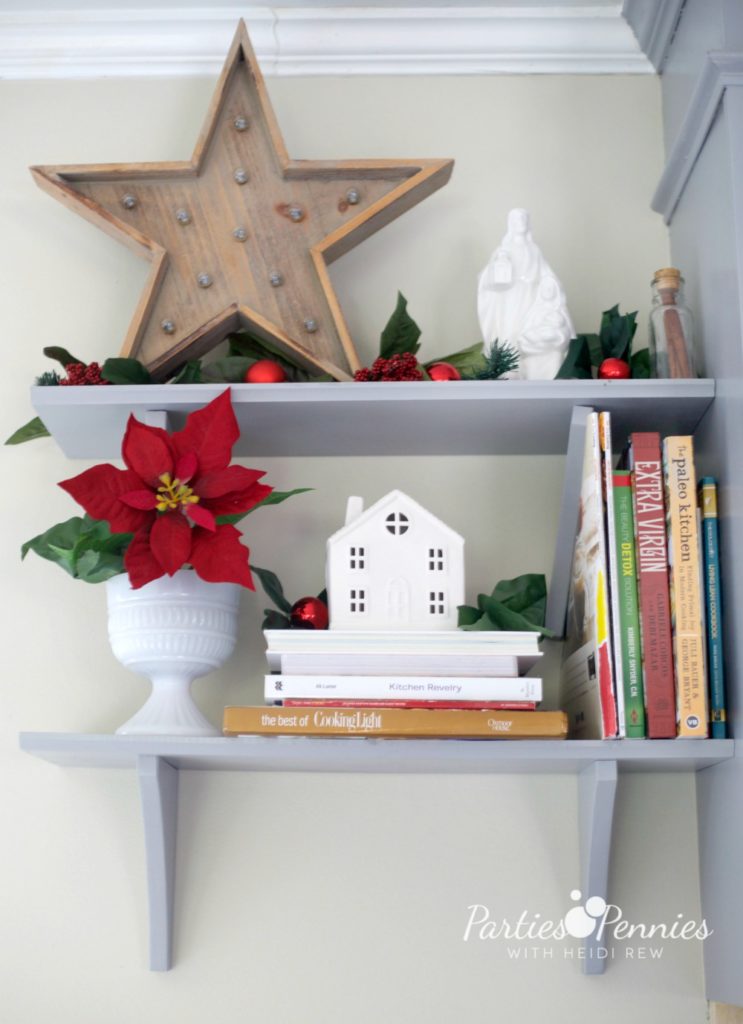 This is our little kitchen cabinet shelf that I added some festive decor to.
I FINALLY got a little nativity set. I've had the hardest time finding one I like. This wasn't the large one I wanted, but it will do for now.
Oh Moosey! How I love you. This is in our guest room and he's just so much fun to decorate.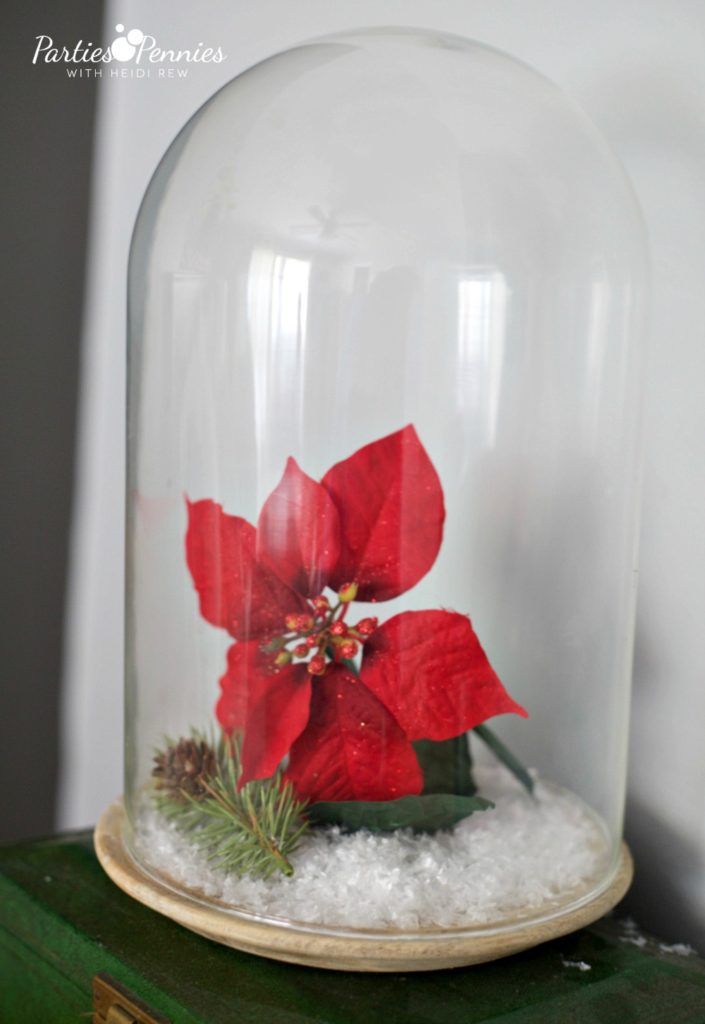 I didn't do too much in our guest room, but I added this little dome poinsettia (and the snow :)).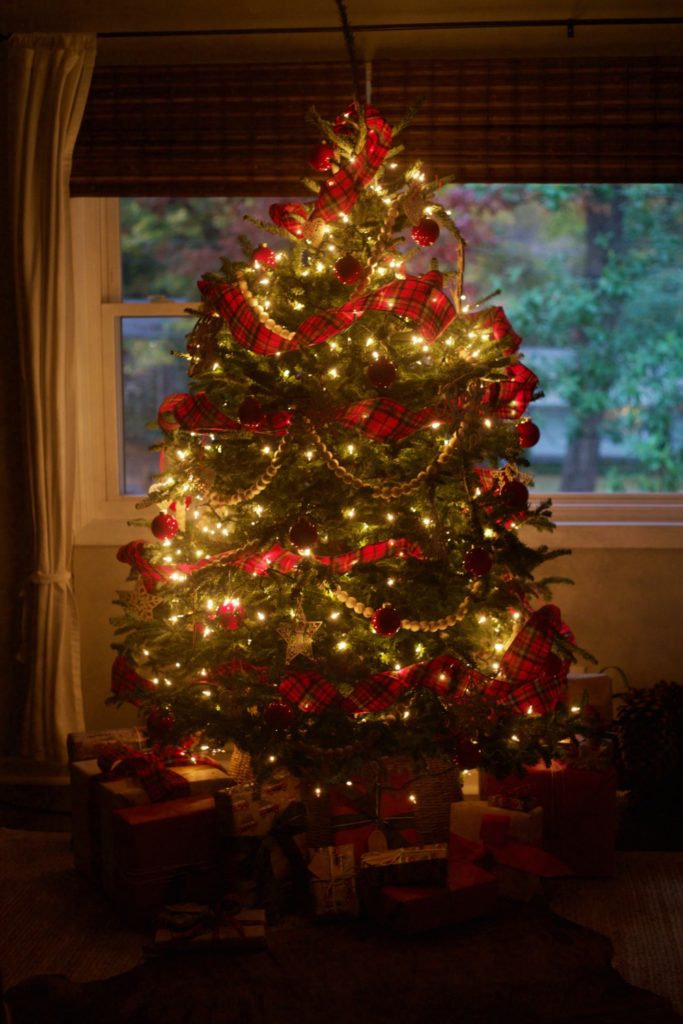 And here she is LIT. :p
I also just discovered that I can put a virtual fireplace on our TV screen and it is awesome. Totally makes it feel even cozier.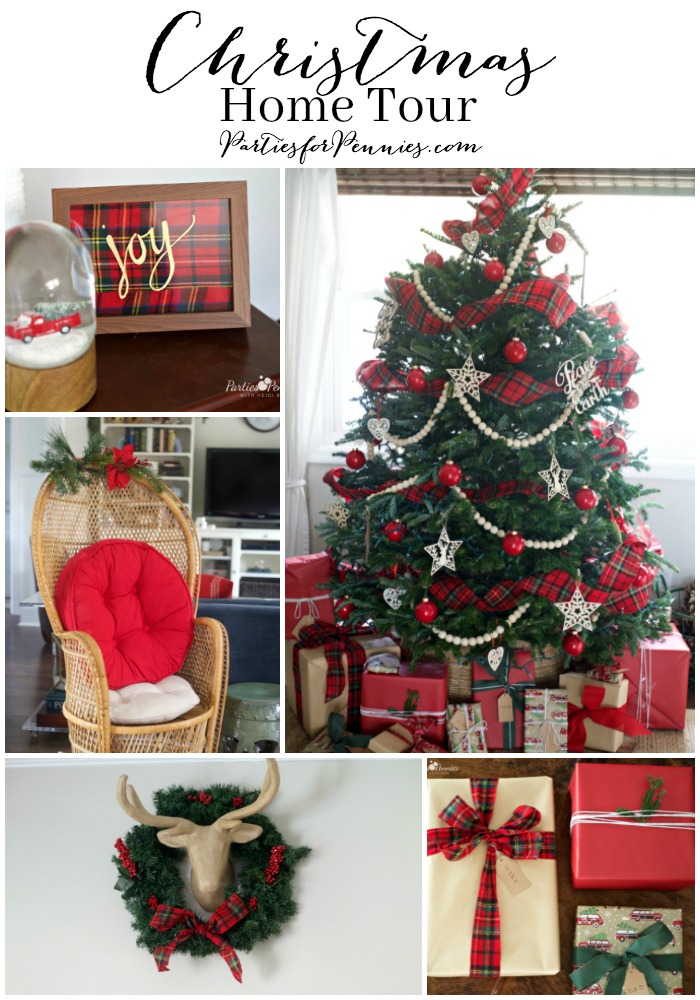 Hope you have fun decorating & enjoy a wonderful Christmas and holiday season. Party on!
To see Christmas decorating from years past, check out these… (click on the year to see the rest)