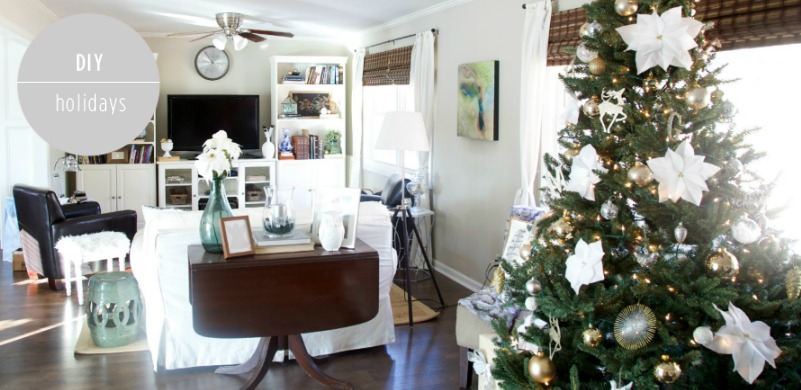 03 Dec

5 Ways to Save During Christmas

Hey party people!

Last year, I shared 10 Budget-Friendly Christmas Entertaining Ideas. This year, I wanted to share ways I save money during Christmas or the Holidays. Giving is one of my favorite things to do and Christmas is my favorite holiday, so it's really hard to taper those spending habits. But here are 5 Ways to Save During Christmas …with a little house Christmas tour thrown in the mix.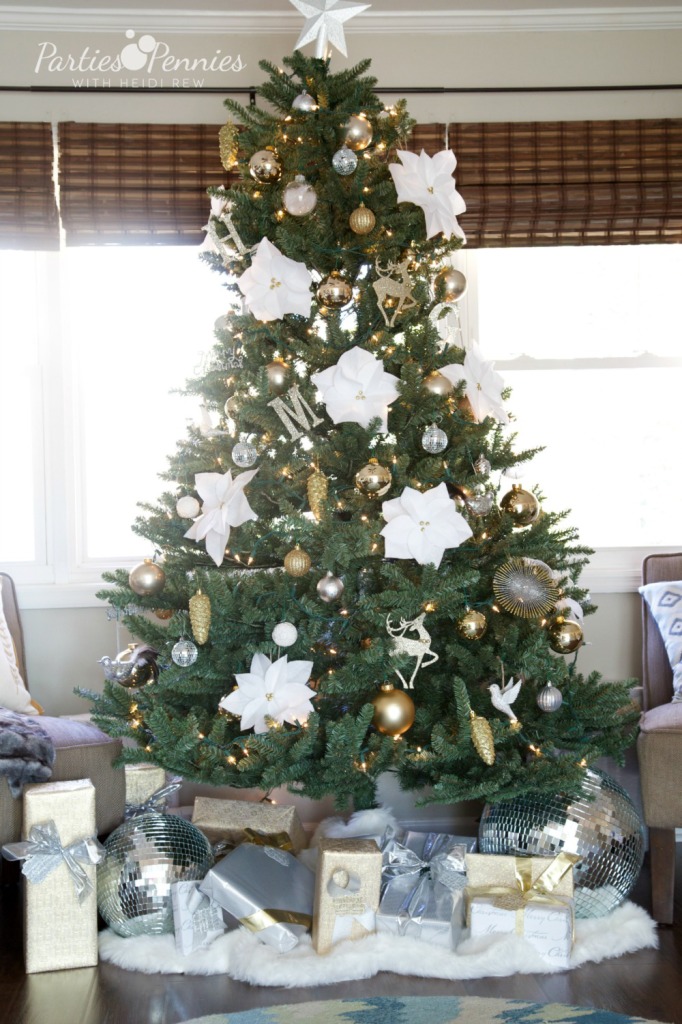 1 | DIY Your Own Christmas Florals
Every year, I switch up my decorations. This year, I wanted it to be more of a wintry white vibe. I love the look of white poinsettias, but faux stems can really add up. For less than the price of 1 stem, I created 10 felt poinsettias. How did I do it?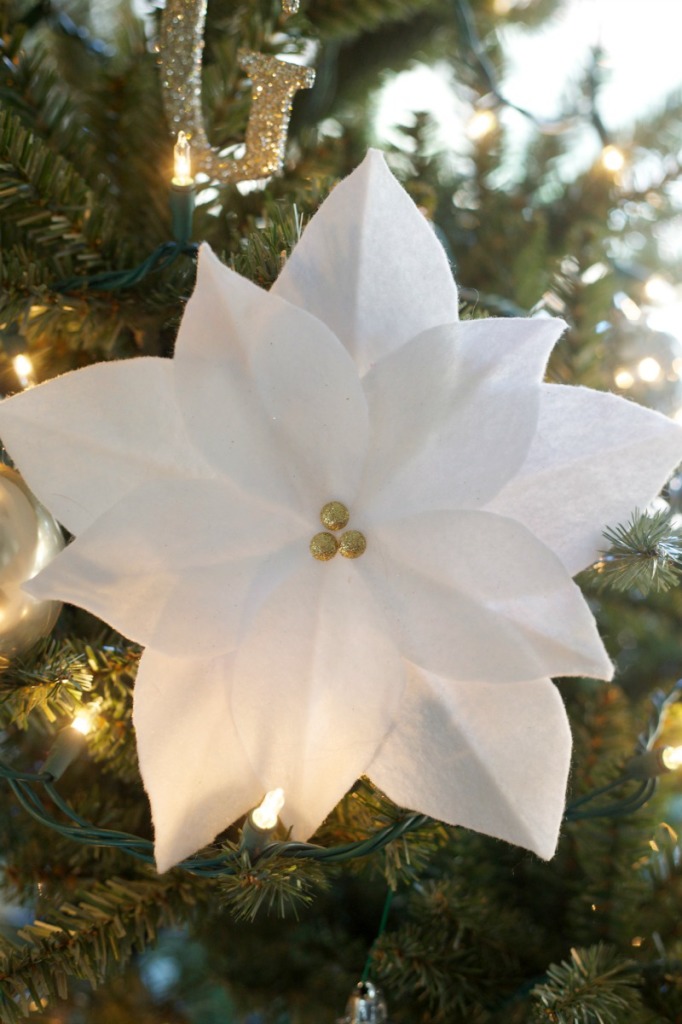 I cut 5 larger "petals" and 5 smaller petals from white felt. Then I used my iron to crease the middle of the petals. With a glue gun, I put all the petals together, beginning with the large petals first. I layered the smaller petals on the large petals. To finish it off, I added three gold glitter sticker dots in the middle.
Not really feeling the floral inspiration? Feathers make a fun and unique arrangement too!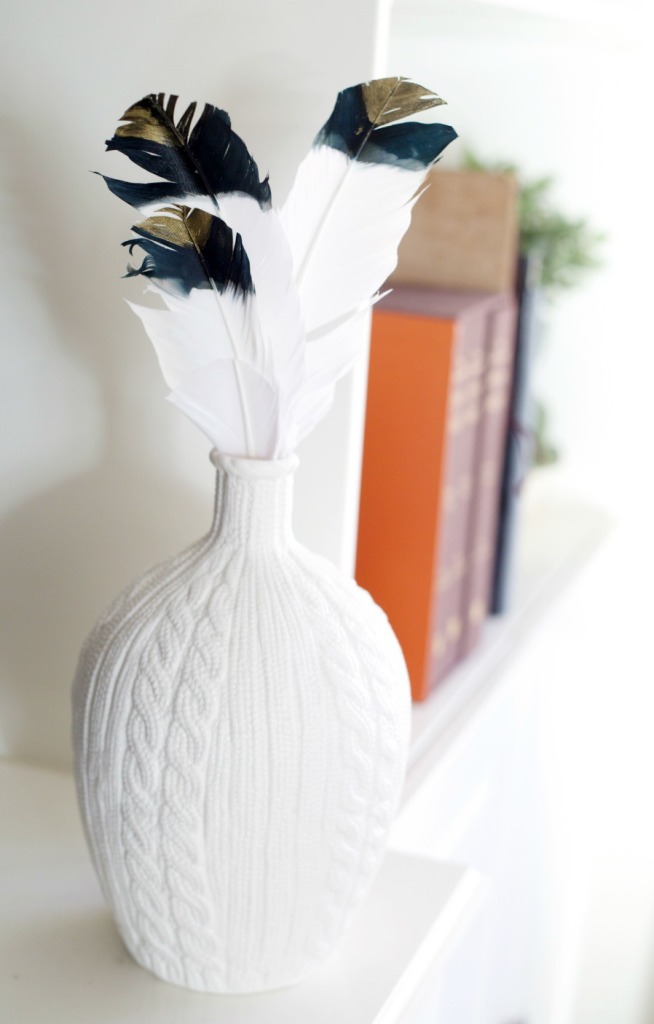 2 | Best Deal on Wrapping Paper (the GOOD wrapping paper) is…Home Goods
This is not an ad at all, but I just can't keep it to myself. I have a deep love for wrapping paper, but I can't spend as much on it as I'd like. Home Goods really does make my little wrapping paper heart happy. Their paper is gorgeous and it's affordable. It's usually a huge roll, too, so well worth it.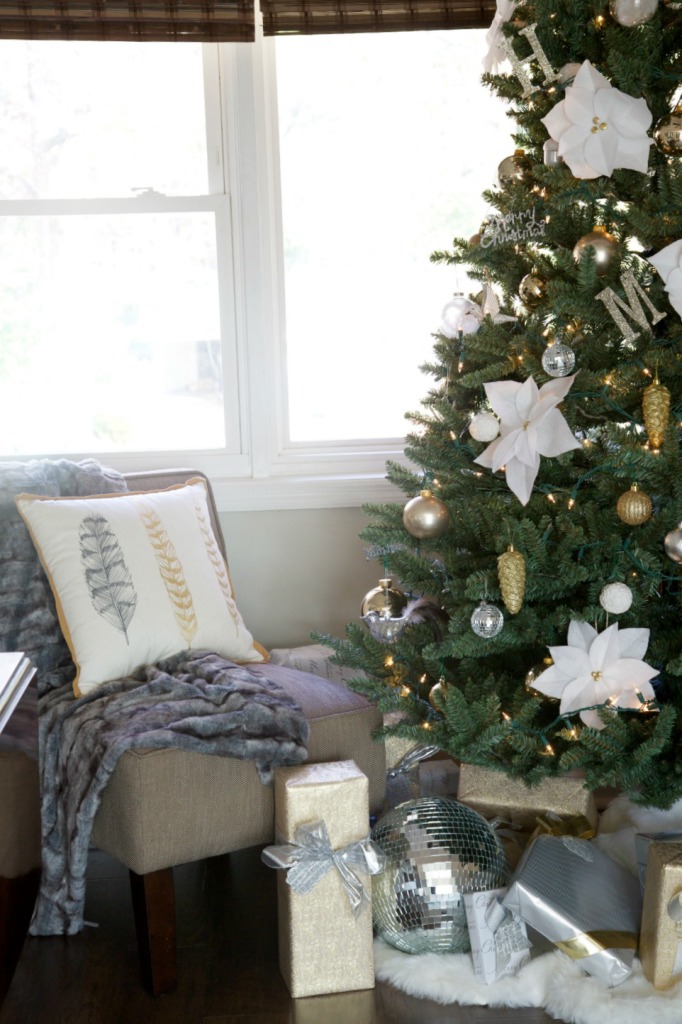 3 | Pimp Your Wreath
I learned this trick from Carmen Johnston. She taught me that you can take a $2 cheap wreath and add live greenery to it to make it look more impressive. I wanted to keep my wreath simple, but it needed a little something extra. I went out to our yard, picked a few pieces of greenery, added it into the wreath by twisting the wreath branches, and that's it. It took me about 10-15 minutes total.
It just adds a little dimension and color.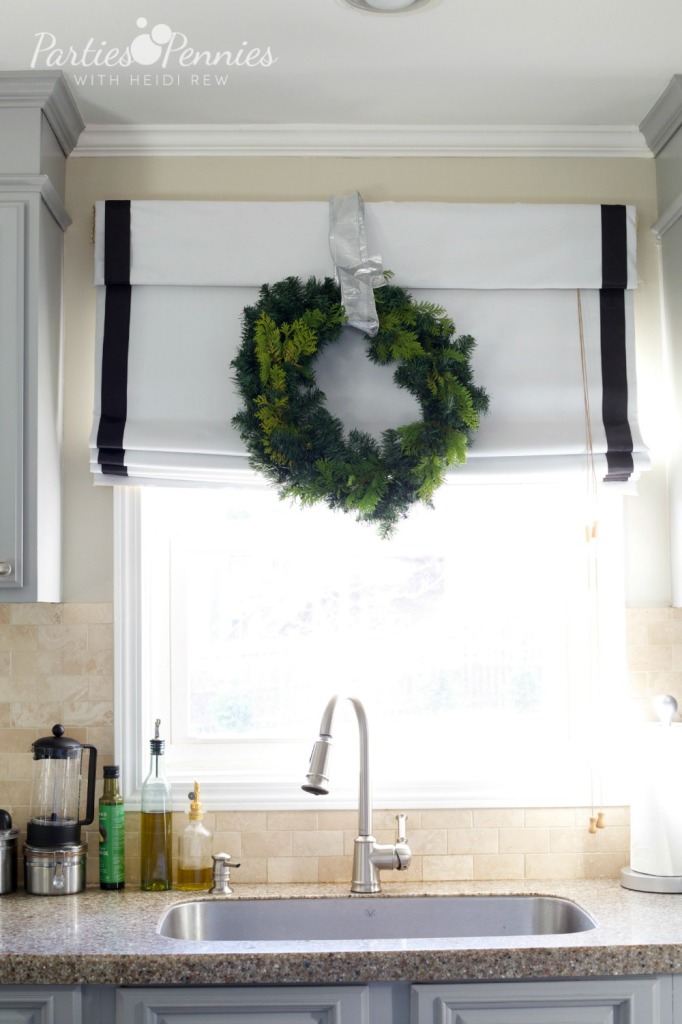 Here's the wreath I made last year…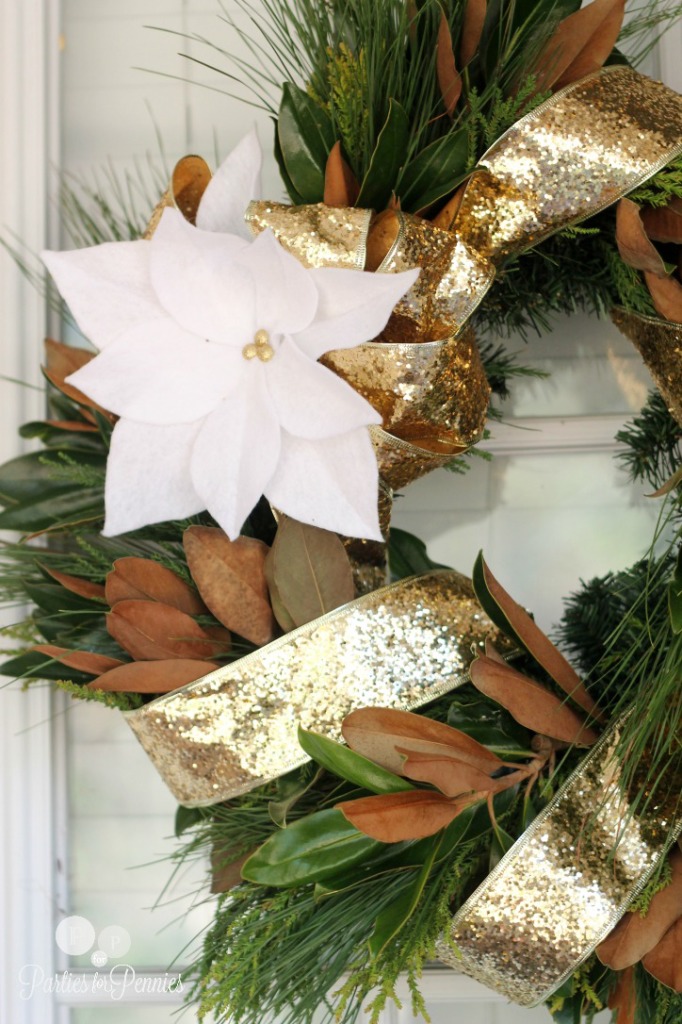 Find out how to make your own DIY Wreath here.
4 | Gift To Go
I always try to have "Gifts To Go" ready during the holidays, like this wine bottle that I wrapped up in a cute kitchen towel. I simply added a tag that said, "Merry Christmas Love Mike & Heidi." Now it's ready to go for a hostess gift, a friend gift, or the awkward "oh shoot, they got me something and I didn't get them anything gift."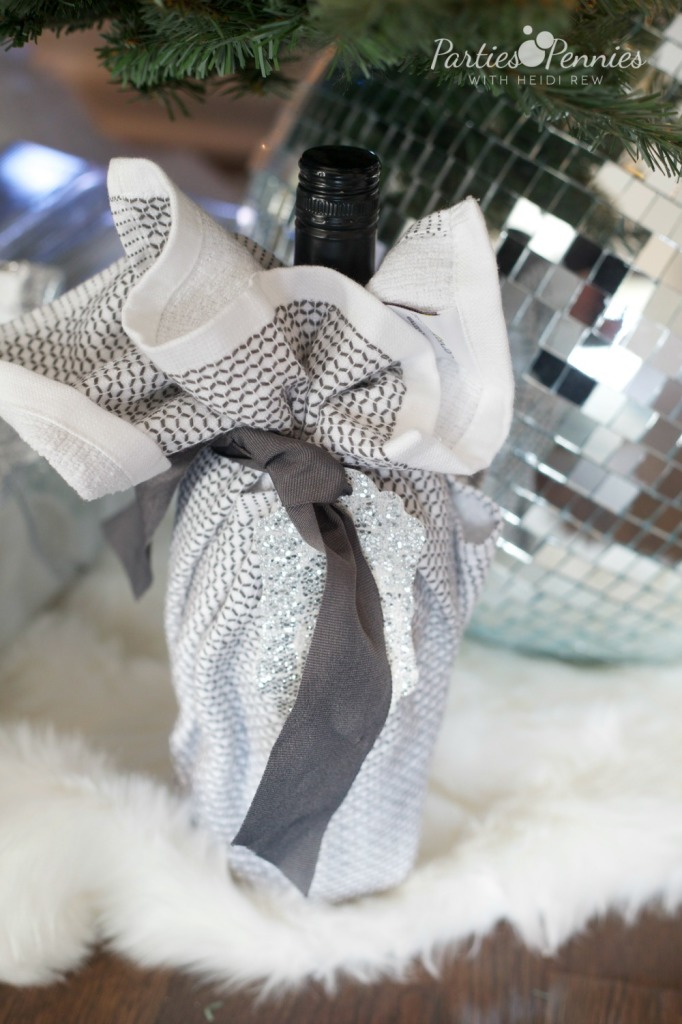 How does this save you money? Well, any time you have to make last minute gift decisions they always seem to be more pricey. It's also much more stressful. Having a few gifts ready to go, prevents those last-minute gift decisions.
It doesn't have to be wine. Your gift to go could be a candle, a coaster set, or some hand soap.
5 | Prepare Pantry to Plate Appetizers
What are Pantry to Plate Appetizers? They're quick bites that you can easily whip up in a few minutes with minimal ingredients and/or steps, mostly from items in your pantry. An example would be a nut mix. You can get an already packaged mix (Trader Joe's has some really good ones – love the Omega3 Cranberry one) or you can create your own. Store in an airtight container and it's ready to pour into a pretty bowl for your guests to nibble on.
Here are a few more suggestions:
Roasted Chickpeas – this recipe from Steamy Kitchen looks delicious!
Sweet Potato Chips with chive dip OR mix greek yogurt with a little maple syrup, cinnamon, and sprinkle with chopped pecansm to use as a dip.
Brie Cheese and Rasberry Jam on Toasted Bread (Cut off the crusts, then cut into quarters)
Nutella and Peanut Butter on Toasted Bread
Having quick appetizers ready to go keeps you from ordering that gourmet platter from the deli and they don't take much time, allowing you to enjoy your guests.
Some additional tips would be to look around your home for items that could spice up your tree. I had these clear ornaments in my stash and just added some white feathers I had to them.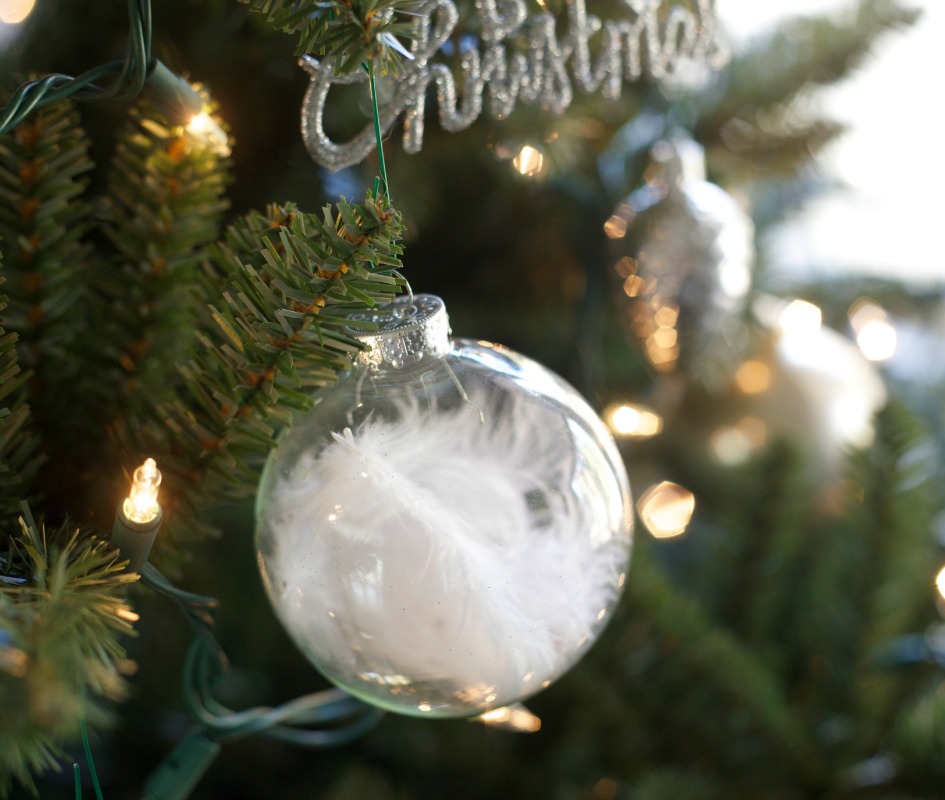 Here are a few more pics from our Christmas home.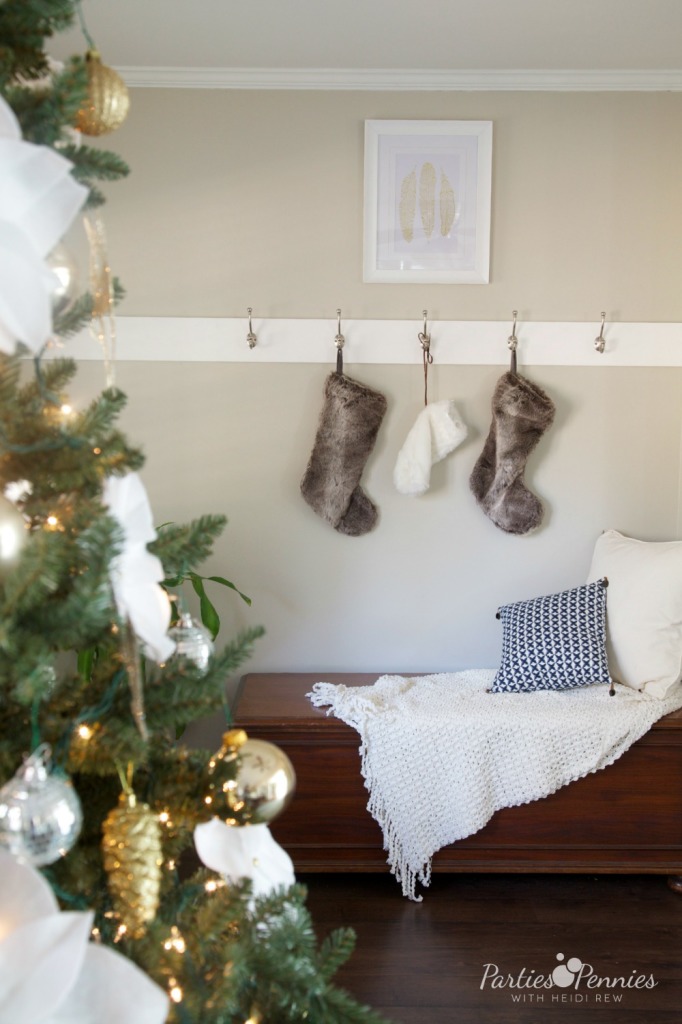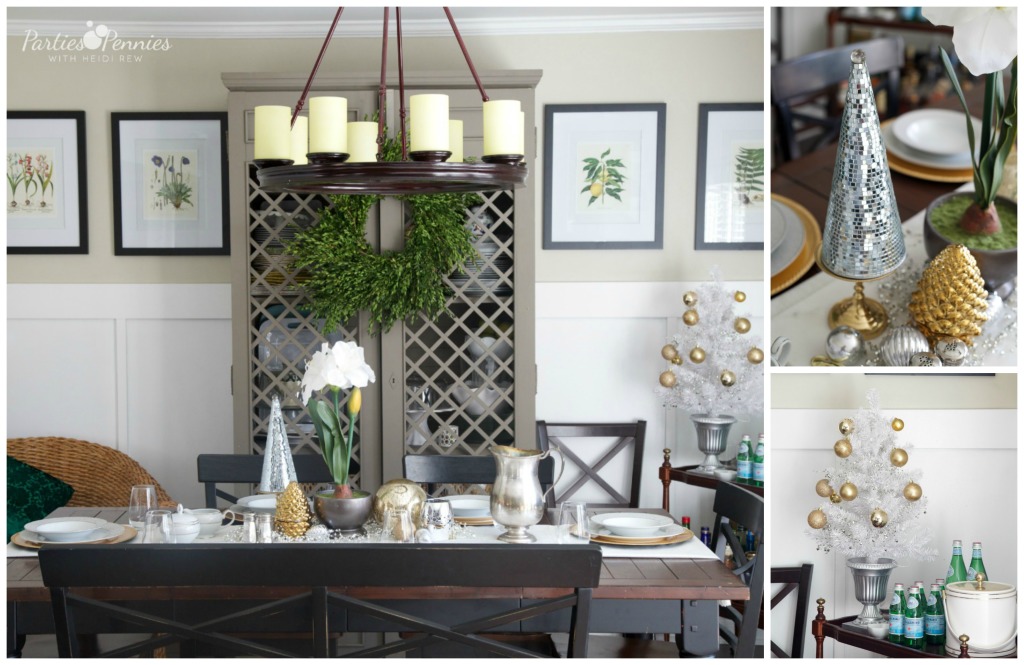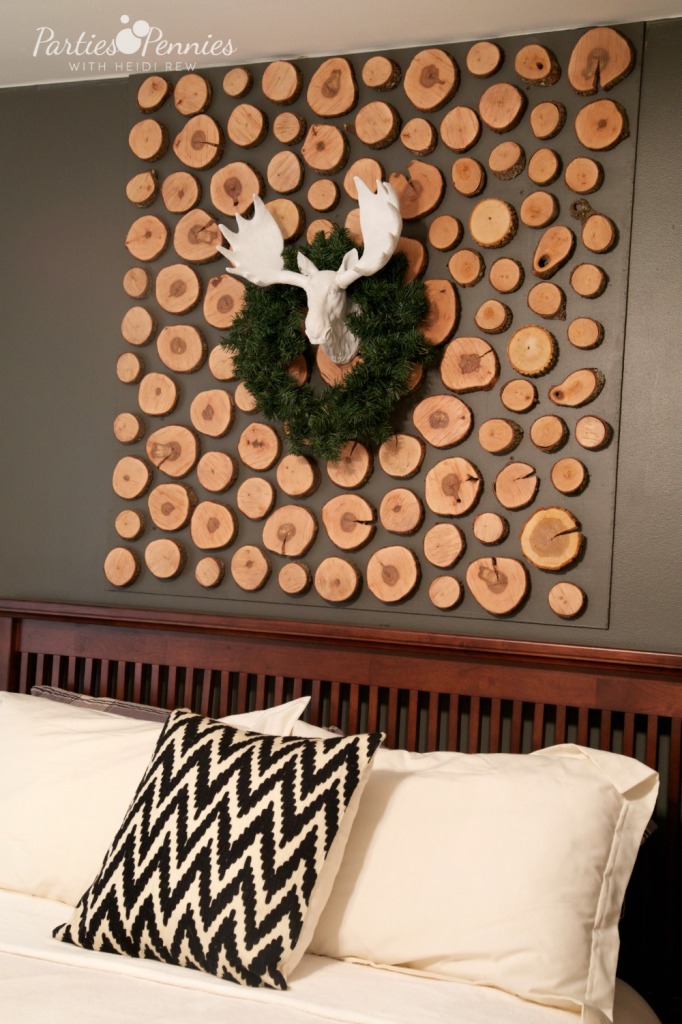 Even Moosey got a little festive.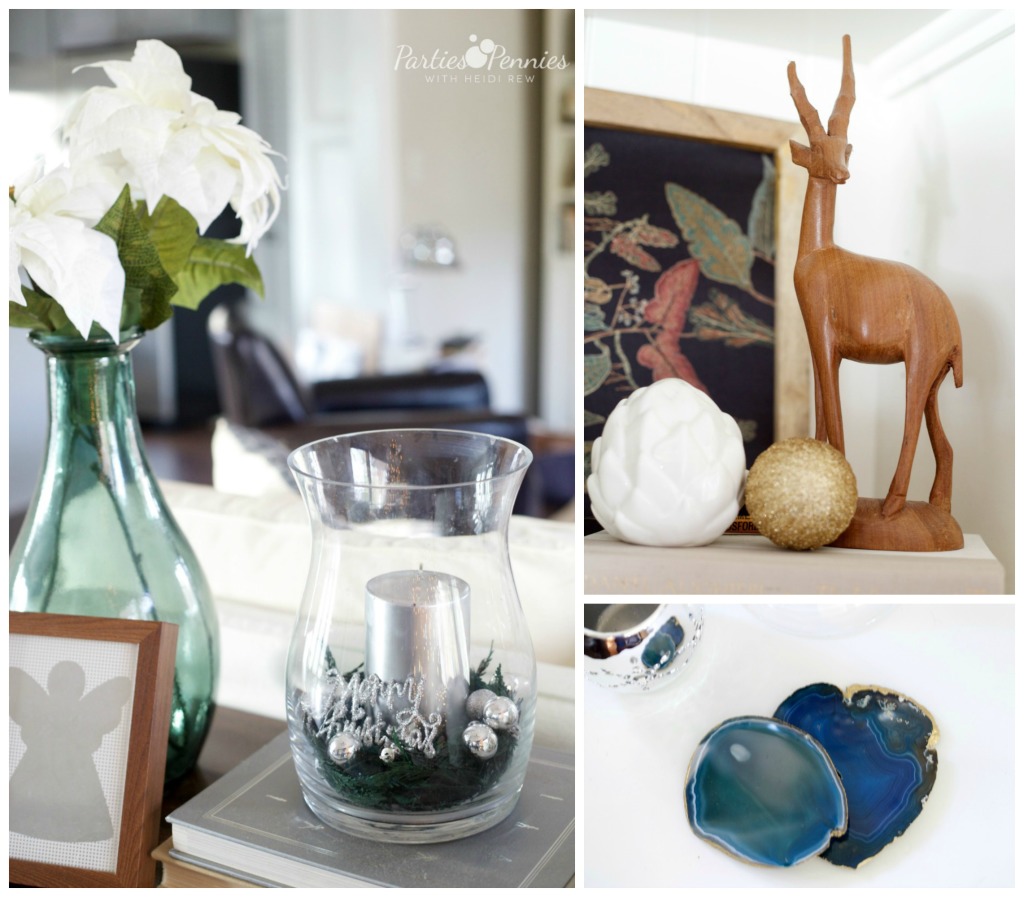 If you'd like to make those Agate Stone Coasters yourself, check out my DIY post about them by clicking on the link.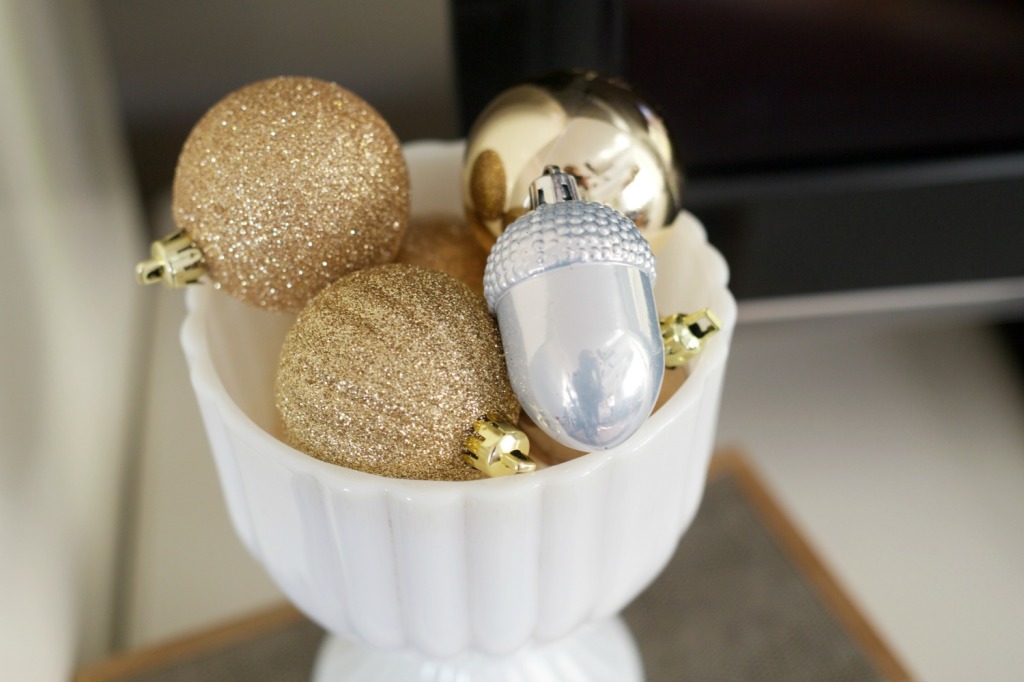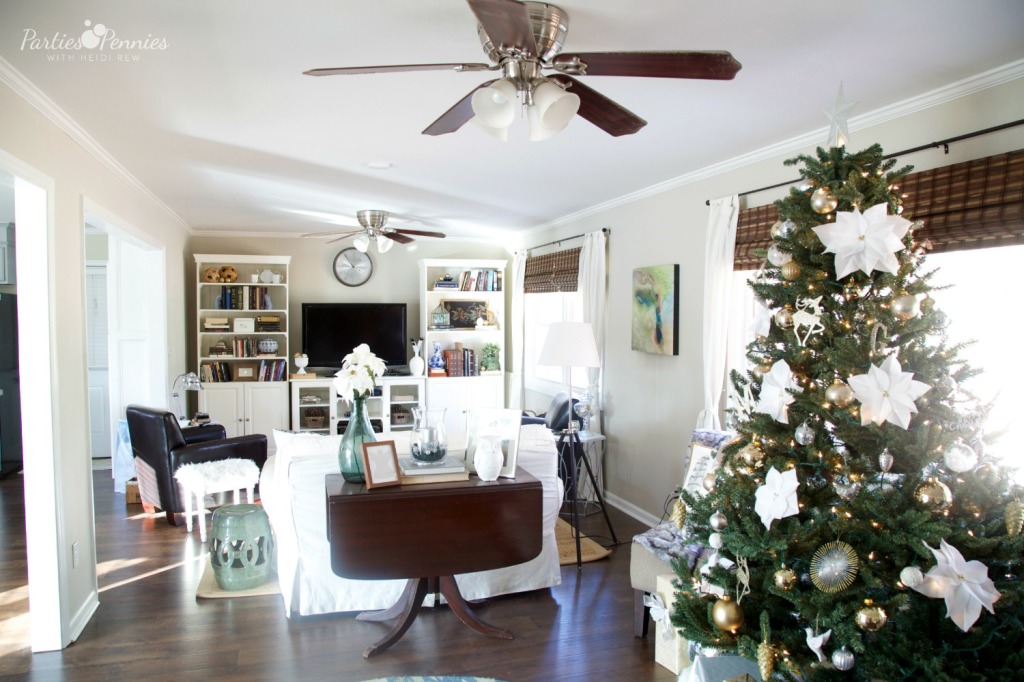 In what ways do you SAVE money during the Holidays? Let me know in the comment section & I'll share your ideas on social media!