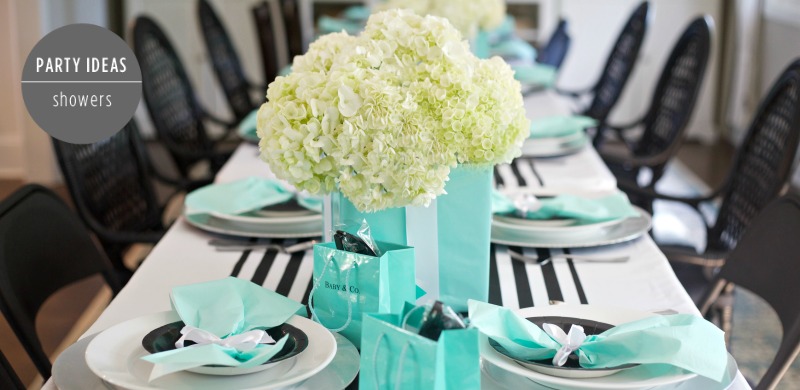 24 Aug

Breakfast at Tiffanys Baby Shower

Hey party people!

I'm so sorry it's been awhile since I've posted. I will post soon explaining why that is…but for now…let's talk about this adorable Breakfast at Tiffany's baby shower!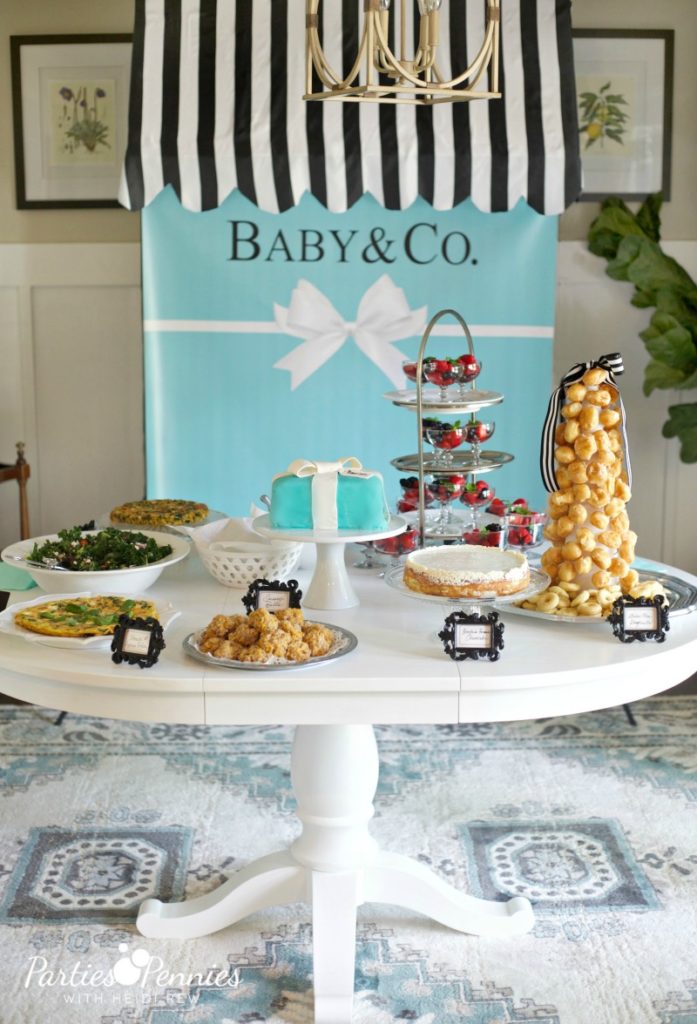 My dear friend Jennifer (we travelled to Kenya last year together with SERV International & we're in the same industry…she's co-owner of a production company and studio) is due any day now with a little boy. A few acting friends asked me to help them throw her a baby shower and of course I was like…um…YES!
We came up with the Breakfast at Tiffany's theme because of Jennifer's involvement in TV/Film. It's such an iconic film. We knew we wanted to do a brunch and Ryan and Jennifer are having a boy (ya know…the stereo-type – blue is for boy).
We decided it'd be at my house, but we don't have a huge home so I was a little worried about where we'd put all the guests. Then I came up with a plan. We'd move ALL of our living room furniture into our guest room to make way for 3 6-ft tables. I still have no idea how we got all our furniture into that one room. (*All thanks to Brooke ;))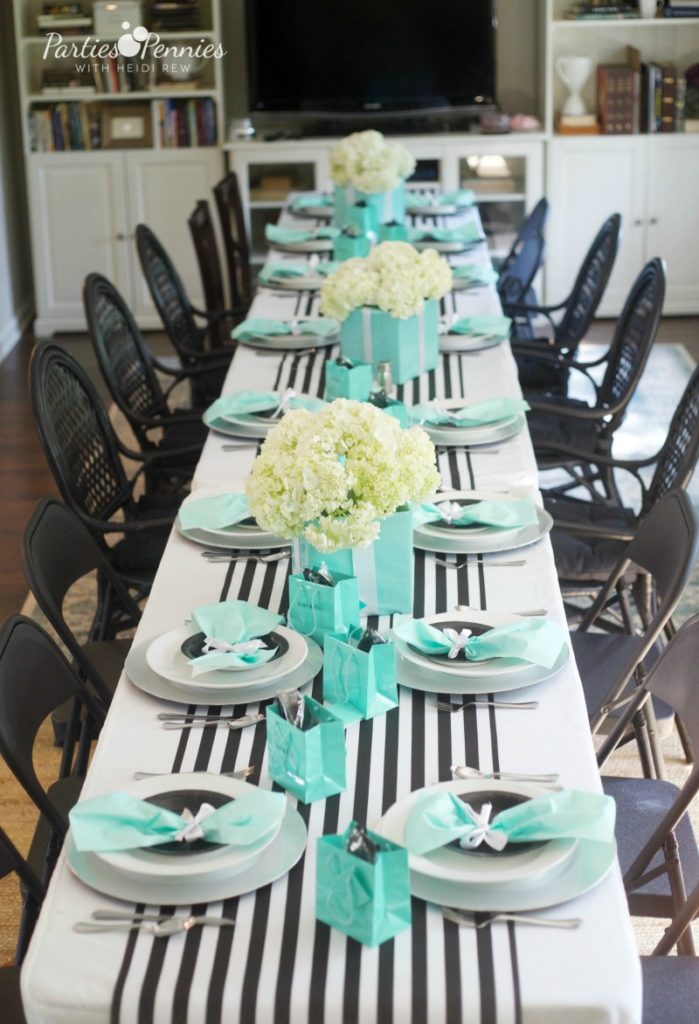 Here's the breakdown of the shower, if you need some ideas.
COLOR SCHEME: Black, White, and Tiffany Blue (of course)
BRUNCH MENU:
Appetizer – Cucumber Bites – with tomatoes and salmon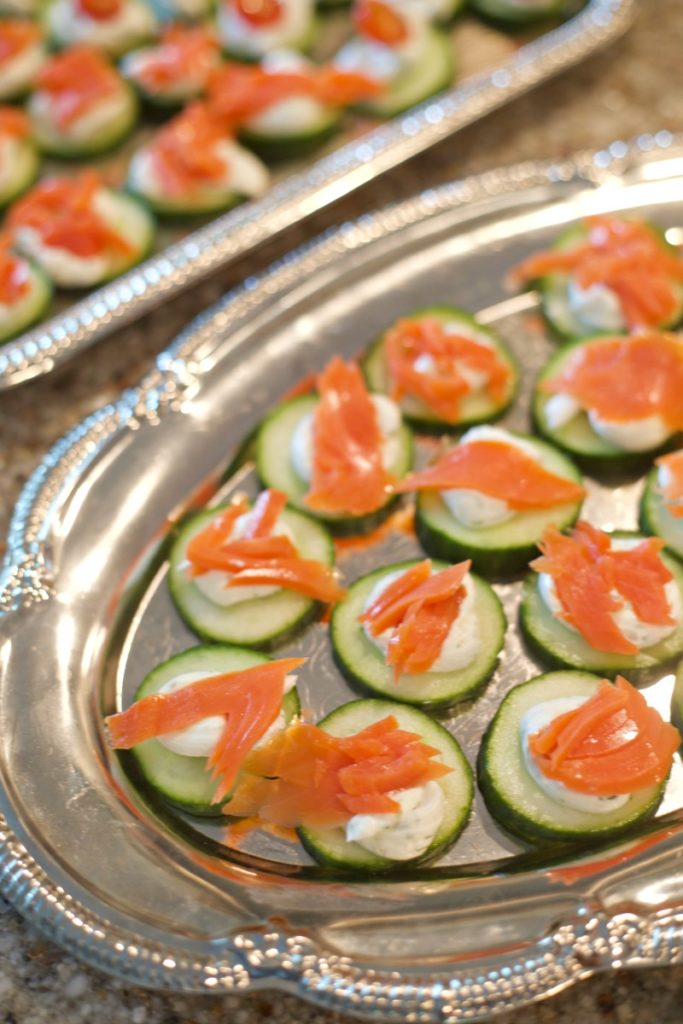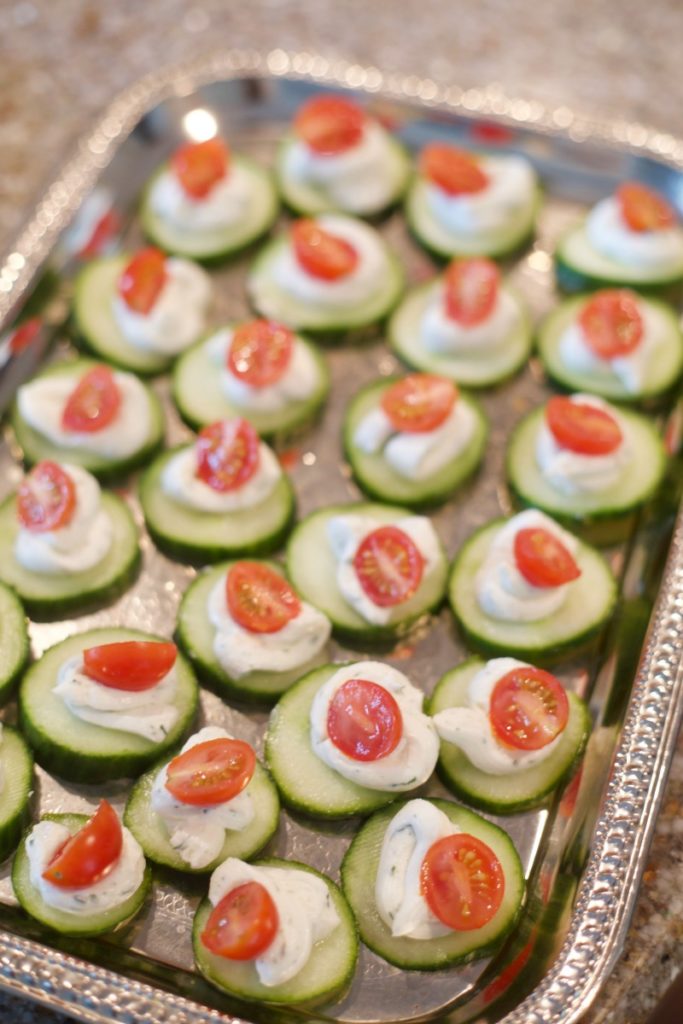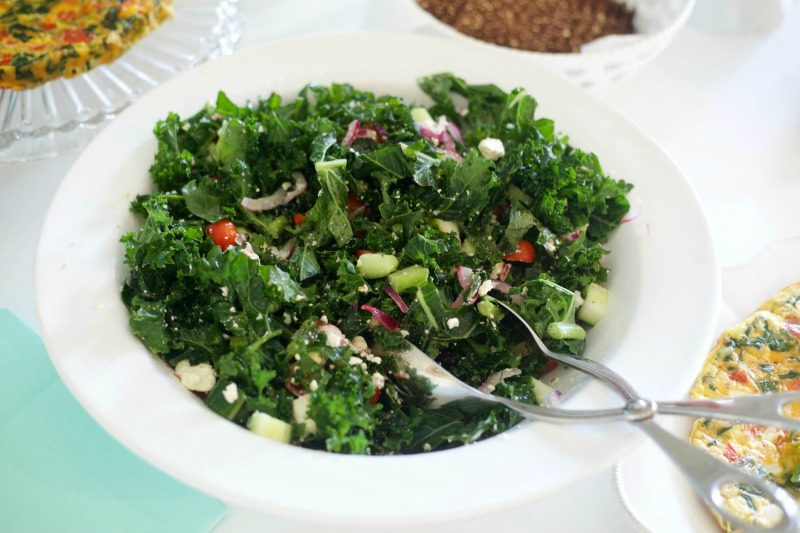 Roasted Tomato Caprese Frittata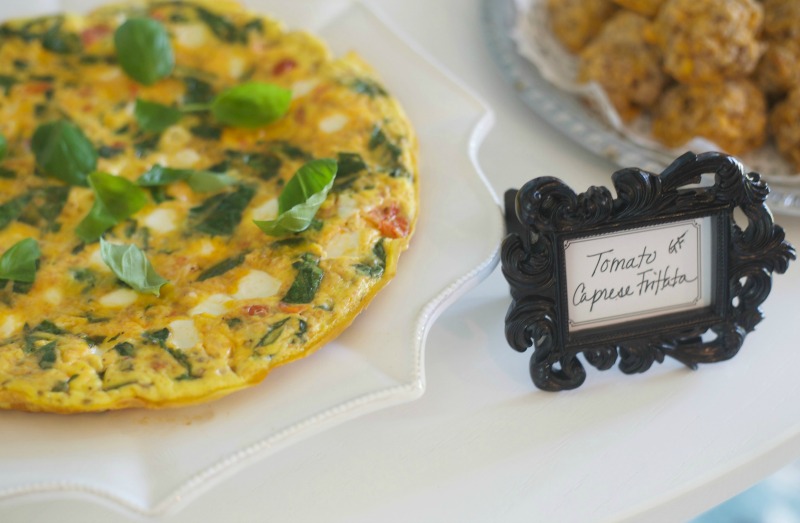 Veggie Frittata – I didn't use a recipe for this. I just chopped up whatever veggies I had, added them to a mix of egg and almond milk, then seasoned it with some salt, pepper, and nutritional yeast.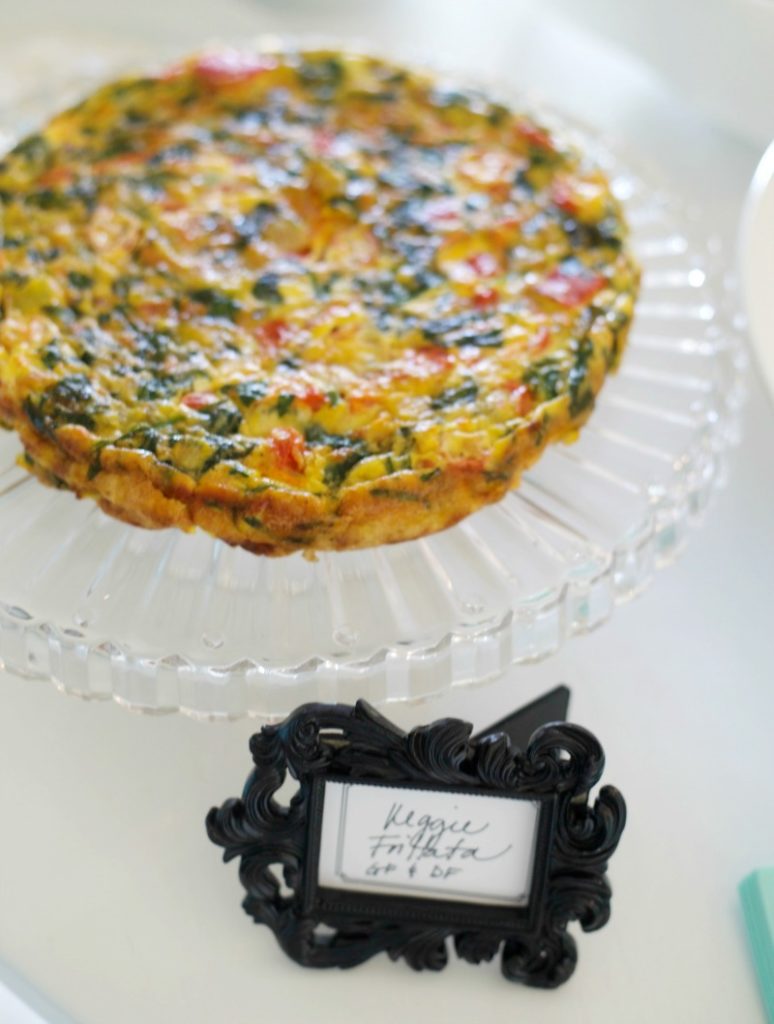 Sausage Balls (Brooke's made these & they were so good)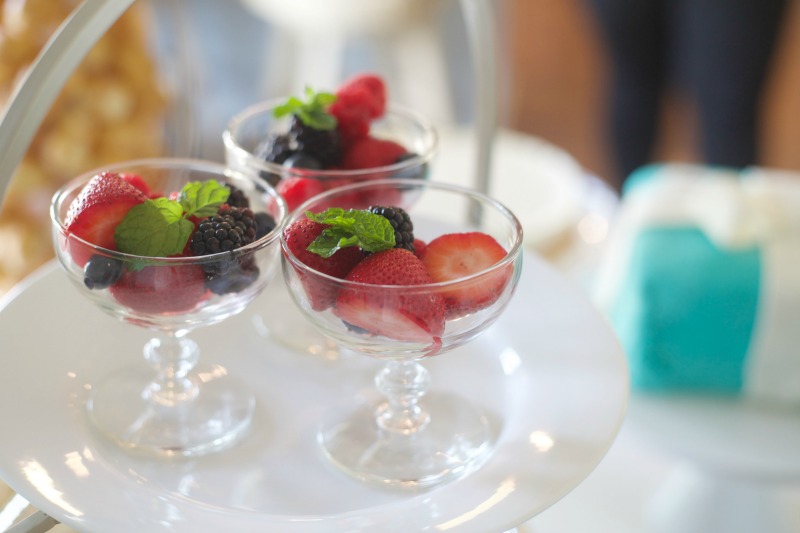 Berry Cups with yogurt & granola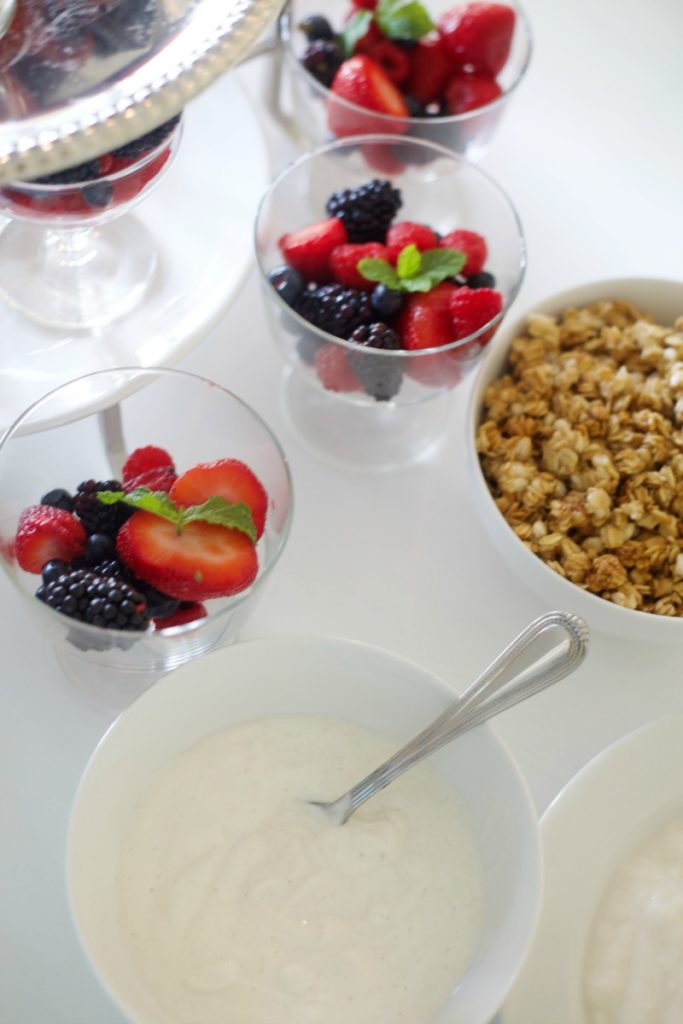 Brooke's Famous Cheesecake (seriously the best cheesecake I've ever tasted in my life)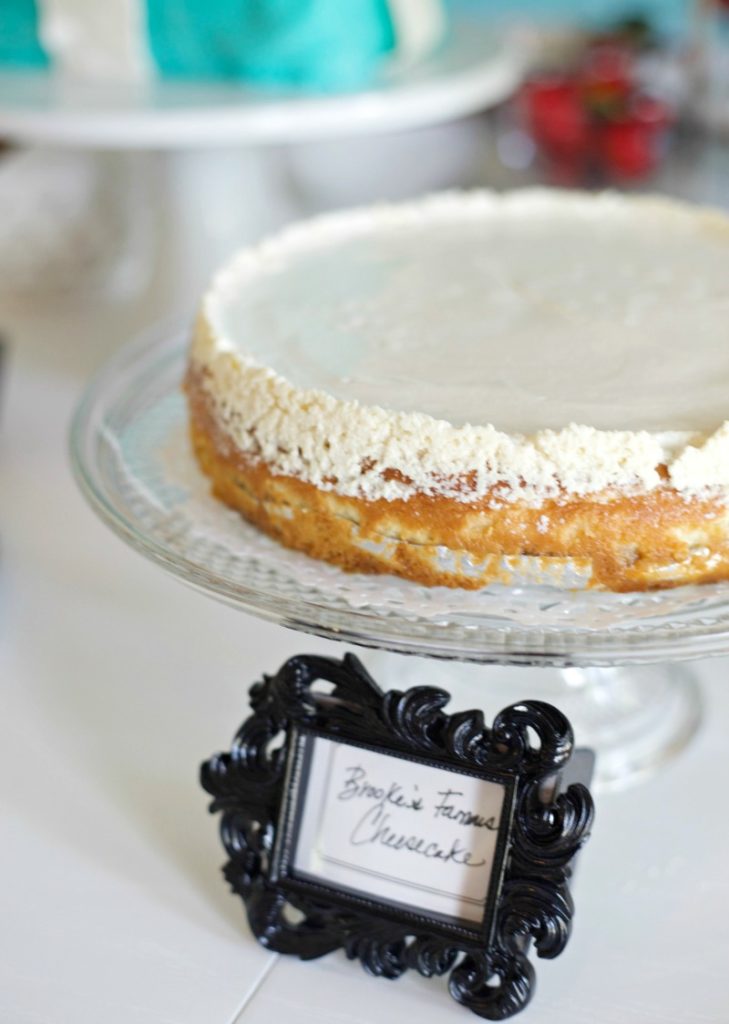 Krispy Kreme Doughnut Tree (since I'm gluten free, I made some homemade gluten free doughnuts as well)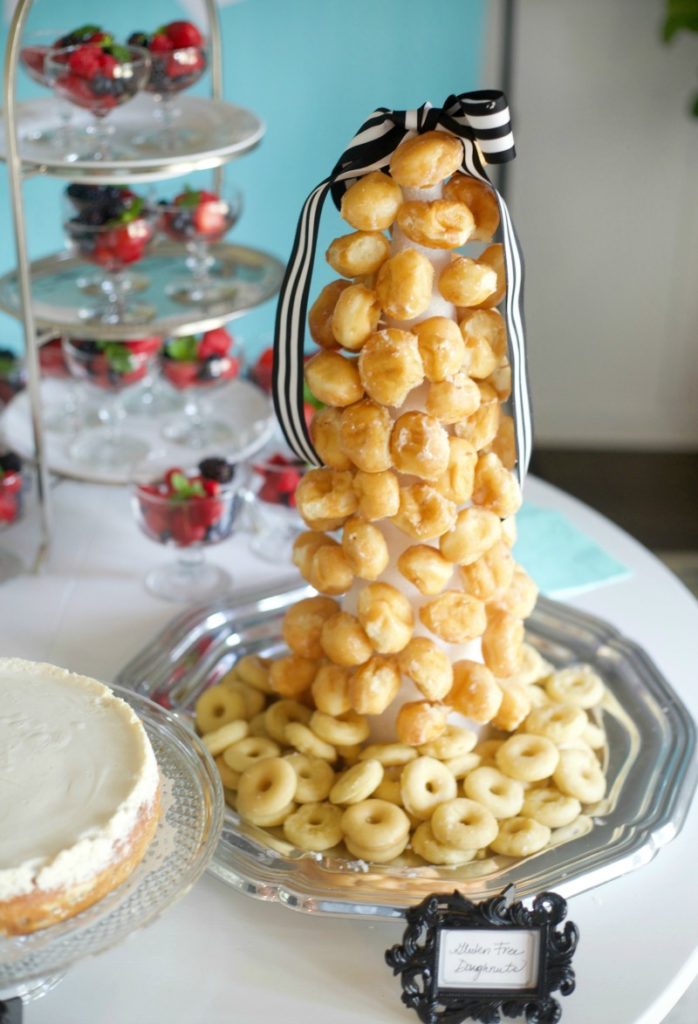 Tiffany Box Cake – This was the first time I've attempted to work with fondant. There definitely was a good side and bad side. I probably should've watched some tutorials on how to use fondant first.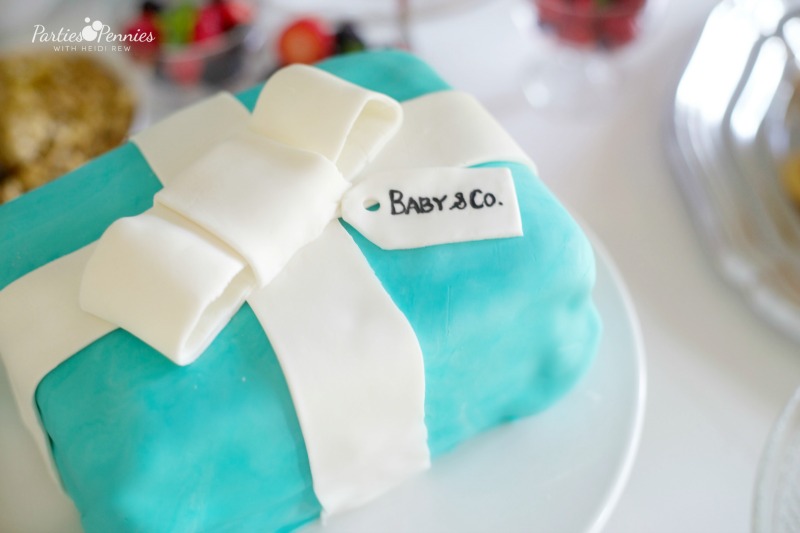 DRINKS:
Fruit Juice and Champagne
Coffee
Fruit Infused Water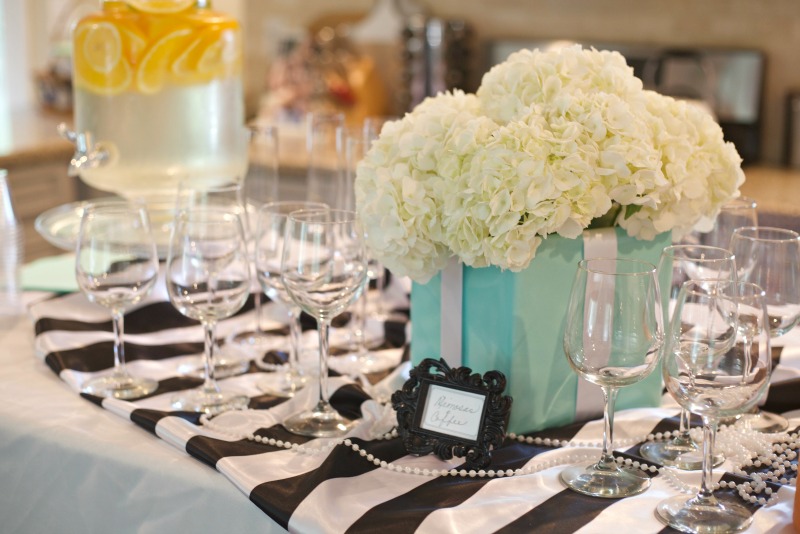 DECORATIONS:
Baby & Co Backdrop – I was going to design one but I found this one already designed on Etsy. It was affordable so I bought the design, then ordered a backdrop from Vistaprint (lowest cost for vinyl backdrops).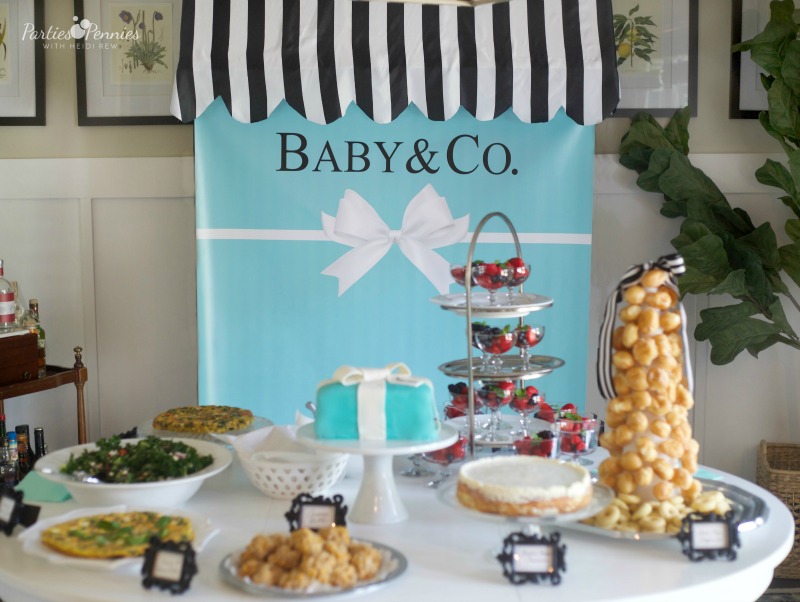 I created the black and white striped awning from some leftover fabric I had, spray adhesive, and foamboard. I wish I could give you a great tutorial. I just figured it out as I went.
The black frames we used for some of the menu items were left over from the Mamas and Mocktails shower.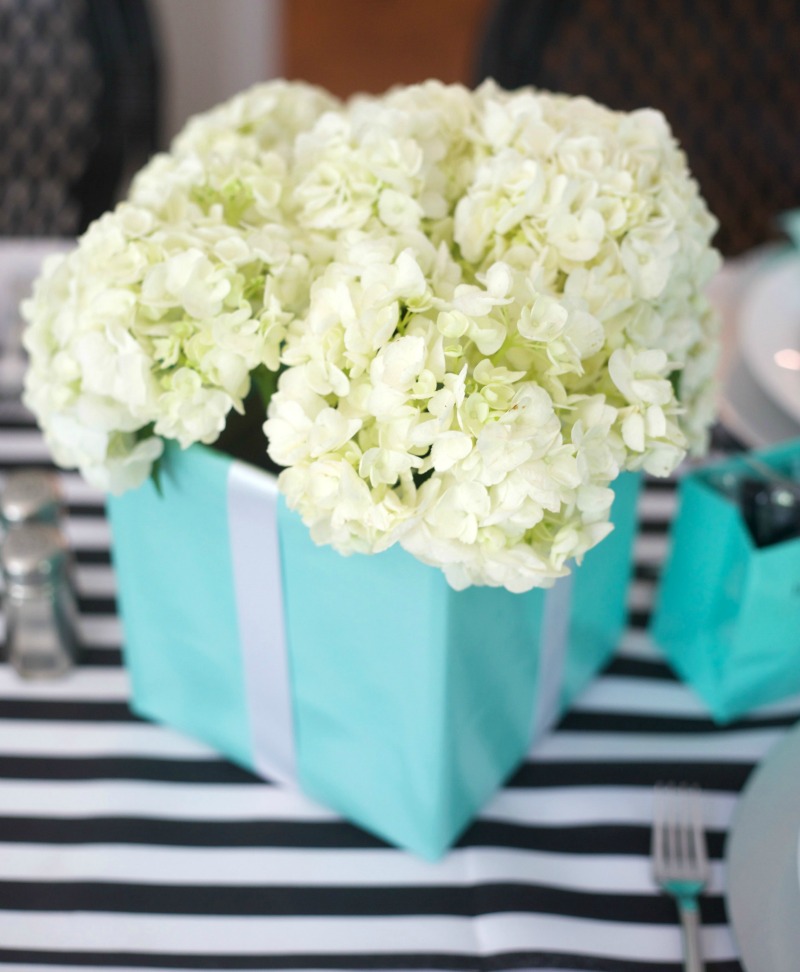 Tiffany Box Centerpieces – These are just cardboard boxes covered with tiffany blue paper, then wrapped in white ribbon. Before the party, I added some square vases with white hydrangeas inside them.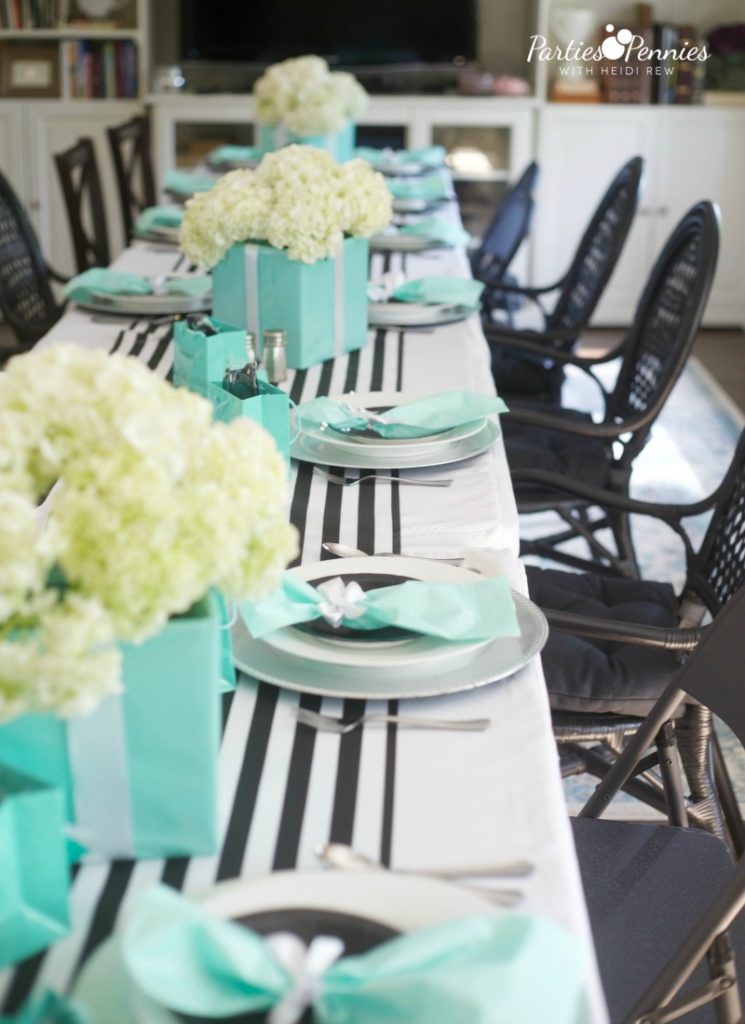 TABLESETTINGS:
All the black & white fabric was leftover from my Beetlejuice Halloween party. I used some for the awning and some as a table runner.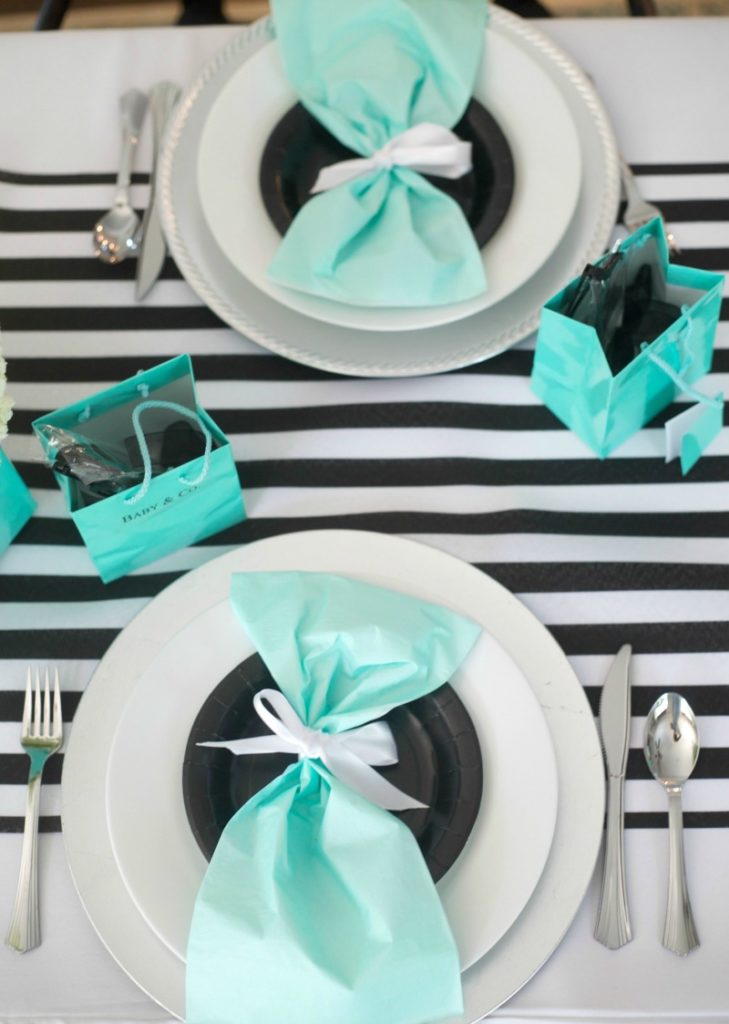 The place settings were simple – silver chargers, my white everyday plates, small black (disposable) dessert plates, and tiffany blue napkins tied with a white ribbon.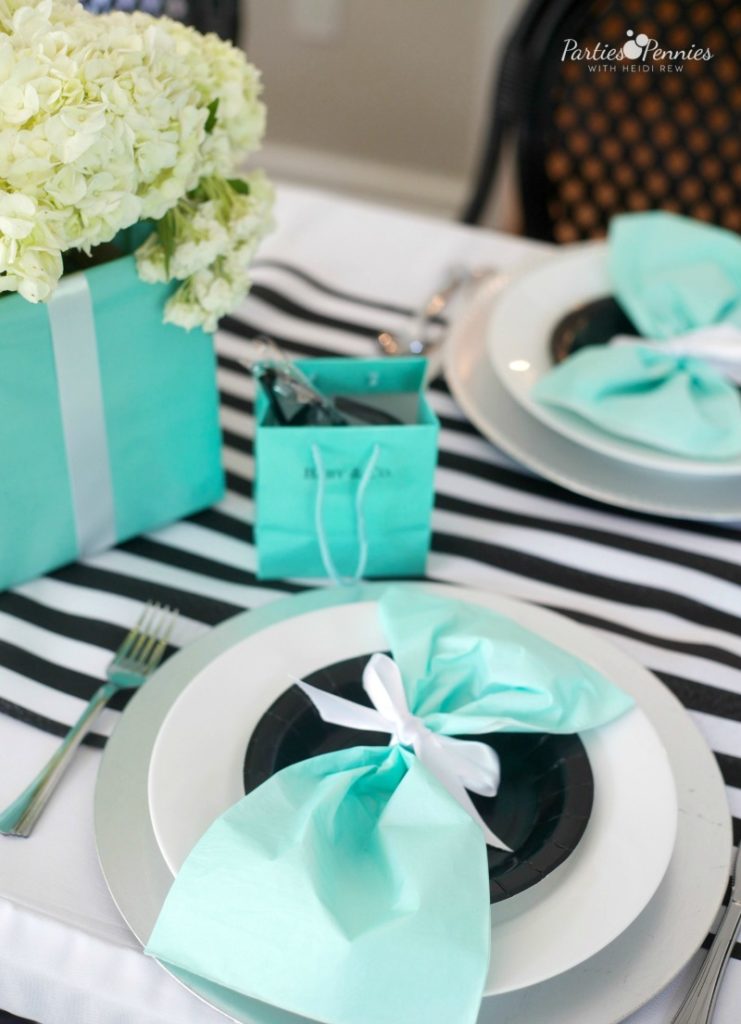 FAVORS:
I ordered these tiffany blue bags and had planned on printing "baby & co" onto clear labels BUT that did not turn out well. The ink would always run. Instead, I ended up spending a little more money by ordering the labels from Avery.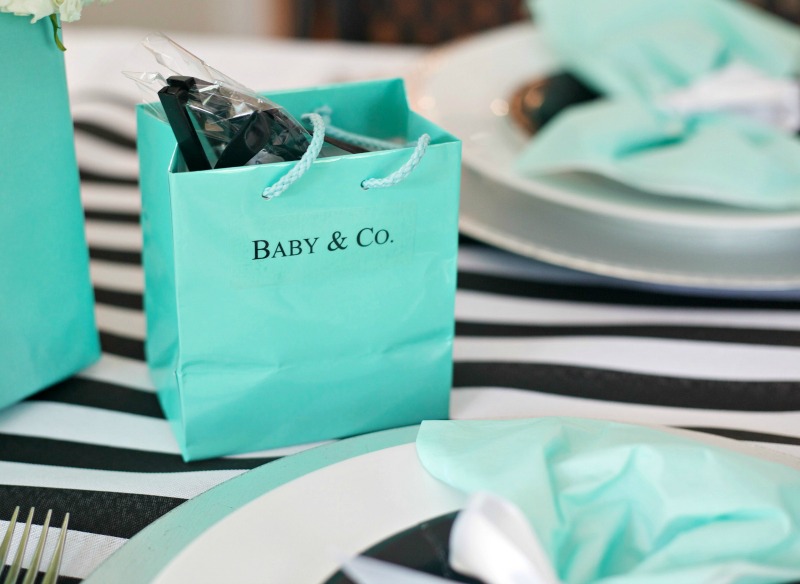 Inside the bags, I added a pair of black sunglasses and a pearl gumball bracelet. I made the bracelet using a large needle (sterilized & washed, of course), jumbo pearlized white gumballs, and black ribbon.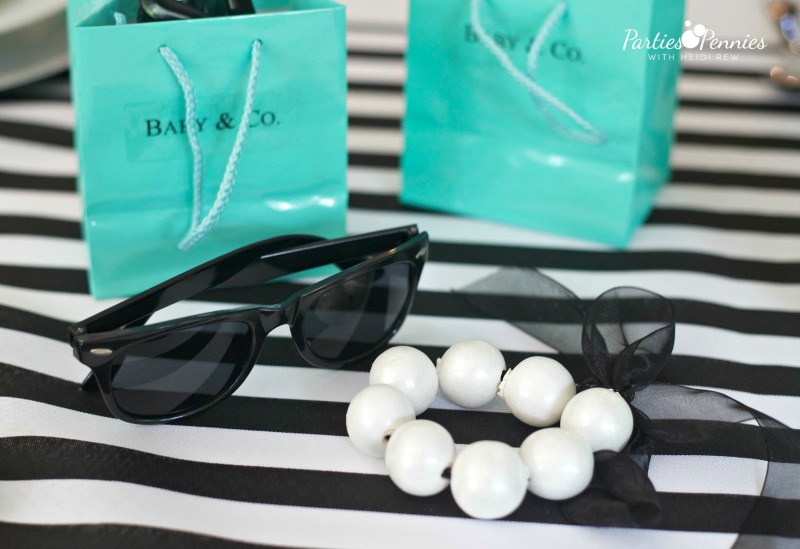 Can't wait to meet this little baby boy! Ryan & Jennifer own the studio where we rent our studio space out of, so I know I'll get to see a lot of him and I'm so excited.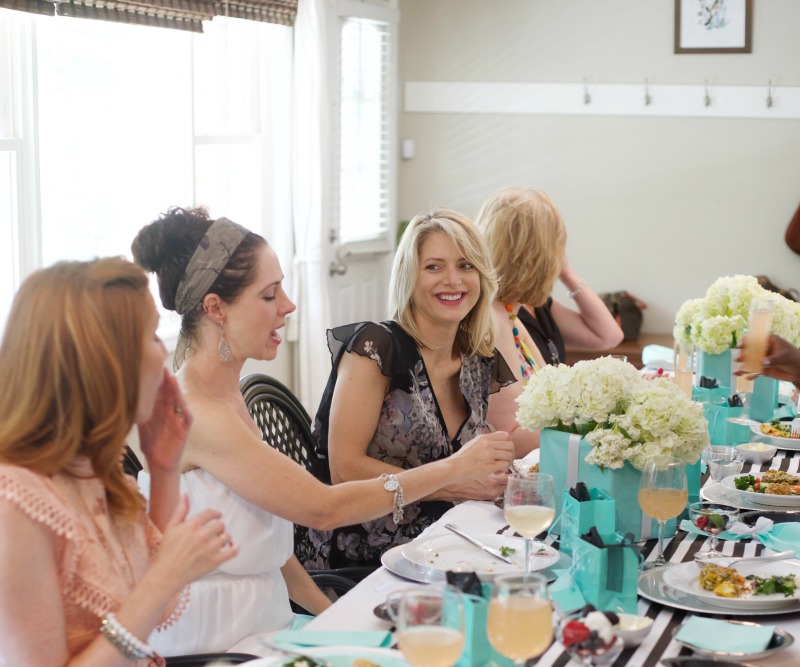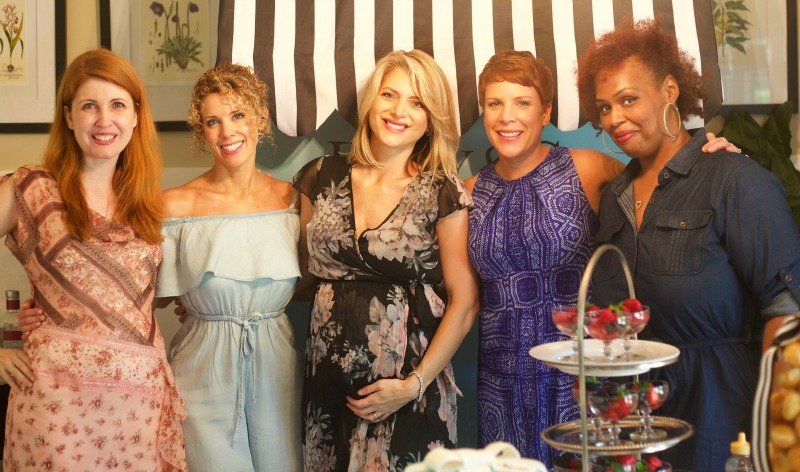 This was the planning committee (minus the one with child): Holly, Me, Jennifer, Brooke, and Bonita.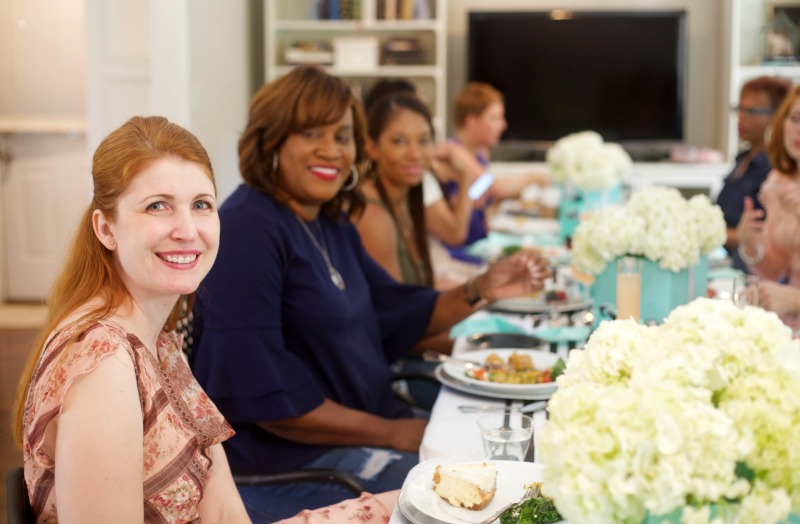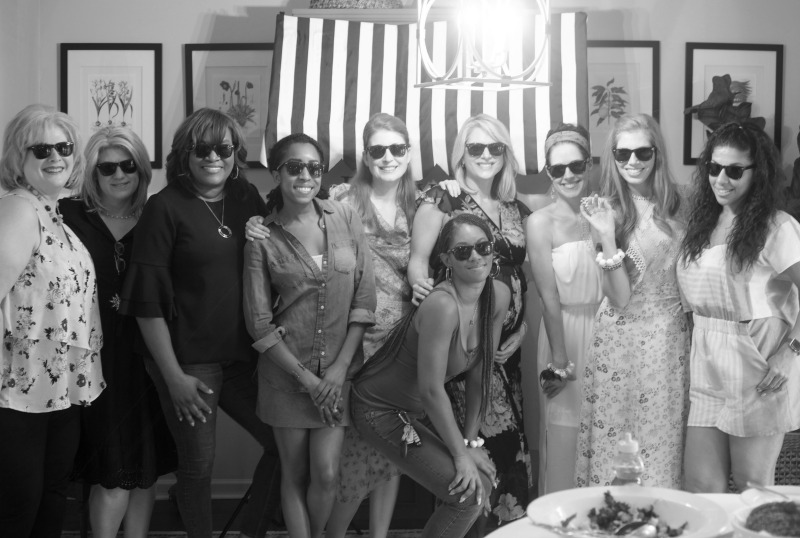 And everyone with their Breakfast at Tiffany's glasses on. 🙂
One last thing…
Party on!