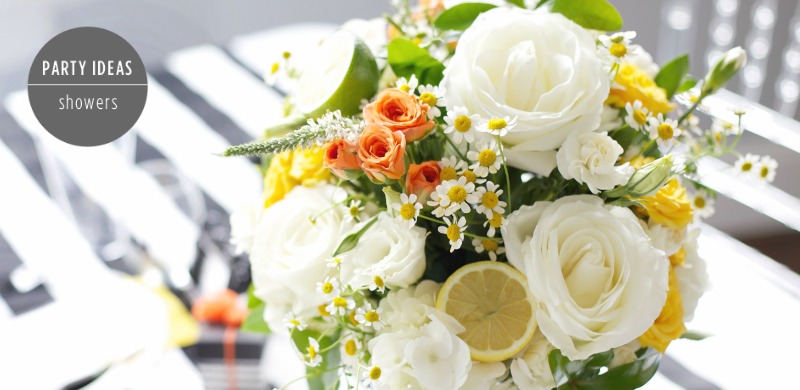 10 Jun

Mamas & Mocktails Baby Shower

Hey party people!

A few weeks ago, I threw a double baby shower. Yep. Not as in twins, but as in two gorgeous mamas who are both pregnant and due around the same time. I'm part of a "Women Actors" group that meet once a month. It's an incredible group of ladies and two of them are preggers. Since it's summer, I knew it'd be tough to get everyone to attend two separate baby showers, so we combined them. I worried that they wouldn't feel special enough, but each mama said they felt really loved (yes!).

The color scheme I chose could be used for a baby shower, bridal shower, engagement party, or even birthday party. It's really fresh and modern. Check out the rest of this post for menu suggestions, diy projects, shopping lists, even printables to plan your own fresh modern party.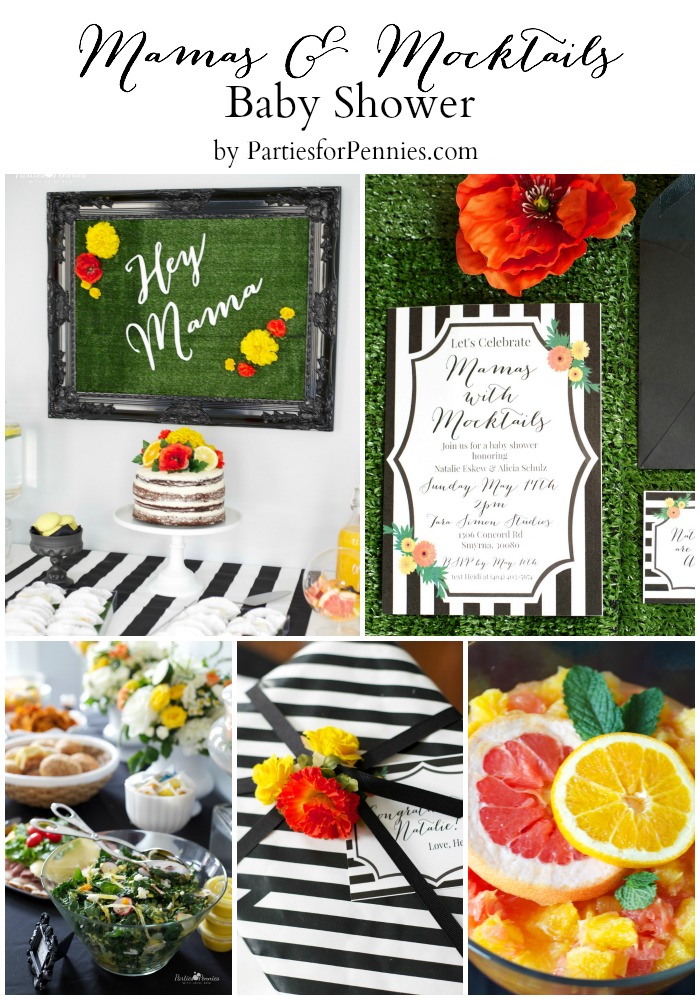 COLOR SCHEME:
Even though they're both having girls, I wanted to stick with a neutral color scheme. That's why I went with the modern look of black and white, plus pops of citrus. The citrus colors give it that feeling of summer.

THEME:
Mama's & Mocktails
A recent prego friend of mine loved ordering mocktails when we'd be out. I loved the idea of offering something special to the "mamas" and the other guests (not to mention I love alliteration…Parties for Pennies :p). They definitely proved to be a bit hit!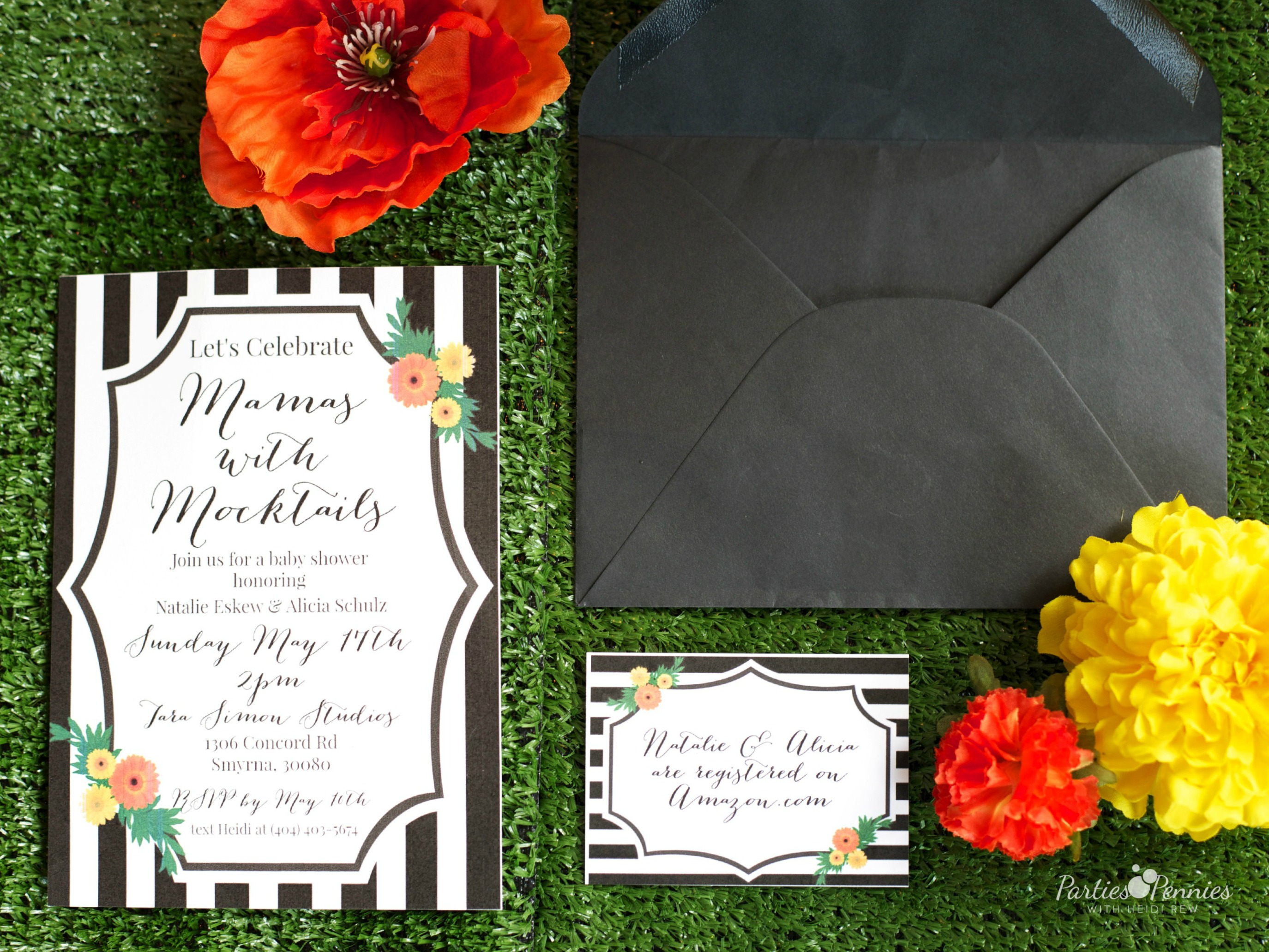 INVITATIONS:
I designed these invitations myself. I ended up running out of time, but I really wanted to add some embellishments inside the envelope flap. I thought creating some yellow and orange flowers, using the tip of a pencil eraser dipped in paint would be a fun touch. Feel free to experiment with some different ideas or leave plain.
What you need for the invitations:
* Mama's & Mocktails Invitation & Registry Printable (coming soon for download)
* White Paint Pen (for writing addresses)
The location of the shower is an incredible music studio owned by my friend Tara Simon. I've never said this about anyone before, but I'd rather listen to her sing over Mariah Carey…and I LOVE MC. Tara's voice is a powerhouse and her range is cra-mazing (mash up of crazy & amazing). If you're in the Atlanta area and looking for vocal training or any type of music training, check out Tara Simon Studios.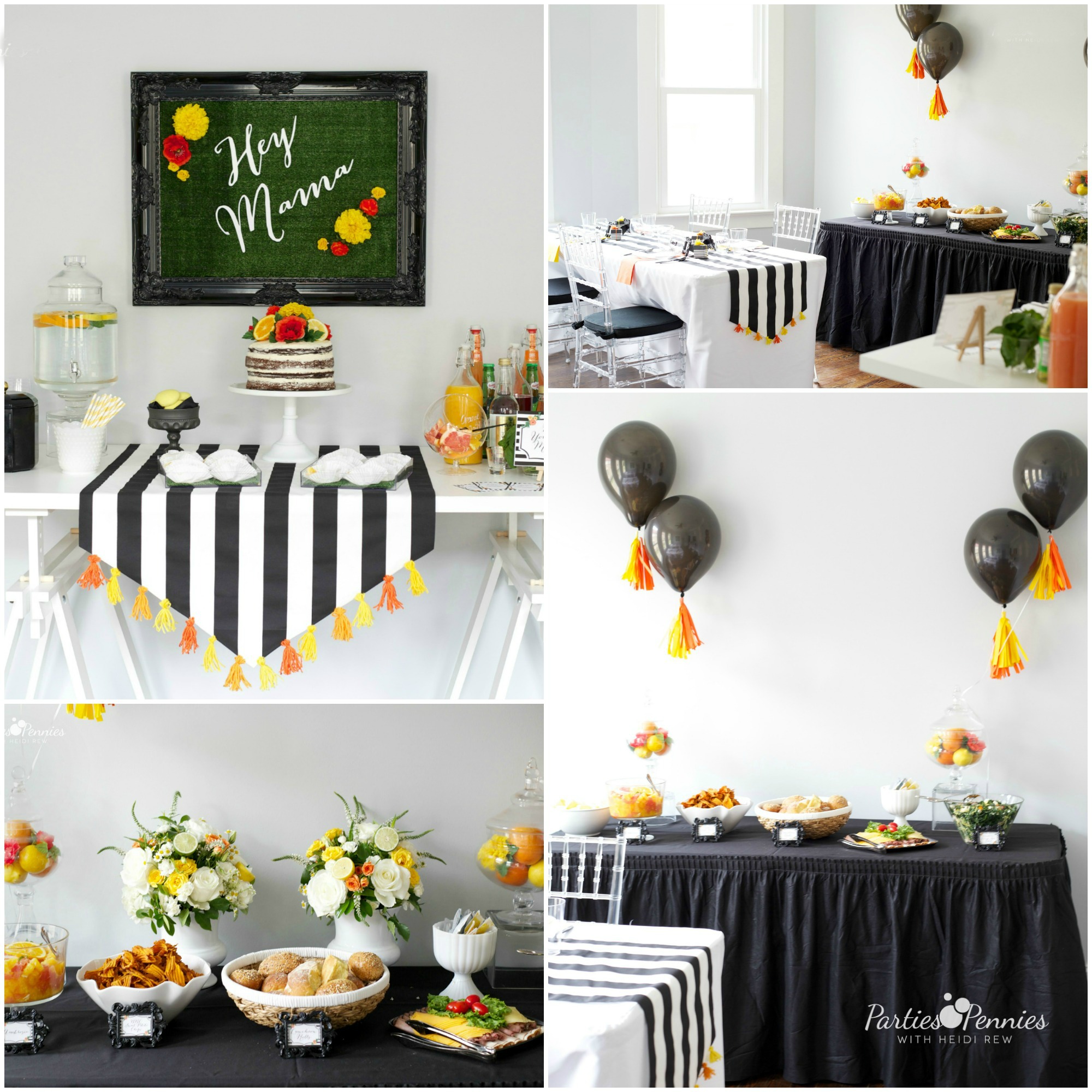 DECORATIONS:
Tables & Chairs –
I used 3 6ft folding tables and one sawhorse table from IKEA. This could accommodate up to 12 people. Two of the 6 ft. folding tables were fitted with white tablecloths, a black tablecloth for the other 6 ft., plus a disposable black table skirt. The chairs were rented from Peachtree Tents & Events in Atlanta. They're the acrylic chivari chairs with black seat cushions.
Serveware (all of the items listed below are also included in the shopping or party checklist) –
Glass Drink Dispenser, Glass Drink Pitchers, Ice Bucket, Cake Stand, 2 trays (mine were actually acrylic frames from the craft store that I turned into trays), Apothecary Jars (I used these as decorations around the room. I filled them with oranges, grapefruit, and lemons, along with some faux flowers.), Various Bowls for Food + Serving Utensils, Plastic or Glass Clear Plates (I found a huge set of glass plates at a thrift store a couple years ago, but the plastic ones work just as well), Black Plasticware , Tall Plastic Cups, Kate Aspen "Oh Baby!" Cups (They actually don't have these in stock any more, but I've linked to some that would be just as good for this theme.), Napkins (Yellow and Orange long napkins).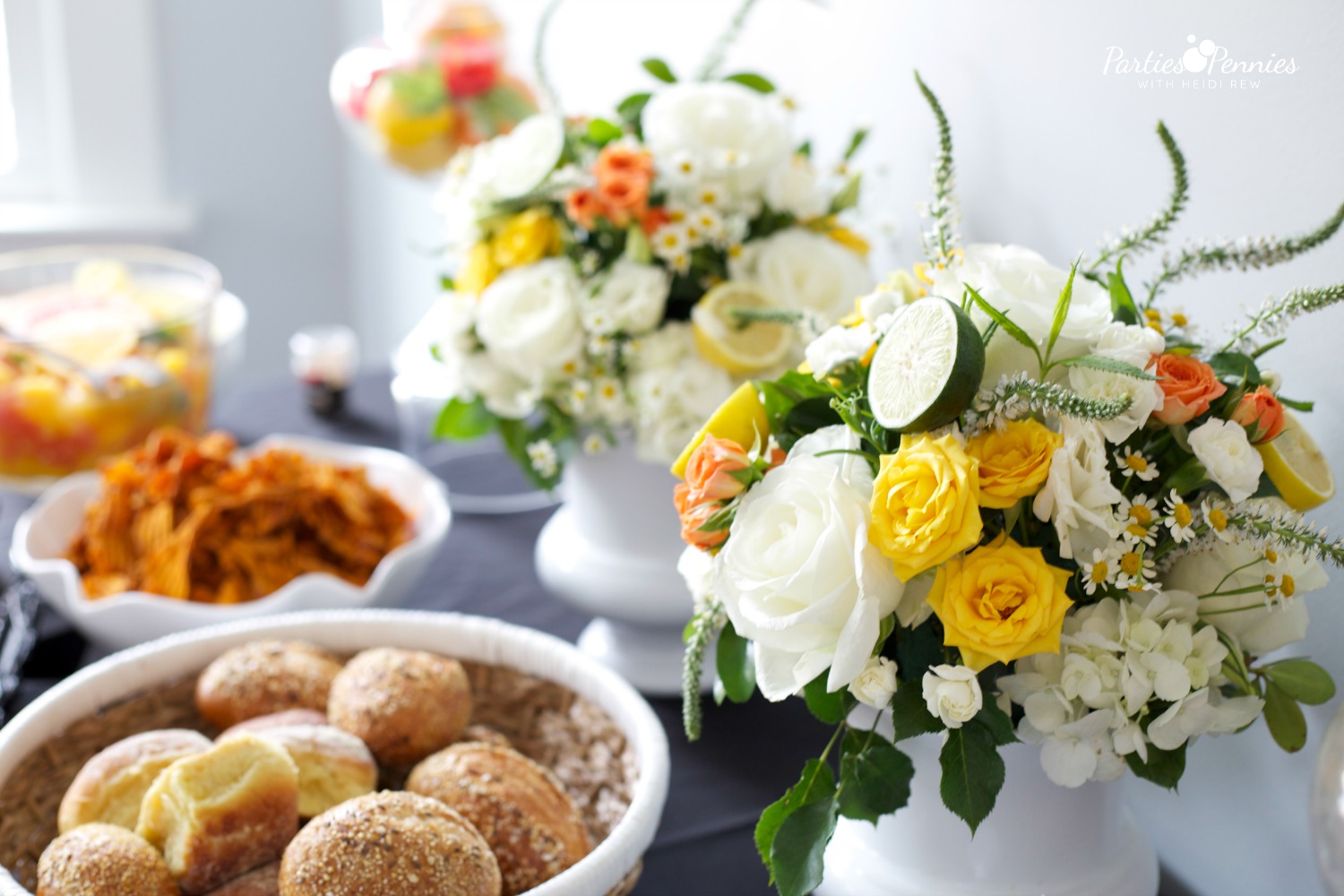 Florals –
All the florals for this shower were done by one of the honorees, Alicia. It's quite the family affair with her mother working with the florals and her sister helping her with rentals. Check out their site Sister Act Designs. I knew she was talented, but she totally blew me away with these. They were so gorgeous.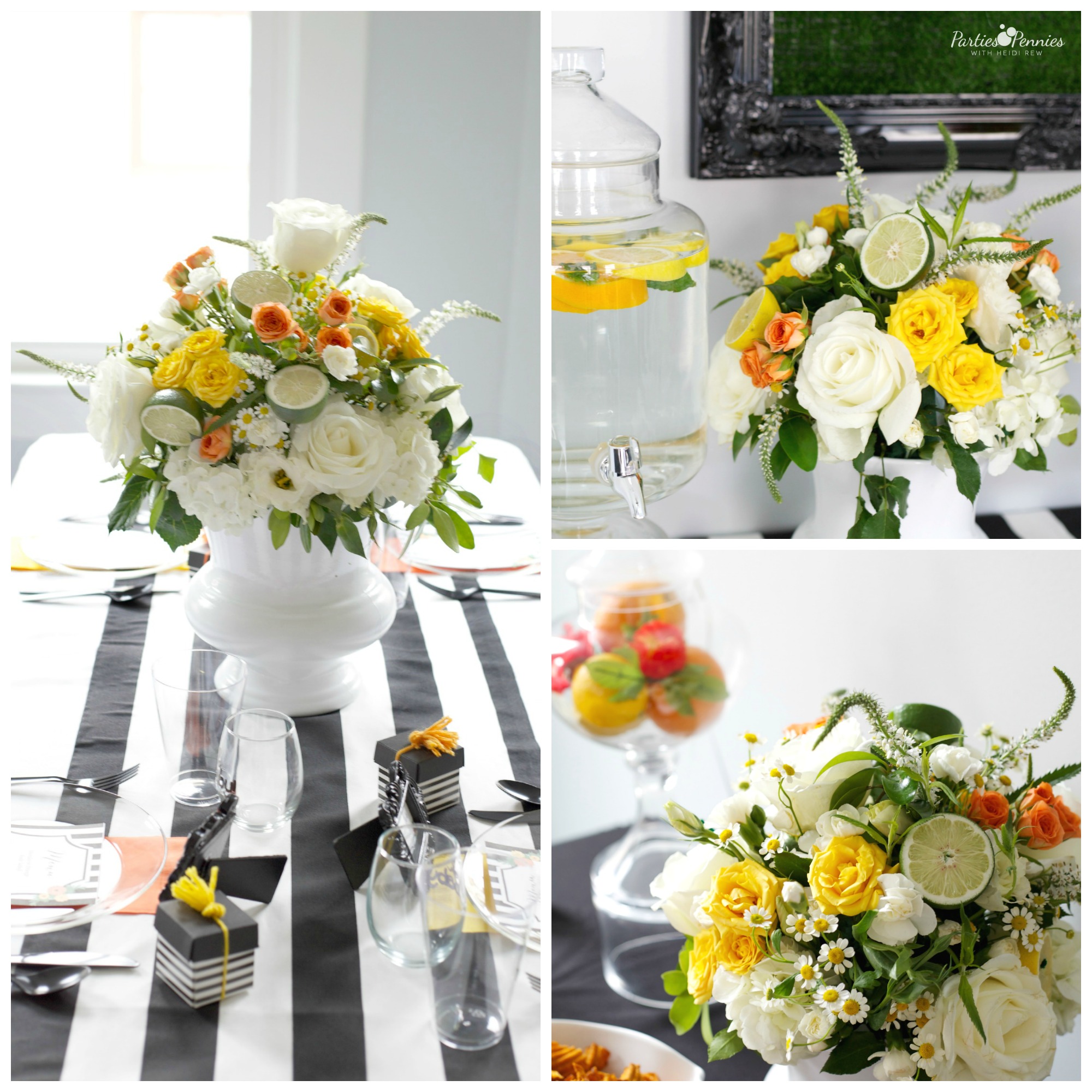 DIY Decorations – (DIY instructions for these are coming in the next couple weeks)
Black Framed Desert Table Backdrop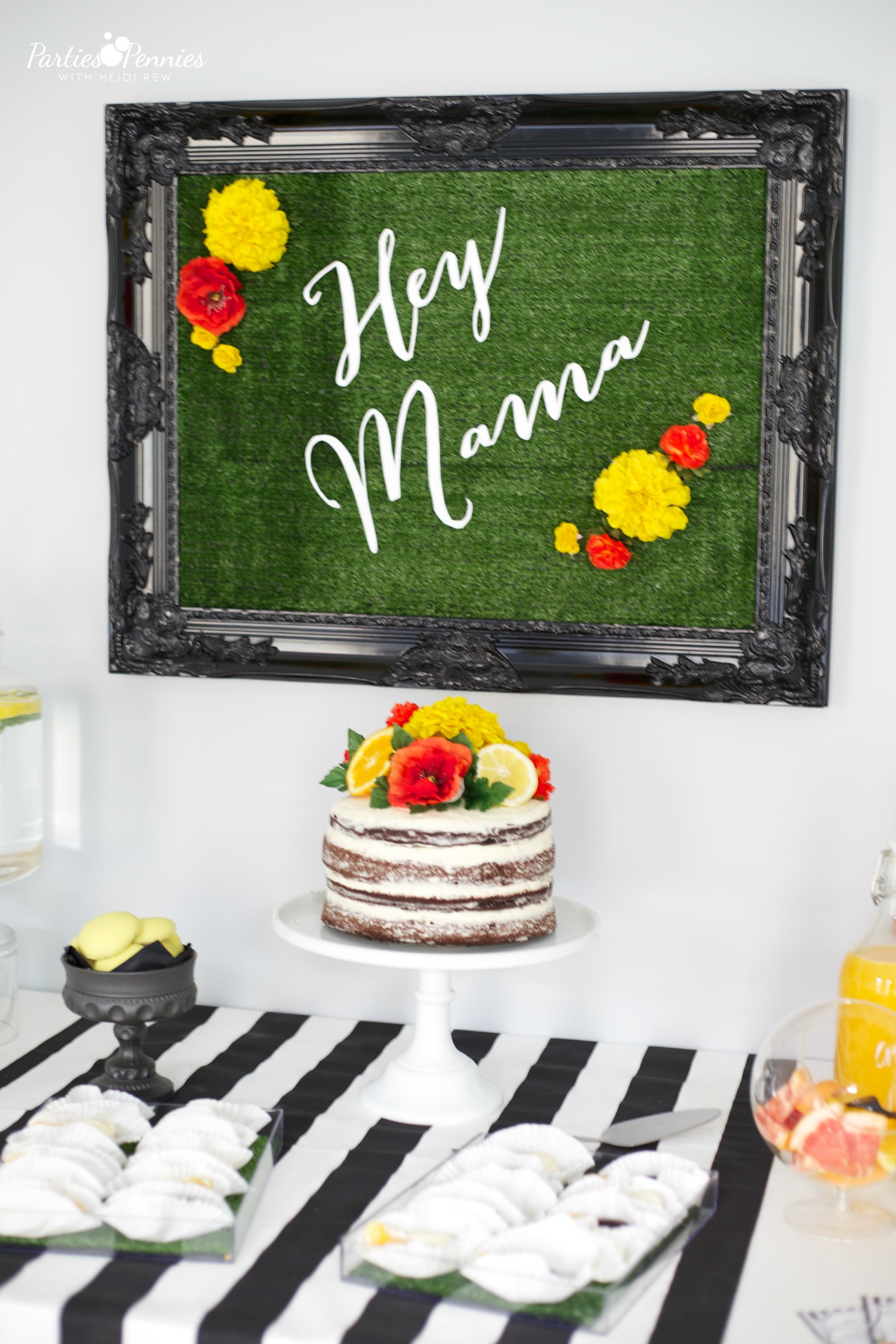 Tassel Table Runners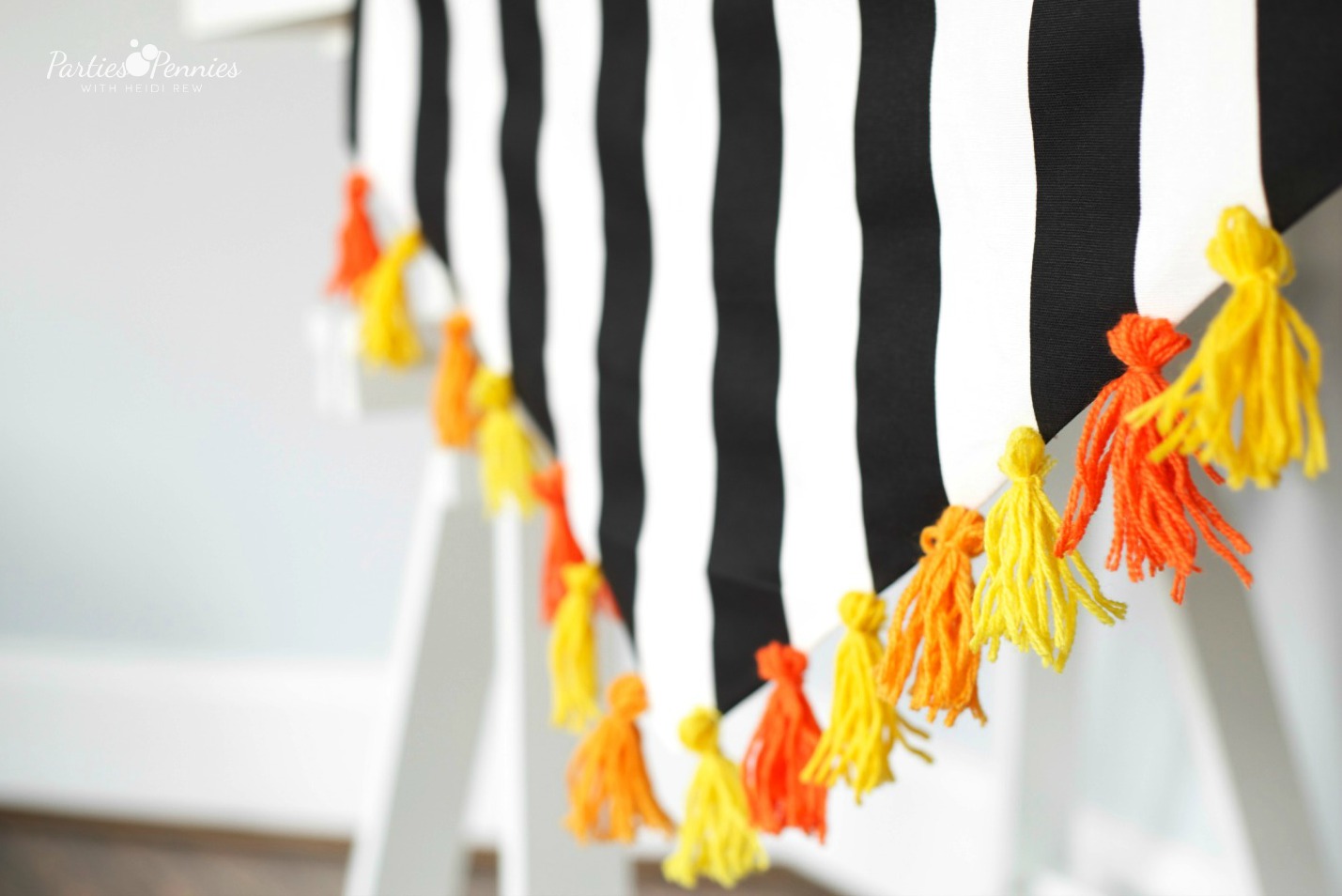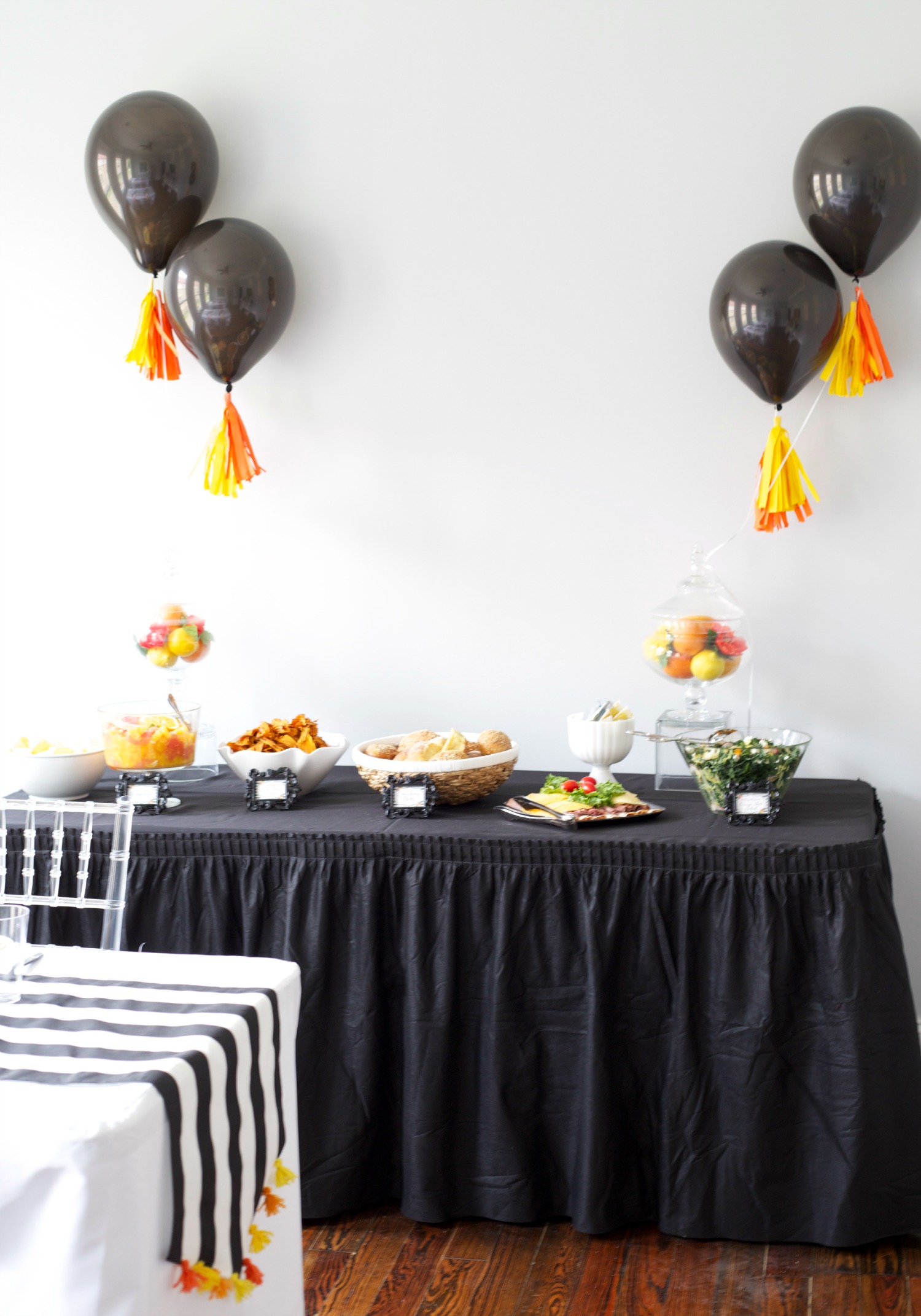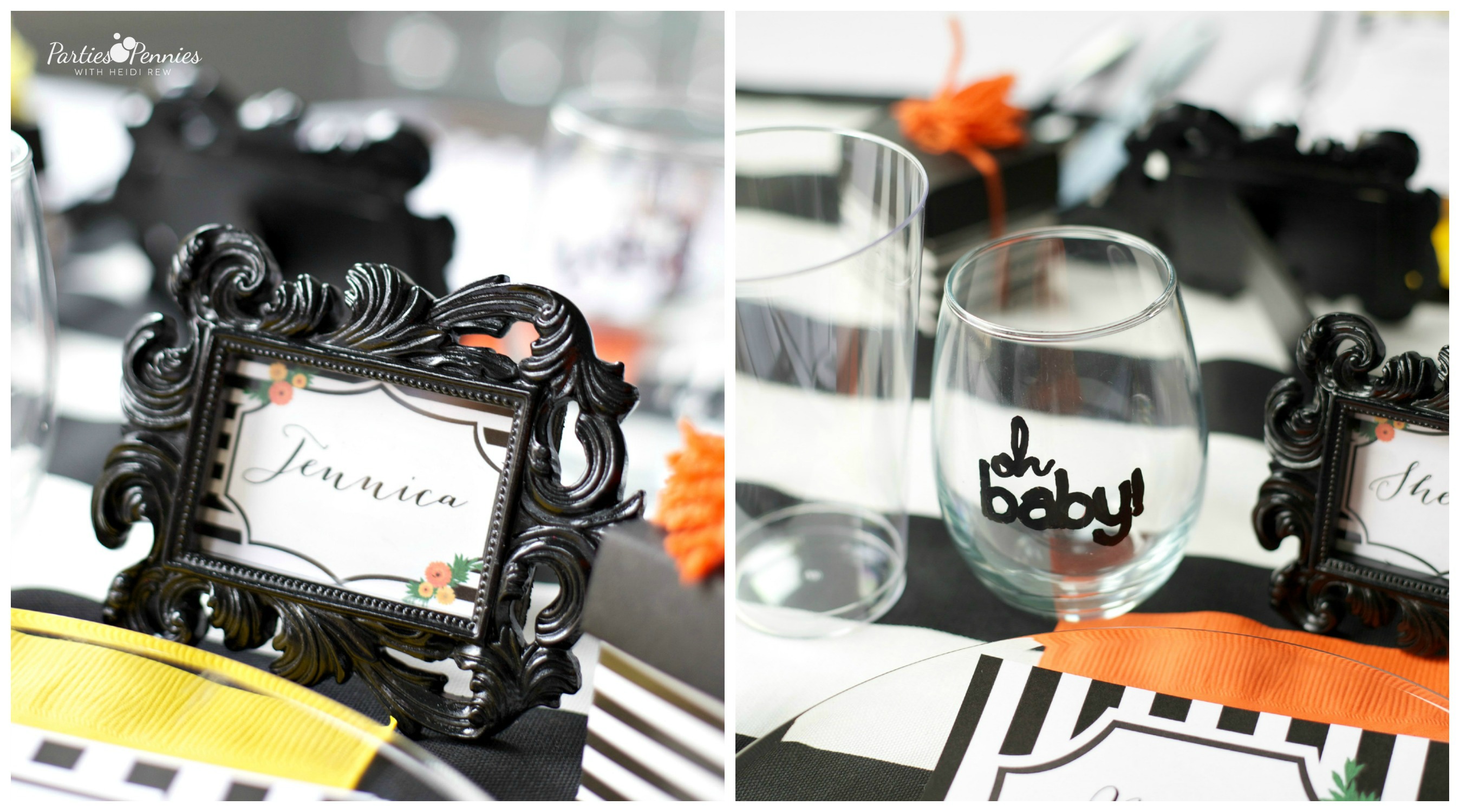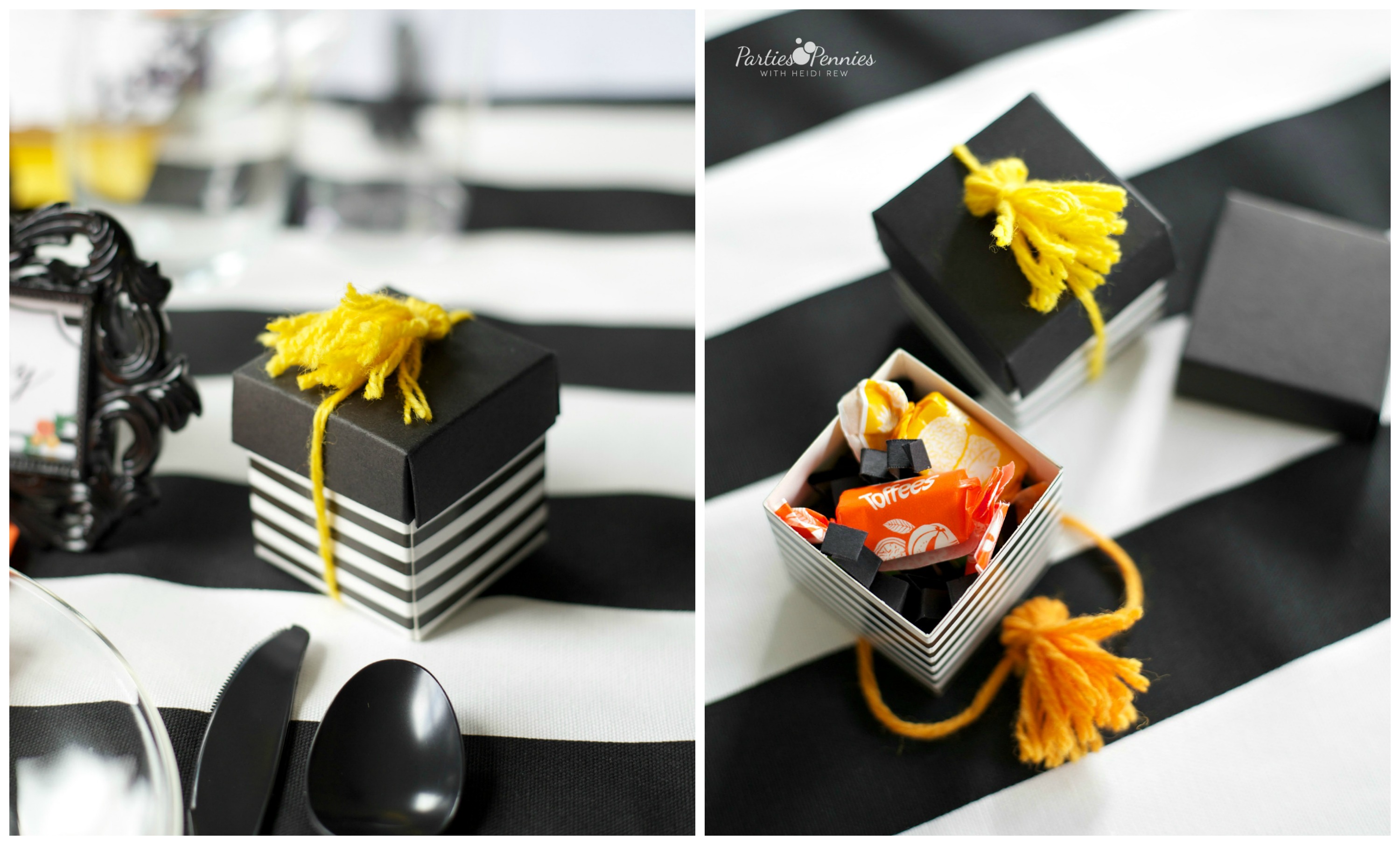 Additional Pieces of Decor –
Kate Aspen Black Baroque Frames – I used them as place cards, favors, and to label menu items.
Kate Aspen Black & White Favor Boxes – The yellow and orange tassels I DIYed. Inside, I added a few pieces of specialty candy from World Market.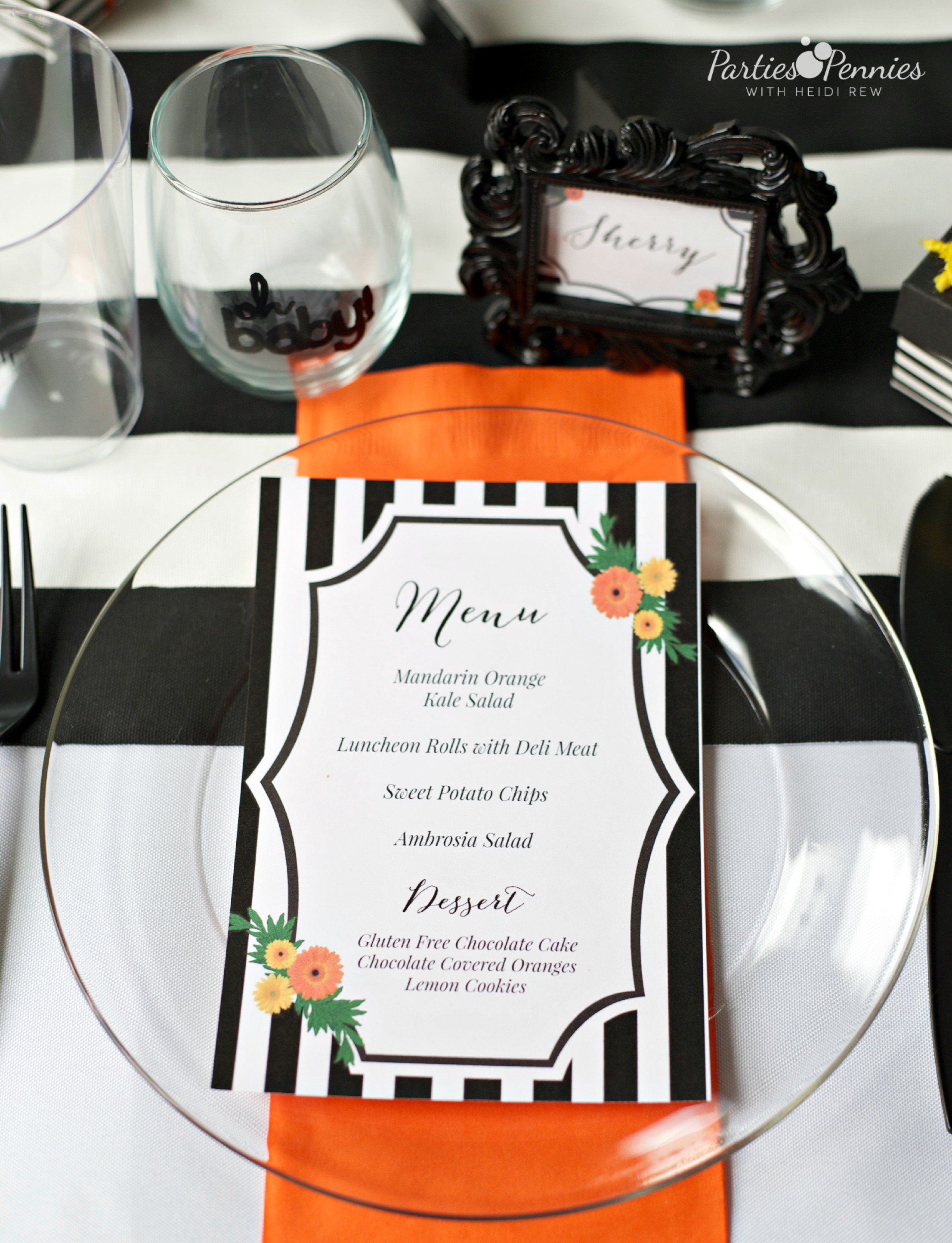 MENU:
Citrus Kale Salad – Because of time, I bought mine from a restaurant near me. But, The Pioneer Woman has a delicious recipe here.
Luncheon Sandwiches made with Deli Meat and Rolls
BBQ Sweet Potato Chips – You can buy these at most grocery stores.
Ambrosia – This is a simple fruit salad recipe my grandmother used to make. There are a lot of variations to it, but I just add cut up fresh grapefruit and orange slices garnished with mint (shredded coconut and nuts optional). For a group of 12, you'll need 4-6 oranges and 3-4 grapefruits.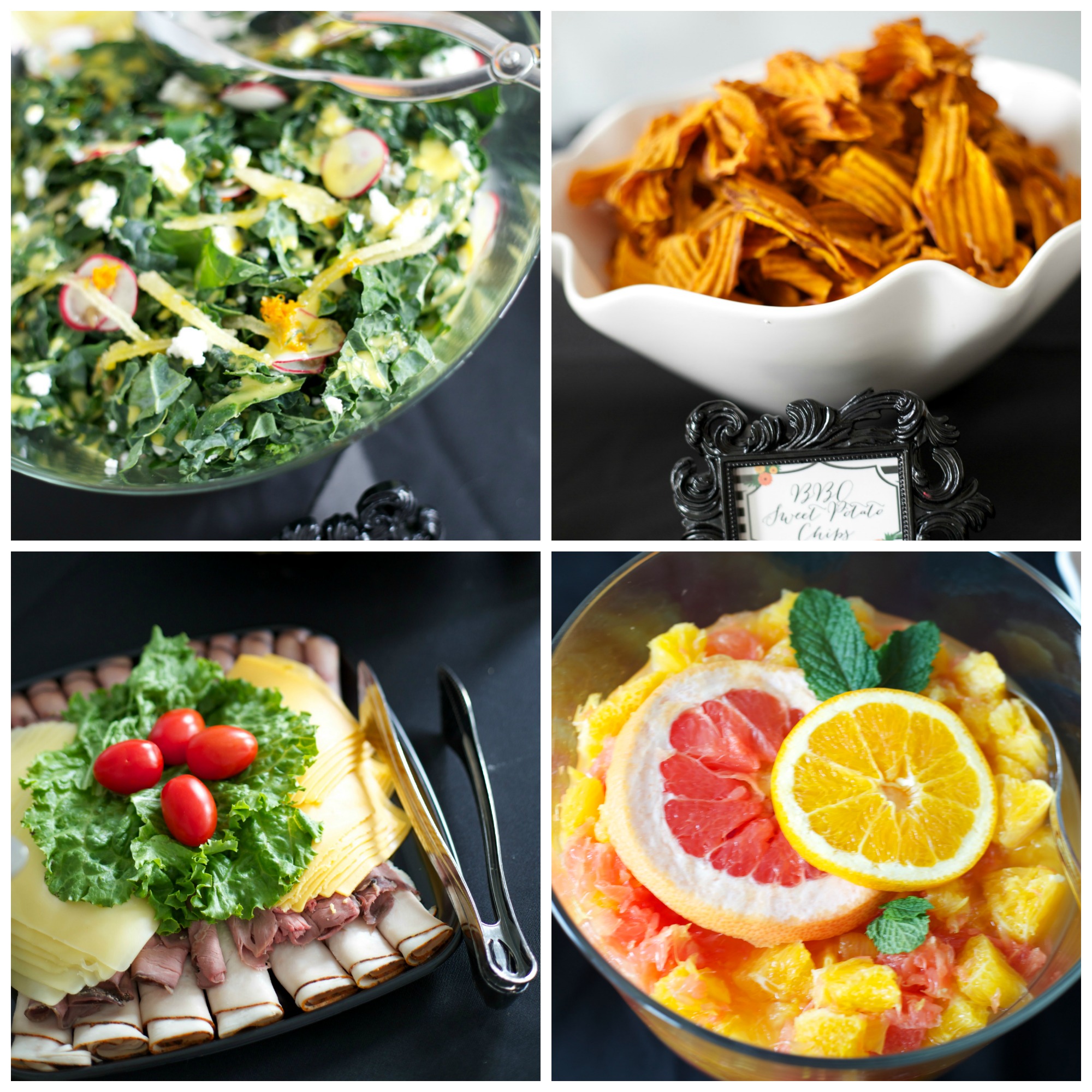 DRINKS:
I provided 3 different mocktail recipes for the girls. You'll be able to download these soon.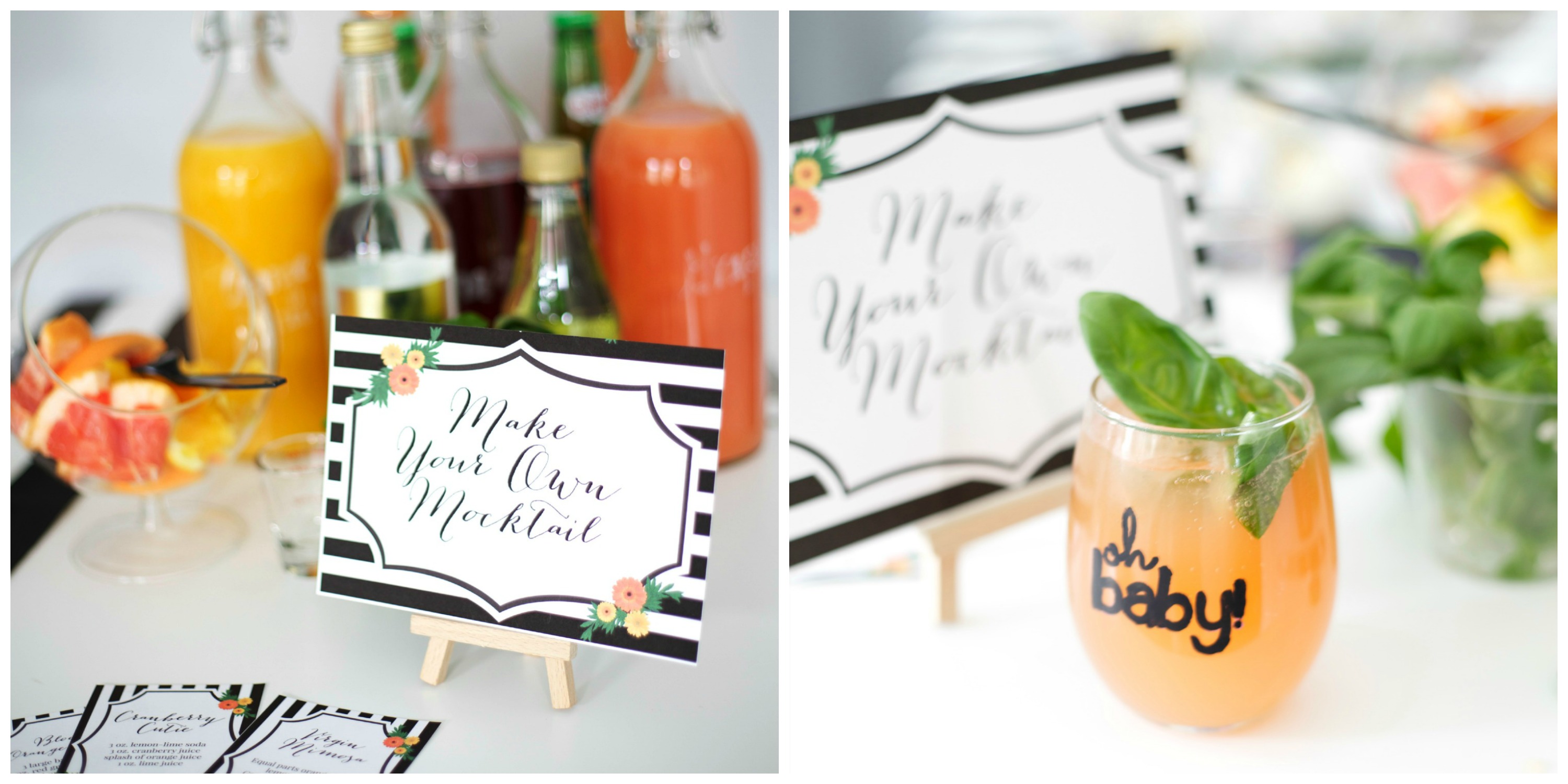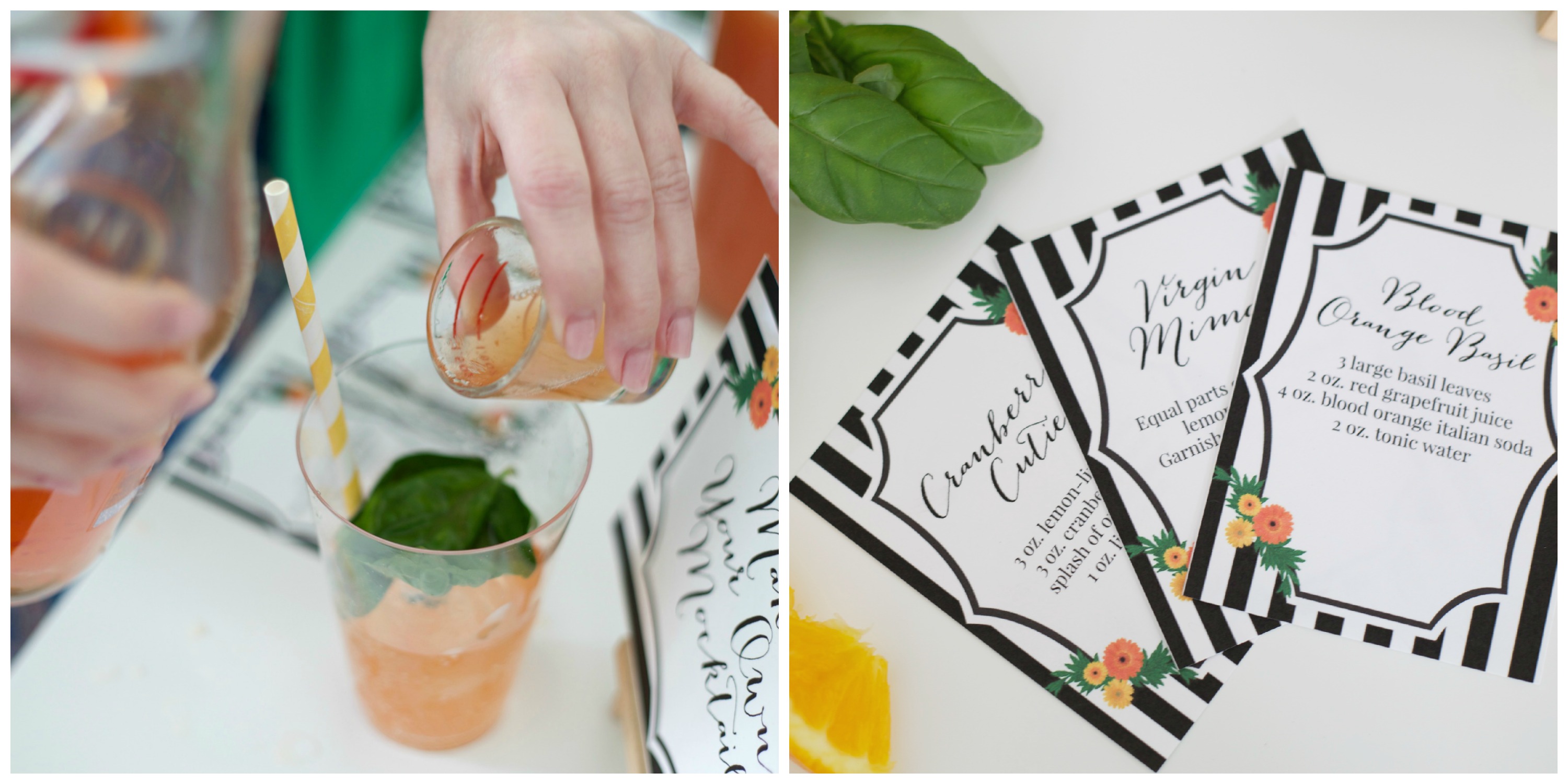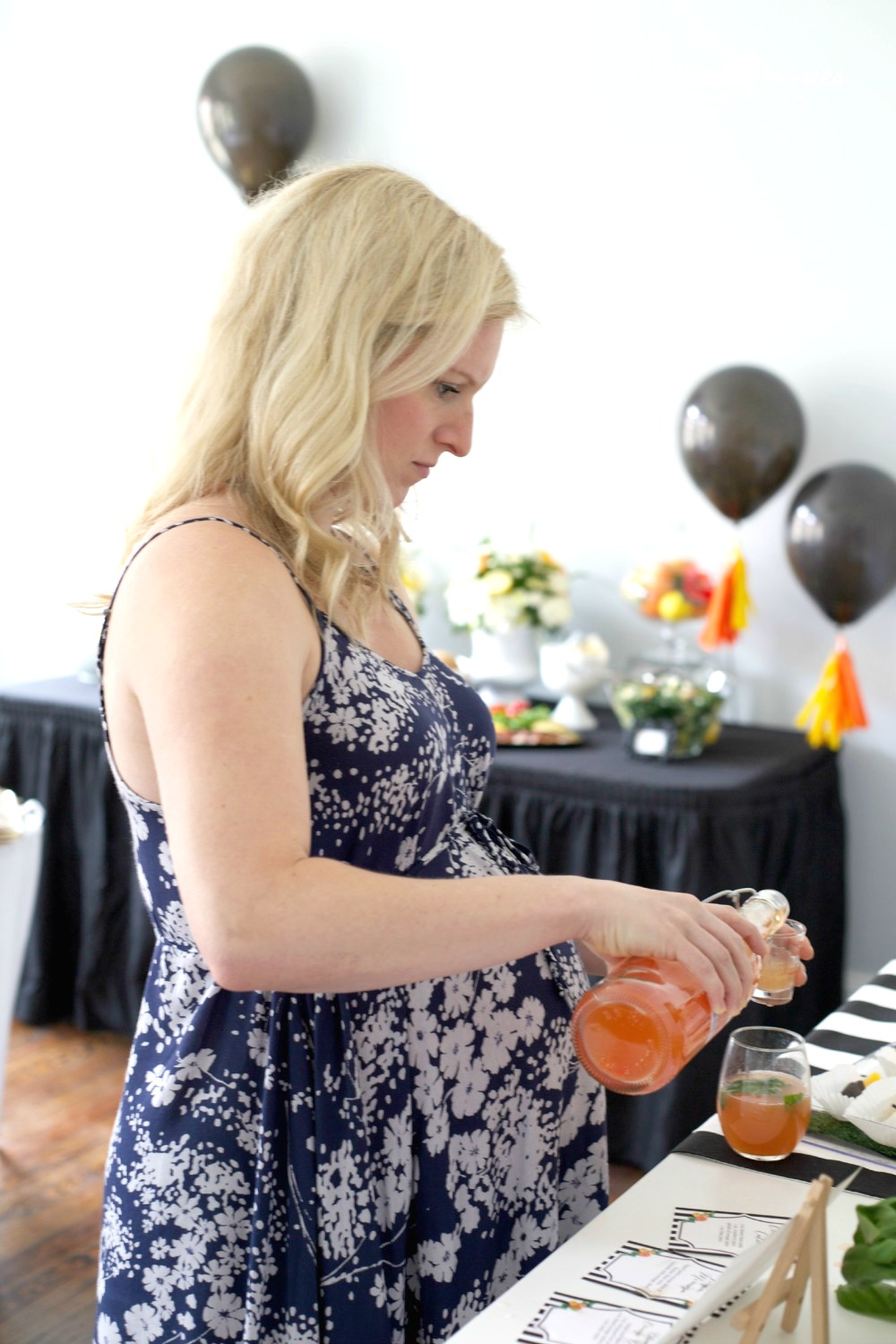 Natalie, one of the honorees, (above) is a professional mixologist (at least that's what we consider her). She showed us a great tip. If a recipe calls for basil, slap the basil leaves in your hand to release all the flavor. It totally works and we were all slapping fools that day.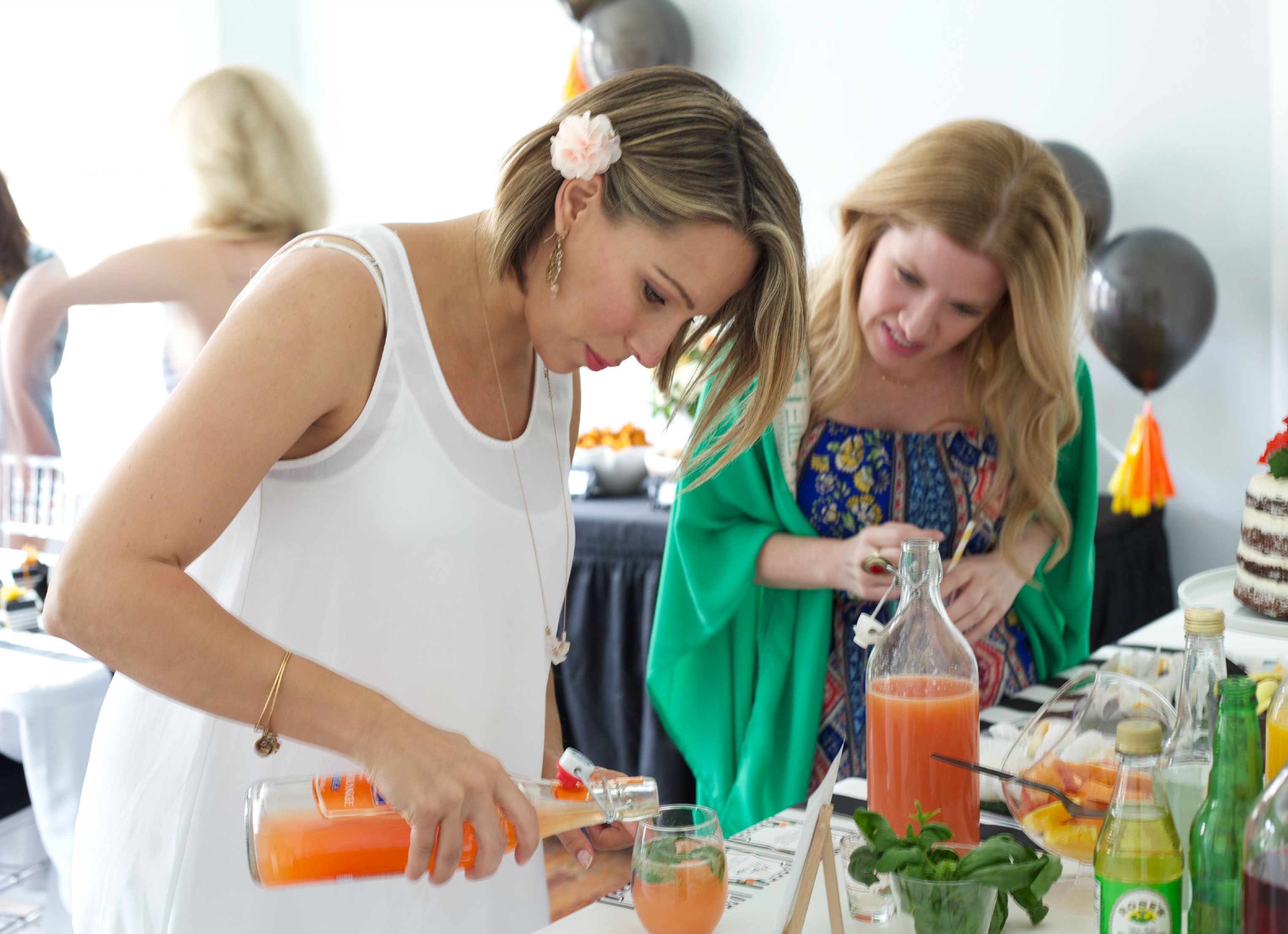 This is Alicia (above), the other honoree, and Amber trying their hands at the mocktail recipes.
DESSERT:
Naked Chocolate Cake with Buttercream Icing – I made this myself by mixing two boxes of gluten free chocolate cake mix to create a 4 layer cake. The buttercream icing I make is just 4 cups powdered sugar, 2 sticks of salted butter softened, 1 tbs vanilla extract, and 1-2 tbs almond milk (or regular milk).
To decorate the top of the cake, I waited until 30 minutes before the shower and topped it with a variety of faux flowers and halved oranges, lemons, and limes. You may need additional icing to help them stay put.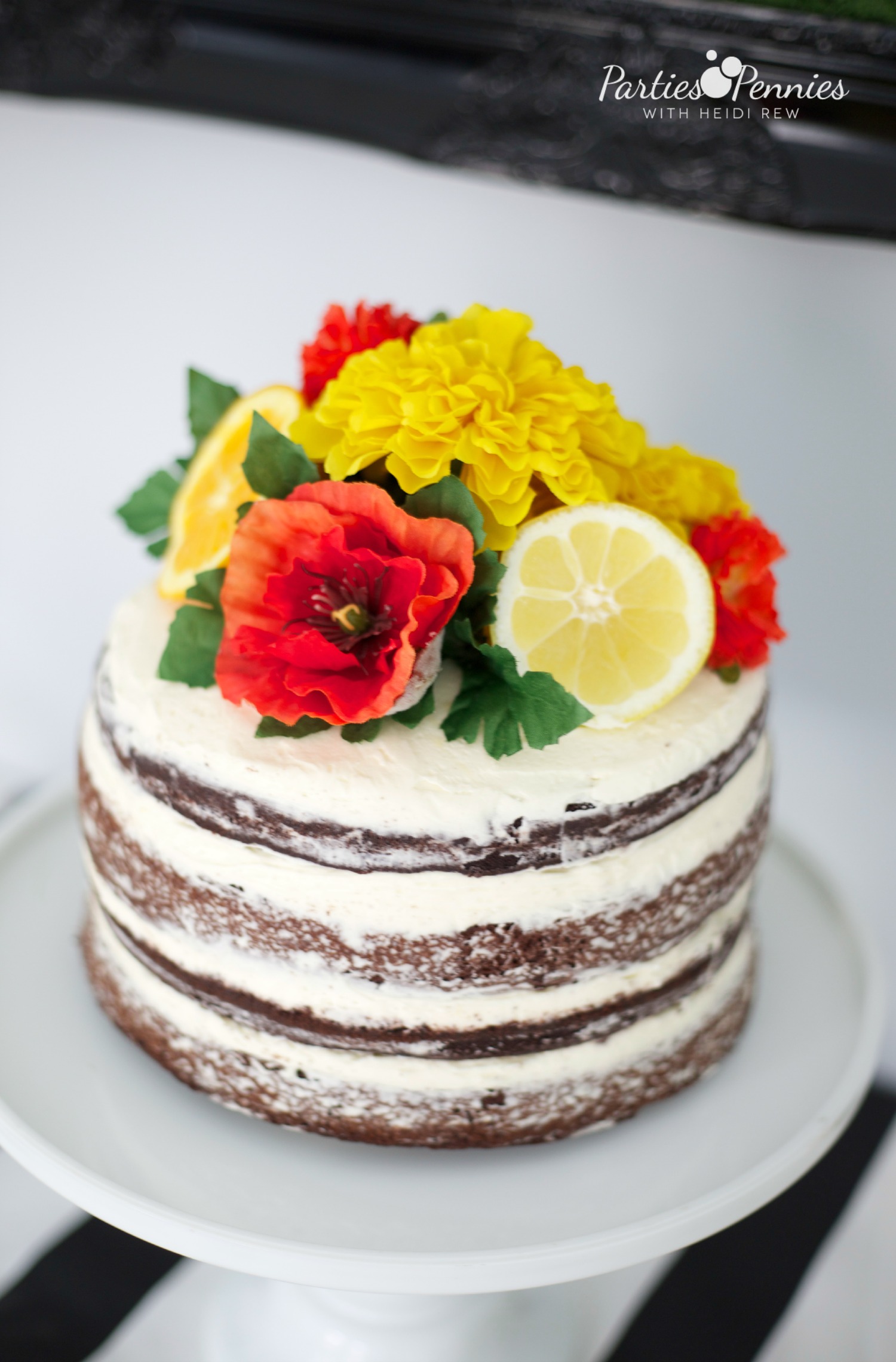 Dark Chocolate Dipped Orange Slices – These were an easy addition to the cake. You simply melt dark chocolate chips and dip part of the orange in it.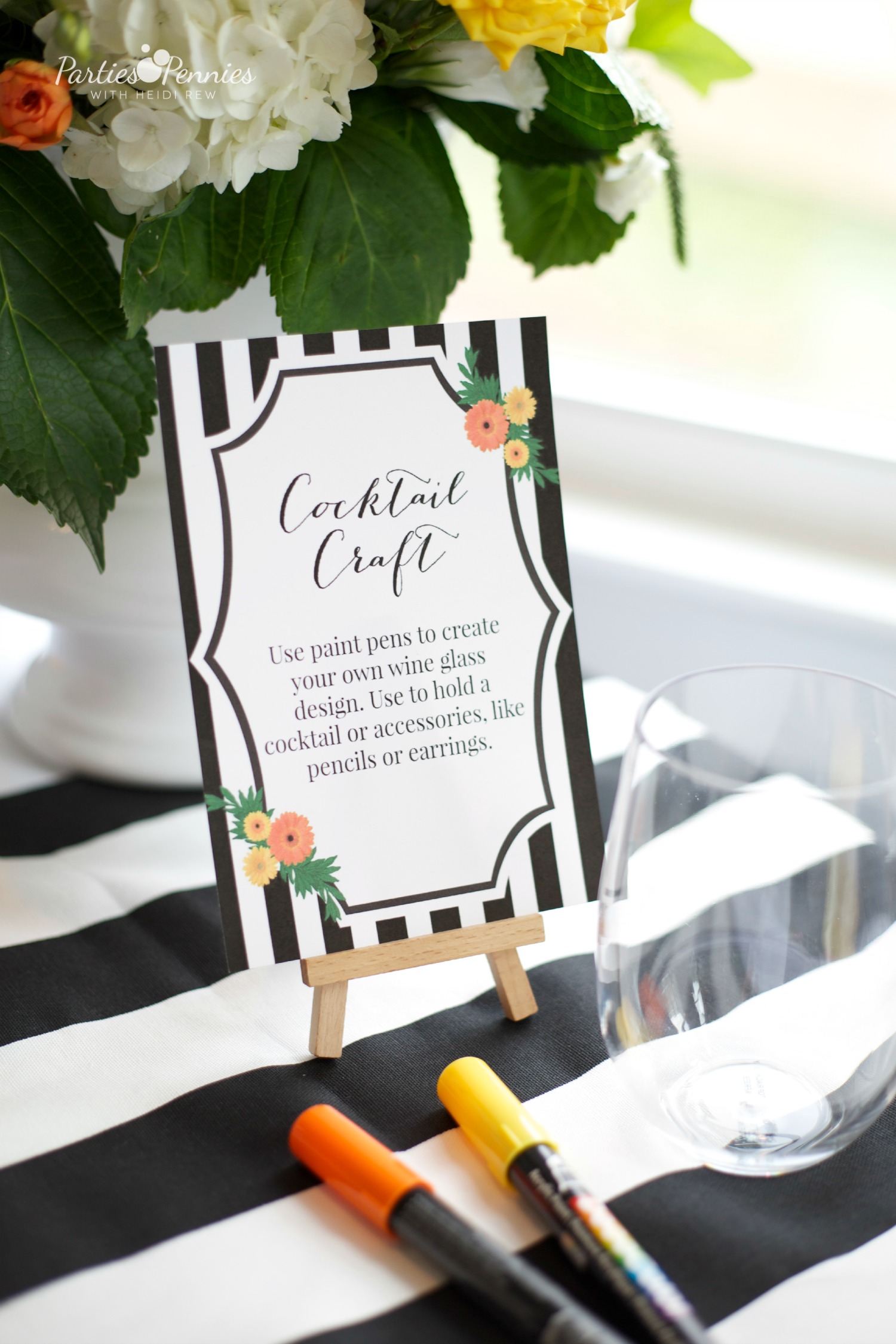 ACTIVITIY:
Painted Cocktail Glasses – I found several packs of break-proof cocktail/stemless wine glasses for a great price, so I bought some paint pens and let the girls decorate them how they'd like. Budget Tip: Check the Dollar Store. They usually have glass cocktail glasses. Home Goods is another place to check for a good deal on these. That's where I found mine.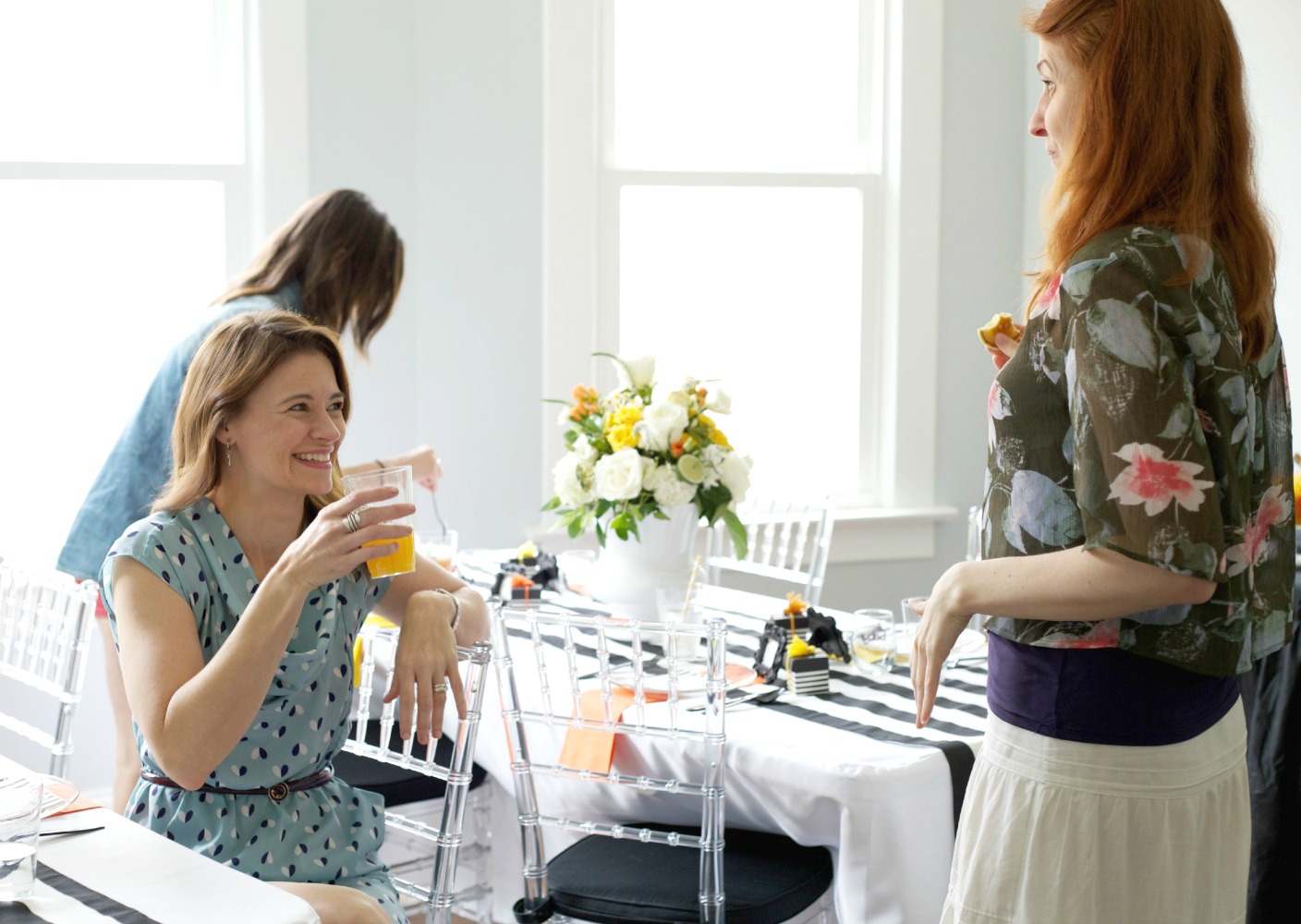 As you can tell, everyone had a great time. Congratulations again to both Alicia & her husband and Natalie & her husband! (Jessica & Holly, plus Jennica in the background, above)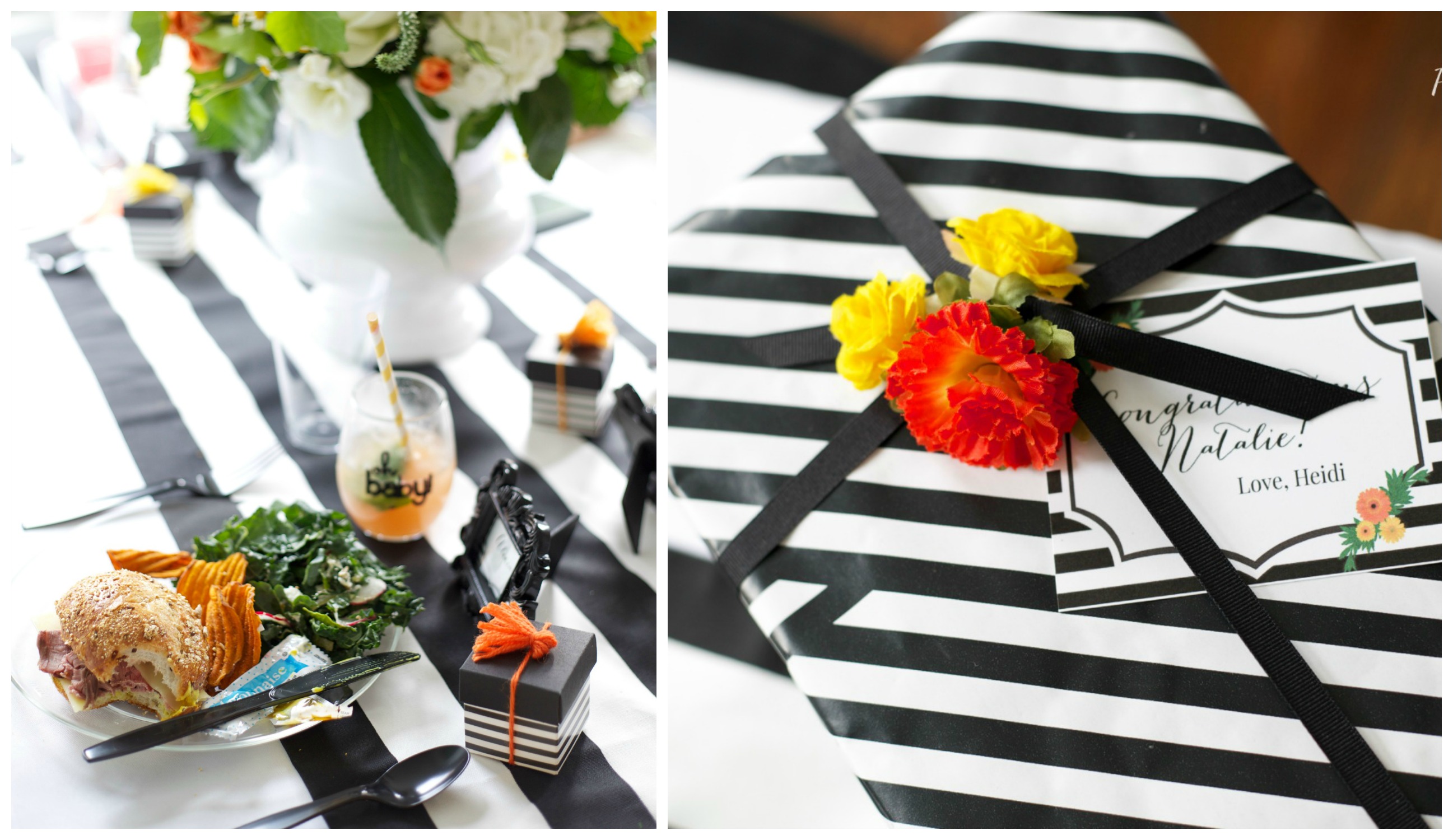 Since this is a budget-friendly party blog, here are some ways I cut back drastically –
1| Homemade Cake – I'm all for buying cakes, but I wanted the majority of my budget to be used for those chairs and the rest of the decorations.
2| Homemade Table Linens – Even though fabric can add up, DIYing saved me at least $100.
3| Use Fruit as Decor – The extra oranges, lemons, and grapefruit I got provided inexpensive decorations that could be used afterwards.
If you'd like to create your own Mamas & Mocktails shower, I tried to make sure you had everything you needed planningwise. Here you'll find the shopping list of what you'll need.
PLUS the REST of the printables here…

Special Thanks goes to: Tara Simon Studios who let us use her space, Kate Aspen for the wonderful favors and decorations, Peachtree Tents & Events for the fabulous chairs, and Alicia Schulz for the incredible floral arrangements by her company SisterAct Designs.
Party on!