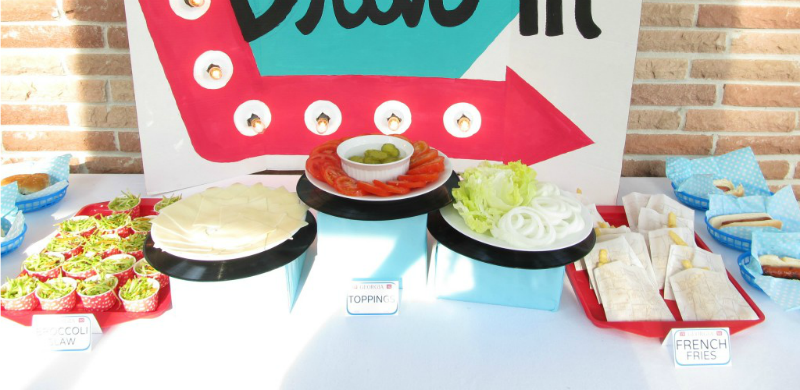 10 Jul

Drive In Diner Birthday Party – Part 1

Parties should be about creating an atmosphere. This could mean setting a simple tablescape to evoke a relaxed feel, using bright colored lights & lanterns to create a fun event or it could mean transporting the guests to a different time.

When my husband asked if I could throw a party for his friend Jeff (a month from when he asked), first I was shocked. Usually Mike (hubby) says, "How bout we wait 6 months to a year until we throw another party." After getting over the shock I said, "Heck yes I will plan a party for your friend…but I'll try & keep it real simple." HA!

The more I started thinking about it, the more detailed it became. Both my husband & Jeff are somewhat nostalgic. That's why I threw Mike the Mad Men Party in May. The time period for the Mad Men bash was late 5os/early 60s. So I decided to throw Jeff a 50s Drive-In diner birthday party.
A little disclaimer: the lighting was horrible. We had the party a little earlier than usual & the sun was not cooperating. Mike & Jeff were trying to hold up this big piece of cardboard so the sun wasn't so so bright but then we battled shadows. Bummer. Good thing Martha Stewart or Better Homes & Gardens aren't knocking at my door to feature a party. See…there are some really positive things to being a tiny unknown blog. ;p I can make photo mistakes & learn from them without any pressure.
The best place to get meat at a good price for a crowd is at Costco (I'm sure Sams is good too but Costco is really close to us).
This broccoli slaw was really easy to make! I just got 3 bags of broccoli slaw (I could've just used 2 bags for the 15 people that came) & added Souper Jenny's house dressing the night before. Her house dressing is made with olive oil, red wine vinegar, shallots, parsley, salt & pepper. It is soo delicious.
These were my favorite part of the party (beside the Drive In sign). I just bought a big bag of frozen crinkle fries from the grocery store but I wanted a cute way to display them. I had some parchment paper in the kitchen & found a Route 66 map online. I just printed the Route 66 map onto the parchment paper, cut into rectangles & glued the sides.
The labels I made from plain ole Microsoft Publisher! I wanted them to look like license plates. You can create fun labels without purchasing any expensive software. These license plates were made layering different shapes in Publisher. Once you're done creating, print out on cardstock & you've got your free labels.
While the food wasn't free, we were able to keep to a budget of $50 to feed 15 people. ALTHOUGH…I did go a little overbudget due to a major Pinterest fail! It was so frustrating! The proof is in the photo & I'll show you on Friday with the Drive In Diner Party Part 2, along with the cost breakdown & how I created the Drive In sign.
Hope you're having a great week!
p.s. You can now LIKE Parties for Pennies on facebook! Click here.