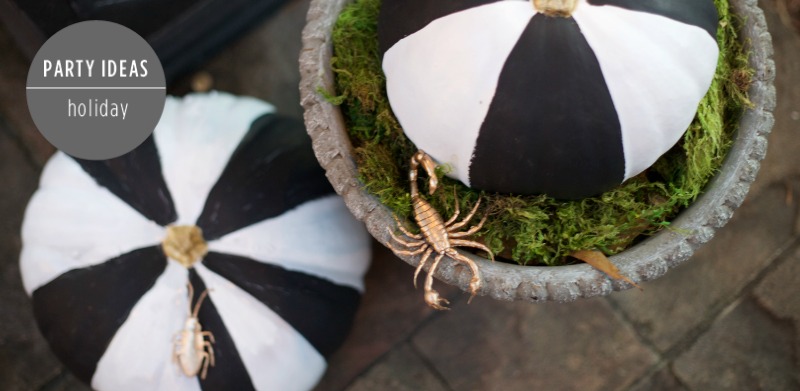 04 Nov

Beetlejuice Halloween Party

Hey party people!

Hope you had a safe and wonderful Halloween. I think Halloween parties are some of my favorite. It is so entertaining seeing the creative and sometimes very interesting costumes. I've documented several Halloween parties on this blog over the years, like this 80s themed one. This year, my husband and I threw a Beetlejuice Halloween party. It was such a fun time. Here are some of the details…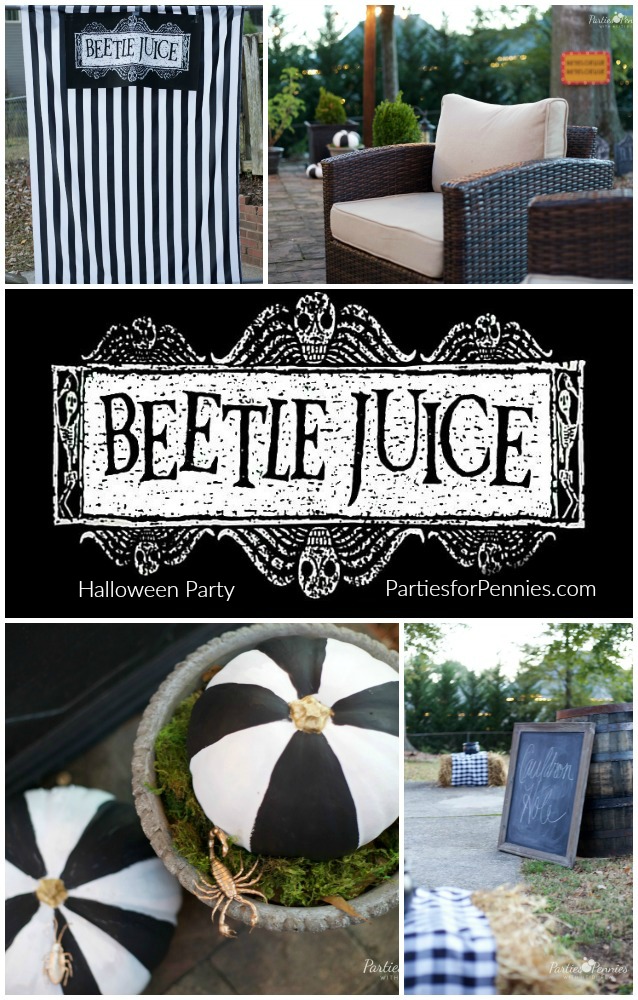 I must confess, I had to go back and watch the movie again as I prepared for this party. Details truly make a party and I was in middle school when I last watched Beetlejuice. I definitely got more of the humor as an adult than a middle schooler.
INVITATIONS:
Because there were so many invites, we just created a FB invite. It worked well and we didn't have to worry about collecting everyone's mailing or email address.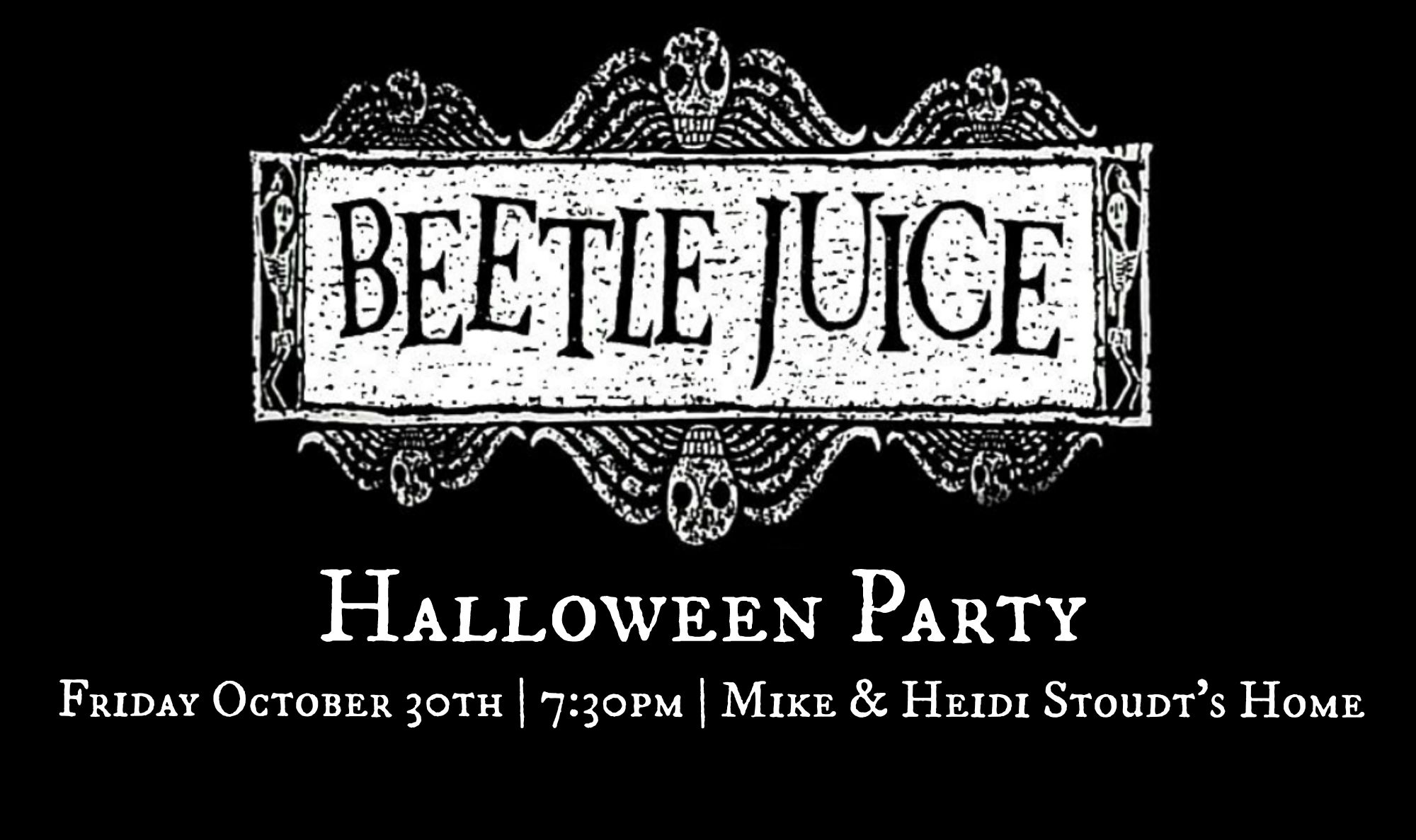 DECORATIONS:
Modern Day Beetlejuice Party – that's the vibe I was going for. Black and white stripes were definitely a main element throughout.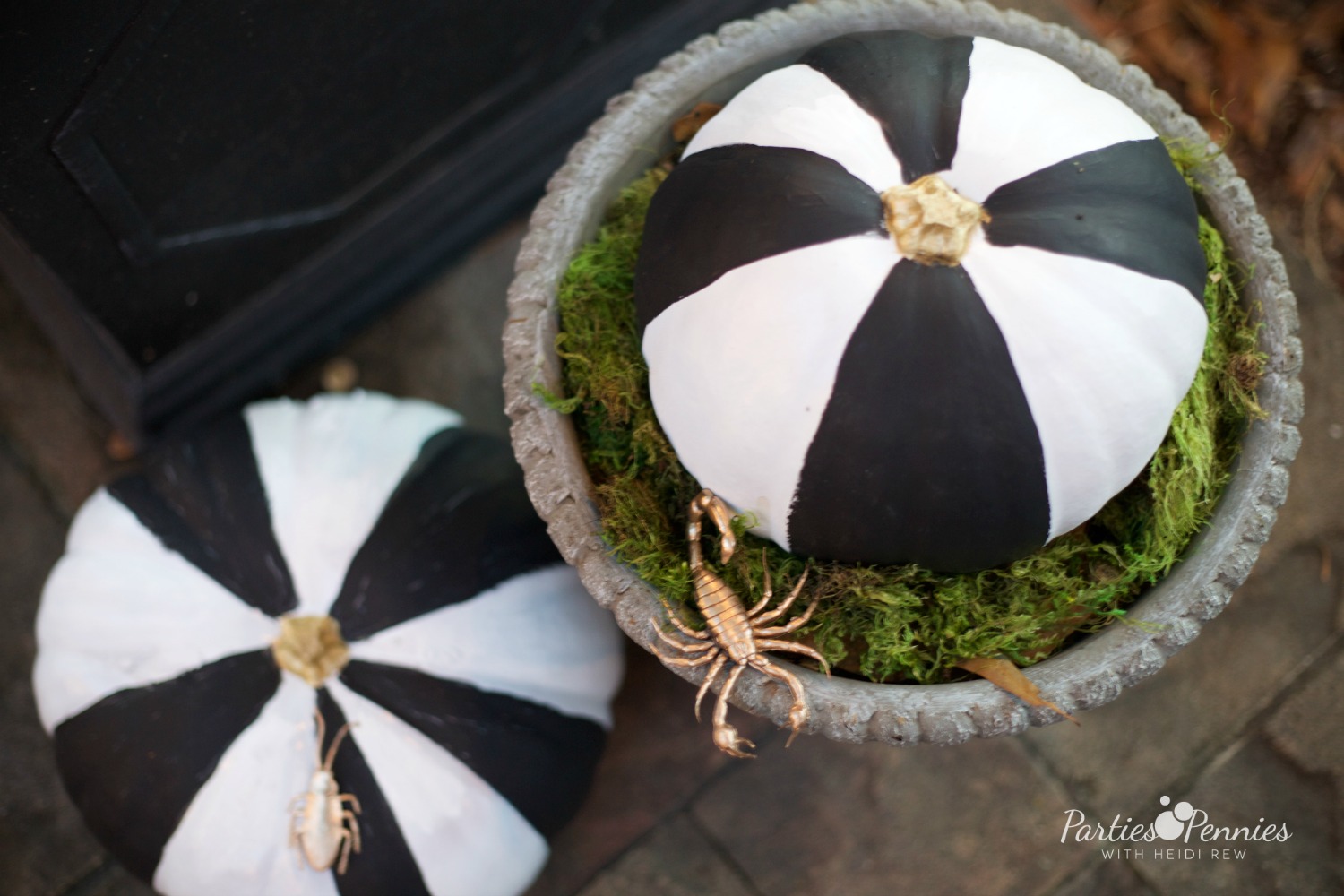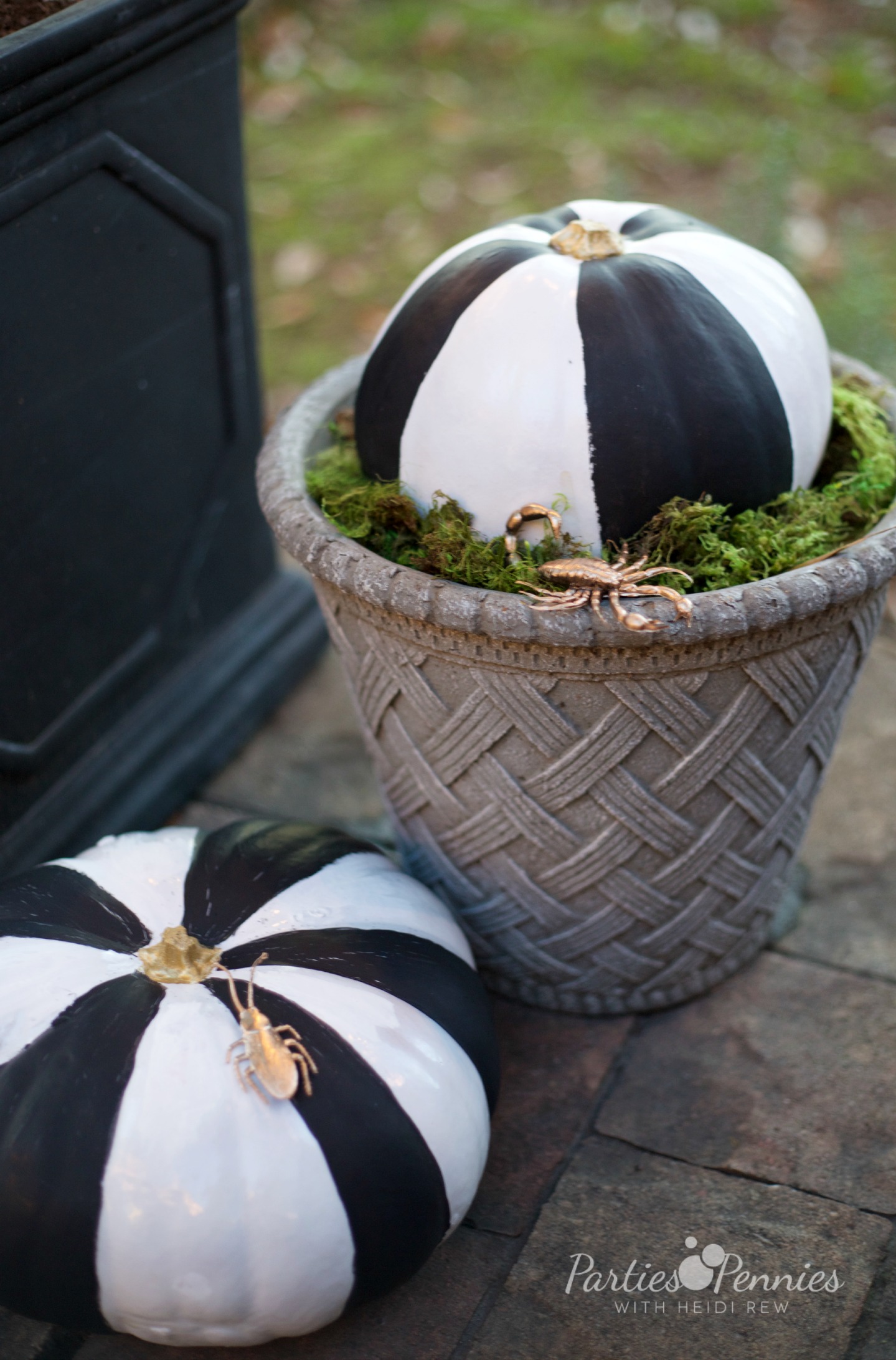 Black and white striped pumpkins were placed all around in the entrance to our house and the back yard. Since I'm such a great gardner, some of mums didn't last past a few weeks so I used those pots to hold a few pumpkins. I added some moss underneath and an occasional gold painted bug for finishing touches.
To greet the guests, I hung this black feather boa wreath from last Halloween on the front door. I just added a few gold painted beetles and bugs to go with the theme.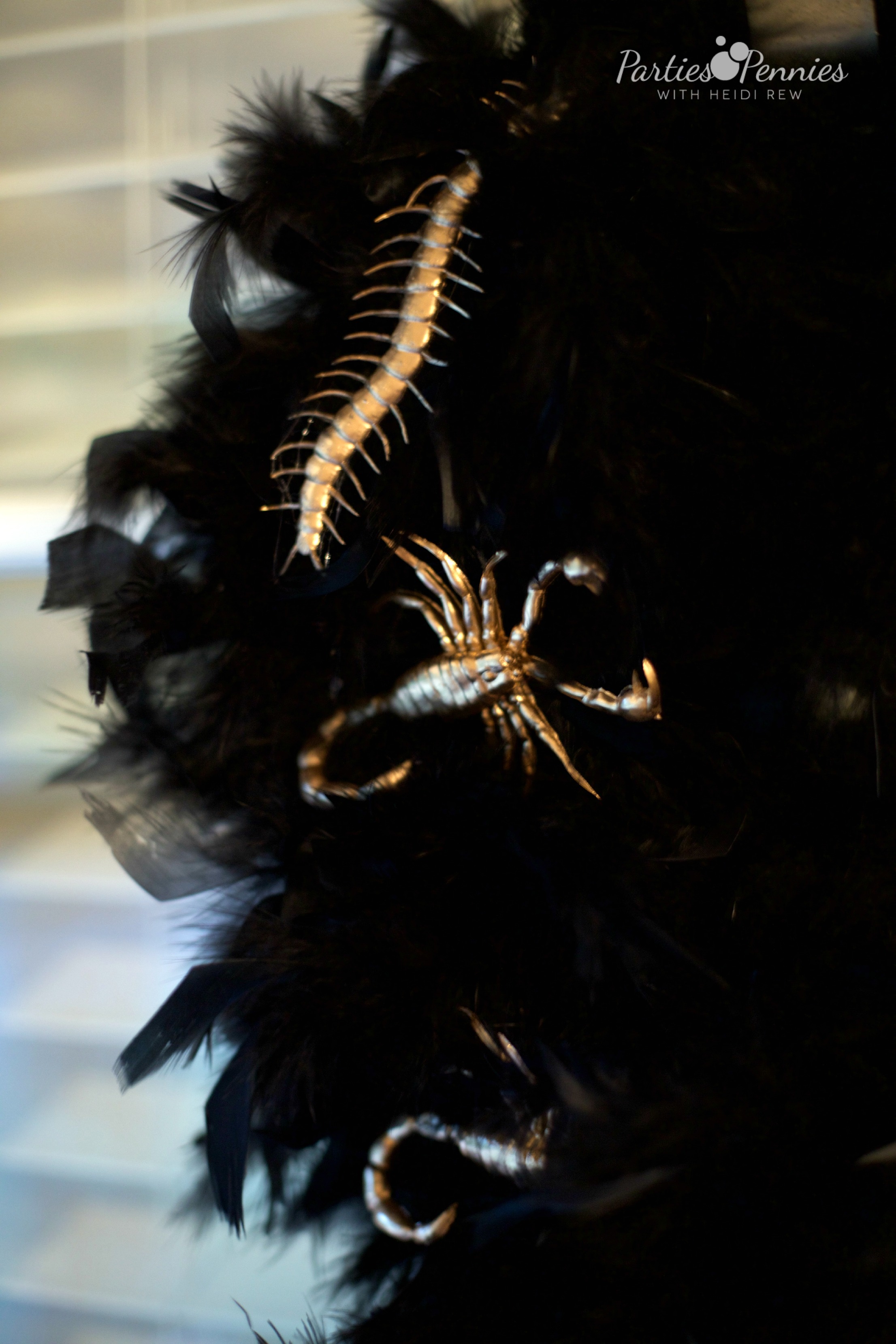 My friend Leslee sent me a link to this printable from Etsy. "Where's the bathroom?" is always a question at parties, so this was the perfect sign.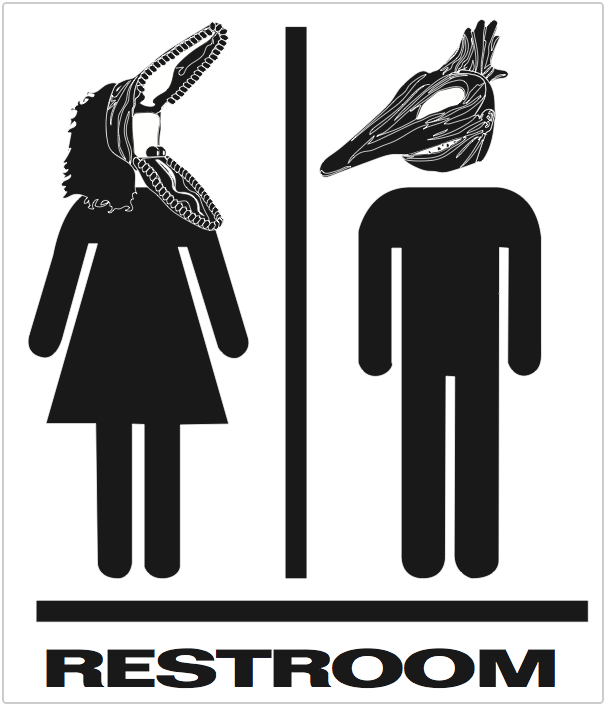 The decor continued to the backyard. I set up a mini graveyard with a "Betelgeuse" sign I created. I had some battery-powered lights that I attached around the sign to give it the authentic look.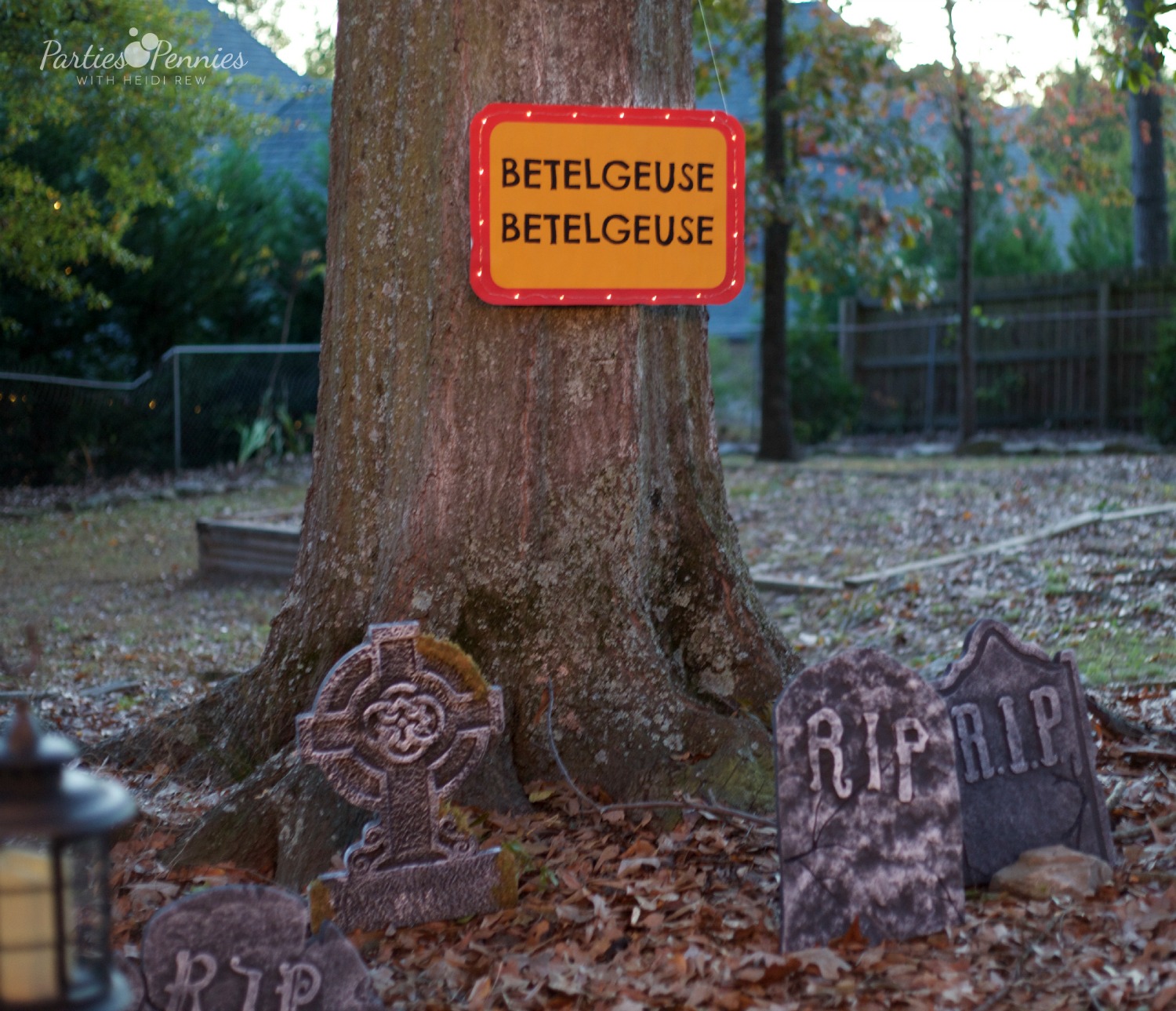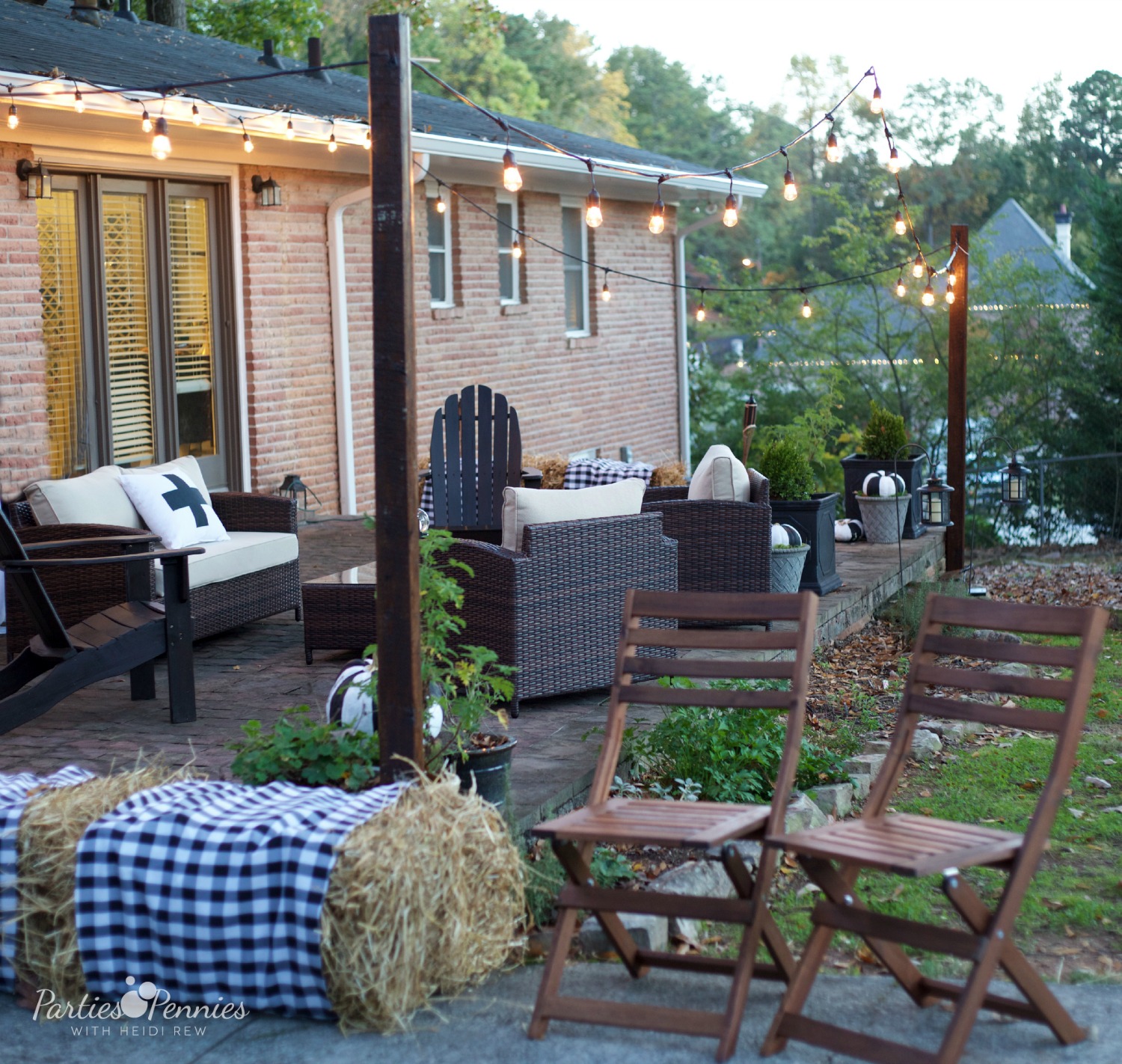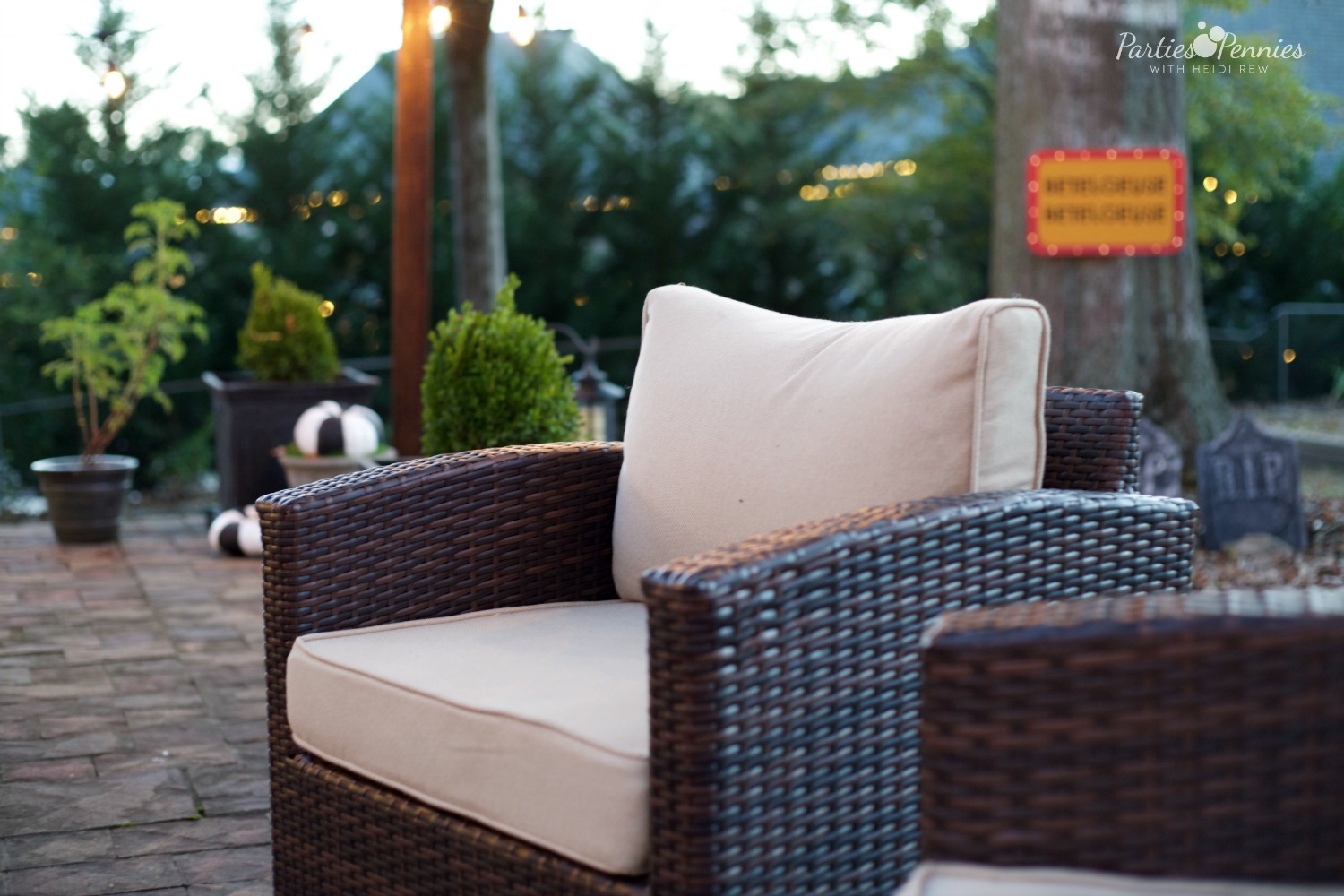 One of my favorite DIY decor projects was a coffin wine holder, but by the time I was able to take pictures of it before the party it was pretty dark. They didn't turn out that great. I made it out of black foamboard. I used black tape along the seams and decorated it with gold washi tape.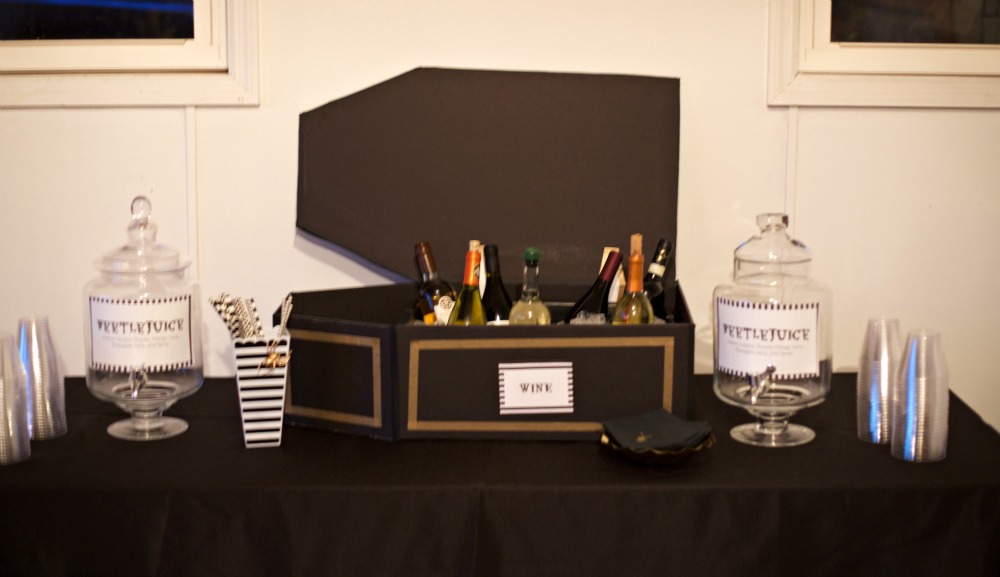 To decorate the dessert table and savory table, I used a lot of that black gauze which is a great inexpensive decoration. The Beetlejuice sign I had printed at my local FedEx office store. They're not the cheapest but they've always done a great job, so I really trust them. After I had FedEx print it, I glued it to foamboard for reinforcement.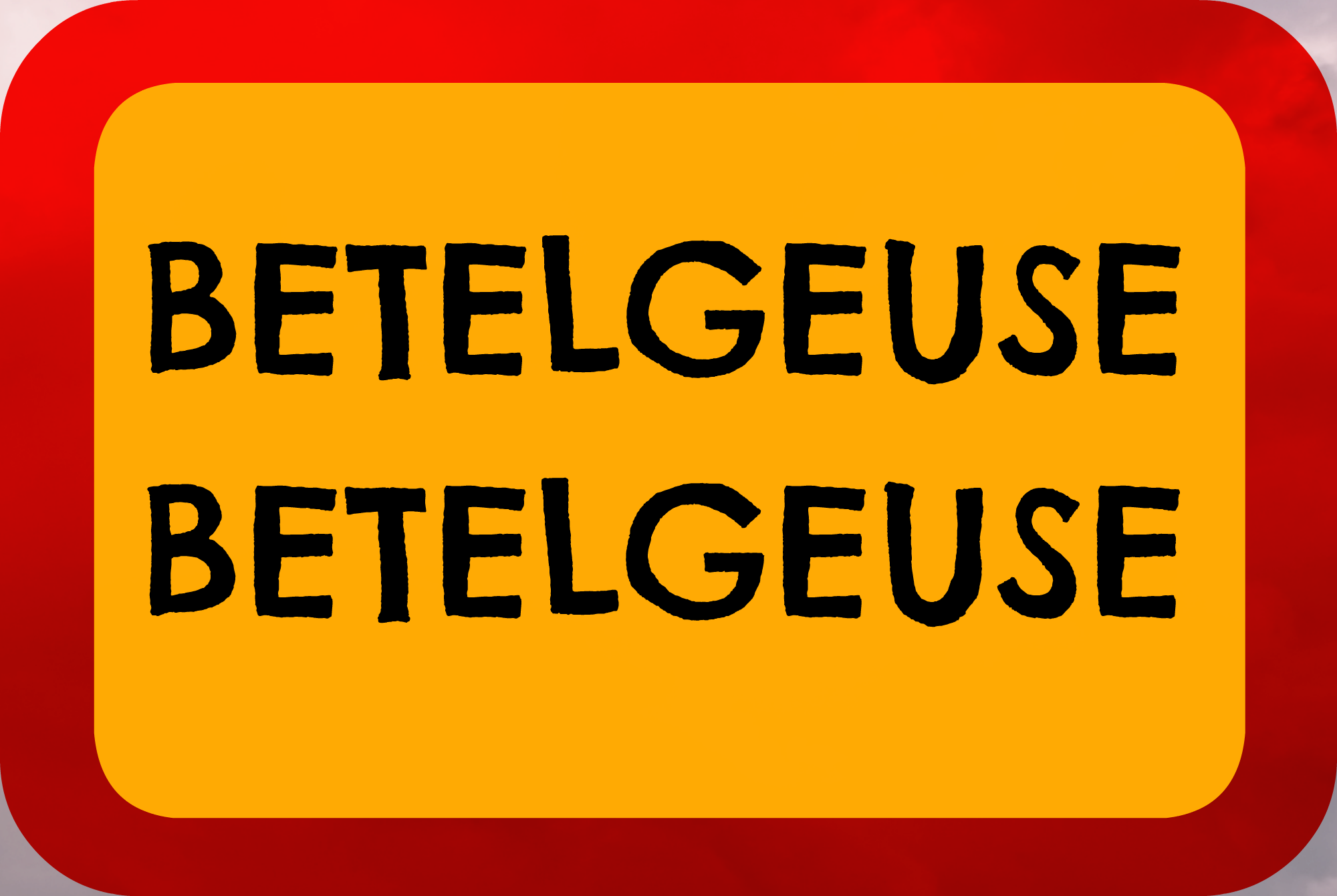 Some other decor touches were these black and white candlesticks. I wrapped black washi tape around the candlesticks to create the stripes. I knew I wouldn't be burning them, so it was an easier option for me than painting them.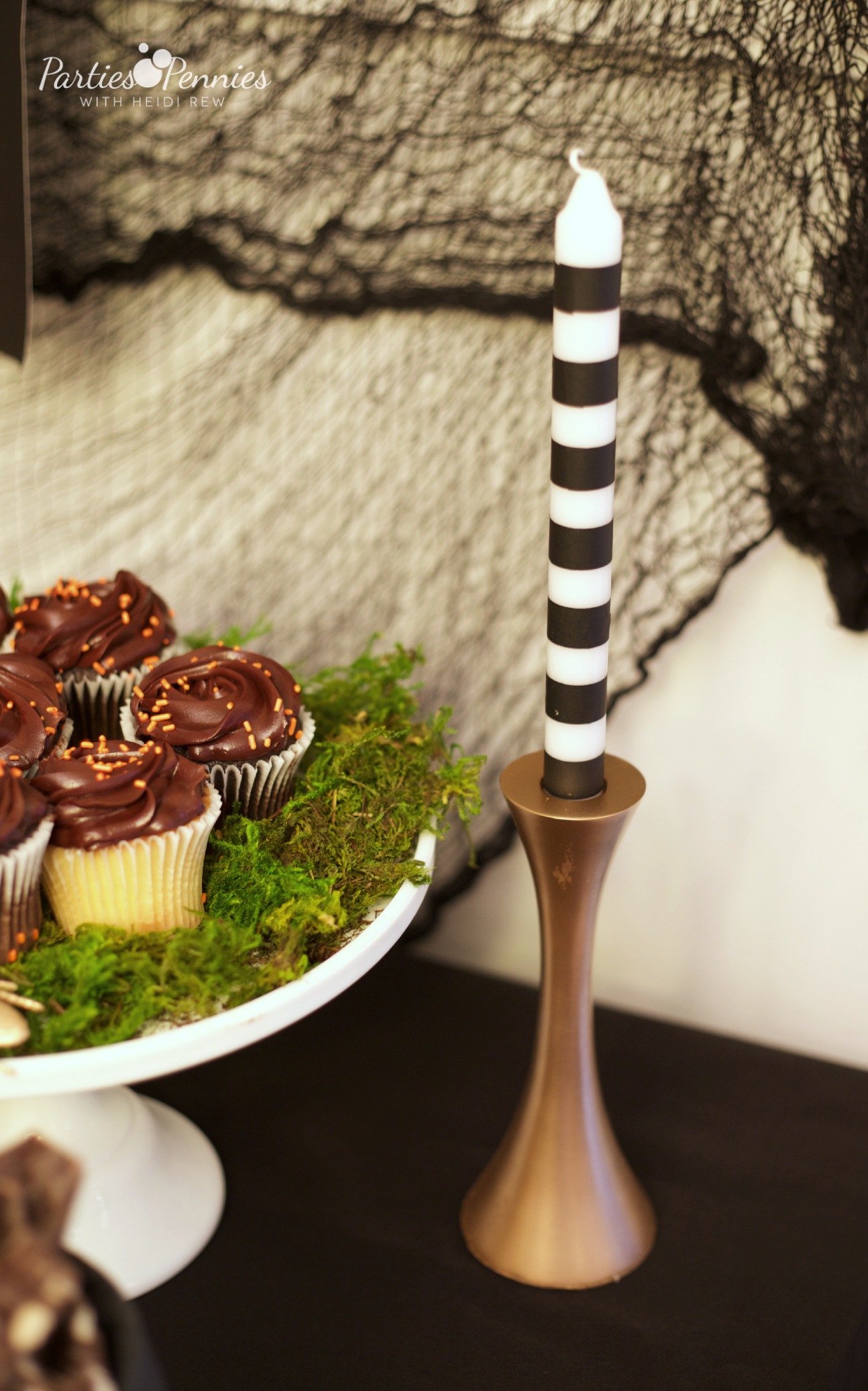 These gold painted beetles and bugs were perfect to add to various things here and there, like the black gauze, the utensil holder, and the moss under the cupcakes. I just bought a variety pack and spray painted them gold.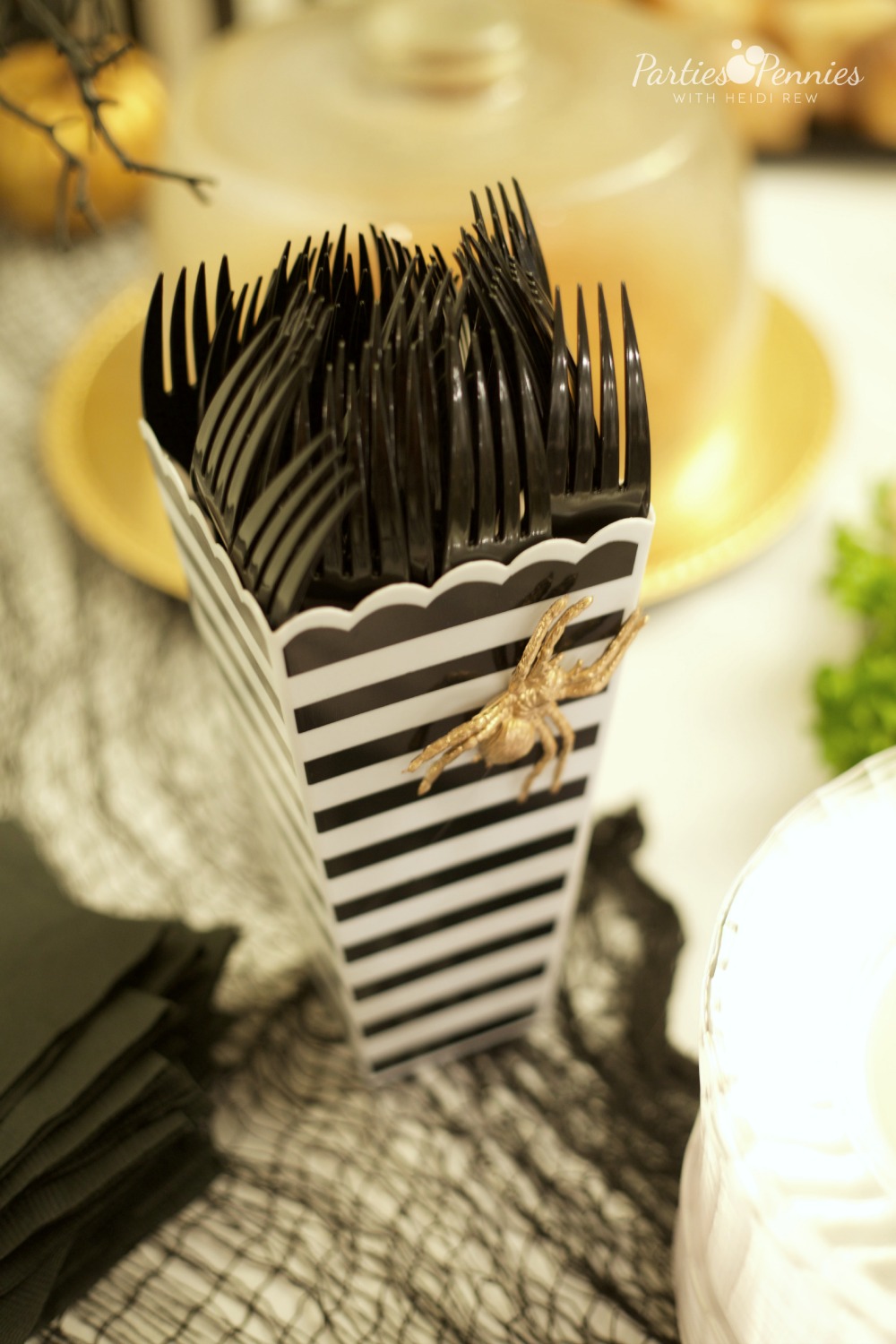 This tree platter holder was one of my favorite projects for the savory table. I bought those black chargers to use for food at the party, but when I was thinking about the food display I wanted something with a little more height. I had branches left from my sister's wedding. I just painted them black and had my husband help screw the chargers into the branch. The base is just a glass vase filled with rocks, wrapped with black and white striped paper and topped with moss.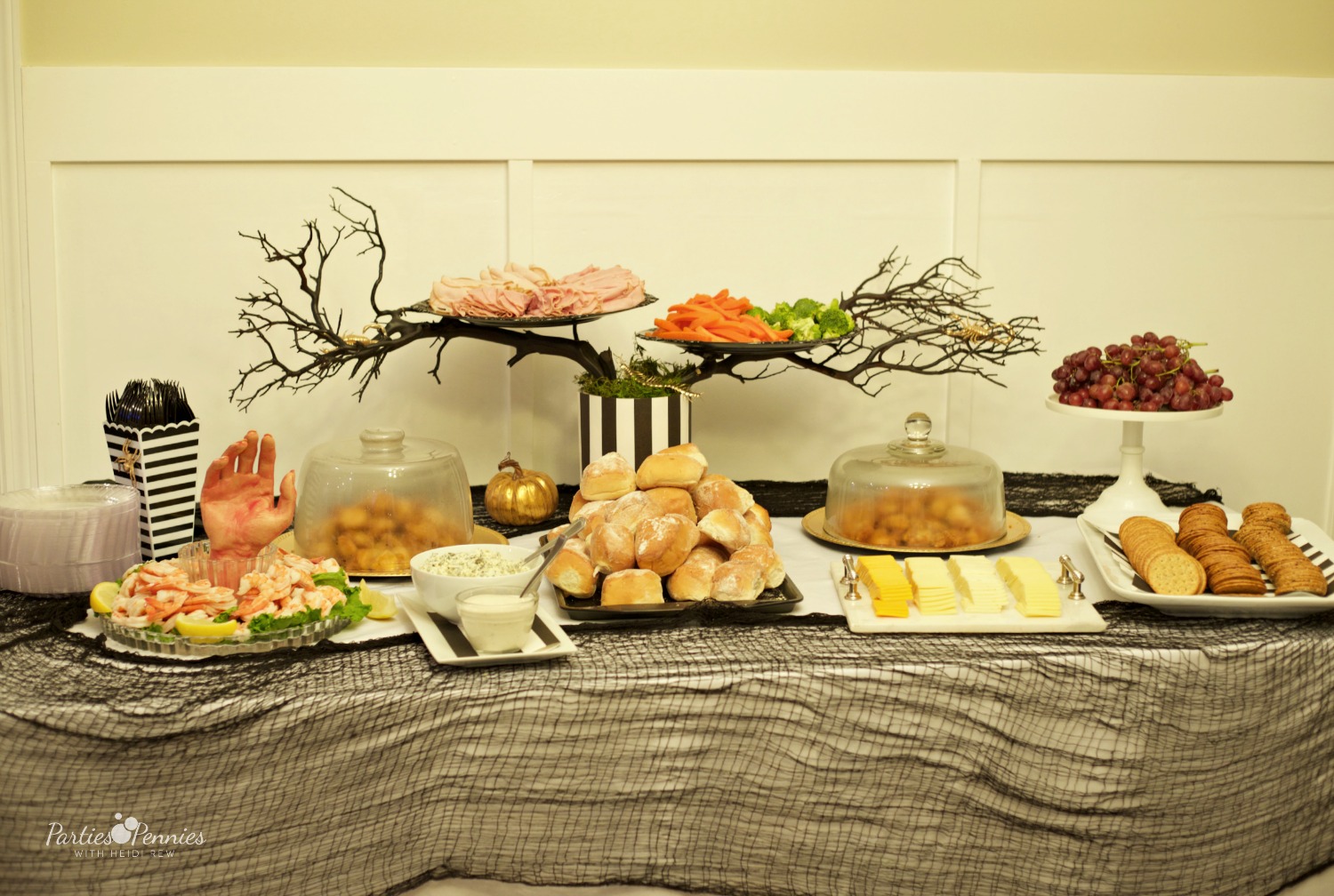 Currently, I'm obsessed with sprucing up party napkins. I love adding fun touches and stamping unique touches on the napkins just happens to be my obsession at the moment. It's such a budget-friendly way to add a special touch. I bought this beetle stamp (my husband said it was a roach, but the listing said beetle…so whatever…a bug is a bug) and used my gold stamp pad on plain black napkins.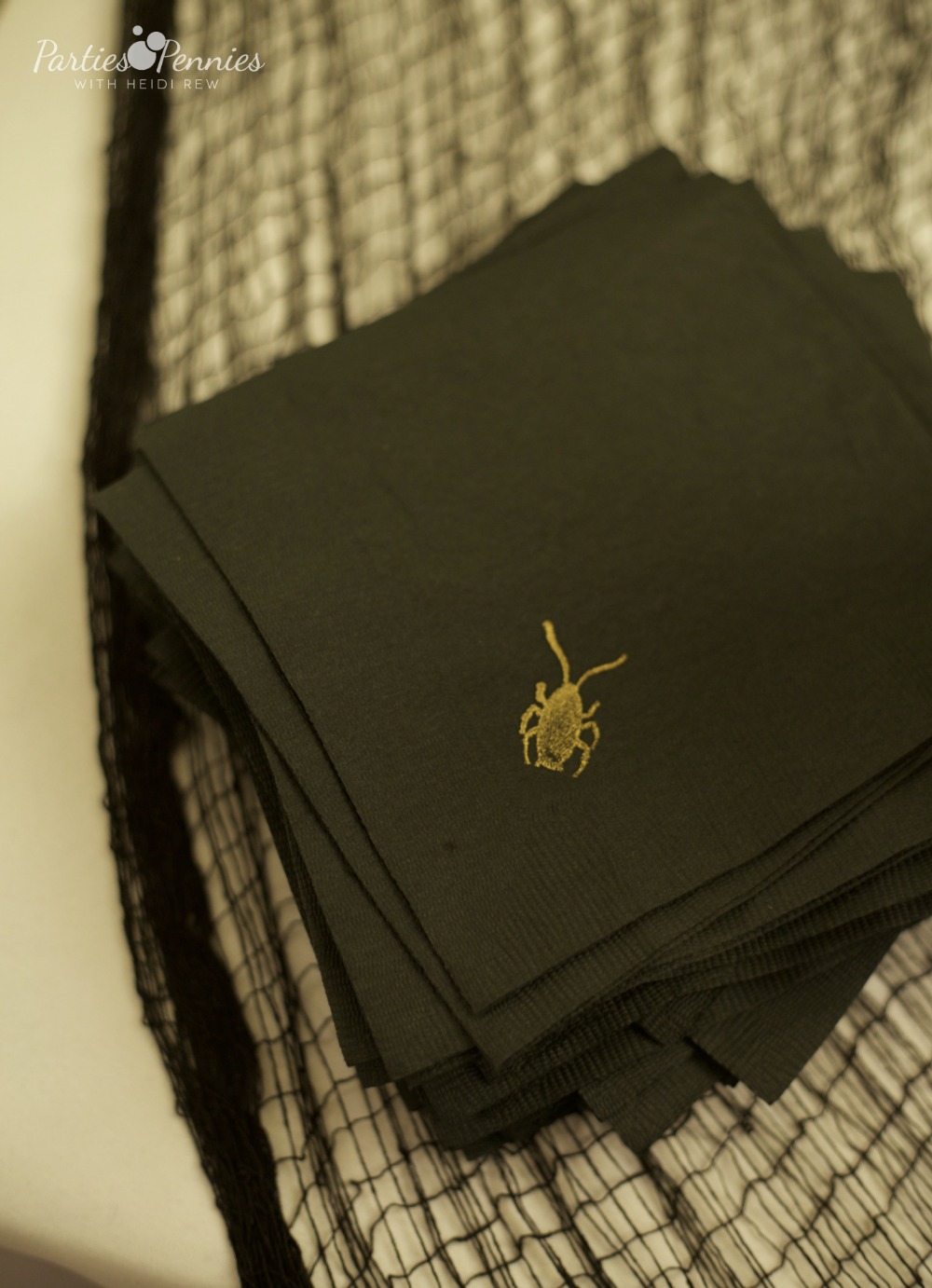 MENU:
For this party, I decided I wasn't going to make any of the food. Generally, I'll always make at least a few things. I love baking and cooking and, personally, feel homemade is always better. BUT…I knew that there'd be a lot of set-up for this party, I wasn't 100% sure how the weather would be (in case of bad weather, I'd be scrambling to come up with another solution), and the party fell on a Friday so I knew I'd have unexpected work pop up that week. I'm glad I did that, but I do wish I had made at least one homemade dessert.
The majority of what we served came from Costco.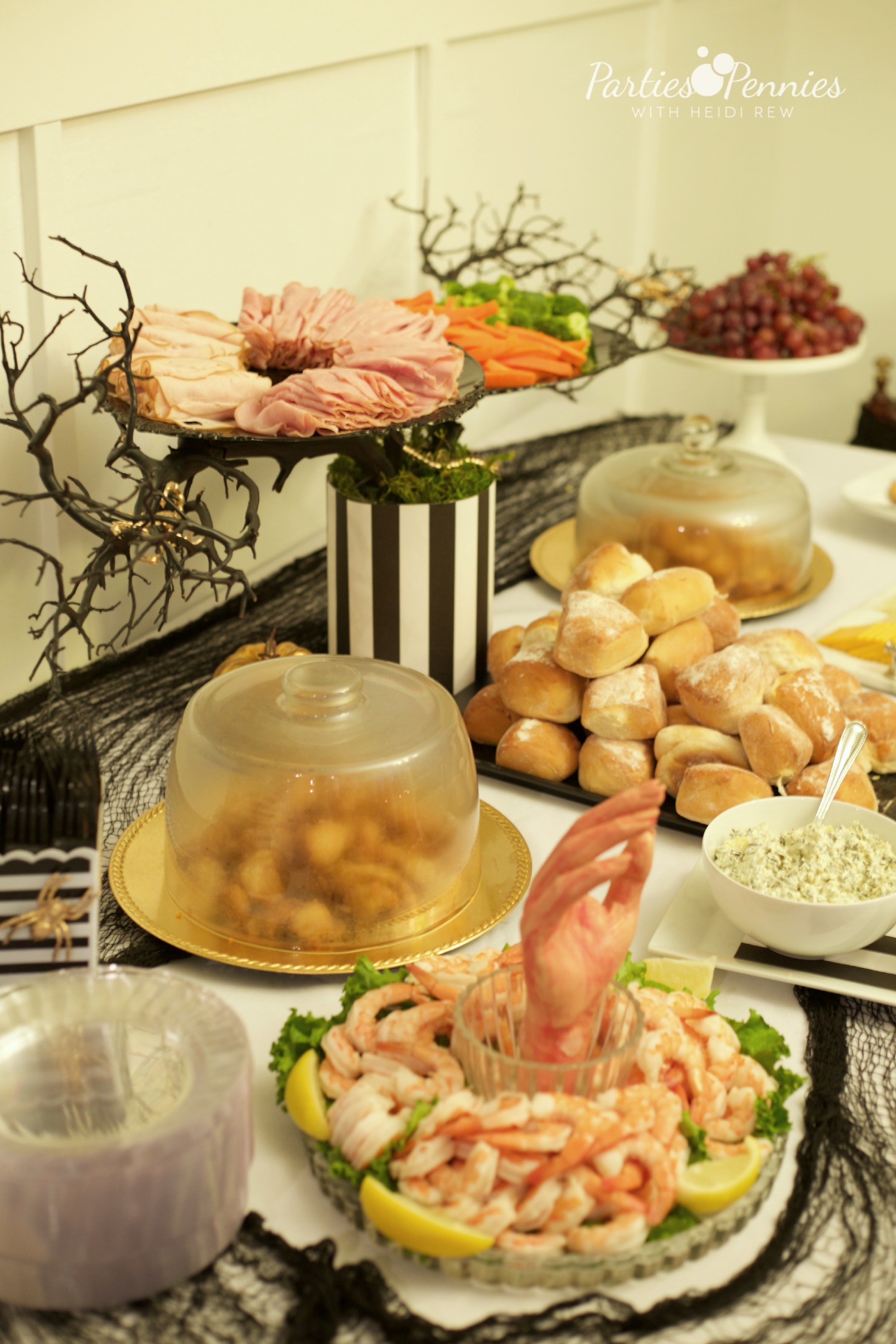 Savory: Shrimp Cocktail (from the movie), Chick-fil-A nuggets (always a party hit), deli meat slices, cheese, veggies & dip, rolls to make sandwiches, crackers, and some grapes.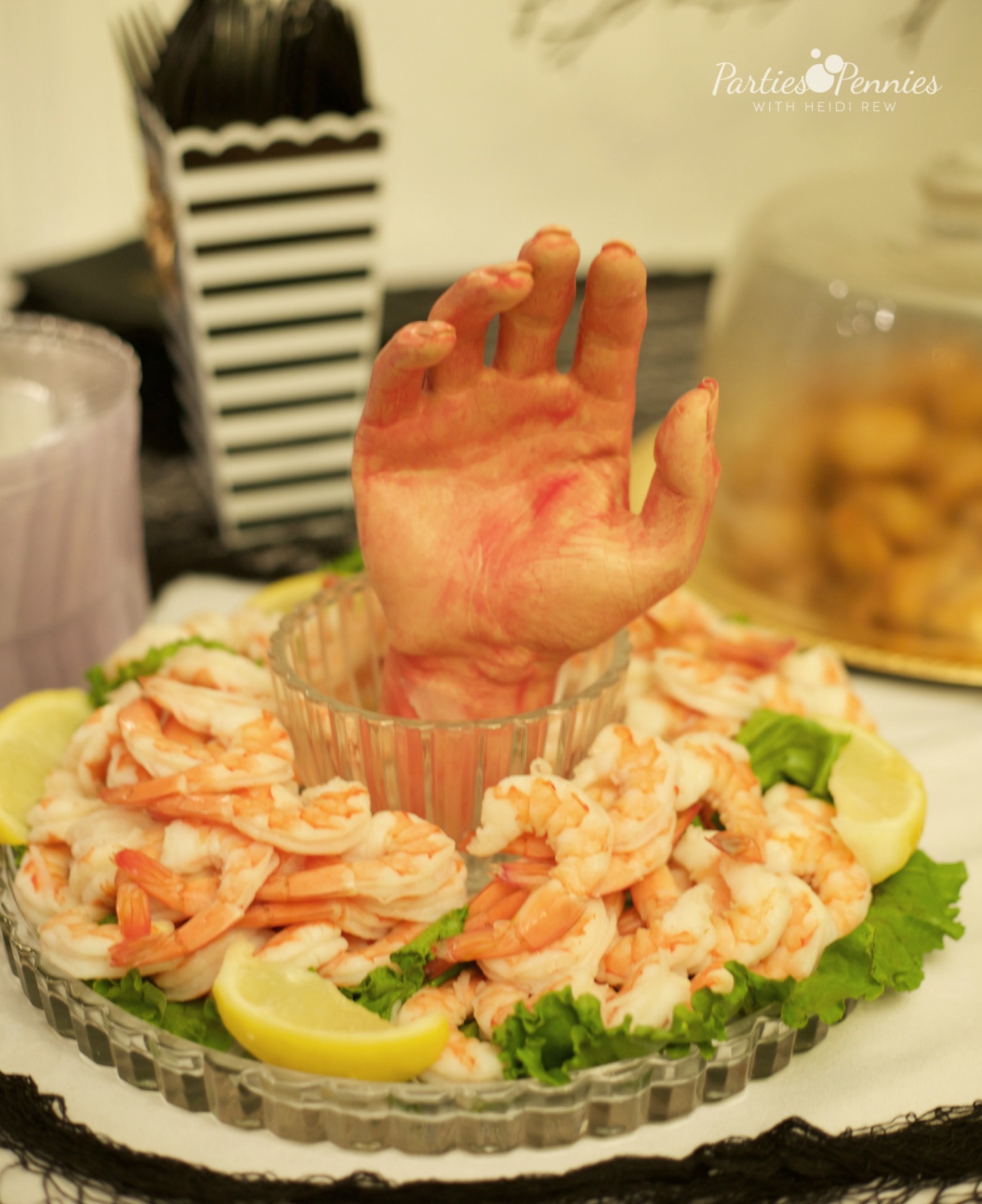 The big hits were the shrimp, chick-fil-a nuggets, and cheese and crackers.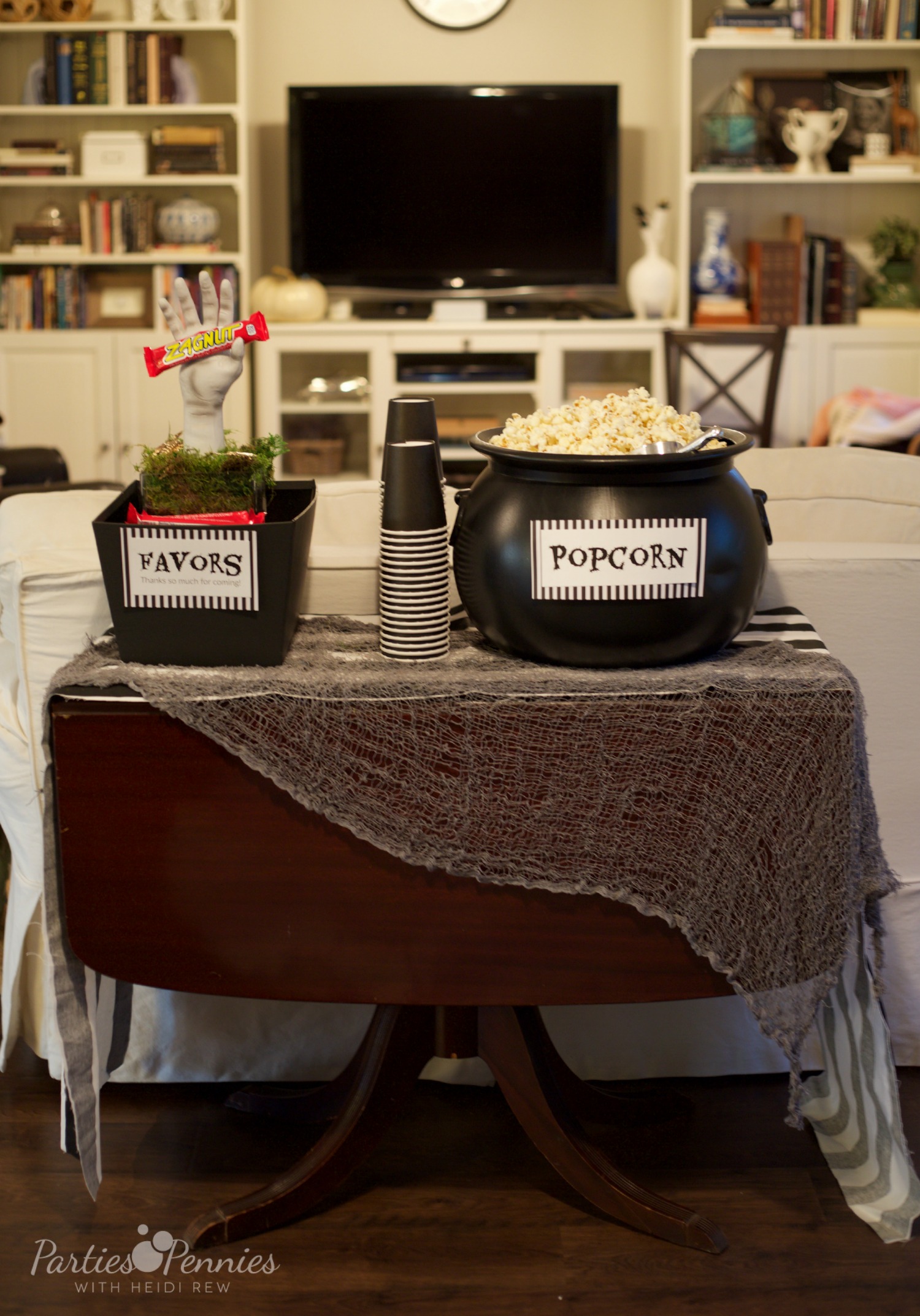 I also put a bunch of popcorn into a plastic cauldron for a little snack for guests. Popcorn is great because it's inexpensive and works with most food allergies – no gluten, vegan, and no dairy.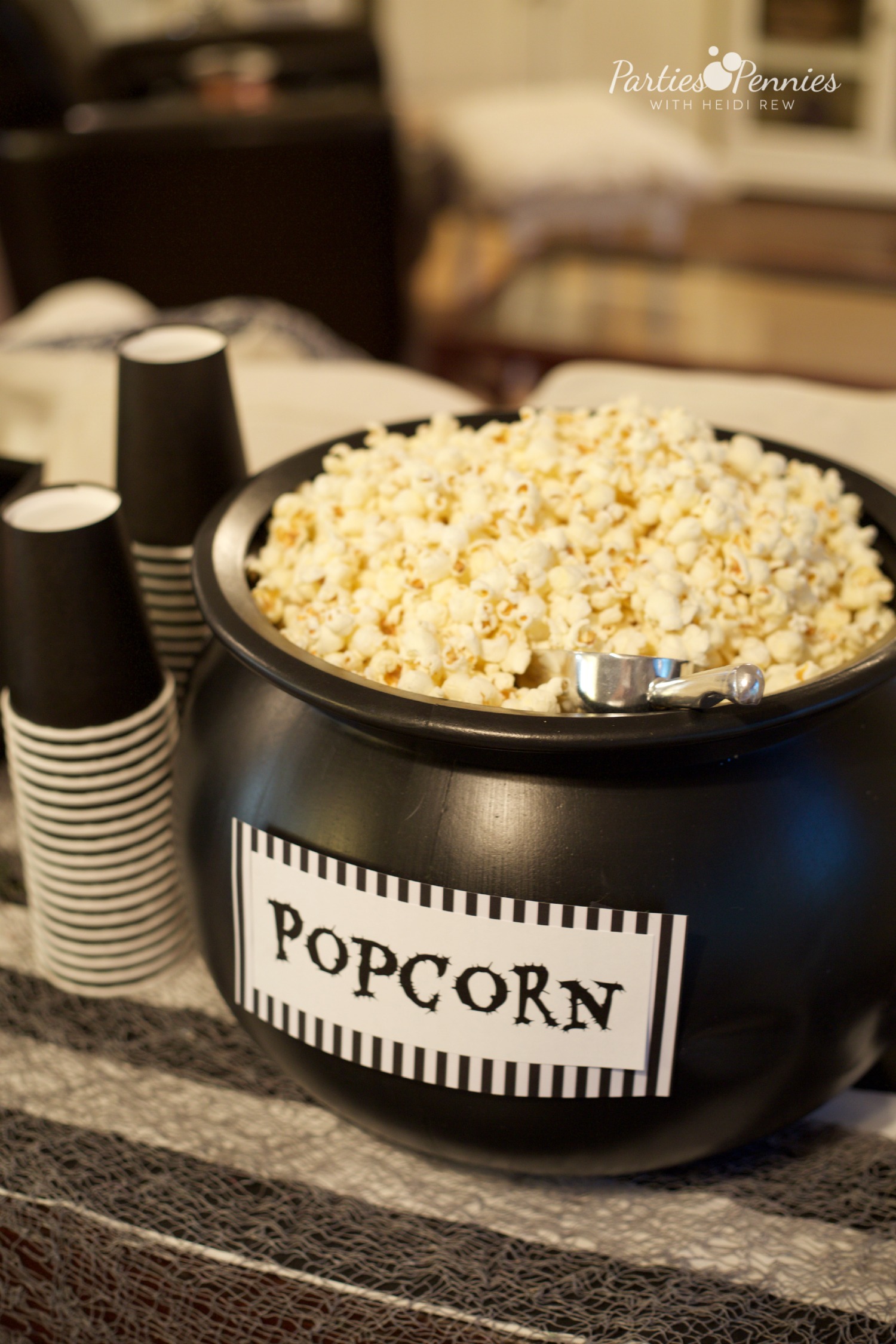 Sweet: Cookies, Mini Brownies, Peppermint Bark, Dark Chocolate Pumpkin Seed bark, Gluten Free Georgetown Cupcakes (my fave), Grocery Store Cupcakes, and an assortment of mini desserts.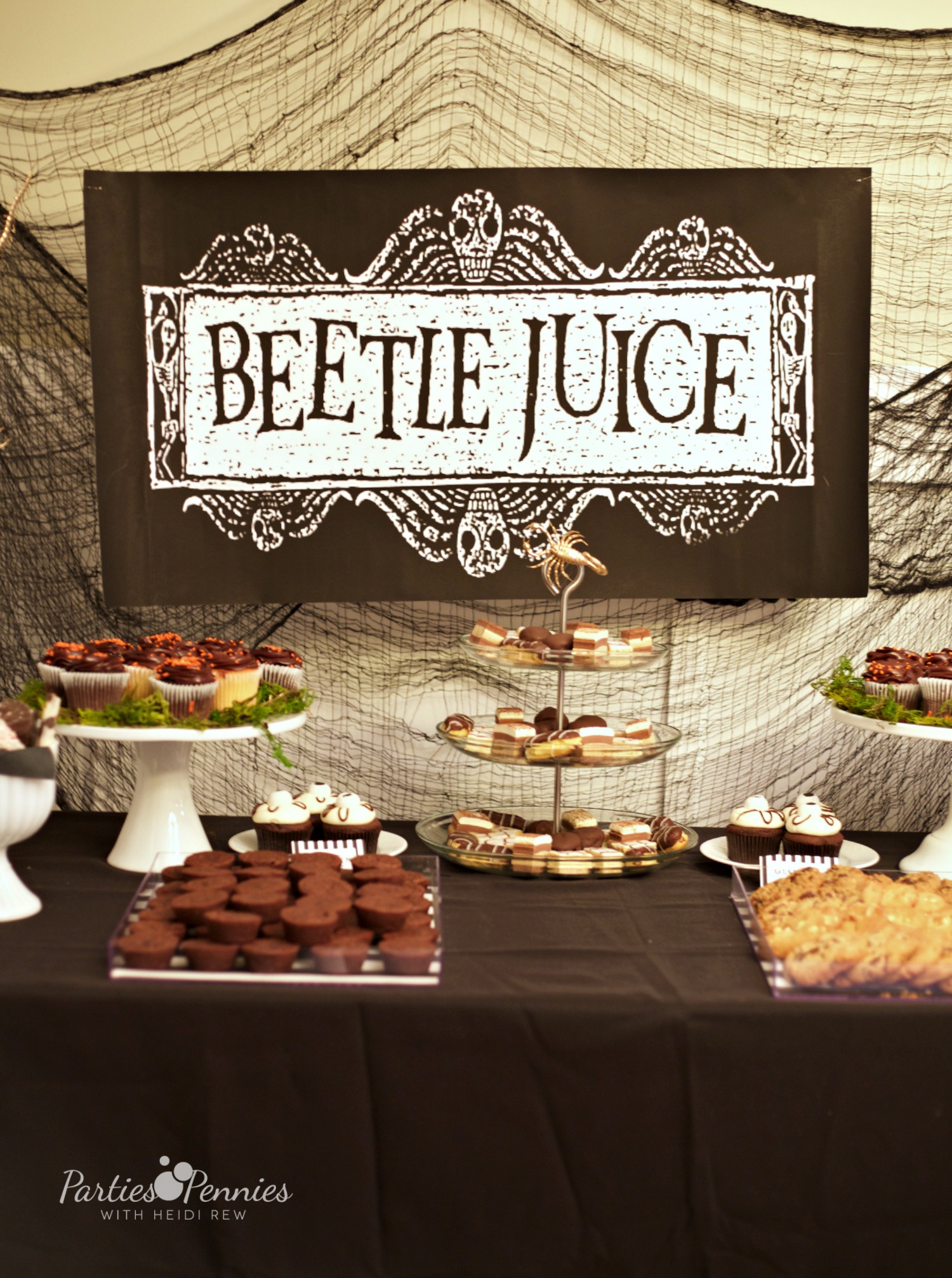 I generally like to have one main dessert and a couple other smaller options, but I went a little overboard with this one. The mini desserts and the cookies were the biggest hits. Those mini desserts were from Costco and I think were around $9.99. A great price for a beautiful display.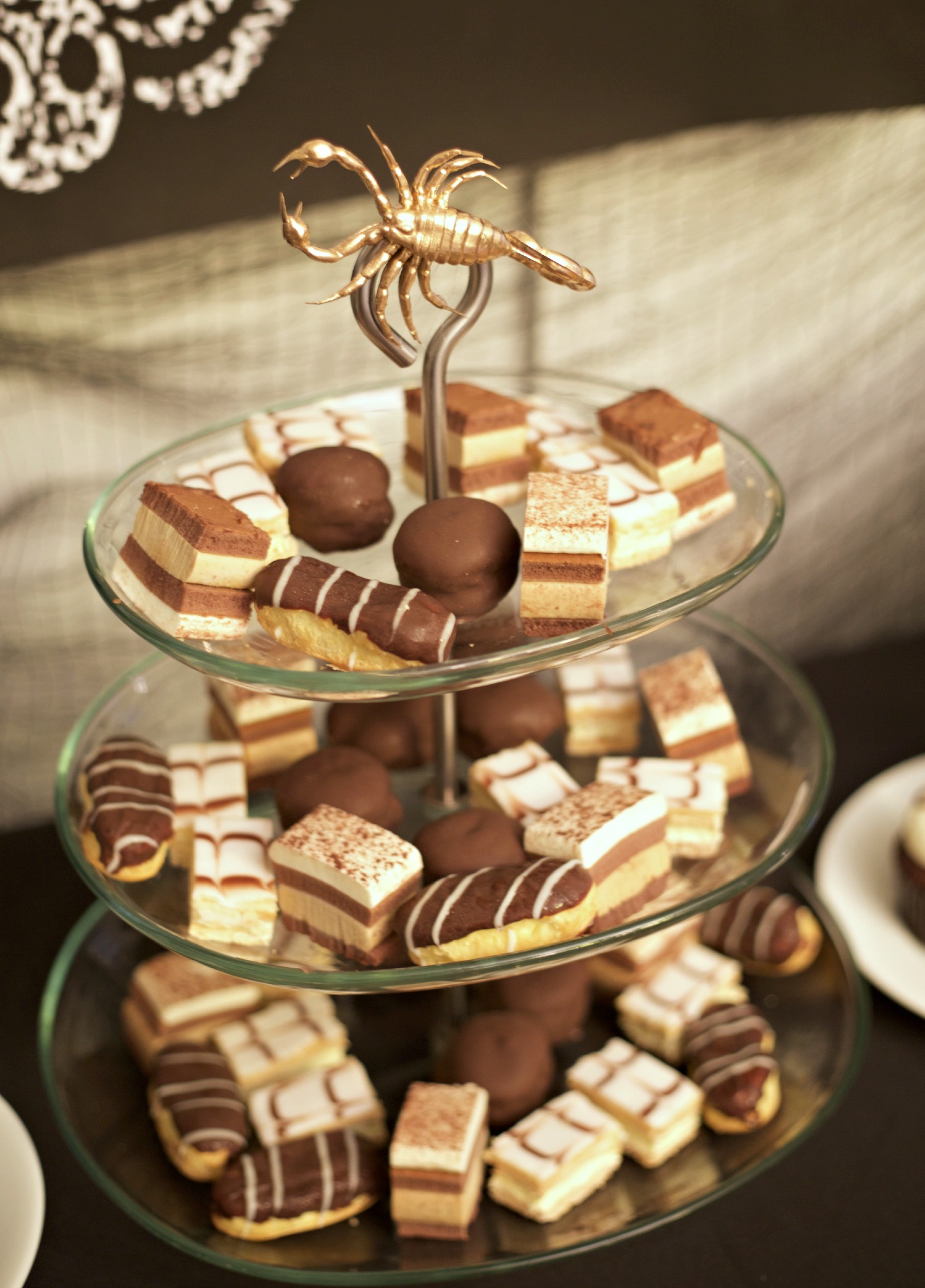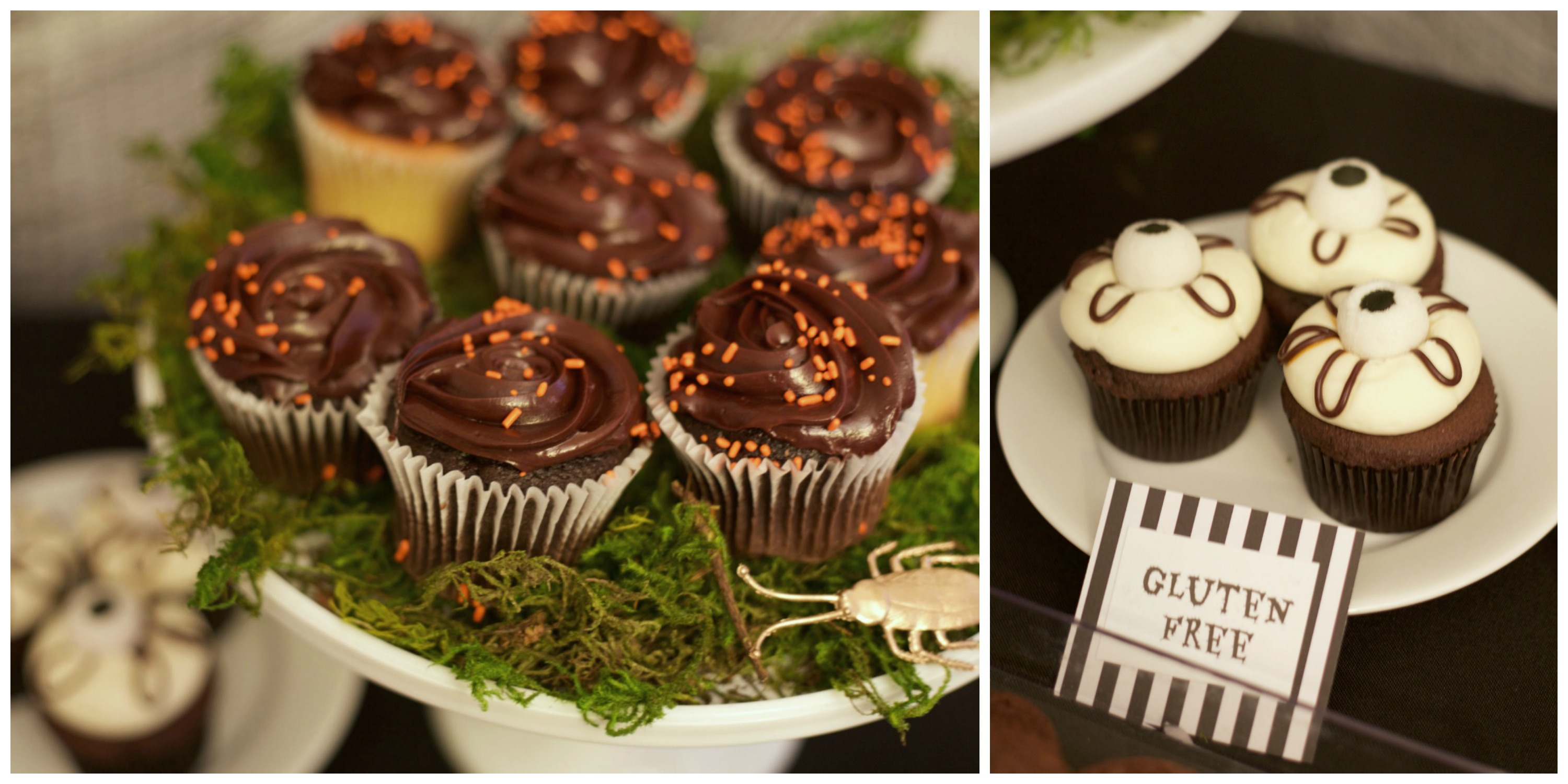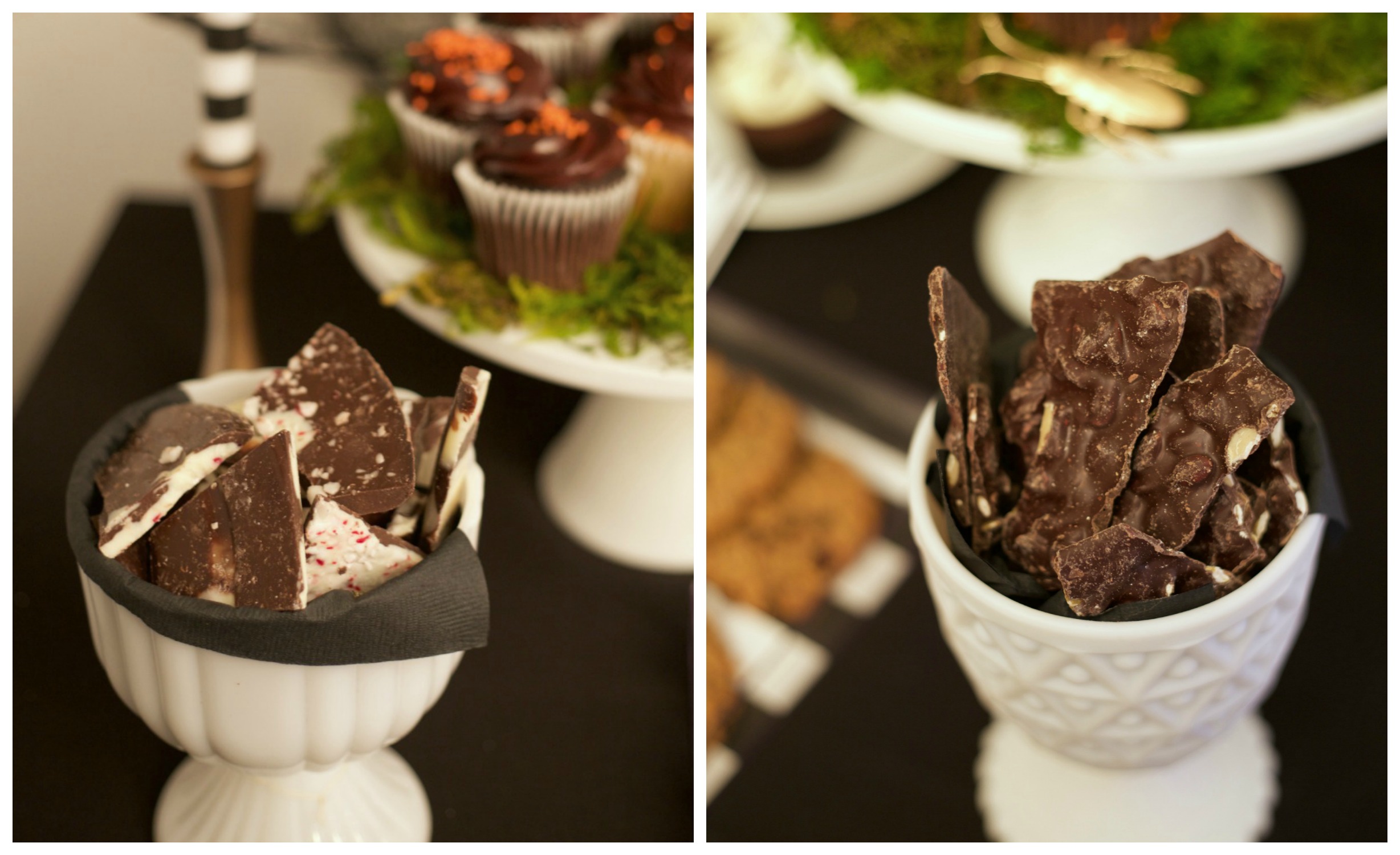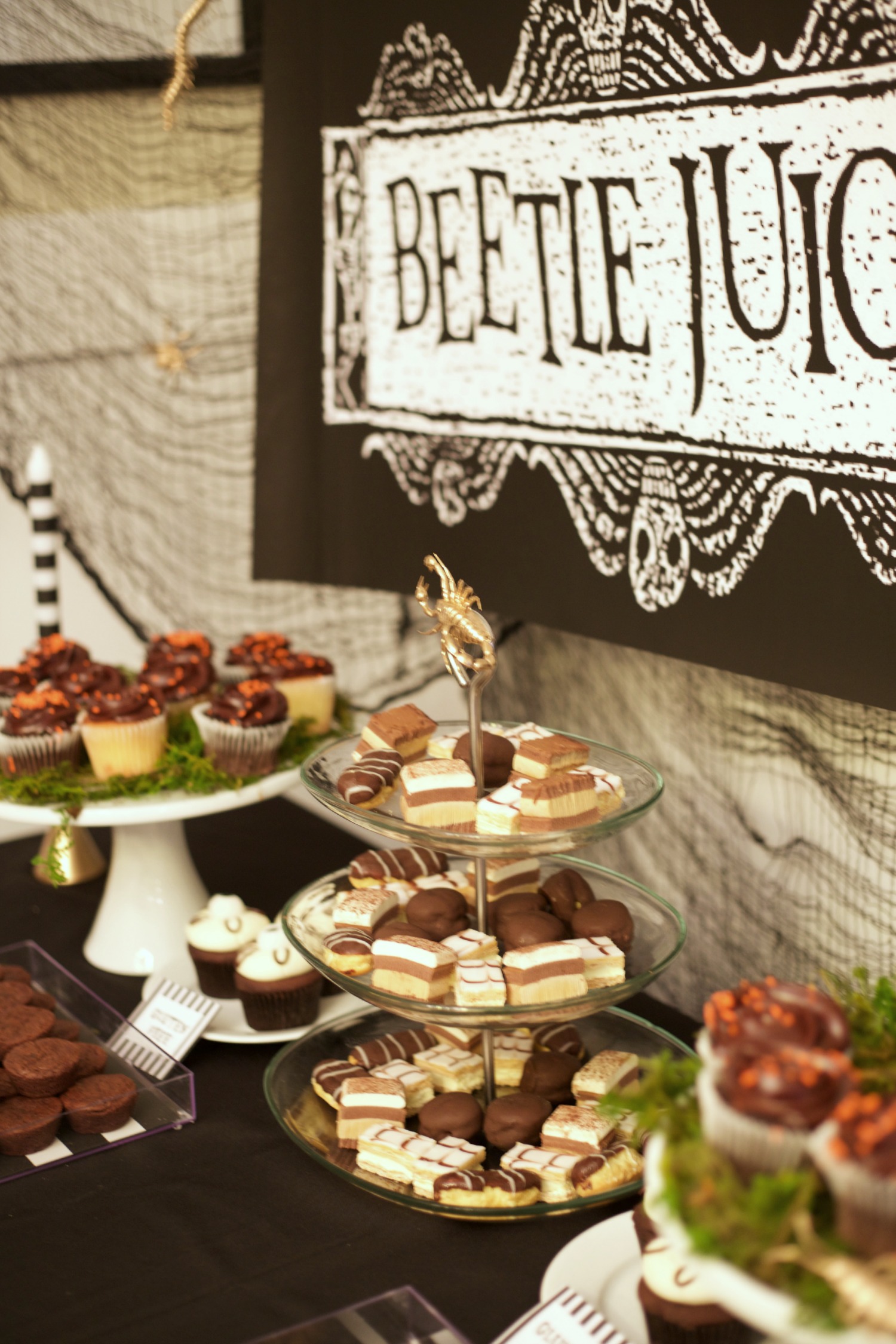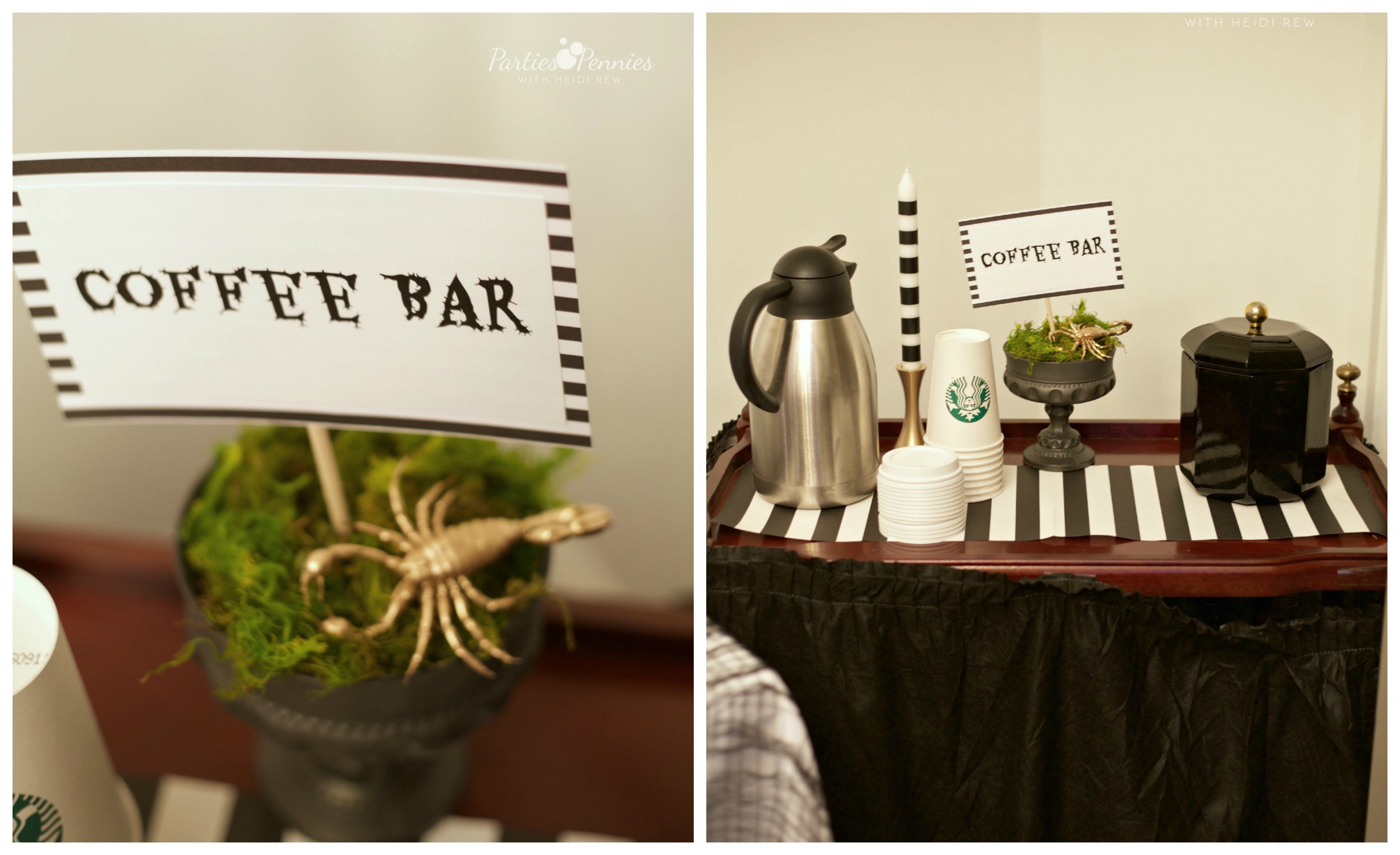 Technically, I did make something food-wise for this party. I made black and white striped jello shots. Surprisingly, after years of parties, I had never made jello shots until now. They were a huge hit. Here's a link to the recipe I used. Thankfully, my friends Jyn and Whitney took this shot of me and the jello shots. I'm sorry I didn't get a closer shot.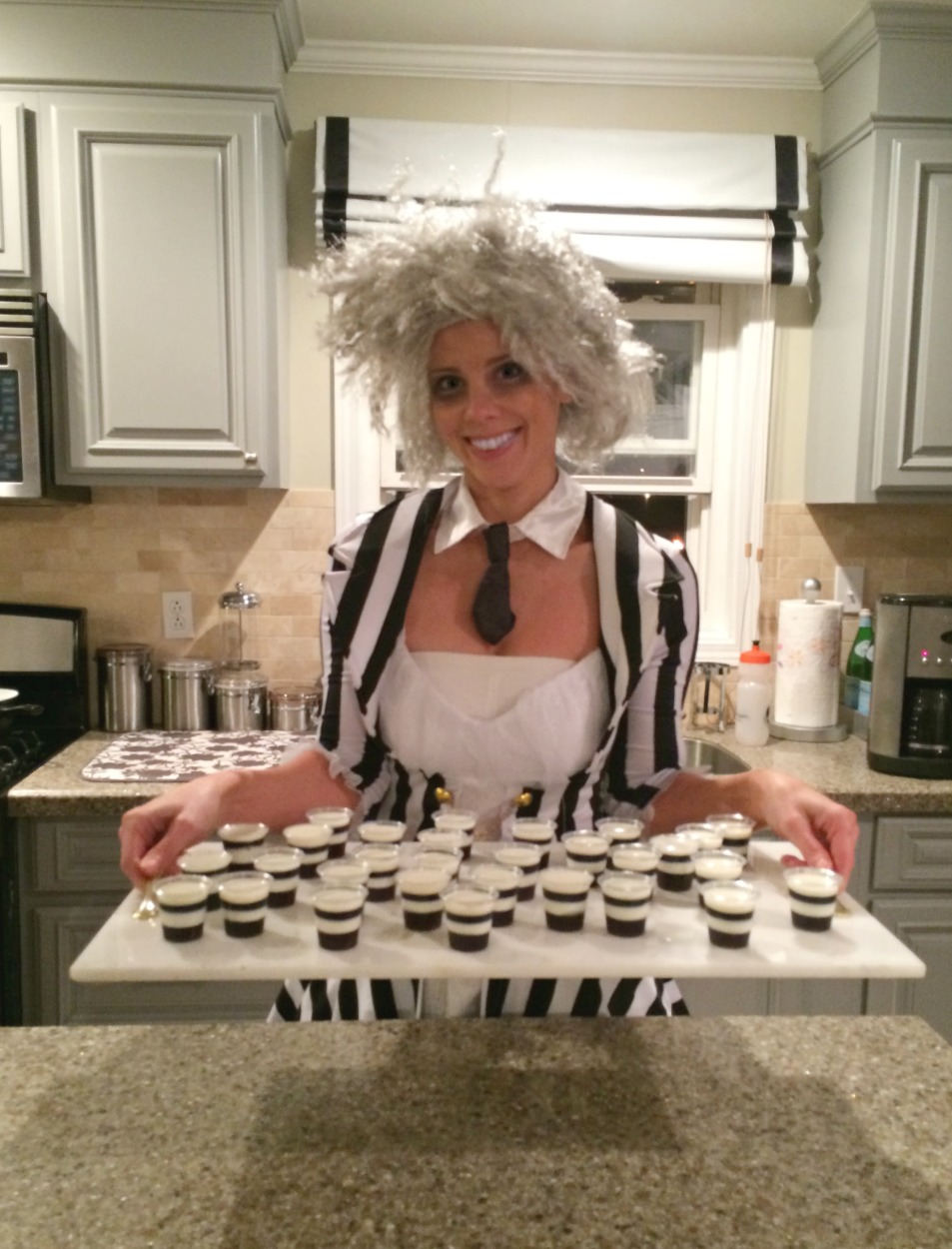 I also made a mixed drink to serve at the party, which I called BEETLEJUICE (creative, eh?). I saw a recipe online, then I couldn't find it anywhere so I made up the measurements. Here's the concoction I created, if you'd like to make it…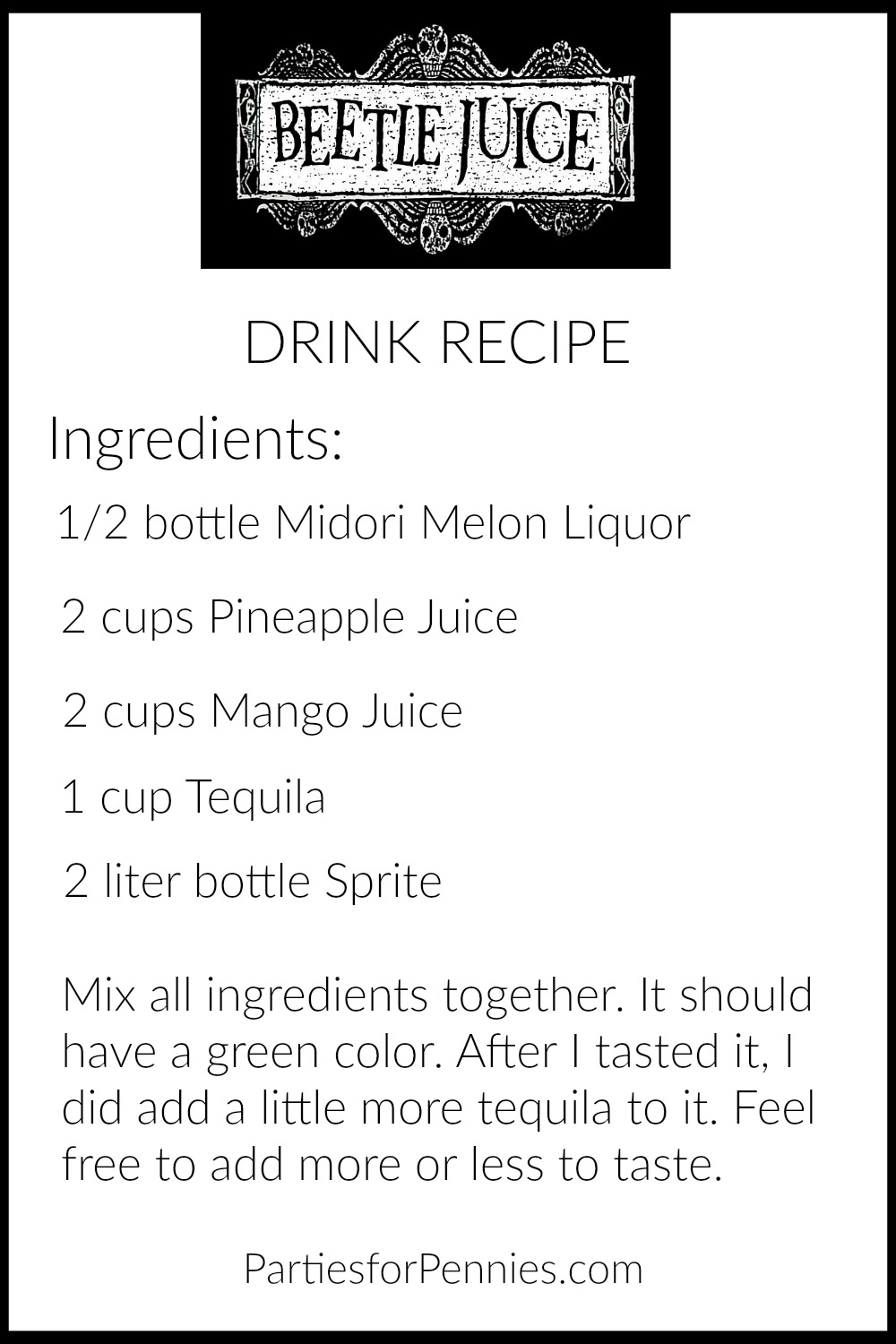 ACTIVITIES:
I set up what I called "Cauldron-Hole." Get it? Like Corn-hole? I bought two cheap cauldrons, put a brick at the bottom to secure and then bought 4 mini cornhole bean bags. I planned on making my own but my sewing machine pooped out on me 3 days before the party. I think everyone was having too much fun with everything else. It didn't get a ton of play, but I always love having something for people to do if they're tired of small talk.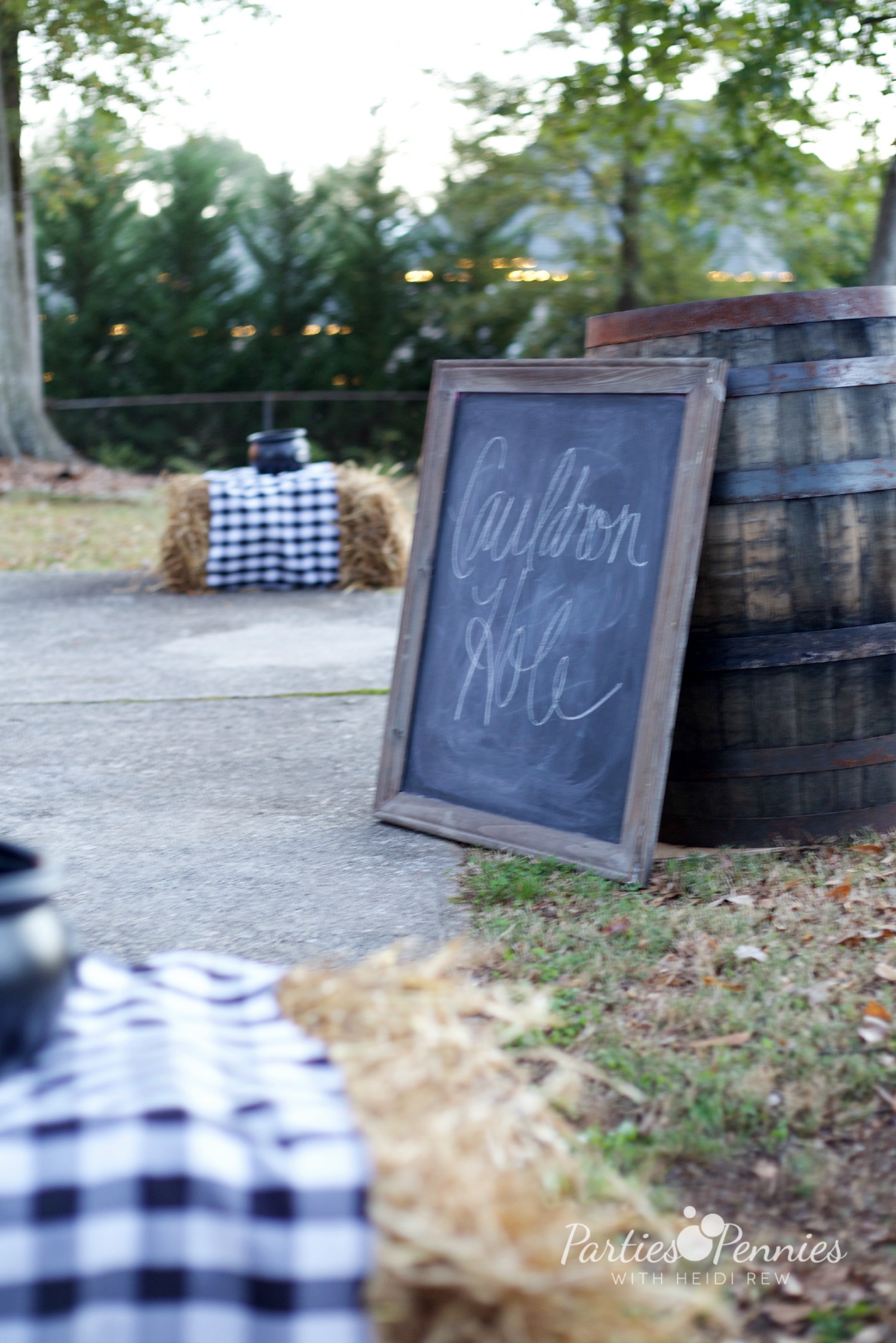 Since it was a Halloween party, we had to have a costume contest. We had a BEST COUPLE, MOST CREATIVE, BEST LOL, and BEST LOOK-A-LIKE or CELEBRITY. All the guests voted using ballots I printed up. Here are the certificates I created too…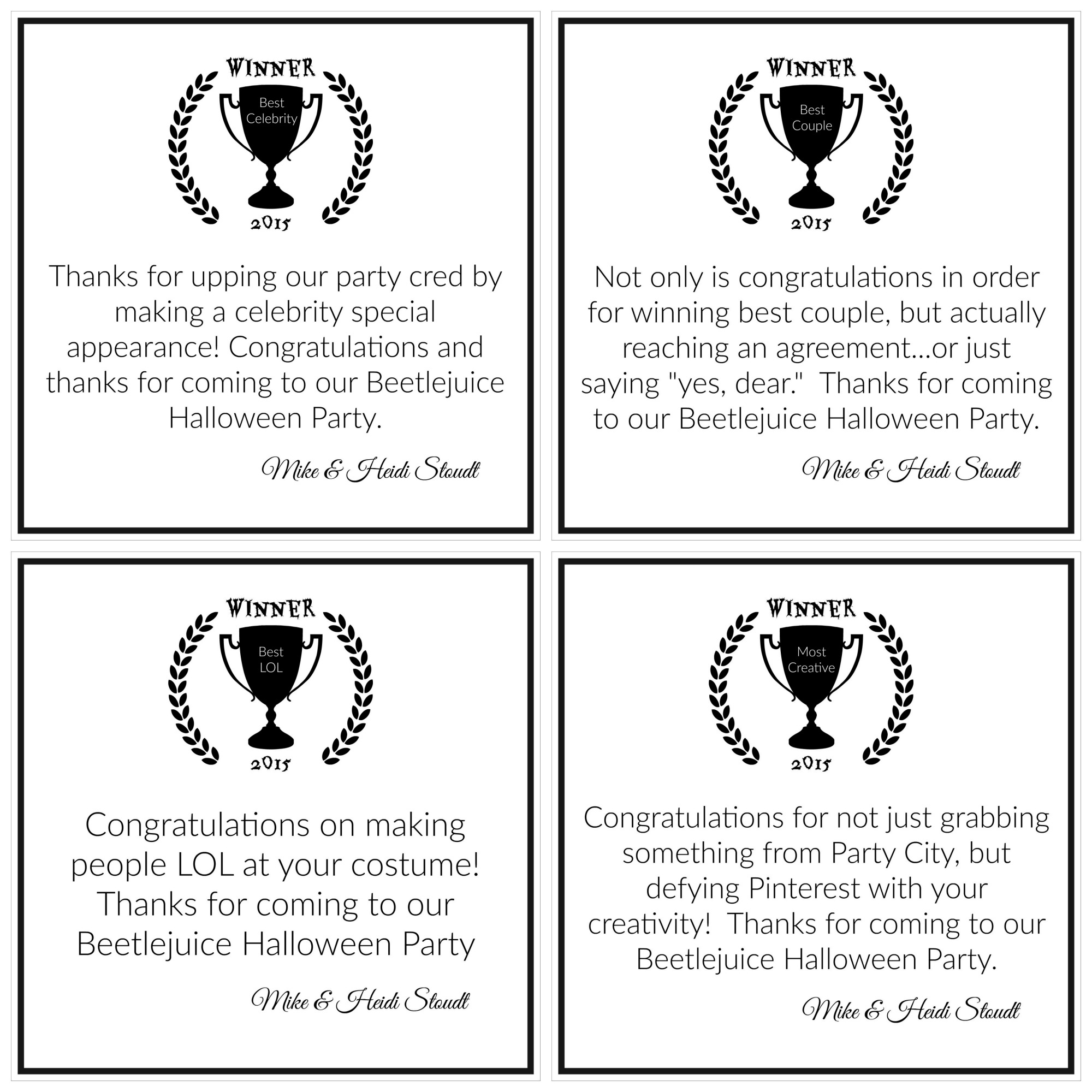 We gave the winners prizes like AMC movie tickets, Main Event (Bowling, Pool, etc), and Restaurant gift certificates. We got these at Costco because you can buy several certificates for a much cheaper price.
One of the highlights of the night was the Lip Sync contest. I put together a mash-up video of the contest for you to get a taste of the incredible talent. Watch it and see who you think the winner was. My husband and I did a song, but the video camera didn't record it (ok…user error). We did Macklemore – Downtown. I did the rap part and Mike sang the girl part.

The winner was our friend Matt Cornwell. I mean…how can you do a Lip Sync with a sock puppet and NOT win??! The runner up was Kelly and Adam with the Star Wars, Dirty Dancing routine.
If you plan on doing a Lip Sync contest, here's what I would recommend –
1| Set a limit of 2 to 2 1/2 minutes for each song. That keeps things flowing and keeps the audience wanting more.
2| Get people to give you their song choice ahead of time so you can have them cued up and can arrange the order. This helped me mix up the styles to keep the guests/audience intrigued. I thought it may work better to have people just give me their phone, but we did that with one song and it just ended up taking a little longer. Having the songs in order and ready to go on your end helps the flow. I just created a "Lip Sync Playlist" on my phone so it was all organized.
3| Make sure the prize is really good for the Lip Sync contest. We combined a $50 restaurant gift certificate with a $25 Main event gift certificate because we wanted guests to really put effort into it. The runner up got a grill. We did re-gift this, but it was brand new and really nice. ;p
FAVORS:
There were two favors – 1| Zagnut candy bars and 2| Black mini frames for the "photo booth."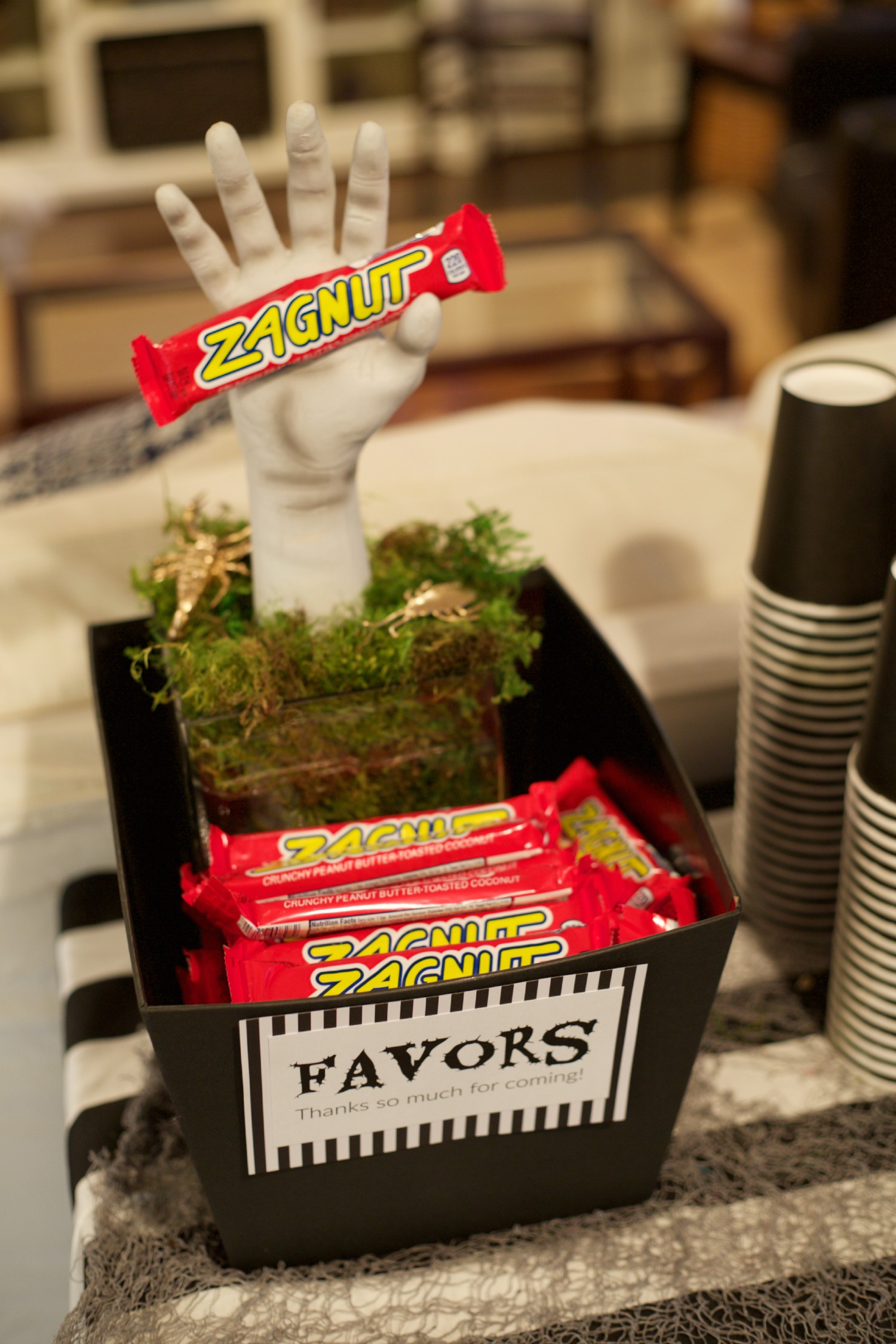 The Zagnut candy bars were from the movie. Beetlejuice lifts his hand up from the "grass" and entices a bug with that candy bar. I found these on Amazon and set up the favor area so everyone would, hopefully, remember that part.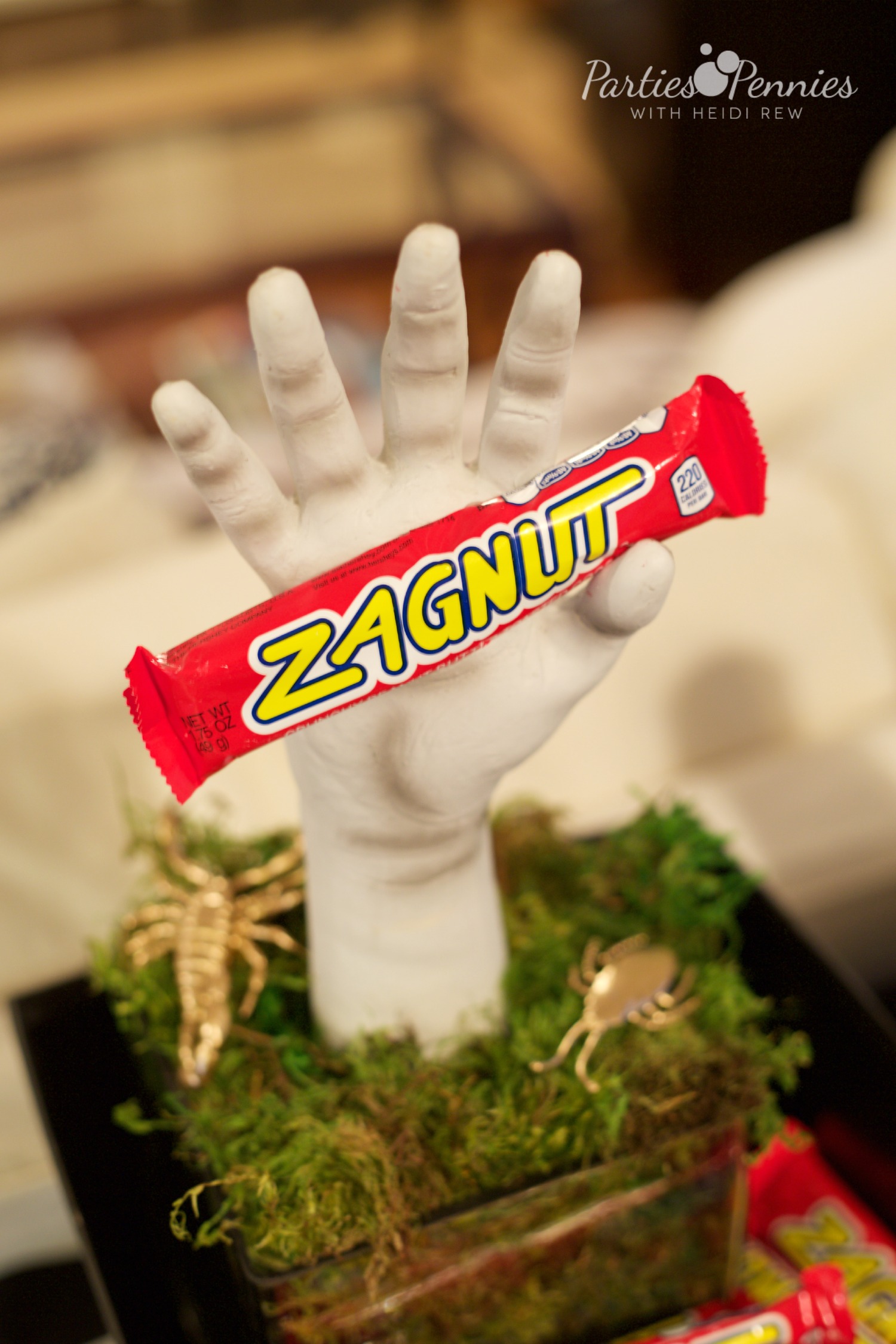 PHOTO BACKDROP:
I created the photo backdrop using my DIY PHOTO BACKDROP. You can see the tutorial to make your own for under $20, here. I ordered some black and white striped material from Online Fabric and hung the Beetlejuice poster I had printed at FedEx Office.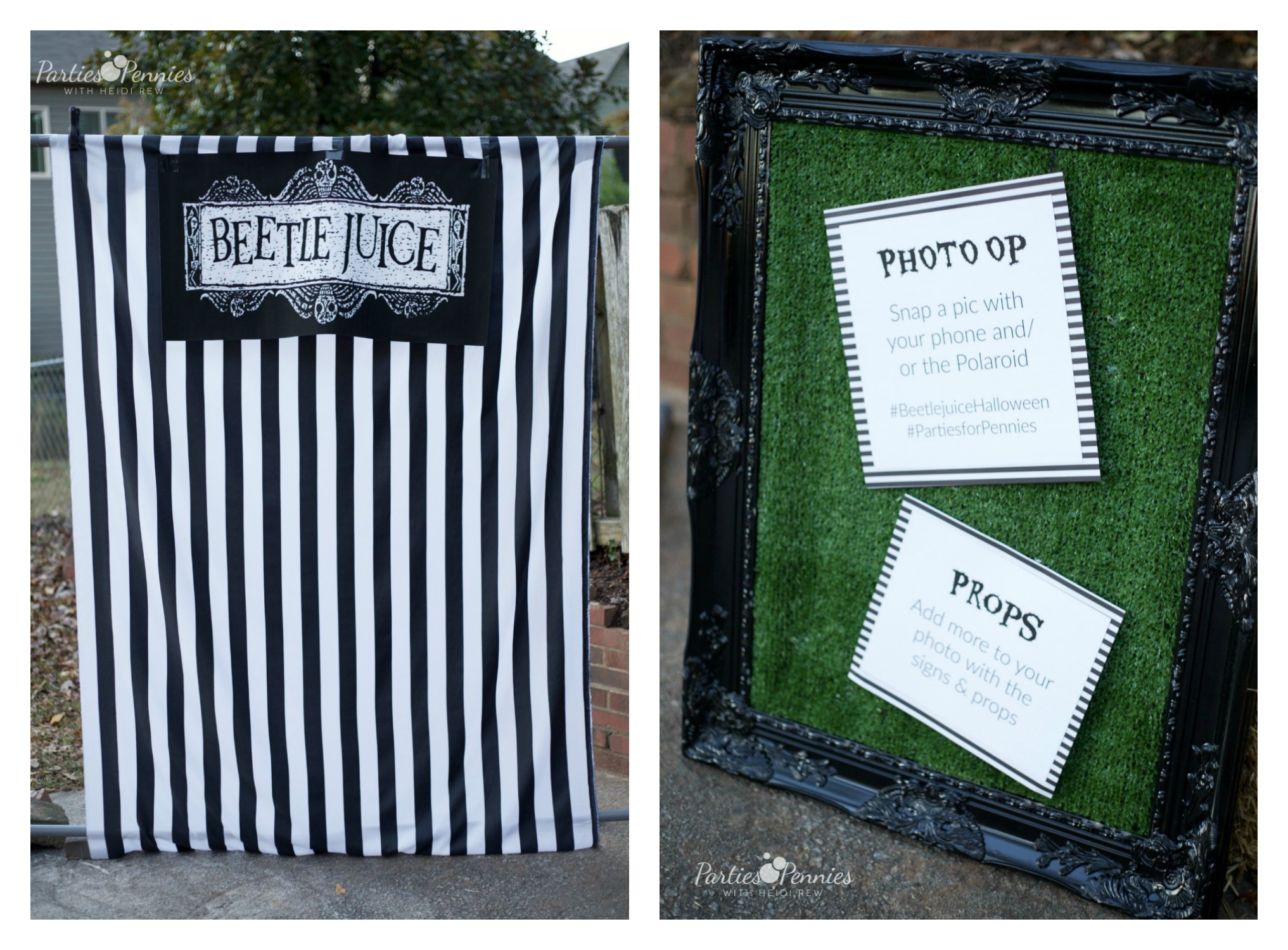 I knew people would be using their cell phones to take pictures but I also wanted something special, so I got a Polaroid or Instant camera. Since Lydia used the polaroid in the movie, I thought it'd be very appropriate. Scroll to the bottom of this post for a link to the best price for the camera.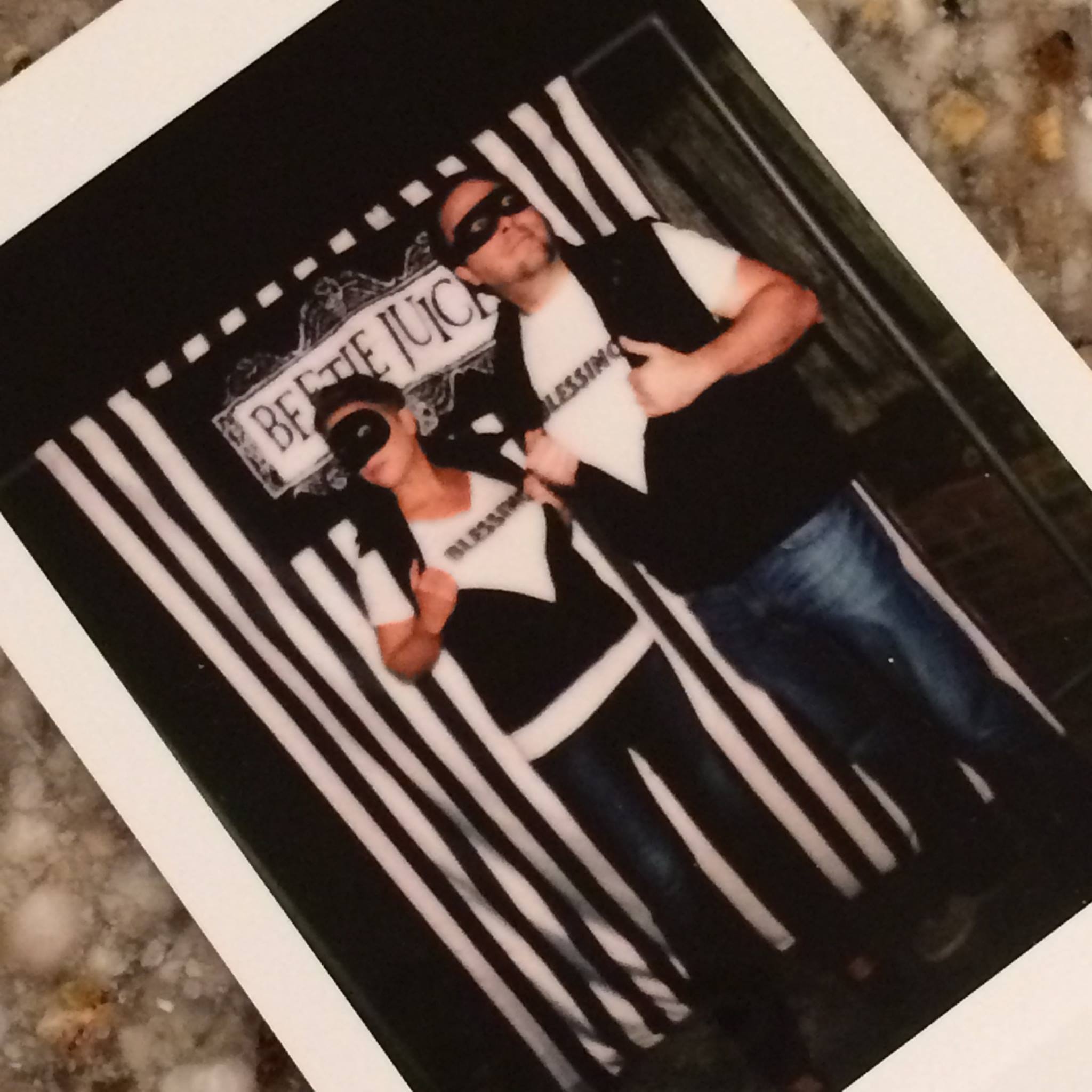 Here are some more snapshots from the party…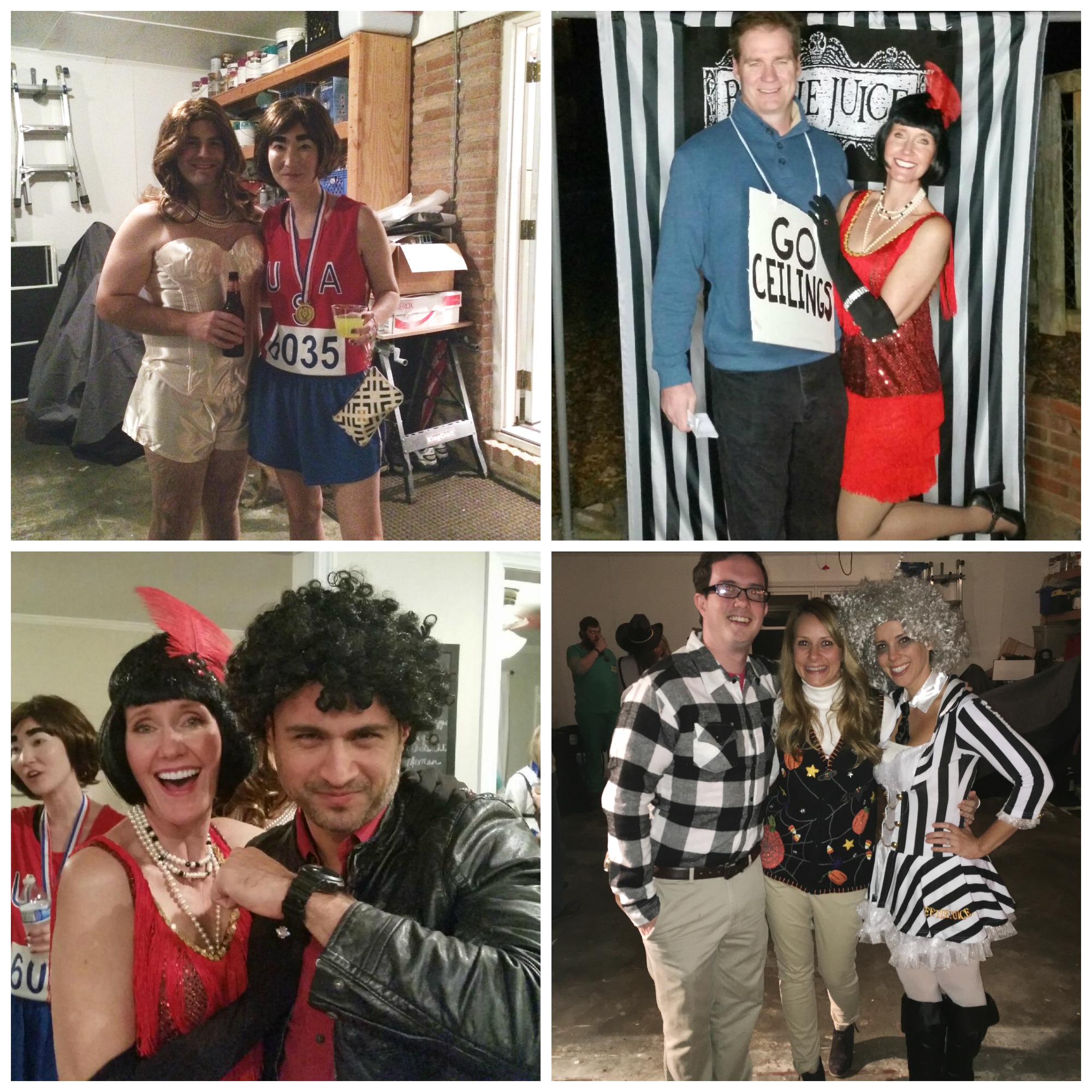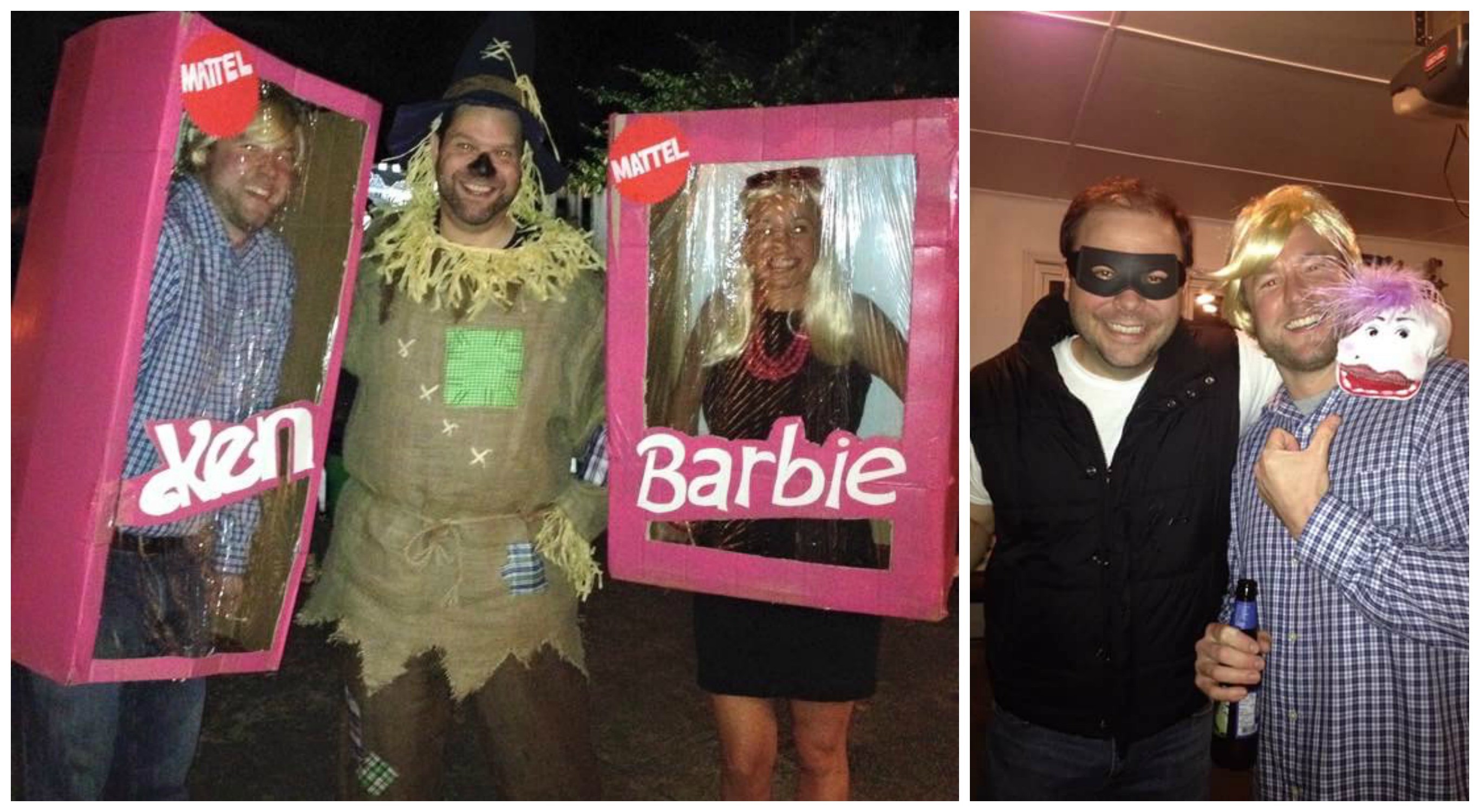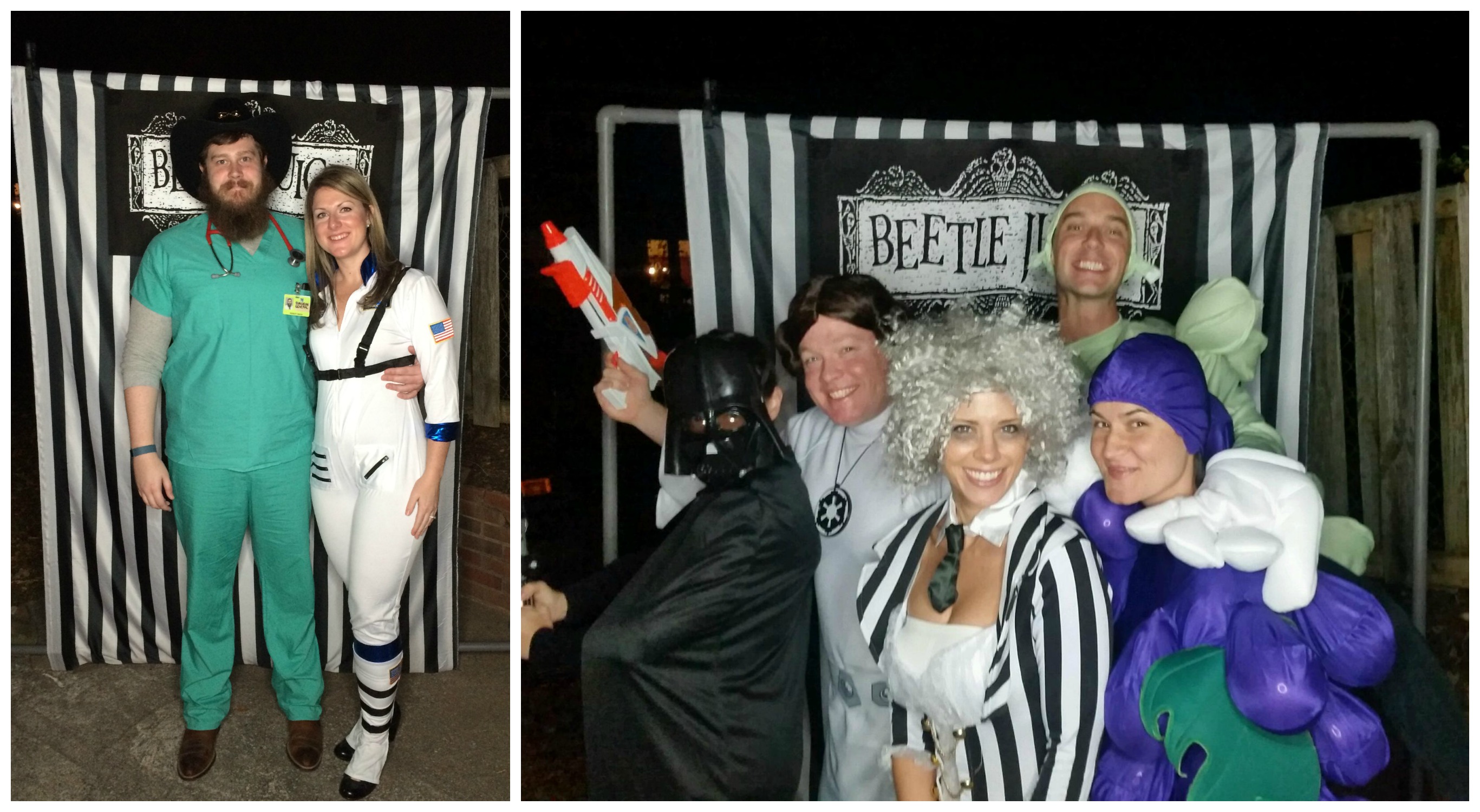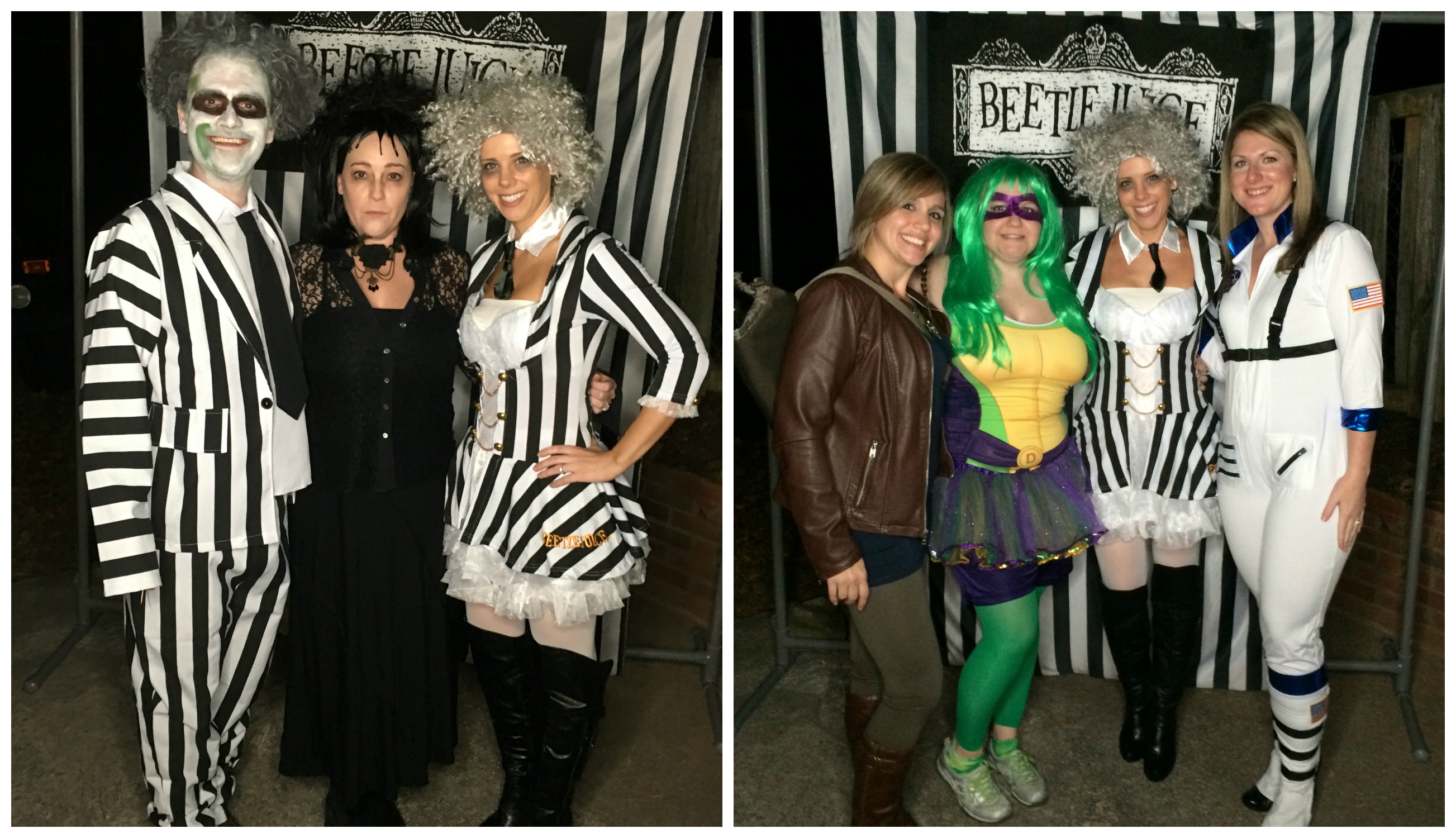 Products I used for my party…

Do you remember watching Beetlejuice? Would you ever do a Lip Sync contest at your party? Hope you had a great holiday…now on to the next…Party On!