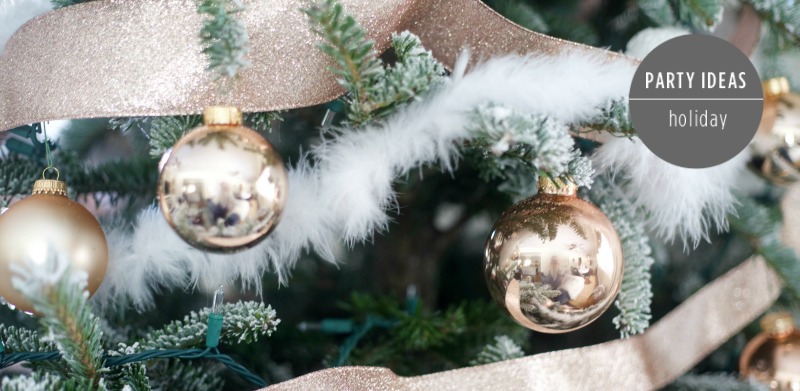 11 Dec

Rose Gold Christmas

Hey party people!

Hope you're having a wonderful holiday season! A heavy snow shower gave me the chance to finally take pictures of our Rose Gold Christmas decorations. I now have an agreement with my husband that every other year HAS to be traditional Christmas colors. Traditional was last year, so this year…I broke out the ROSE GOLD! He was very thrilled. ;p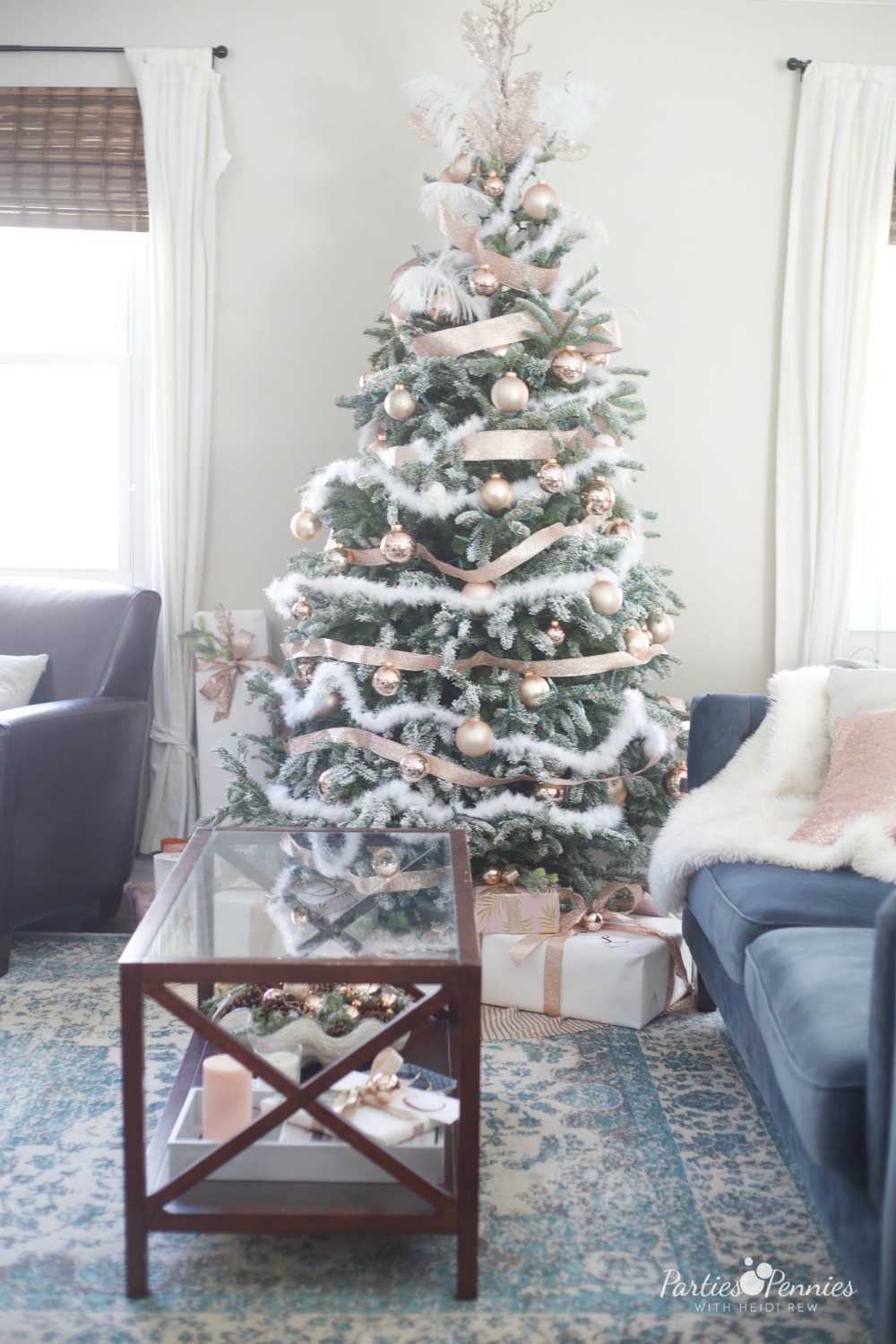 This year, I also tried flocking our real tree for the first time. I was kind of prepared for it to be really difficult but it wasn't. Pretty easy to do and I love the effect.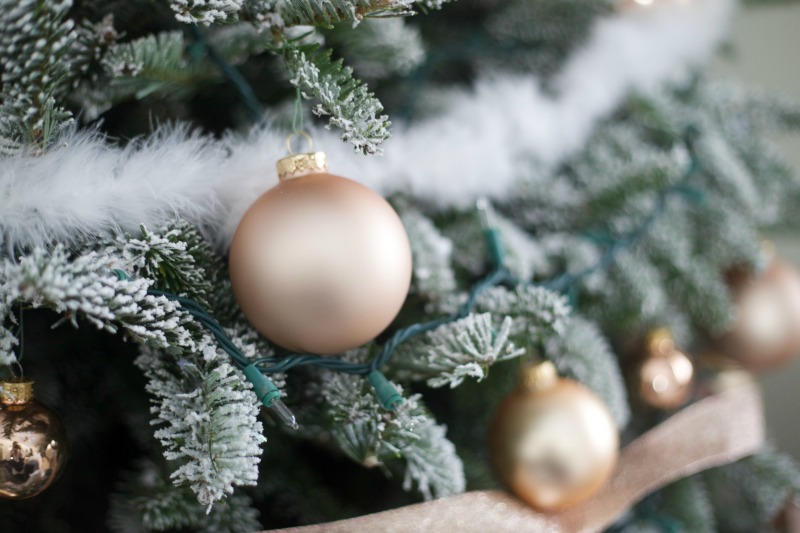 Here are my tips for you, if you plan to flock your tree. (P.S. If you follow my personal Instagram page @heidirew, I apologize for all the "flocking" videos. We started to get a little juvenile with our "flocking" references.)
1| Buy THIS SnoFlock! I read a bunch of reviews & this one had the best.
2| I did mine outside, but it was kind of a mess getting in the house. If I do it again, I may just try it inside the house with a big tarp under it.
3| Use a BIG sifter. I just had a small one that I was using at first & it took forever. I switched it out for a colander I had & that worked MUCH better. Went SO much faster.
4| For some reason I thought I was supposed to spray the branches FIRST then pour the SnoFlock on. After I did it, I read a tutorial that said you spray the water WHILE dusting with the SnoFlock. So it gets the SnoFlock wet in the air so it will adhere to the branches.
5| Get some scraps of branches (if doing it on a real tree) and flock those to. They make for pretty decoration around the house.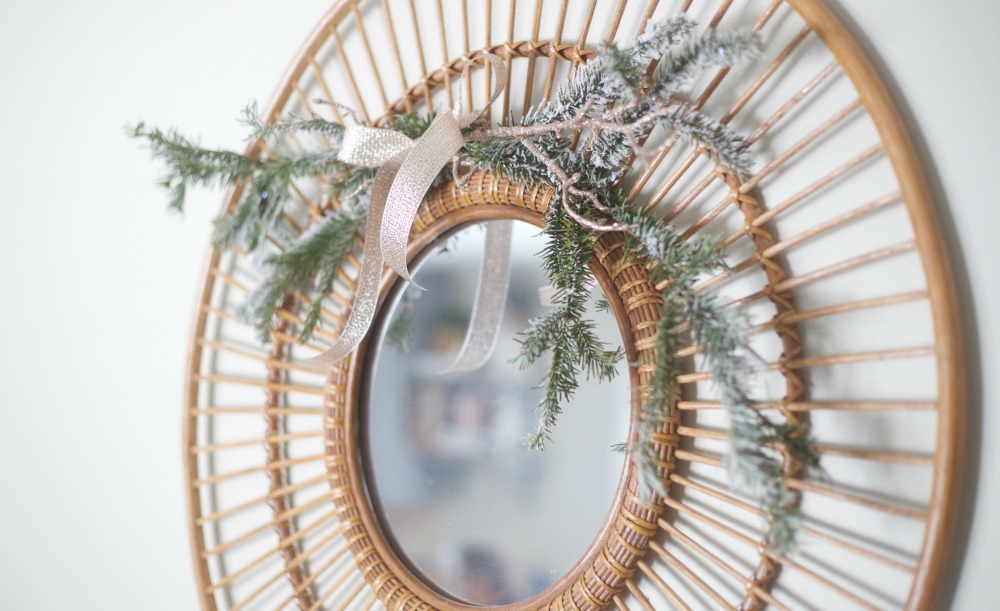 A real tree is quite the gamble when it comes to appearance. The top of ours looked really bare and scrawny when I got it home. Instead of doing a traditional topper, I used faux rose gold florals & feathers to create the illusion of a well-formed top. Like spanx for a tree.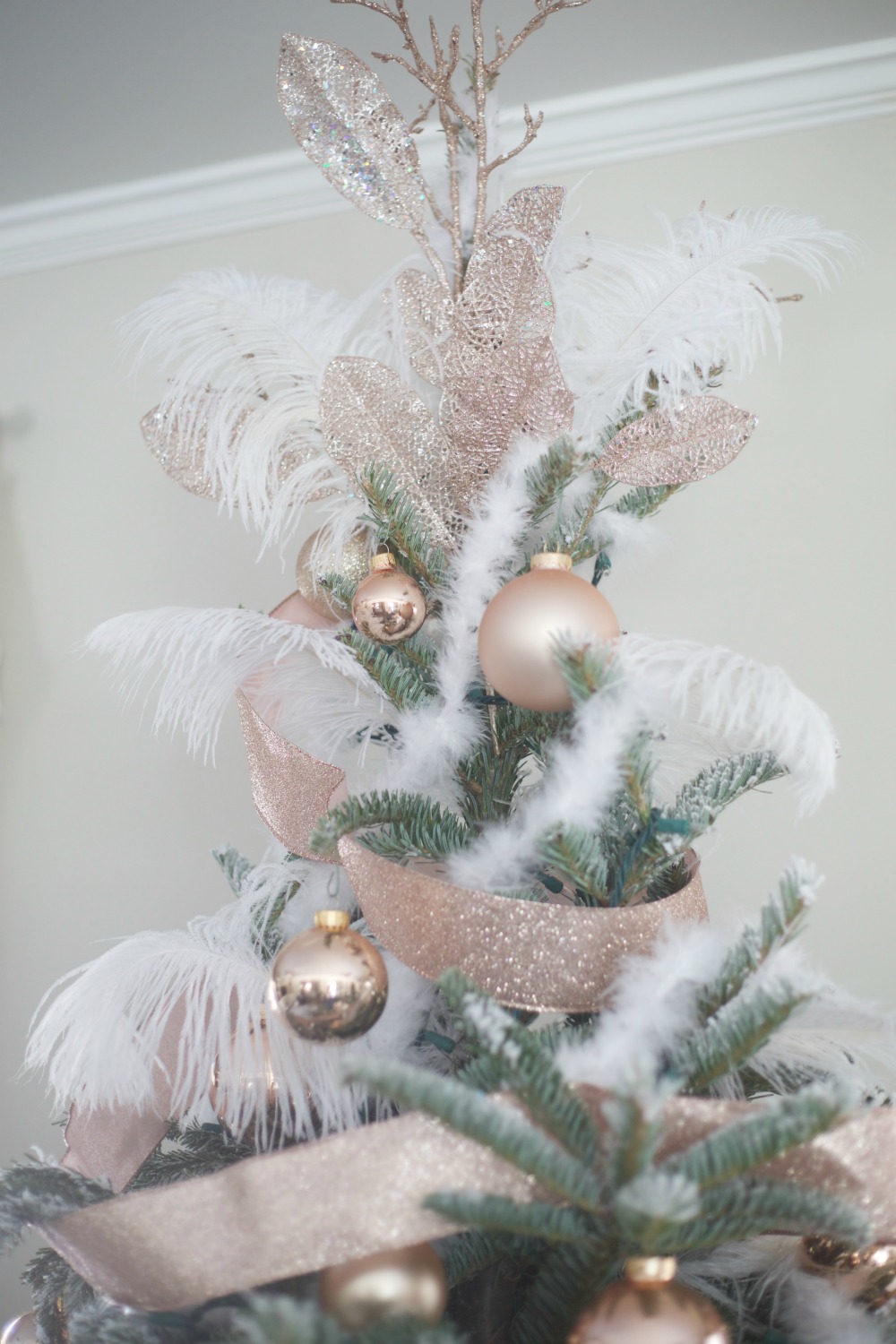 The wrapping paper was tricky. There's just not rose gold wrapping paper out there. I happened to buy this pink & gold palm leaf paper on clearance months ago. I just got one roll because I wasn't even sure what I'd use it for. I just fell in love with it, so I got it. When I couldn't find any wrapping paper to go with the rose gold theme, I brought that out & it worked perfectly.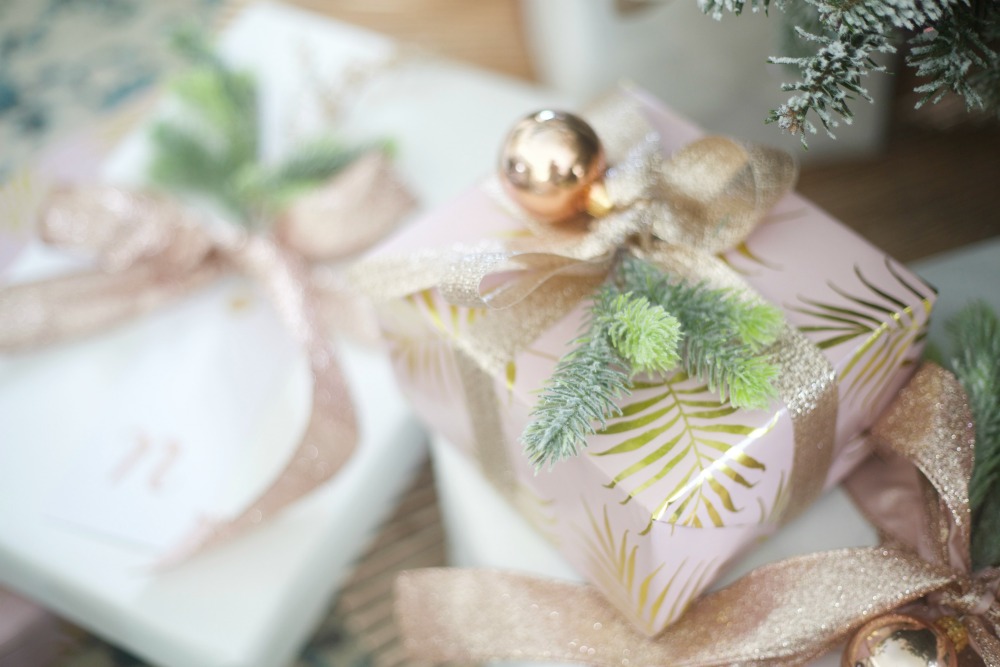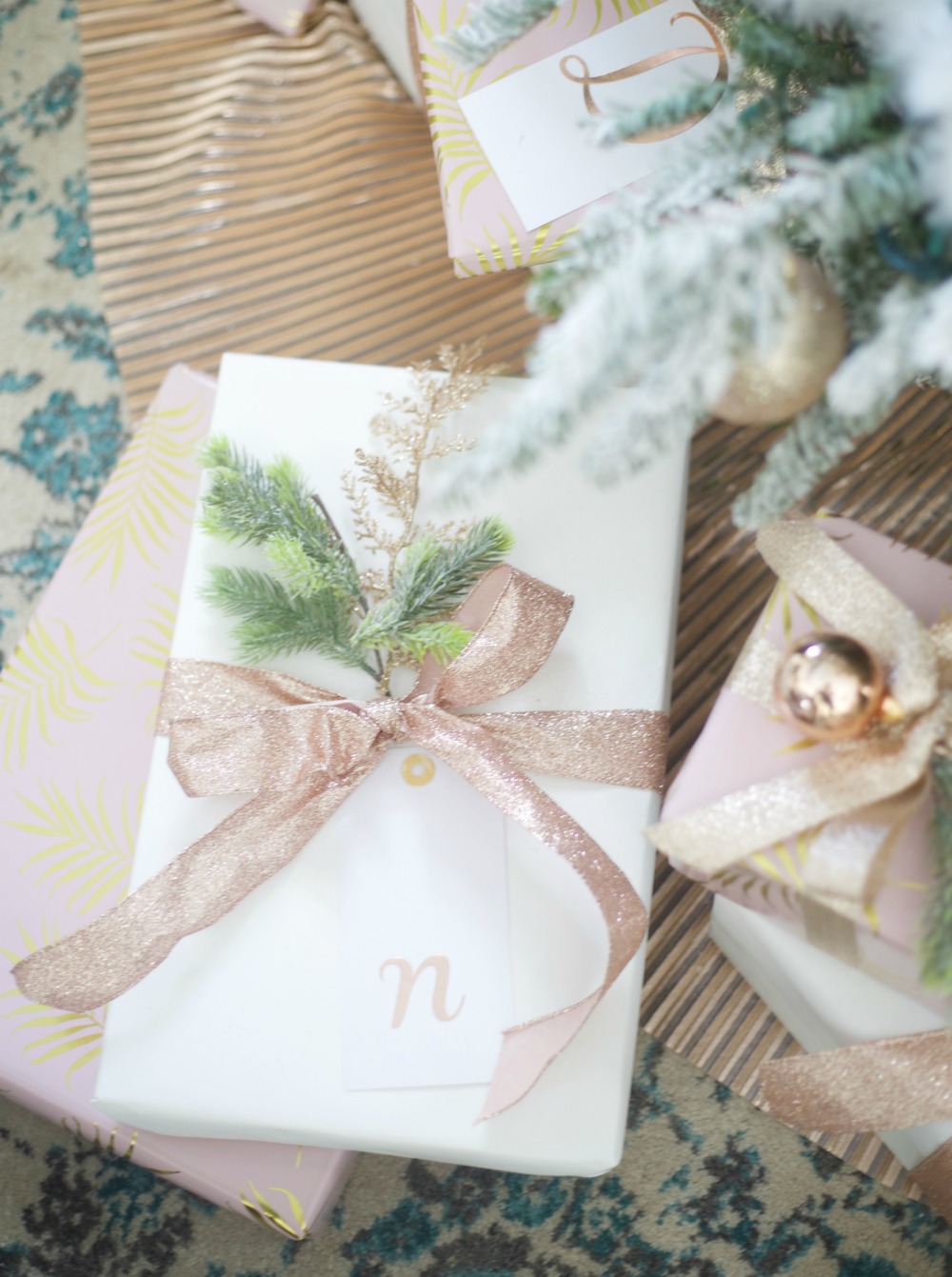 My favorite part?? Is my tree skirt! These pleated skirts are so "in" now. I just happened to find a remanent of pleated rose gold material at the craft store & thought…YES, perfect! It even has an elastic band around the top so I just may make myself a skirt after I take all the Christmas stuff down! SCORE!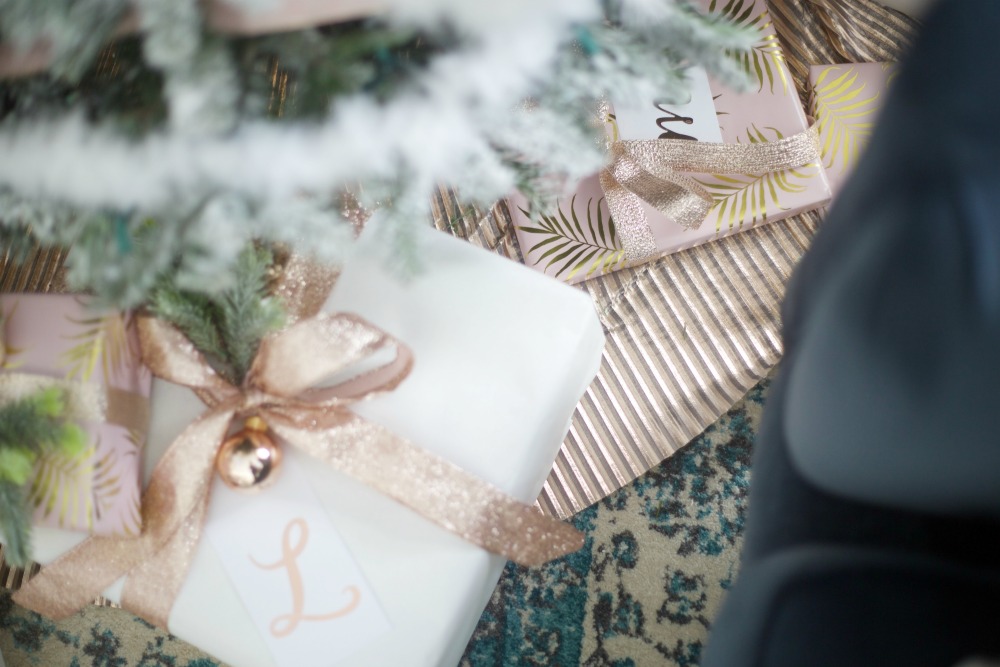 Mike's (my husband) favorite part was probably this rose gold glitter pillow case. For sure. (Detecting the sarcasm? ;p) I love it, though. I found it on Amazon…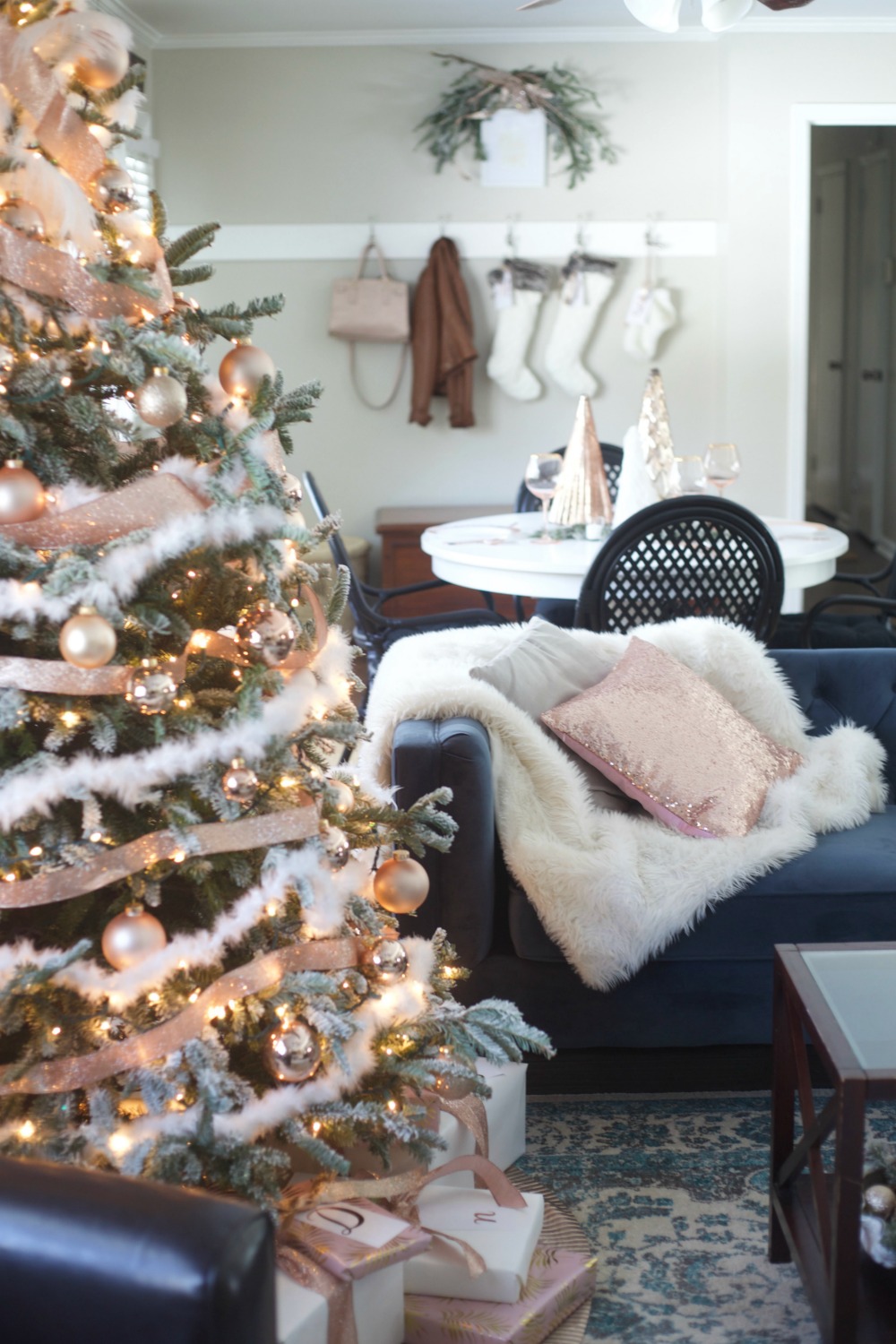 I DIYed two of these wreaths. I just bought the foam ring, then wrapped this white fur ribbon around it & added the greenery and ribbon.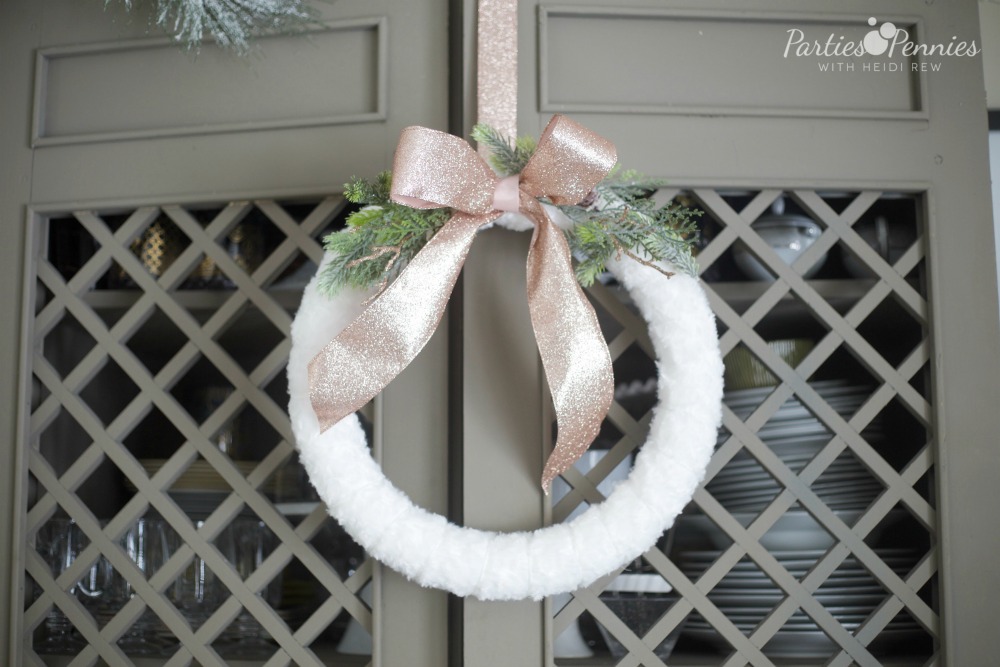 Oh…and actually these rose wine glasses tie for my favorite part. I found them at Home Goods, so I can't link to them for you but here are some gorgeous rold gold wine glasses I just found on Amazon…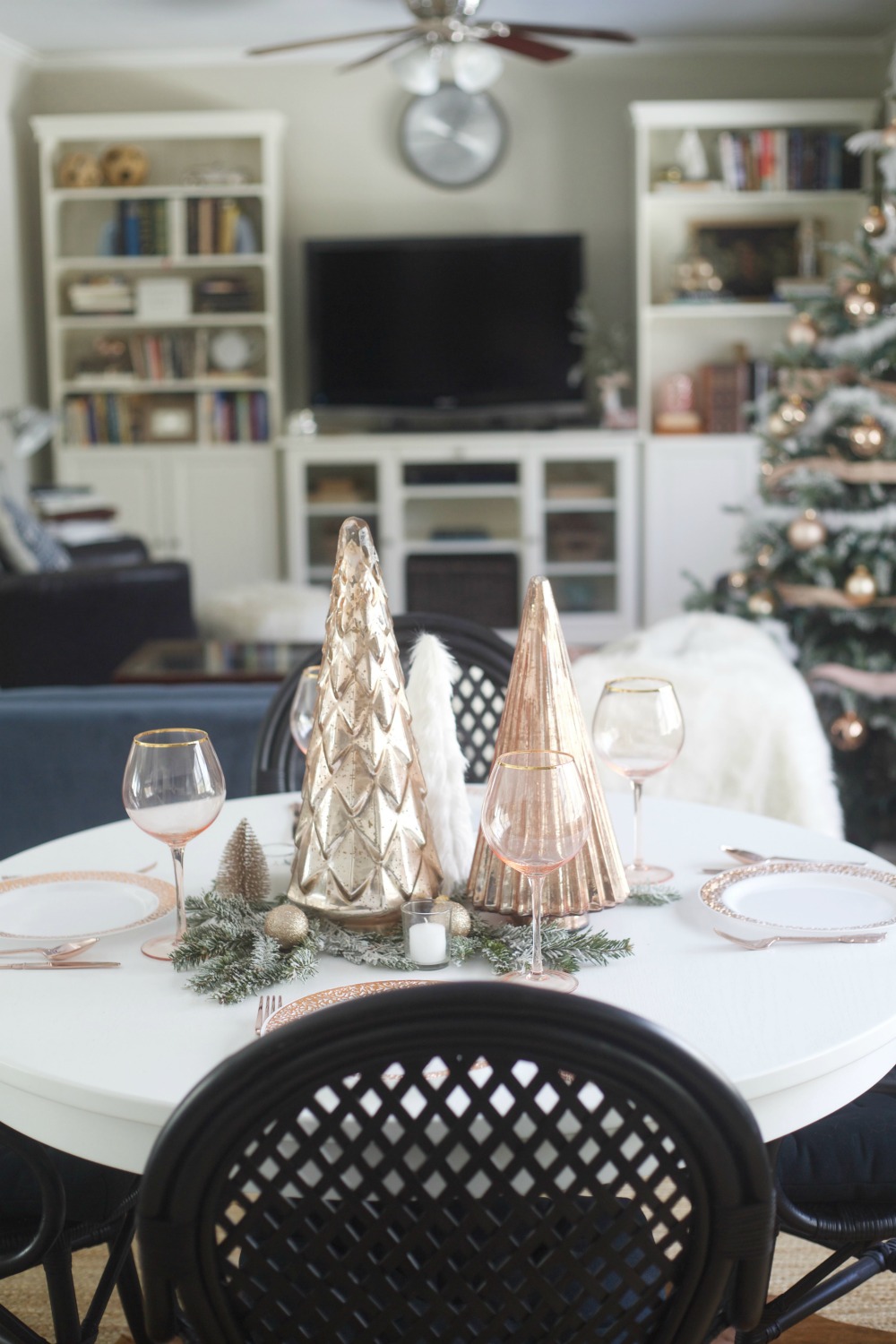 The plates were also from Home Goods, but here are some rose gold rimmed plates (mine are disposable actually) that would work too…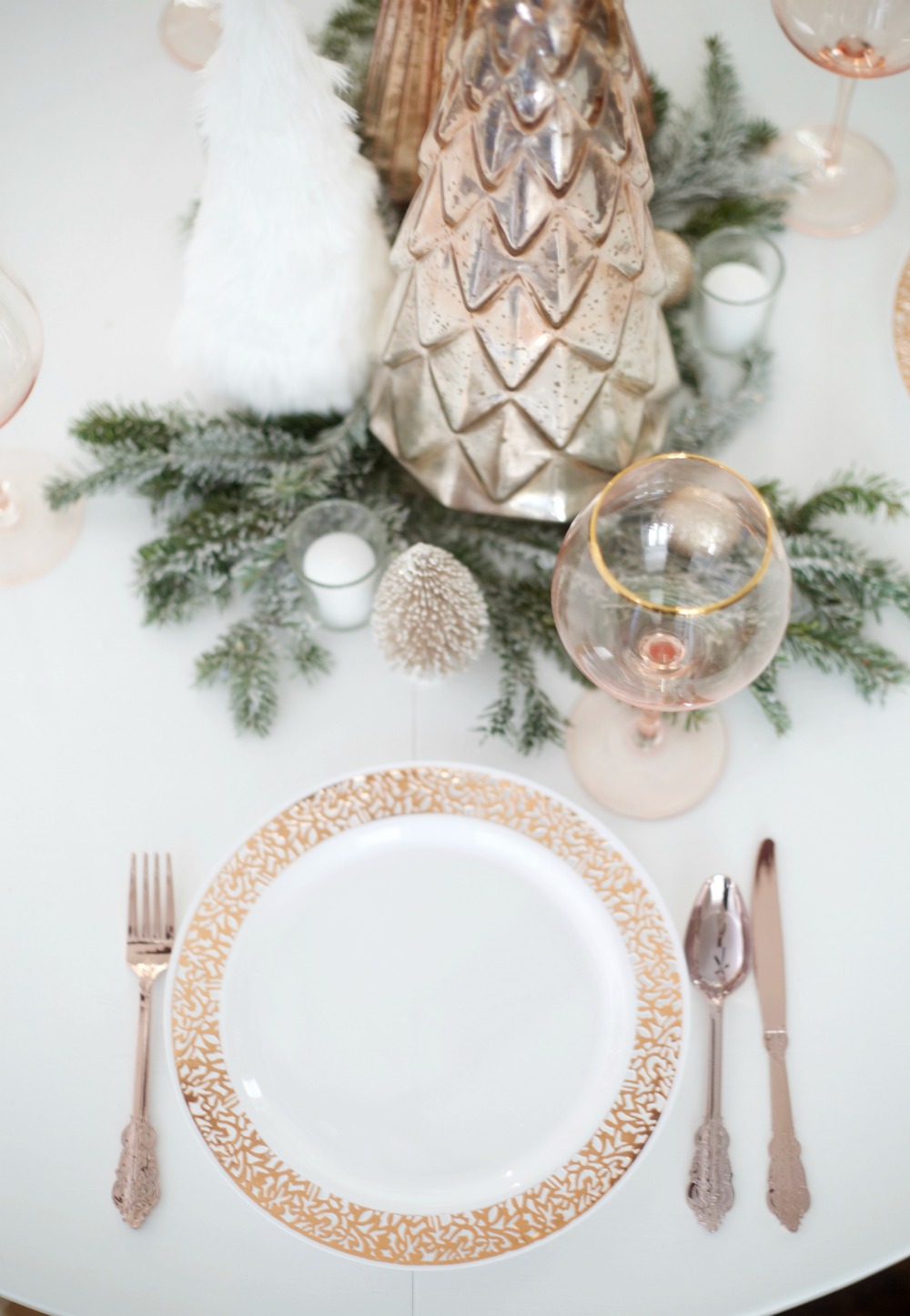 I just couldn't find the right plates & everything for my table so I ended up just going with disposable, which in all honesty, not doing dishes during the holidays?! Um, sign me up! Oh…and the "silverware" is PLASTICWARE…so for real, no dishes. Well, except for the glassware but you can just keep filling it up so you don't have to. Stop, Heidi, that's gross. Yeah, don't do that. But if you do, I won't judge.
Here are some rose gold plasticware (I got mine 2 years ago from Michaels & I've just been storing them for the right time)…
For our stockings and gift tags, I bought a packet of white tags and rose gold letter stickers.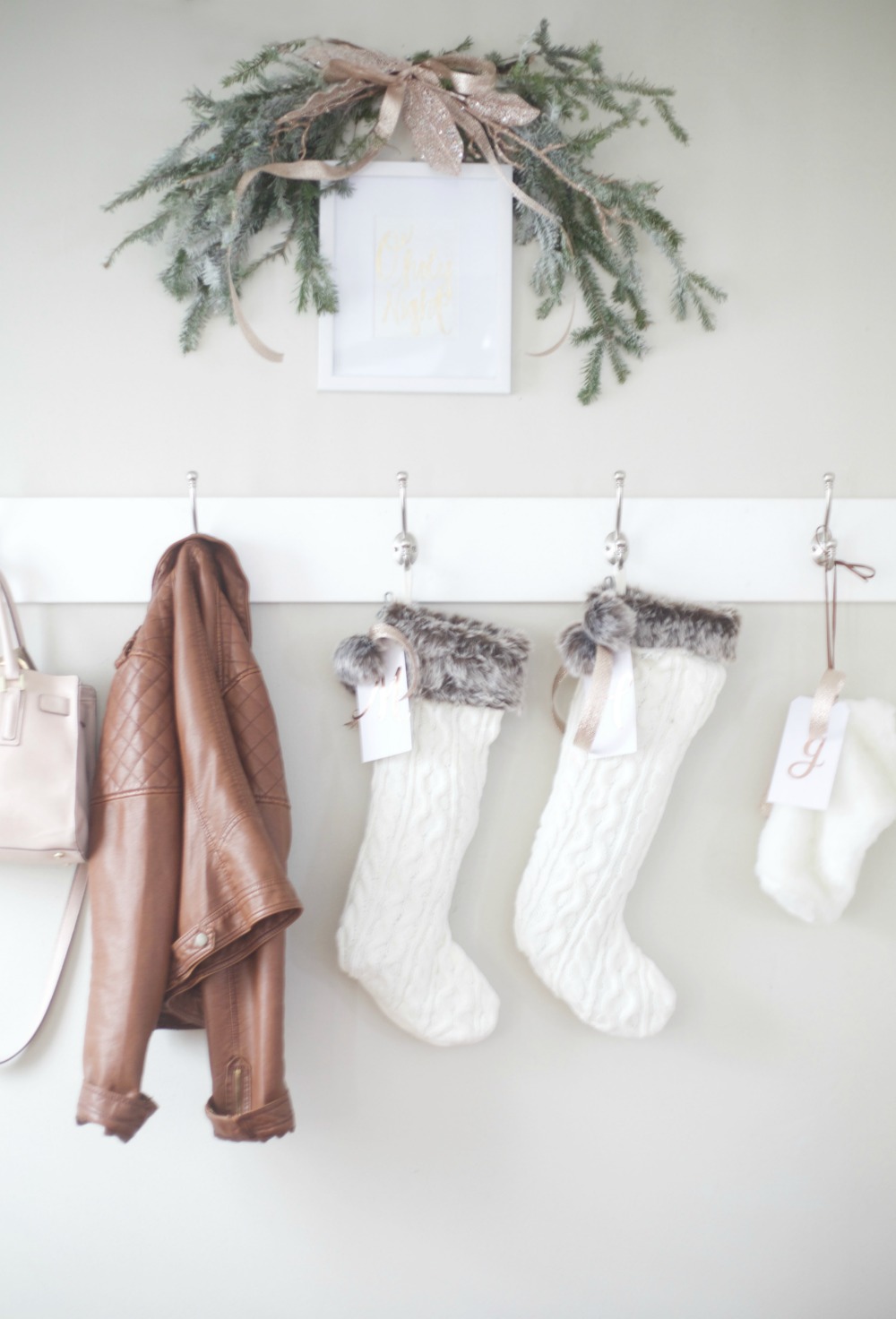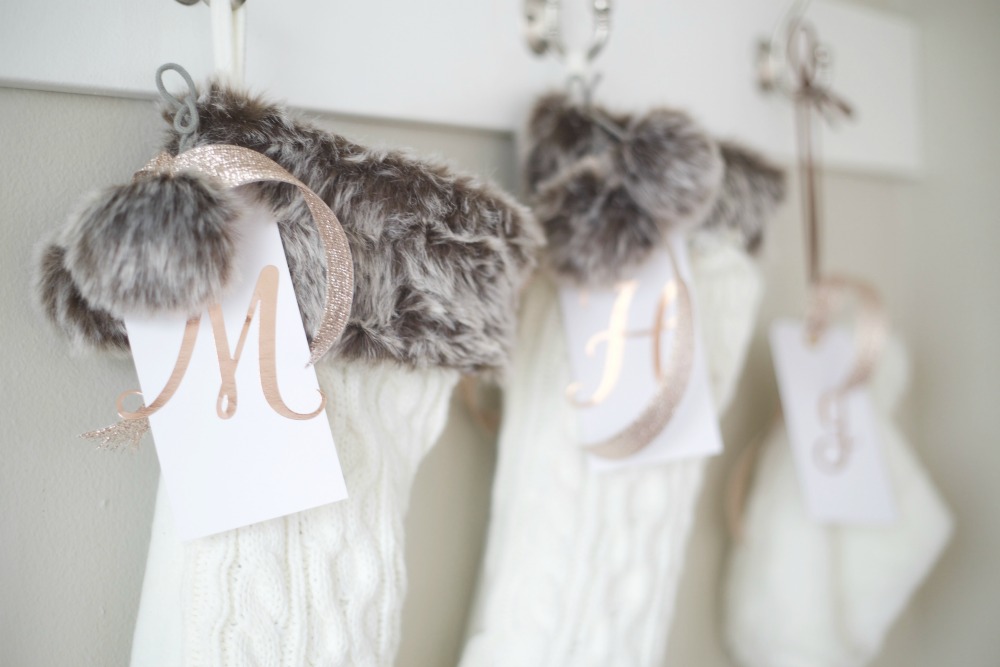 If you've been following the blog for awhile, you may have noticed that I rearranged our furniture. Our home was built in the 60s, so everything is smaller than the newer homes. Our living room area is really long & narrow. We did open up the wall between the kitchen & living area which made it much better, but it's still been tricky. Before, we had our living area divided into two spaces but the 2nd space just wasn't used at all. Most people congregate in the kitchen, so I thought it'd be better to have a sitting area there. So far, we've loved it. It will be interesting to see how it works when we have guests, which will happen Christmas day…so we'll find out soon.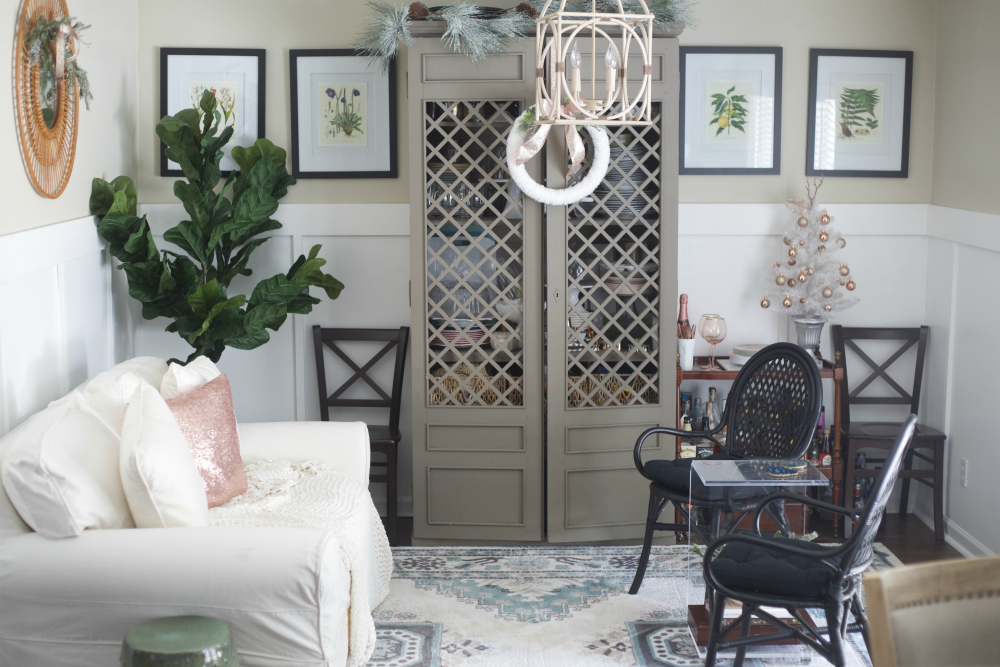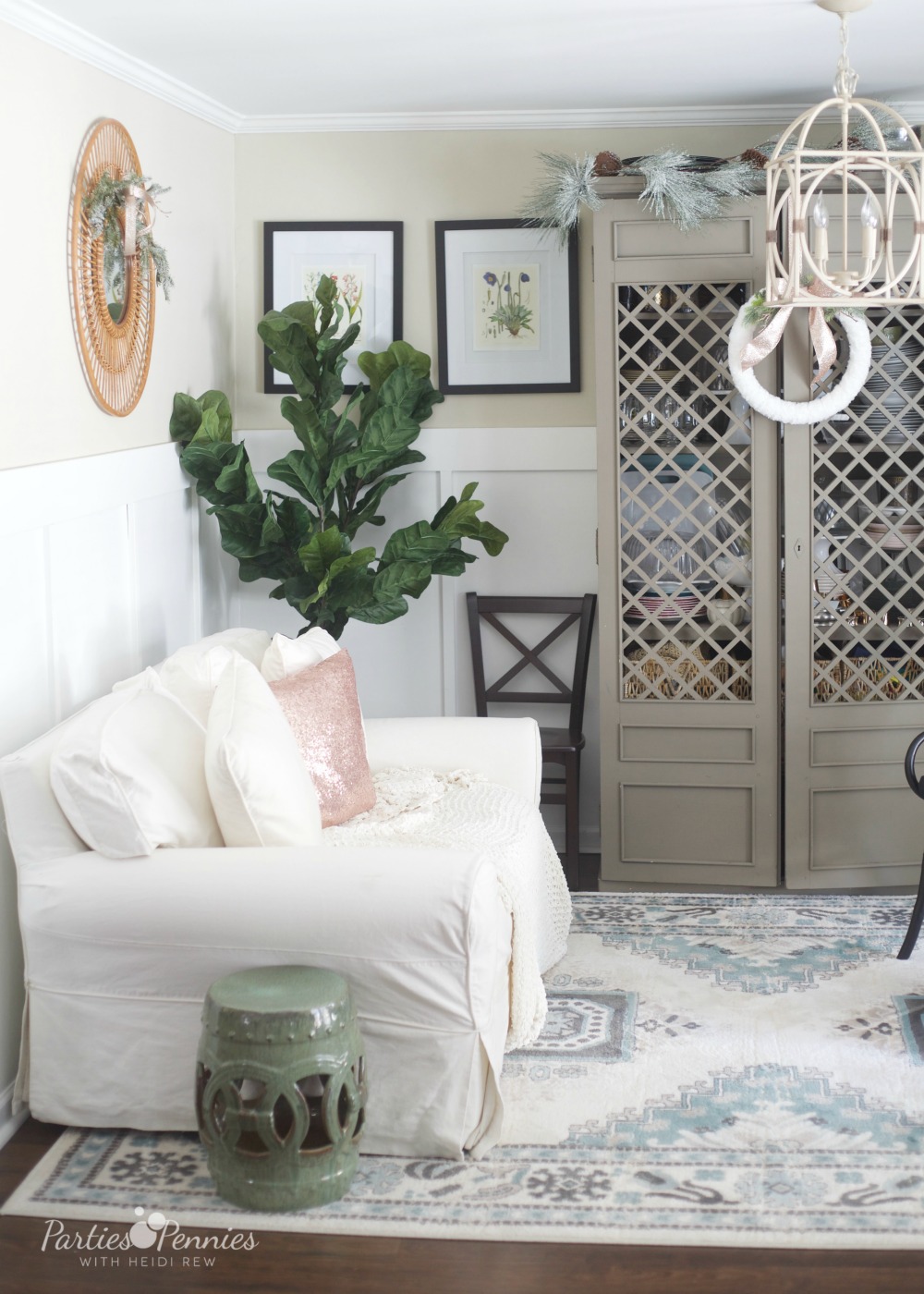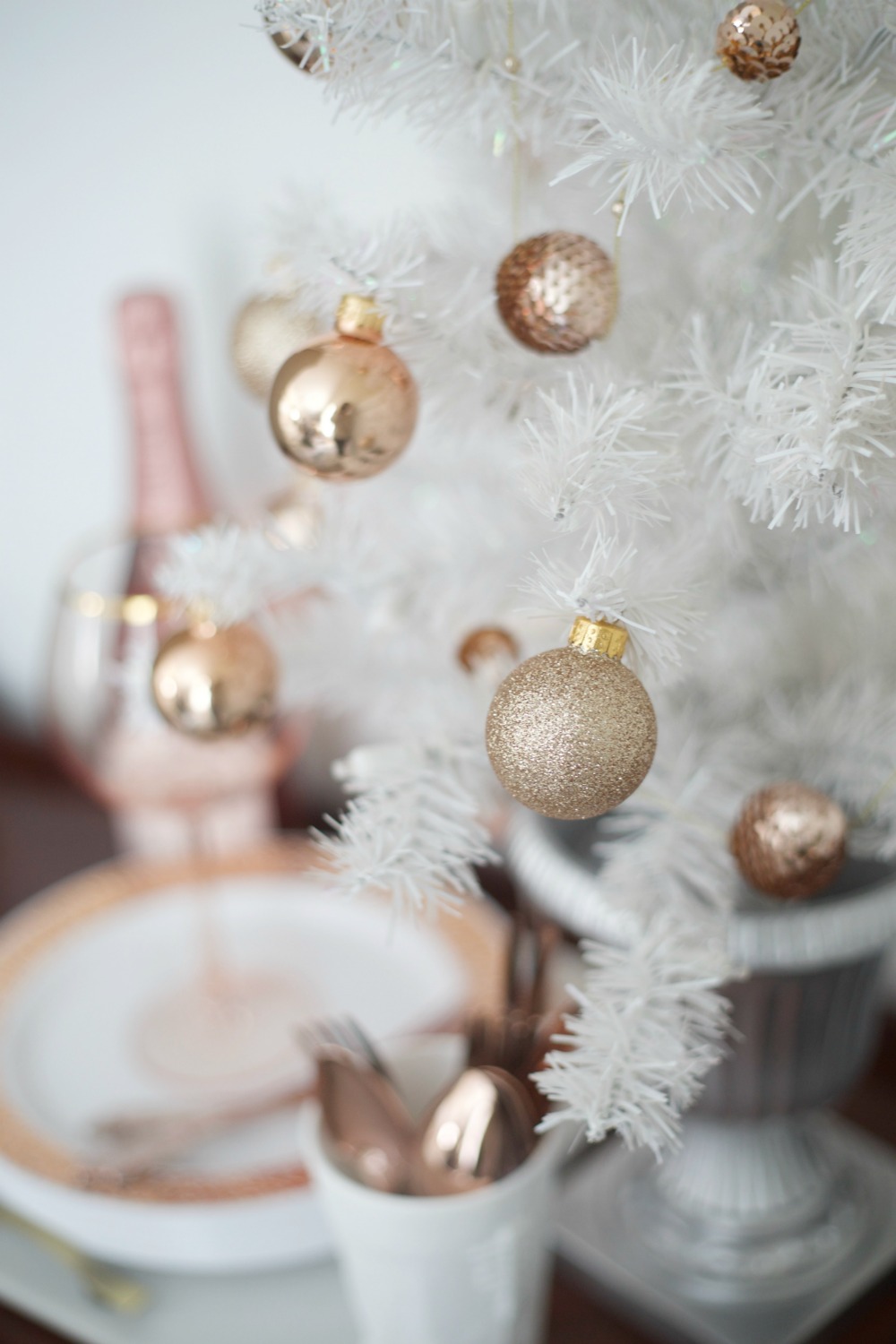 The only trick I have for Christmas decorating is LOTS of ornaments. Anywhere I can stuff em' I'll do it! Here's a regular salad bowl we use & I just stuffed it with flocked greenery and ornaments.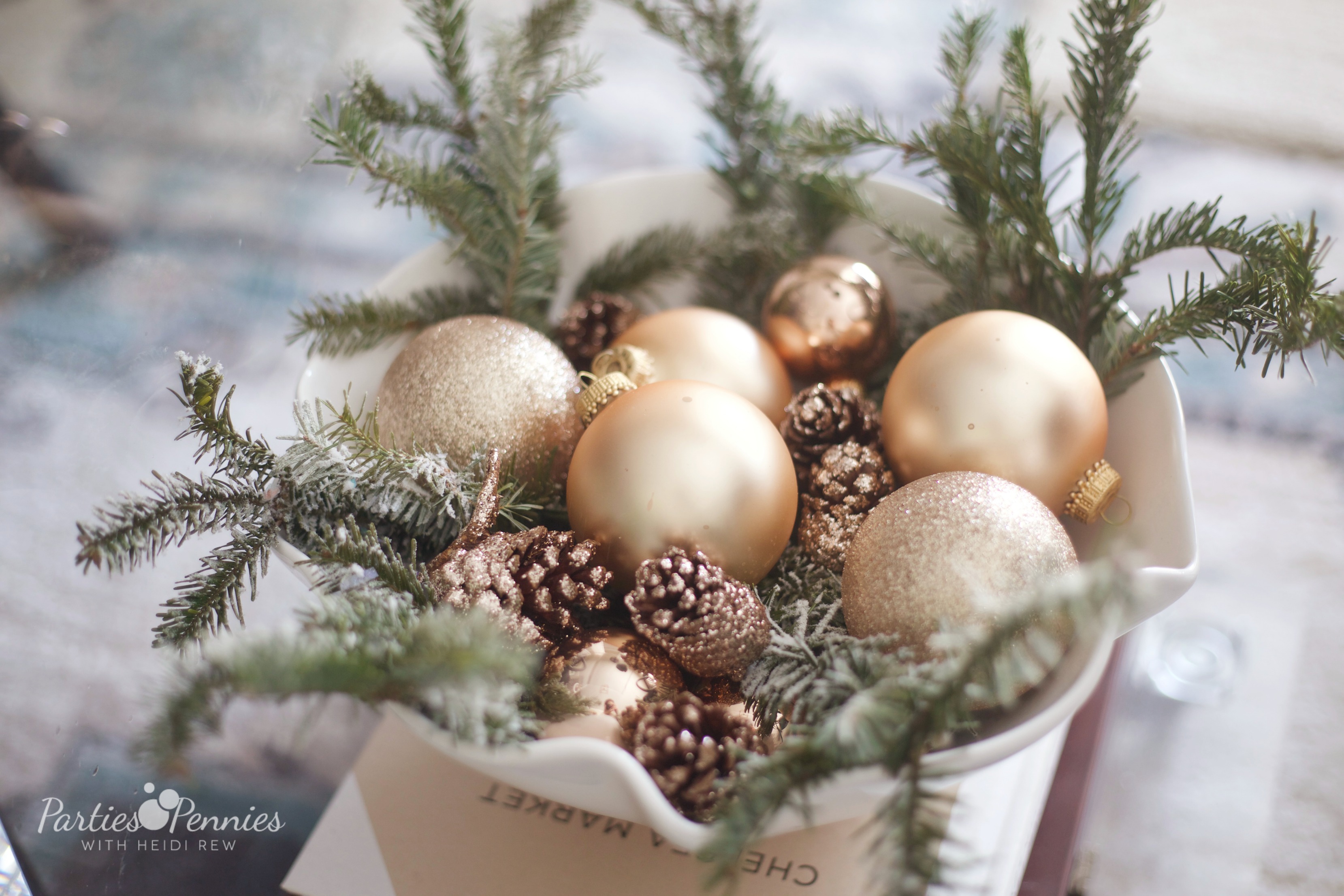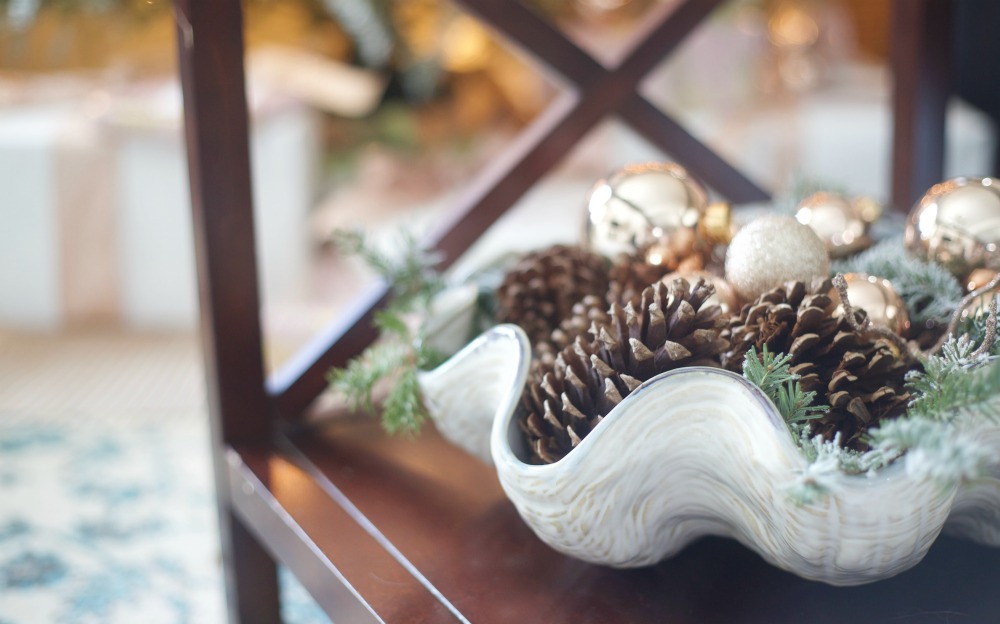 For our exterior, I wanted to do a little more but we've just been swamped with our voiceover studio we opened last year, our own voiceover & on-camera work (I did a Food Network/Kohls spot that's running for Christmas), and my podcast I started a month ago called The Heidi Rew Show. You can find it on iTunes, GooglePlay, Stitcher, Overcast, and Tunein. It's a lifestyle podcast where I have guests on that talk about fitness, fashion, decorating, entertaining, current events, spirituality, and more.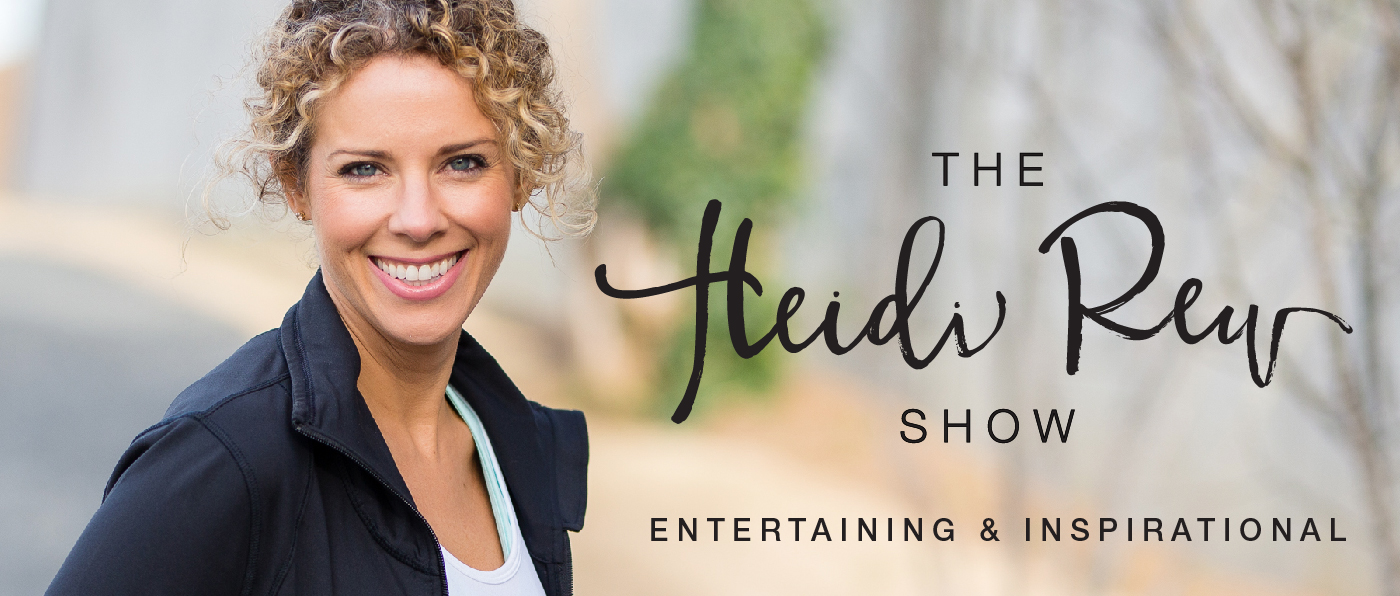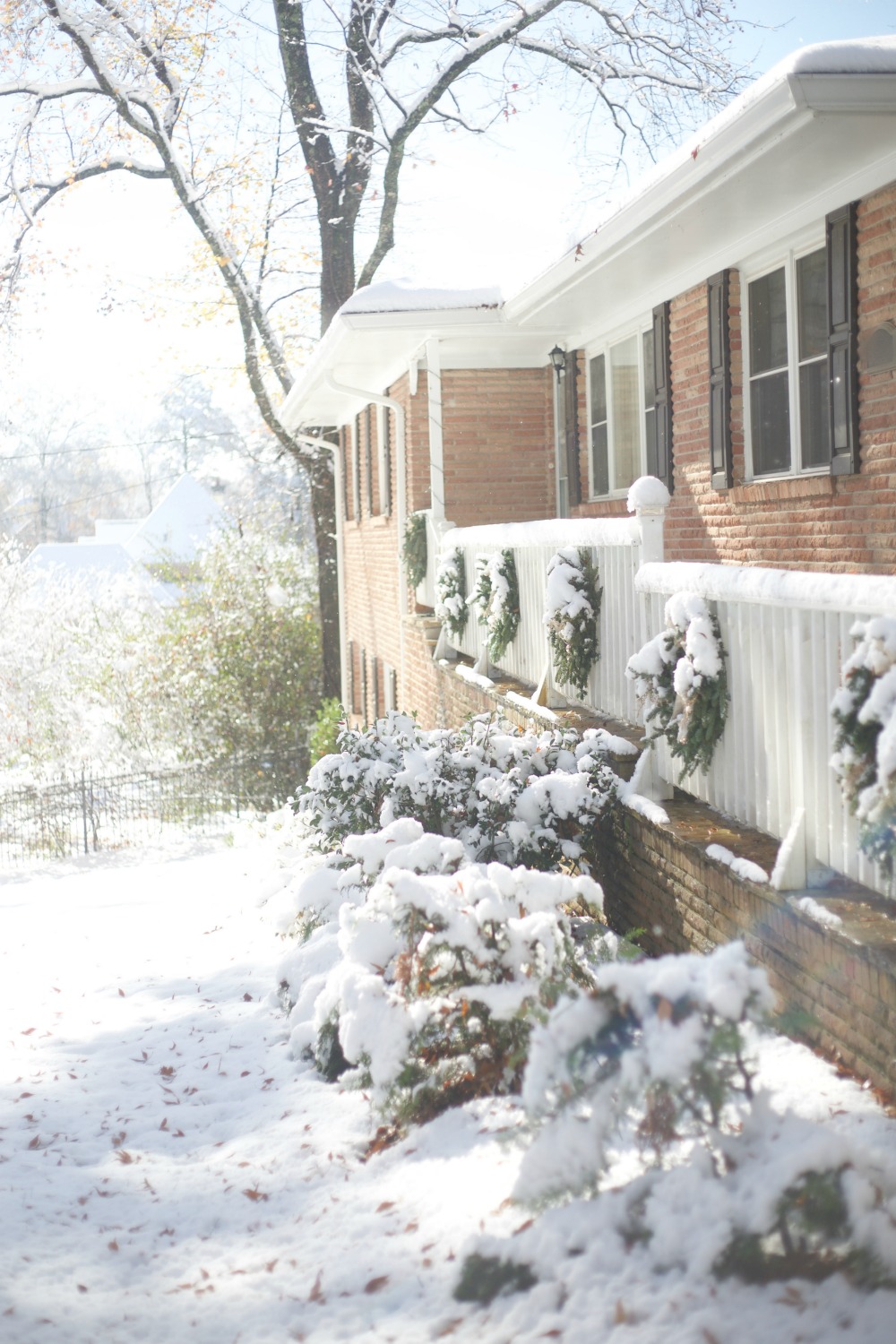 Anyways…thanks to our amazing friend Jeff Carter (who is a Christmas expert…seriously, he speaks at a big Christmas conference every year and has a website where he shares really unique & cool Christmas DIYs…check it out HERE) who makes us wreaths every year, our front porch looks pretty good. The snow is covering it up, but I gave him some ribbon, ornaments, rose gold florals, and white flowers to add to them. They look great!
And just for a bonus, here are some photos of the snow. I know you northerners see this all the time but us southerners are in awe. ;p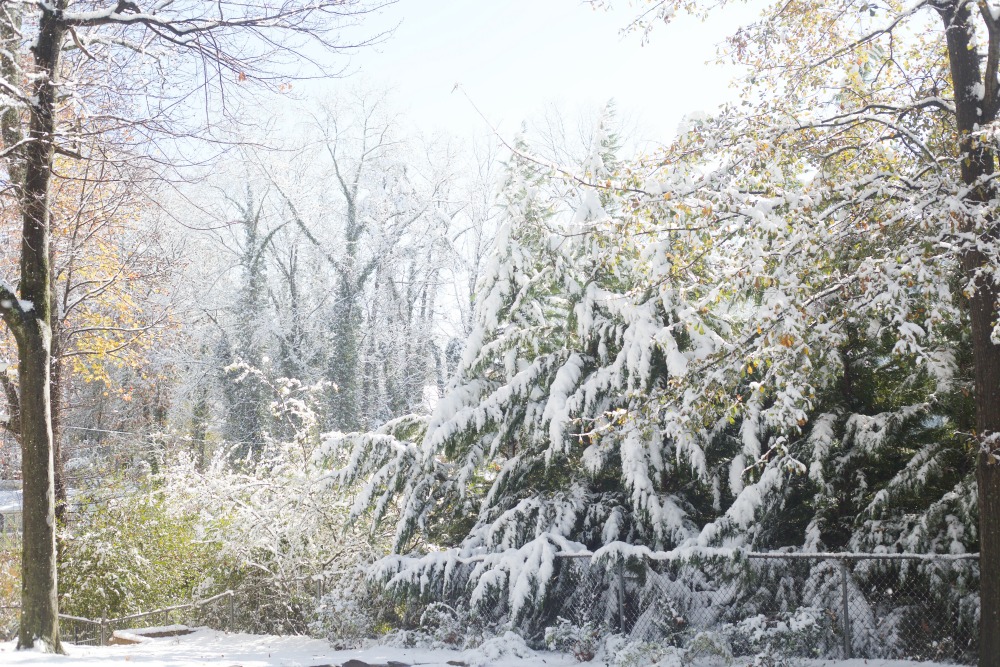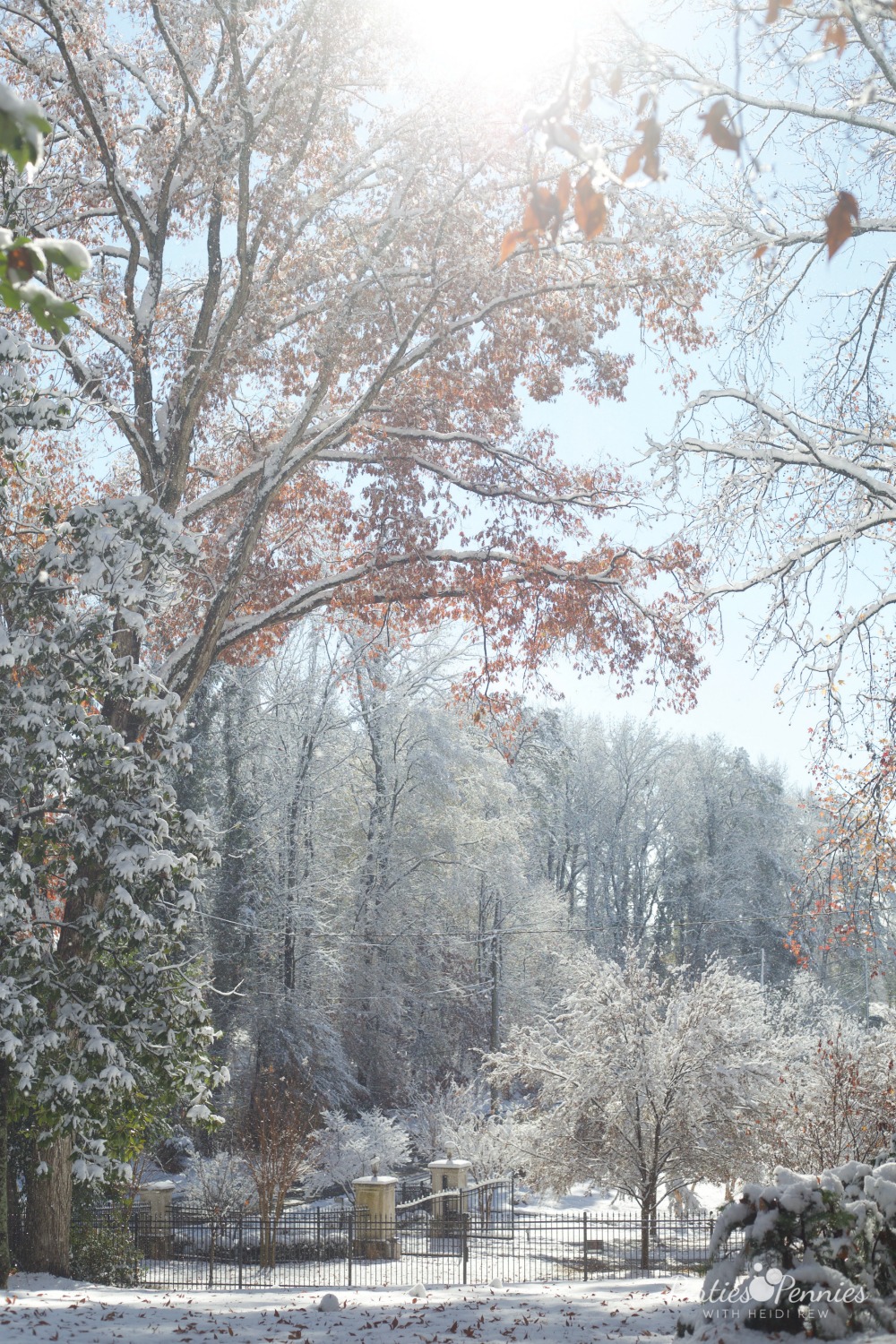 Hope you have a very Merry Christmas! Here are a few more Christmas decorations from years past…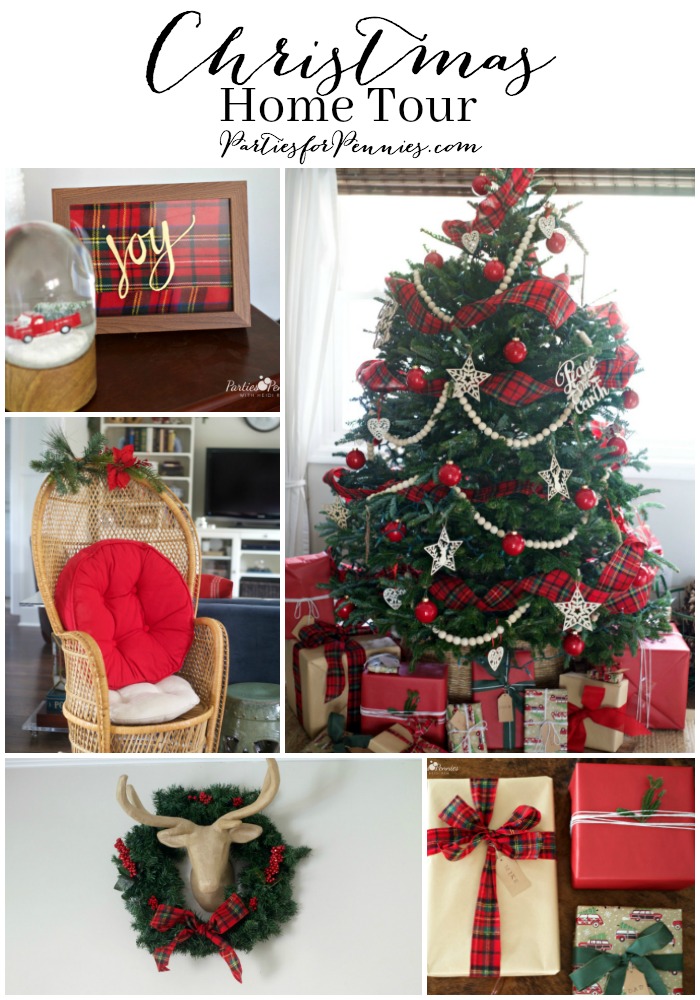 Buffalo Check & Mint Christmas 2015